I
Nikon D200 composition and screen
The Nikon D200's optical viewfinder delivers a wealth of shooting information. Details on view include the metering mode, shutter speed, aperture, exposure mode, exposure compensation, number of shots remaining and the ISO sensitivity; the latter is useful to have on view at all times, as most cameras force you to first hold a button down or check a menu.
Following earlier Nikon digital SLRs, a number of items can also be optionally overlaid on the main viewfinder frame itself. In the lower left corner is an indicator for Black and White mode, and like the D50, there's also icons for low battery and card not present; all three can be disabled using a custom function. Also in the custom function menu is an option to overlay a three-by-three grid like the D70 series, which can greatly aid composition; this is a feature we'd like to see on every digital SLR and makes the physical swapping of a focusing screen (as required with higher-end Canons) seem almost prehistoric.
Support this site by price checking below


The viewfinder also shows the 11 focusing points of the newly developed Multi-CAM 1000 AF sensor, each of which becomes ringed or lit red when active, depending on the focusing mode. It's also possible to configure the focusing system to a 7-wide area for better tracking of moving subjects. The viewfinder itself is bright and like the D70s offers 95% coverage, compared to 96% of the Canon EOS-5D and the full 100% of the D2X and Canon 1Ds Mark II.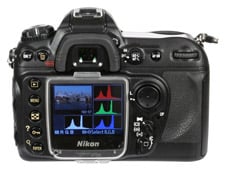 Following a welcome trend for digital SLRs, Nikon's fitted the D200 with a large and bright 2.5in colour monitor, sporting 230,000 pixels for sharp, detailed images. The benefit of extra pixels goes beyond image playback though, as Nikon has redesigned its user interface to feature large, smooth fonts with graduated backgrounds. And before you have any concerns over presentation, it's a very clean and classy design which makes navigating the wide array of menu options and the 45 custom functions much more pleasant. The display itself is also protected by the traditional (and removeable) Nikon plastic cover.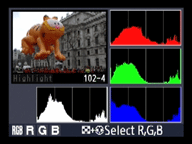 During playback, up to five pages of information can be cycled through, any of which can be enabled or disabled using the Display Mode menu. Two pages provide the choice of either a conventional brightness histogram, or separate red, green and blue histograms; unlike a combined histogram, separate RGB graphs can uniquely reveal if only one channel is responsible for clipping, when the others may in fact be fine.
Like other Nikon digital SLRs, image magnification during playback is achieved by first pressing the magnifying button, before holding another and turning the thumb wheel to adjust the size of a marquee. When you let go, the image is magnified and the multi-selector used to pan around. While standard practice on Nikon digital SLRs, we personally feel it's unnecessarily complicated compared to just having simple zoom-in and out buttons like most digital SLRs.
Sensor and files
The Nikon D200 is equipped with a new 10.2 Megapixel CCD sensor which measures 23.6×15.8mm and conforms to Nikon's DX format – this means any lenses you attach effectively have their field of view reduced by 1.5 times, so the 17-55mm f2.8 lens we used for most of our tests effectively performed like a 25.5-82.5mm lens on a 35mm body.
The maximum image size measures 3872×2592 pixels, which is a big step up from the 3008×2000 pixels of the D100, D50 and D70 series. If you're reproducing at 300 dpi, this allows the D200 images to be printed around 3.5 inches larger on their diagonal. The difference between the D200 and D2X is much closer though, with the D2X images only allowing an extra 1.5in diagonally beyond the D200 at 300 dpi. This is roughly equivalent to the step-up from the D200 to Canon's 5D.
Images can be recorded at three different resolutions, each with the choice of three different JPEG compression levels; best quality JPEGs typically measure between 3 and 6MB, with most working out around 4.5 to 5MB each. Images can also be recorded in Nikon's NEF RAW format, either with or without compression, although the former does introduce minor losses. RAW files can be recorded with or without an accompanying JPEG at any quality setting.
The D200's supplied with Picture Project software which can process NEF files, although to make the most of them you'll need additional software such as Nikon Capture 4. Along with RAW processing and remote control of the camera over a USB cable, Nikon Capture 4 supports the D200's dust reduction option where a reference frame is taken and used to automatically remove dust from subsequent images. It's not 100% effective, but any active approach to combating dust is welcomed. A 30-day free trial of Nikon Capture 4 is available to download from Nikon's website.
Sensitivity is offered from 100 to 1600 ISO in one-third EV steps with three further extended options known as H0.3, H0.7 and H1.0 – these correspond to sensitivities of 2000, 2500 and 3200 ISO respectively. A custom mode allows you to change the ISO increments to half or one EV steps.
Four noise reduction modes are available: the default Normal setting applies reduction automatically at 400 ISO and above, High and Low adjust the degree of reduction, while Off disables it at or below 800 ISO, although minimal noise reduction will still take place at 1600 ISO. There's additionally a long exposure noise reduction option for shutter speeds longer than 8 seconds which employs dark frame subtraction.
Colour and white balance
Along with Auto and manually preset white balances, the Nikon D200 offers separate Incandescent, Fluorescent, Direct Sunlight, Flash, Cloudy or Shade options, or the option to manually enter a temperature from 2500 to 10000K.
A selection of Image Optimisation modes offer presets for sharpening, tone, colour, hue and saturation. Modes include Normal, Softer, Vivid, More vivid, Portrait, Black and white, and finally, Custom for your own choices. We used the default Normal preset for our Results and Gallery pages and it produced well-balanced JPEGs out of the camera, although those who wish to apply sharpening to JPEGs afterwards will be better served by a softer option. Colour space can be switched between sRGB and Adobe RGB.
Additional features
The Nikon D200 sports a number of additional built-in features. The Multiple Exposure option allows up to ten exposures to be combined into a single image, while the Image Overlay function lets you create a composite image in-camera from two RAW NEF files – the opacity of each can be adjusted and the result stored as a new file, leaving the originals untouched.
The Interval Timer Shooting option allows you to program the D200 to take shots at preset intervals. You can enter the start time, the interval in hours, minutes or seconds, the number of intervals and the number of shots to be taken at each interval.
mage processing and handling
The Nikon D200's sensor features four channel output which allows it to share the same image processing engine as the D2X. This allows the D200 to enjoy high speed continuous shooting, and in our tests with a SanDisk Ultra II 1.0GB CF card, it certainly performed very close to Nikon's quoted specification of 5fps.
With the D200 drive set to Continuous High and the quality set for Large Fine JPEGs, we managed to shoot a burst of 27 frames in 5.5 seconds before the buffer filled; this equated to a speed of approximately 4.9fps. Letting go of the shutter release at this point then took 32.5 seconds to clear the buffer and finish writing data to the card, although as the buffer was being emptied it was of course possible to fire off shorter bursts. If the shutter release was held beyond the buffer's capacity, the Large Fine JPEG shooting rate reduced to around 1.5fps.
With the D200 quality set to uncompressed RAW mode (without an accompanying JPEG), we shot the same composition and captured a burst of 21 frames in 4.5 seconds before the buffer filled; this equated to a speed of approximately 4.6fps. Letting go of the shutter release at this point then took around one minute to completely empty the buffer, although as before you could fire off shorter high speed bursts during this process. If the shutter release was held beyond the buffer's capacity, the RAW shooting rate reduced to around 1.5fps.
In terms of overall handling, the D200 is a dream: it starts in just 0.15 seconds and responds very quickly to any request or operation. The AF systems snap static or moving subjects into sharp focus, while the excellent 3D-Colour Matrix Metering II rarely requires manual compensation – see our Gallery page for examples.