Nikon vs Tamron 24-70mm f2.8 review
Intro
24-70mm f2.8 zooms are the workhorses of photo-journalists, portrait and wedding photographers, and almost every manufacturer has one in their portfolio. For owners of Nikon FX-bodies the two main choices are Nikon's own AF-S Nikkor 24-70mm f/2.8G ED from 2007 and Tamron's new SP 24-70mm f/2.8 Di VC USD announced in 2012. Sigma's 24-70mm f2.8 is an older model which has not impressed in some reports, so I have not included it here; if a newer model is released, I'll update this review.
Normally third-party manufacturers are content to copy the features of an original manufacturer's lens and offer it at a discount. But this time Tamron was the first to add a very valuable feature to this type of lens: image stabilization. It's still 30% cheaper than Nikon's offering and thus is a very attractive alternative which might also be interesting to Canon and Sony users. To make this shootout even more interesting I've also added Nikon's latest AF-S 24-85/3.5-4.5G VR. Although it has not the same large aperture it offers a slightly longer reach and has Nikon's image stabilization VR that should make-up for 2-3 stops easily. It also brings up the rear price-wise at around 500 EUR (incl. 19% VAT) while the Tamron is at 1000 EUR and the Nikon at 1500 EUR.
Two 24-70mm f/2.8 zooms for Nikon DSLRs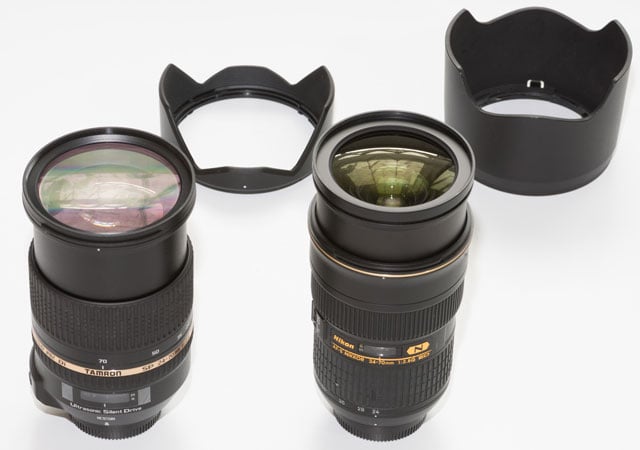 Tamron SP 24-70mm f2.8 VC (left, at 70mm) and Nikon AF-S 24-70mm f2.8G (right, at 24mm)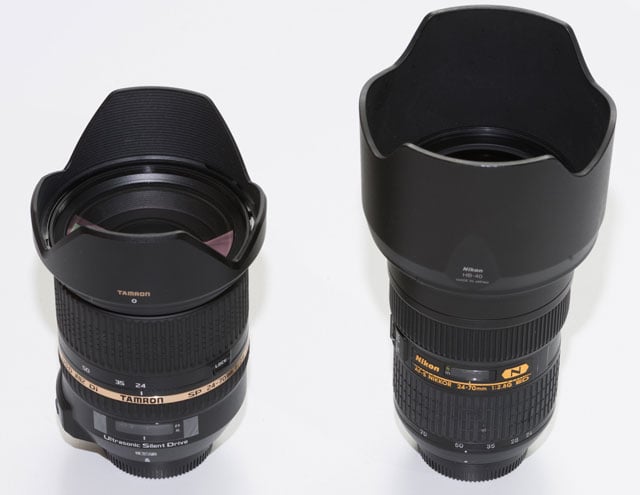 Tamron SP 24-70mm f2.8 VC (left, at 24mm) and Nikon AF-S 24-70mm f2.8G (right, at 50mm)

All three lenses have been reviewed by me on a 36MP D800 in the recent past:
– Nikon 24-70mm f2.8G review / Tamron 24-70mm f2.8 review / Nikon 24-85mm review
Check them out for specific details on each lens.
In this shootout I'll present the results from those three reviews side-by-side so that it's easy for you to compare the three lenses. The final verdict will declare the winner(s) in this shootout and give you some guidance as to which lens(es) I'd suggest as your standard-zoom.
Facts from the catalog
When you compare those three zooms based on technical data alone you'll end up with the Nikon 24-85mm and the Tamron vying for first place: both are cheaper than the Nikon 24-70mm, both have image-stabilization and the Tamron also has the larger aperture (2/3 – 4/3 of a stop). But the Nikon has a 21% longer reach. That doesn't sound like much but it means that you have to crop almost 1/3 of your pixels from a shot taken with 70mm to get the angle of view from a shot at 85mm. That's like the difference between a 16MP and a 11MP image.
And if you factor in the much lower price of the Nikon 24-85mm this zoom would be the clear winner. But this comparison on price and technical data alone is not worth much until we compare image quality. So let's have a look at the optical performance of these three contenders.