Nikon Micro 105mm f2.8G VR review
Intro
The AF-S VR Micro-Nikkor 105mm f/2.8G IF-ED is Nikon's flagship macro lens. It was the first macro-lens that offered image-stabilization from any brand. It's compatible with both full-frame FX and cropped-frame DX-format bodies, and as an AF-S model, it'll also autofocus on any Nikon DSLR.
Available since 2006, the AF-S VR Micro-Nikkor 105mm f/2.8G IF-ED is one of the six macro-lenses that Nikon currently offers. It's the second longest and second most expensive Micro-Nikkor after the AF Micro-Nikkor 200mm f/4D IF-ED, but as a more modern lens with AF-S focusing and VR, not to mention a brighter aperture and more practical focal length, it's arguably the best overall macro lens in the range.
On an FX body the 105mm focal length means it's a mild telephoto lens which can double-up for portrait duties, while on a DX body it enjoys longer reach for smaller or more distant subjects. In this review I'll take a detailed look at Nikon's only stabilized macro-lens for FX bodies, and find out whether it delivers decent performance and justifies its price. This is a two-part test, starting with results for cropped-frame DX-format bodies; I'll update this soon with FX-format results from a brand new D800, and will try and also include comparisons with the Micro-Nikkor 60mm in the future.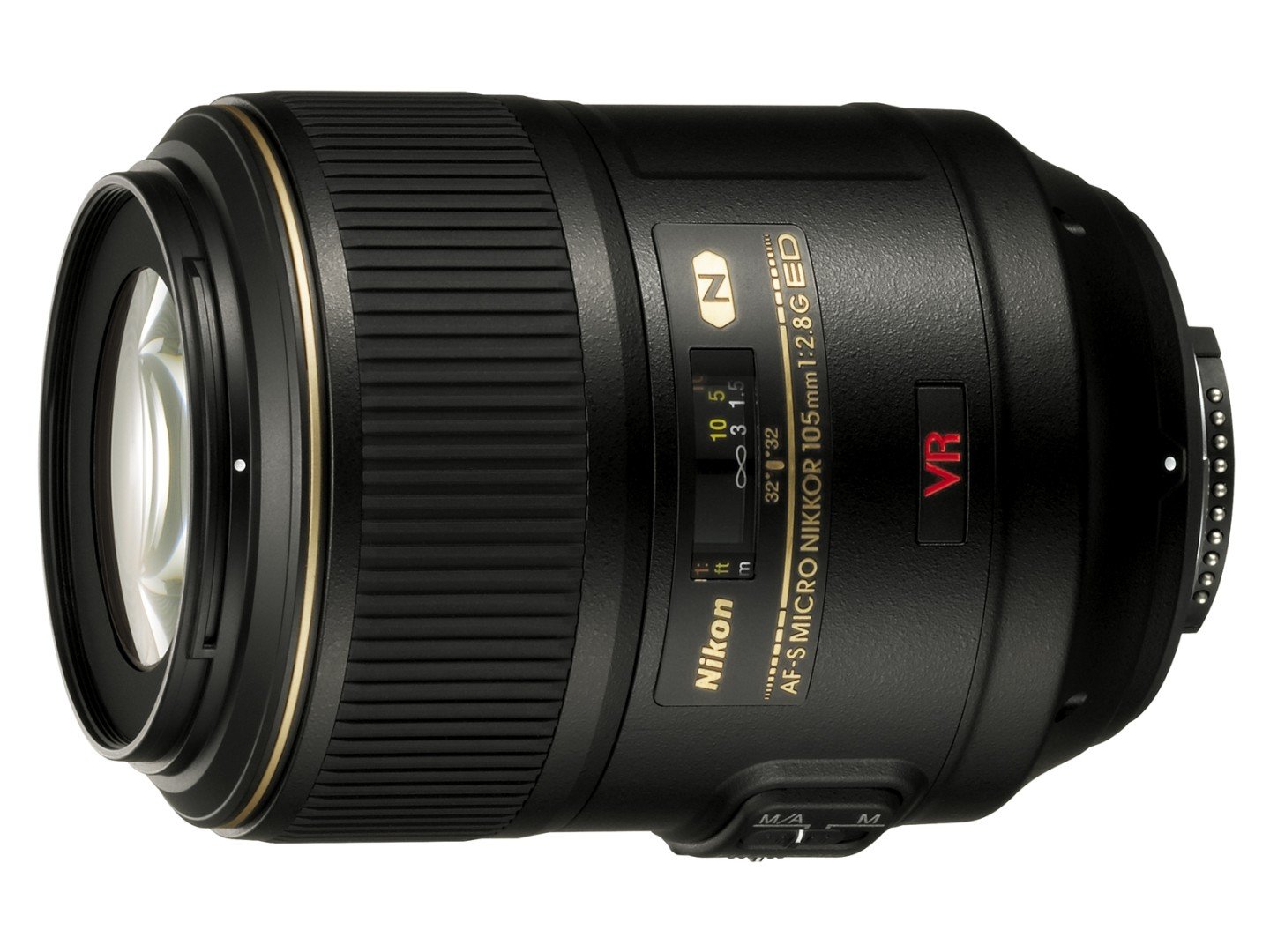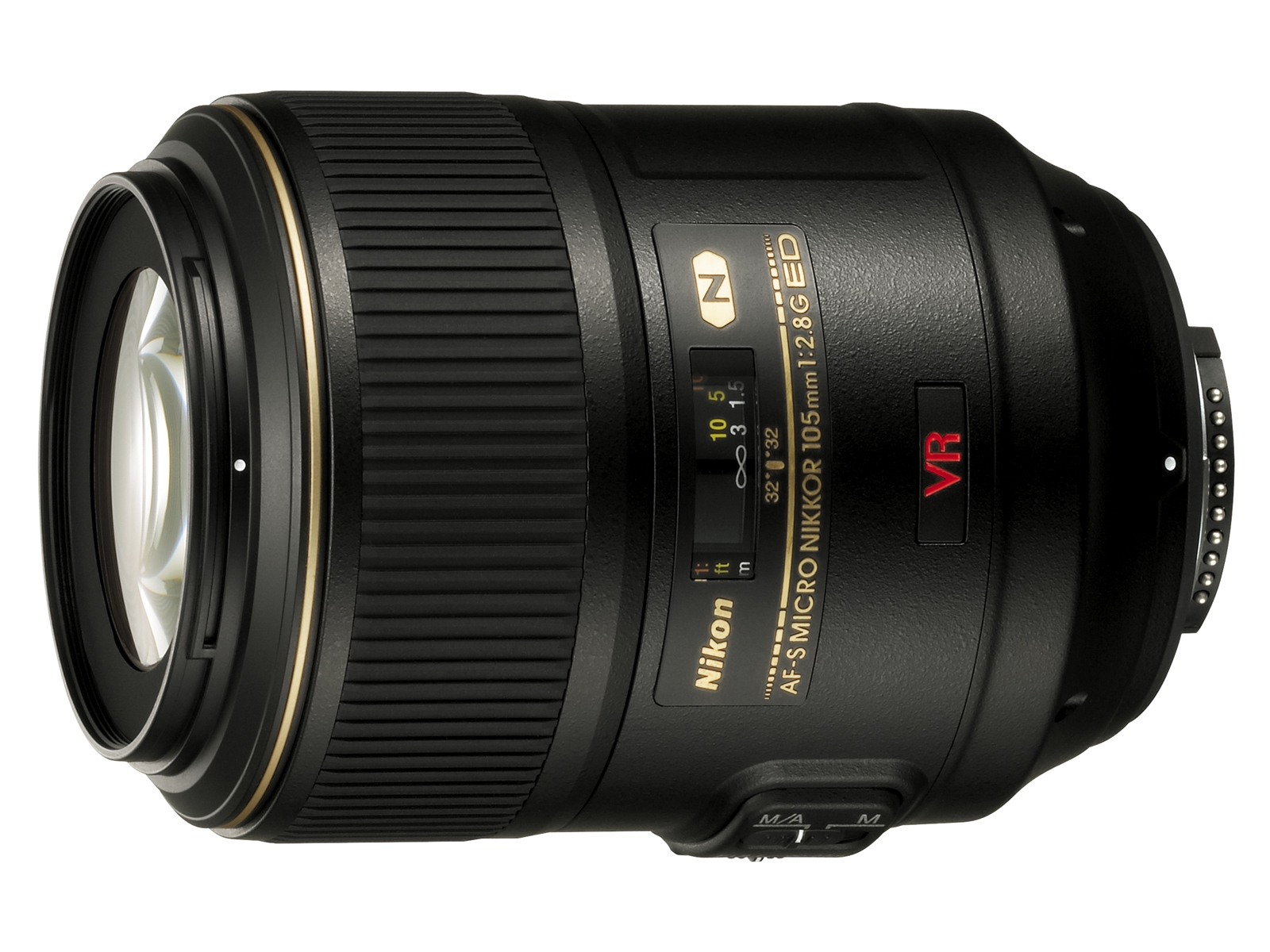 Facts from the catalog
Let's have a look at the technical data. I've rated the features with a [+] (or [++]) when it's better than average or even state of the art, a [0] if it's standard or just average, and [-] if there's a disadvantage.
Size and weight: 83x116mm at 750g = quite bulky and long too (19cm including lens-hood); people definitely start looking if you point this lens at them. The weight is also pretty hefty and the lens is certainly not "pocketable" even if you take the pocket of an overcoat. Its smaller cousin, the AF-S DX Micro-Nikkor 85mm f/3.5G ED VR is much lighter and has a more comfortable size but covers only DX sensors. [0]
Optics: 14 elements in 12 groups including one ED-element and nano-coating. So this is the most complex design of current Micro-Nikkors with many glass/air surfaces that tend to produce somewhat lower contrast and increase the risk of flare/glare or ghosts. So the nano-coating is certainly a welcome addition to the formula. Overall the design is pretty similar to the newer AF-S DX Micro-Nikkor 85mm f/3.5G ED VR (which has no nano-coating), and even from the outside both lenses share a similar look. [0]
Nikon Micro Nikkor cross-section

DX Micro-Nikkor 40mm f/2.8G

DX Micro-Nikkor 85mm f/3.5G VR

VR Micro-Nikkor 105mm f/2.8G
The three Micro-Nikkors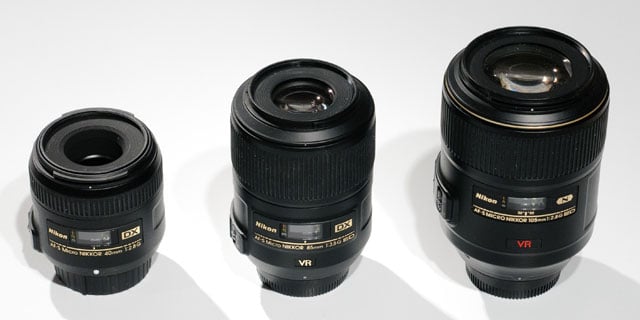 Form left to right: 40/2.8G, 85/3.5G VR, 105/2.8G VR
Closest focus distance/max. magnification: 0.31m / 1:1. Magnification of 1:1 is standard with Nikon's Micro-Nikkors, but other manufacturers call some of their lenses "macro" while only reaching 1:4 magnification. So this is a clear [+] for the Nikkor. But the other important thing with magnification is the working distance from the front lens at 1:1, a figure that is rarely published in the technical data. I measured a working distance from the front of the lens (w/o hood) of 15cm at 1:1. This is in the normal range of such lenses but you still you might find that 15cm is too close for the comfort of many small critters. [0]
Filter-thread: 62mm = same as with the Micro-Nikkor 60/2.8G or 200/4.0D but other than that pretty seldom used on Nikon's current lenses. This might mean you need to buy extra filters for this lens [0]
Image stabilization: Yes = a real bonus! This lens is the shortest prime lens for FX bodies with stabilization. With VR you can expect to be on the safe side at 1/30 sec or even 1/15 sec with this lens. [+]
Auto focus: AF-S with SWM (silent wave motor) means it'll work on any Nikon body, while manual-focus override simply involves turning the focus ring. The focus scale has a third line that shows magnification in addition to the shooting distances in m and ft. [+]
Covers FX-sized sensors = This is normal for all macro-lenses of this focal length. [0]
Comes with a flexible lens pouch, snap-on front lens cap, rear lens cap, and revertible bayonet hood, like any standard Nikon lens. [0]
Price: around 730 EUR new (incl. 19% VAT) = definitely not cheap! For this price you can buy the Nikon 60/2.8G macro lens plus a 50/1.8G and get some spare change! [0]
Distance information is relayed to the camera, so the Nikon body can do all the advanced exposure-related stuff with this lens. But this is true for all the alternatives too. [0]
Aperture ring = no, just like all Nikon G-lenses. [0]
Sealing: yes! There's a rubber grommet on the lens-mount. [+]
Focus limiter switch: Yes. So AF has not always to consider the whole range of possible subject distances. This could prevent hunting under certain conditions. [+]
This gives a total score of 0[-] / 9[0] / 5[+] in the "features-department". That shows that the lens ticks many boxes feature-wise and has no real technical draw-backs. But it has its high price and certainly brings some size and weight to the table, too.
Motivation
:
105mm was long considered a standard in macro-lenses (it's already Nikon's 10th iteration) as it gives you some reasonable working-distance. It lets you get close to your subject and shows details other lenses can't show. It also doubles up as a moderate tele-lens. Plus there are expectations that macro-lenses are pretty sharp. But as always: what you expect and what you actually get may not coincide. So you'll have to wait a little until all is revealed.
Alternatives
:
If you want a stabilized macro-lens there are really only three alternatives:
– The Nikon AF-S DX Micro-Nikkor 85mm f/3.5G ED VR: Shorter, cheaper, but only for DX bodies.
– The Sigma AF 105mm 2.8 EX DG OS HSM Macro: Comparable.
– The Sigma AF 150mm 2.8 EX DG APO HSM OS: Longer and more expensive.
If you're willing to forego image stabilization there are many more alternative lenses to choose from Nikon, Sigma, Tamron and Tokina.
Testing: Longitudinal Chromatic Aberration
Axial color (longitudinal CA, loCA) is a very common problem with large aperture primes and is not as easy to correct in post processing (or in-camera) as lateral CAs. Longitudinal CAs create some greenish tint with background subjects and a magenta tint on foreground subjects.
Below left is the result for the 105/2.8G showing a 100% crop at f2.8. The loCA effect is relatively mild and almost completely gone by stopping down to f5.6. Processing was done in Capture NX 2 with standard settings meaning lateral CA removal was ON, loCA removal = OFF. Below right you see the results from setting loCA removal to 50% in Capture NX.
Nikon AF-S VR Micro-Nikkor 105mm f/2.8G IF-ED Longitudinal Chromatic Aberration (loCA)

100% crop, f2.8, loCA removal OFF in Capture NX2
100% crop, f2.8, loCA removal 50% in Capture NX2
Sharpness and contrast
Let's have a look at the theoretical performance (MTF-charts) of the new lens before analyzing the results from the test-shots:
Nikon Micro-Nikkor MTF

DX Micro-Nikkor 40mm f/2.8G

DX Micro-Nikkor 85mm f/3.5G VR

VR Micro-Nikkor 105mm f/2.8G
These charts show the lens-performance at the largest aperture. To read these charts you only have to understand that higher values are better and that the closer the dotted and the continuous lines are together the less astigmatism (= resolution depends on the orientation of the test-pattern) the lens displays. The DX-corners where I measure with the D300 are approximately at 12mm on the X-axis.
From the charts the 105/2.8 should perform very well with very high contrast over the complete image-field and good sharpness that deteriorates only outside the DX image-circle towards the corners of an FX-sensor. But to really understand what this lens can produce we need to look at real test-shots with a challenging target, the Siemens-stars, with different apertures and different shooting distances. Because performing well at larger magnifications is no easy feat – otherwise people would be only buying extension tubes.
This comparison comes in two parts: center and corner performance at normal distances (around 3m, 1:35 magnification), followed by center and corner performance at macro distances (around 40cm, 1:2.6 magnification). For comparative purposes with my DX 40mm and DX 85mm Micro Nikkor reviews, I tested the 105mm with a DX-format body only. But I'll supplement this review with FX results the next time I get my hands on a suitable body.
Processing was done in CaptureNX2 at standard settings, with white-balance adjusted to a neutral white and some exposure compensation to make the brightness match. CA-removal is ON. Focus was achieved as usual in live-view with a little optimization by hand and was performaned separately for the center and the corners to avoid any effect from field curvature.
These are all 100% crops!
Part 1: Center- and corner-performance at standard (1:35) magnification (around 3m)
Shot from a printed test-target
AF-S VR Micro-Nikkor 105mm f/2.8G IF-ED with Nikon D300
100% crop from center

AF-S VR Micro-Nikkor 105mm f/2.8G IF-ED with Nikon D300
100% crop from corner

f3.0, 200 ISO (max aperture at 1:35)

f3.0, 200 ISO (max aperture at 1:35)

f4, 200 ISO

f4, 200 ISO

f5.6, 200 ISO

f5.6, 200 ISO

f8, 200 ISO

f8, 200 ISO
The lens performs as expected from the MTF-chart: Center and DX-corner are very sharp. This is also confirmed if you compare the performance of this lens to the Nikon DX Micro-Nikkor 40mm f/2.8G and the Nikon AF-S DX Micro-Nikkor 85mm f/3.5G ED VR – see my Nikon Micro-Nikkor lens comparison.
Part 2: Center- and corner-performance at around 1:2.6 magnification (around 40cm)
Shot from a test-target on a black&white negative 24×36 film
AF-S VR Micro-Nikkor 105mm f/2.8G IF-ED with Nikon D300
100% crop from center

AF-S VR Micro-Nikkor 105mm f/2.8G IF-ED with Nikon D300
100% crop from corner

f3.3, 200 ISO (max aperture at 1:2.6)

f3.3, 200 ISO (max aperture at 1:2.6)

f4, 200 ISO

f4, 200 ISO

f5.6, 200 ISO

f5.6, 200 ISO

f8, 200 ISO

f8, 200 ISO

f11, 200 ISO

f11, 200 ISO
At larger magnifications the center of this lens is pretty good straight from the largest aperture, which is f3.3 at a magnification of 1:2.6. The corner is clearly weaker and shows some pronounced astigmatism. For best close-up results I'd suggest stopping down to f8. Overall the performance for shooting close-up is pretty good considering that you normally have to close the aperture a bit to get a sufficiently large depth-of-field at magnifications larger than 1:3. Again if you'd like to compare the quality of this lens to the Nikon AF-S DX Micro-Nikkor 40mm f/2.8G and the Nikon AF-S DX Micro-Nikkor 85mm f/3.5 VR see my Nikon Micro-Nikkor lens comparison.
Nikon 105mm Micro-Nikkor sample images gallery
The following images were taken with the AF-S VR Micro-Nikkor 105mm f/2.8G IF-ED. Each image was recorded in RAW and converted with Capture NX 2 at standard settings. Some images have White Balance set to a standard daylight value to make them comparable. No extra sharpening, tone, color, or saturation adjustments were applied.
The first shots show the performance near to infinity on a D300. This is important for all landscape shooters. The three 100%-crops are taken from the middle of the f2.8, f4.0, and f5.6 version of each image while the main image shows the shot at f8.0. You can click on each image to access the large original. These files are for personal evaluation only and cannot be used in another publication or website without permission.
Trees: infinity shot with Nikon AF-S VR Micro-Nikkor 105mm f/2.8G IF-ED on a D300

f8.0, 200 ISO

f2.8, 200 ISO

f4.0, 200 ISO

f5.6, 200 ISO
The next row shows 100%-crops from the right border.
Trees: border performance with Nikon AF-S VR Micro-Nikkor 105mm f/2.8G IF-EDon a D300

f2.8, 200 ISO

f4.0, 200 ISO

f5.6, 200 ISO
These images show that the lens delivers good sharpness and contrast with little light fall-off over the DX-image circle at f2.8. From f4.0 on the performance is very good.
The next shot should give you an impression of the close-up performance that this lens can deliver. Magnification is around 1:2.5 and I've chosen f8.0 here to get a decent depth-of-field. Clicking on the image gives you access to the large original. The three small crops below are displayed at 100%. When you compare these crops to the same shots from my other Micro-Nikkor reviews, please allow for small focus variations. This real-life test confirms what we've already seen from the test-charts: This lens is a good performer under close-up conditions. And the long focal length makes for a very good isolation of the figure from the background.
Wizard: close-up shot with Nikon AF-S VR Micro-Nikkor 105mm f/2.8G IF-ED on a D300

f8.0, 200 ISO

f8.0, 200 ISO

f8.0, 200 ISO

f8.0, 200 ISO
Focus and build quality
Focus accuracy and repeatability is critical for people relying on AF. Repeatability (=accuracy of focus on the same subject after repeated focus-acquisition) is very good with only one small outlier over a series of 18 shots. The slight focus-variations that you can observe are dependent on the direction the focus was coming from (infinity or minimum focus distance). The 105/2.8G focuses fast: around 0.7 sec from minimum focus distance (MFD) to infinity. But under some conditions it tends to hunt in the wrong direction (namely close-up) first. Fortunately there is a focus limiter switch that prevents the lens from hunting closer than 50cm before recognizing that the target is further away. So you don't lose too much valuable time in acquiring focus.
The focus ring of the 105/2.8G turns about 170° from infinity to MFD. This long throw is good for manual focusing (in live-view) and there is no play between the focus-ring and the focus-action. The AF-operation is very quiet and the focus-ring operates very smoothly. This all supports the general impression of professional build quality that this lens conveys: very solid construction with a metal lens-mount, nine rounded aperture blades, and a tightly fitting lens-shade. If you shake the lens there is some noise to be heard, but that is normal with a stabilized lens.
Two things happen when you focus towards MFD: The effective max aperture shrinks to f4.8 (f3.5 at a magnification of 1:2), and the smallest aperture goes from f32 to f64. But the physical length of this lens does not change. The shrinking of the effective aperture is nothing to lament about, with a non-IF design those values would be f5.6 resp. f64 at 1:1 magnification.
Image stabilization
It's always good to see Nikon's VR (vibration reduction) in a lens. This is a clever way to reduce shake when shooting handheld (that is unless Nikon builds a DSLR with sensor-based image-stabilization). Nikon has proven time and again that their VR is quite effective although as a pixel-peeper I would not necessarily rely on more than a two-stop reduction in shutter-speed. And I was not surprised to find the VR work as advertised at normal distances.
But the real question is: what can VR do for you when shooting up-close. There is some debate whether image-stabilization still is effective when you approach 1:1 magnification. Nikon indicated on its website that the four-stops advantage is valid for "near infinity to 3m (1/30x reproduction ratio) shooting". Btw. that's something they don't indicate for their second stabilized macro-lens, the AF-S DX Micro-Nikkor 85mm f/3.5G ED VR, or any other stabilized lens in their line-up. So that was something I wanted to find out.
I did two series of shots at around 1:2 magnification: one with VR=ON and one with VR=OFF. I also had other test shots with the 85/3.5G and the 40/2.8G to see how those compared. I was standing a little stooped in front of the target which is not the ideal position for slow shutter-speeds and took 15 shots each in intervals of around one second. After downloading the images to my computer I looked through the series at increasing magnification and awarded additional stars for those shots that still looked sharp at the respective magnification. So I ended up with a statistic of how many shots with the 105/2.8G with VR=ON were zero stars, one star, two stars, etc. and could compare these results across the different series. As this was quite a chore I tested only at a speed of 1/15 sec. This is a pretty slow speed and is far beyond the recommended formula of using 1/focal length as shutter-speed for sharp hand-held images. If the image-stabilization can hold a two stops longer shutter-speed that would mean around 1/25 sec for the 105mm lens.
When looking at my statistics I found out:
1. With VR=OFF the 105mm lens produces results that were slightly better than the 85/3.5 (with VR=OFF). A probable explanation could be the heavier weight and the better grip on the longer 105mm lens. But still the results were worse than from the (non-stabilized) 40mm macro-lens.
2. With VR=ON the 105mm was scoring about 2x better than with VR=OFF which is a little better than the 85/3.5 with VR=ON and more than 50% better than the 40mm.
This again proves that VR is clearly beneficial for macro-shots: The VR makes the 2.6x longer 105mm lens produce sharper results than its 40mm cousin. That looks like an almost two-stop advantage of VR to me. A word of warning though: even with VR=ON only half of the shots were sharp enough at 1/15 sec. So you better get a tripod or use speeds of 1/30 sec or 1/60 sec to avoid blurring a macro-shot!
All-in-all the AF-S VR Micro-Nikkor 105mm f/2.8G IF-ED delivers a very good performance, so let's wrap things up in my Nikon 105mm macro lens verdict.