Intro
The Nikkor AF-S 85mm f/1.8G is a short telephoto lens announced January 2012. It's the long-awaited successor of the Nikkor AF 85mm f1.8D from 1994 and the considerably more affordable sibling of the AF-S 85mm f1.4G from August 2010 – see my Nikon 85mm f1.4G review for more details on that high-end model.
It can also be considered the longer companion to the AF-S 50/1.8G from April 2011 (see my Nikon 50mm f1.8G review) which is now also accompanied by the new AF-S 28/1.8G. So with a line-up of three new f1.8 primes at 28mm, 50mm and 85mm, Nikon has now completed the renovation of a set of FX-capable lenses that are considered the primary goal for people wanting large aperture prime lenses at a reasonable price.
On both DX and FX format bodies 85mm focal length is considered as a preferred candidate for portrait-photography as it gives you some distance from your subject which leads to a flattering perspective. This, combined with the capability to render blurred backgrounds with a smooth bokeh, makes large aperture 85mm lenses very sought after. Another use-case for 85mm primes is street-photography where you need some reach and a fast shutter speed. But as we'll see later a 85mm lens may also be used for capturing landscapes.
So far Nikon's new designs (the 50/1.8G and the DX 35/1.8G) have proven to be sharp and contrasty rendering neutral colors. This puts pretty high expectations on the newcomer. In this review I'll have a look at Nikon's newest 85mm f1.8G prime, and find out whether the lens lives up to the expectations.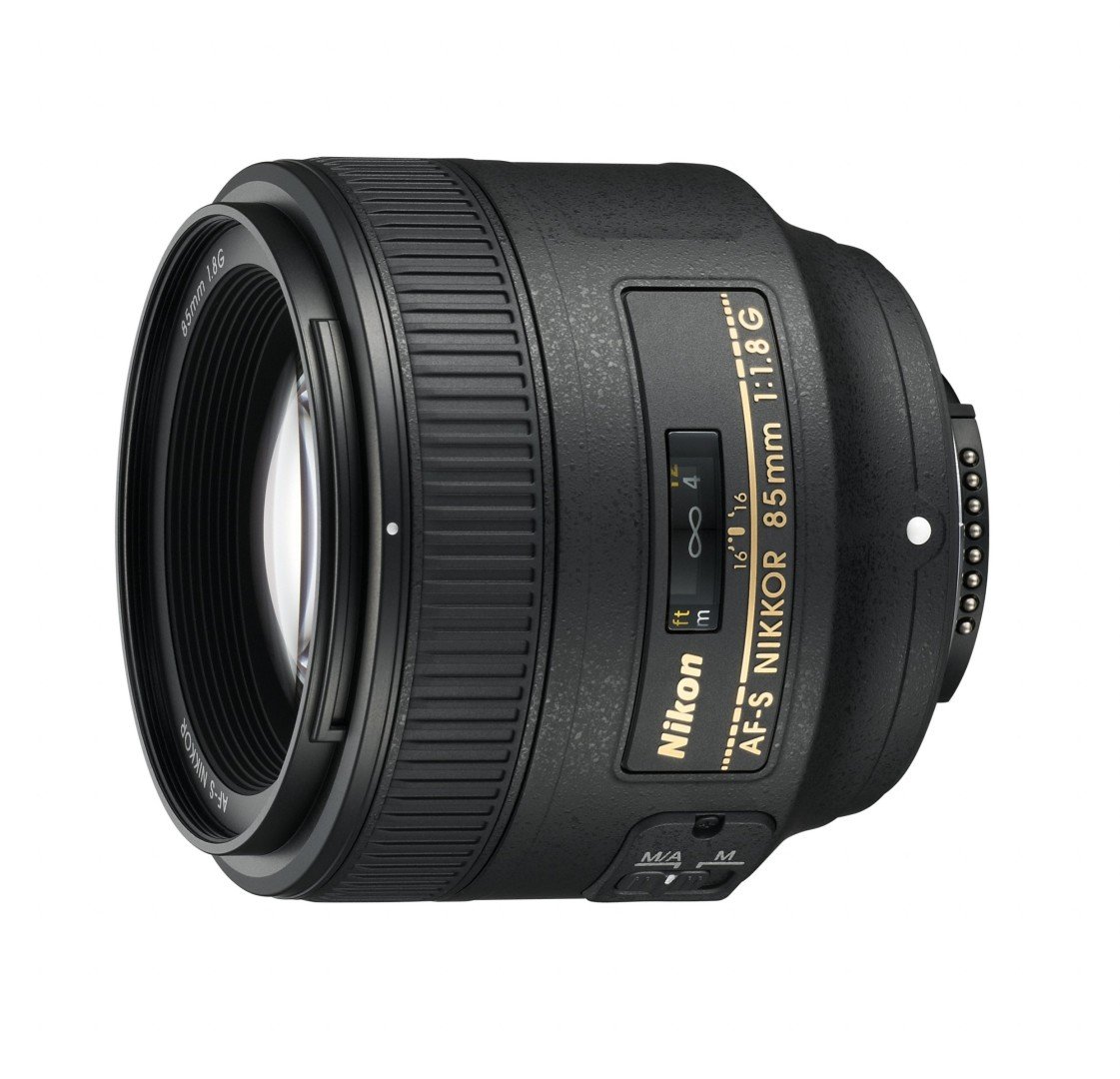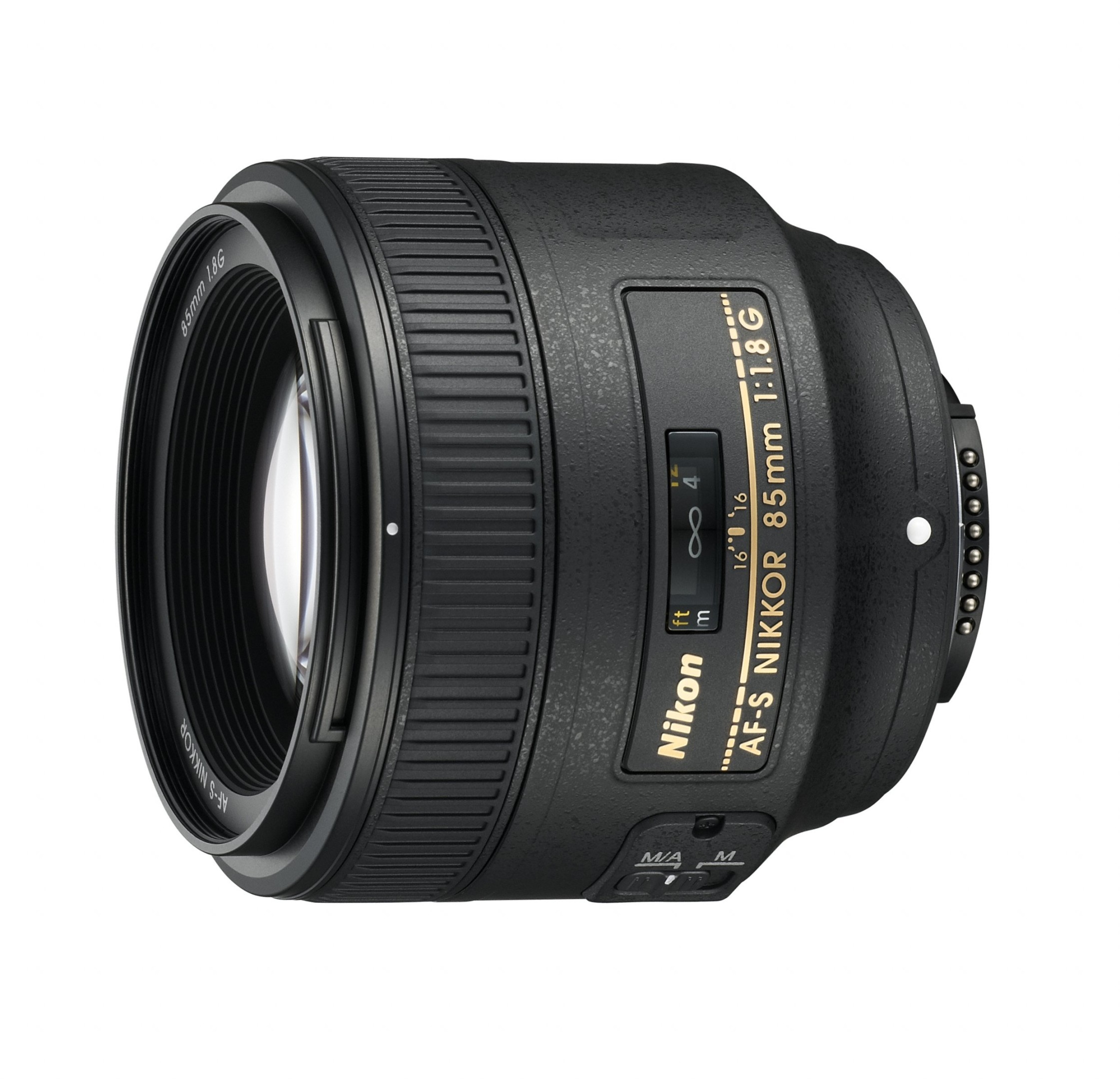 Facts from the catalog
As usual I'll have a look at the technical data first and make some comparison to similar lenses. I've rated the features with a [+] (or [++]), when it's better than average or even state of the art, a [0] if it's standard or just average, and [-] if there's a disadvantage.
Size (diam. x length): 80 x 73 mm (3.1 x 2.9 in.). The lens has grown considerably against its predecessor, the 1.8D at 72 x 59 mm (2.8 x 2.3 in.) which had no AF-drive. But it's still OK [0]
Weight: 350 g (12.4 oz) = 30 grams less than the old version. [+]
Optics: 9 elements in 9 groups vs. 6 elements in 6 groups on the 85/1.8D. But still this is a small amount of glass compared to zooms that tend to have something like 21/16. That bodes well for contrast and flare-resistance. Nikon didn't use Nano-coating on this lens and the cross-section does not show any aspherical or ED-element at all. [0]
Closest focus distance/max. magnification: 0.8 m (2.62 ft.) / 1:8.1. This does not come close to what I often need in nature (1:3-1:5). So no honorable mention for this performance, but other 85mm lenses don't focus closer either. [0]
Filter-thread: 67mm = a cheaper standard than with the larger pro-lenses [+]
IS: No = a pity! Many zooms covering 85mm as well as the 105/2.8 have VR. You can only hope that with a 1.3 stops larger aperture you could crank up the shutter speed to where shake is less likely. And shake you see: Just look through the viewfinder! [–]
AF: AF-S with SWM (silent wave motor), so it does work on D60/3×00/5×00-bodies , manual-focus override by turning the focus ring [+]
Covers full frame/FX or smaller = very good [+]
Comes with a flexible lens pouch, not a nice soft-case [0]
Price: around 450 EUR new (incl. 19% VAT) = reasonable! The old Nikon 85/1.8D is around 370 EUR now, The Samyang 85/1.4 (no AF!) can be had for 300-400 EUR and all other alternatives are more expensive as they sport an f1.4 aperture and AF – Nikon's own 85mm f1.4G typically costs over three times as much. If you exclude the Samyang (I wouldn't recommend manual focus on a large aperture prime) the f1.8 Nikons are in fact the cheapest alternative to get one of those much sought-after large aperture 85mm primes. Who would have thought that I mention "cheap" and "Nikon" in one sentence. [+] (To be fair I should however note the oldie-but-goodie Canon EF 85mm f1.8 comes in a little cheaper).
The lens-caps are standard Nikon's. The others still play catch-up. [+]
Distance information is relayed to the camera, so the Nikon body can do all the advanced exposure-related stuff with this lens. But this is true for all the alternatives too. [+]
Aperture ring = no, just like all Nikon G-lenses. [0]
Lens-shade included and revertible for transport. [+]
Sealing: yes! Note the older 85/1.8D has none. [+]
So the score in the "features-department" is 2[-]/5[0]/9[+].
Motivation
:
Large aperture 85mm lenses are for isolating your subject from some distance and/or getting faster shutter speeds when your subjects are moving. But I can use this as a nature shooter too because I love to have not everything in equal sharpness.
Alternatives
:
In this price-bracket there are really only two alternatives:
– The old Nikkor AF 85/1.8D
– Samyang 85/1.4 manual focus
Once again Nikon's own AF-S 85mm f/1.4G is much more expensive – typically costing over three times more.
Testing: Longitudinal Chromatic Aberration
With large aperture primes one of the first tests I perform is for longitudinal CA (loCA, a.k.a. "axial color" or "bokeh CA") and it normally shows some pretty nasty coloration unless you have a very expensive apochromatic lens. The 85/1.8G is no exception and shows quite some amount of loCA. Left is the result for the AF-S 85/1.8G showing a 47% crop at f1.8. At f5.6 the greenish (background) and reddish (foreground) hues are almost gone – but not completely. On the right you see the same image processed in Capture NX 2 with loCA removal = 100% – quite effective. The effectiveness of loCA-removal in Lightroom version 4.1 was not tested at the time of writing.
Nikkor AF-S 85mm f/1.8G Longitudinal Chromatic Aberration (loCA)

47% crop, f1.8, loCA removal OFF in Capture NX2
47% crop, f1.8, loCA removal 100% in Capture NX2
The effect looks pretty bad here, but this is a worst case. With subjects that are further away it is nowhere near as pronounced. And what is especially positive: Shooting trees against a glaring sky does not produce those horrible ghostlike magenta twigs that its predecessor was so prone of. Only the second of the crops shows some hints of "magenta ghosting".
Chromatic Aberration test: shot with Nikon Nikkor 85/1.8G on a D800

f1.8, 100 ISO

f1.8, 100 ISO

f1.8, 100 ISO

f1.8, 100 ISO
By the way: This is also a shot where you can see the effect of vignetting wide open as I did not correct it in post-processing. Plus there are some specular highlights on the cars-bodies to the left that show the amount of purple fringing that you can expect from this lens. The effect is clearly visible in the large version of the image that you can access by clicking on the image above. But it is not excessive.
Sharpness and contrast
Let's have a look at the theoretical performance (MTF-charts) of the new lens and its predecessor first:
Nikkor 85mm f/1.8 MTF

The new Nikkor AF-S 85/1.8G
Its predecessor, the Nikkor AF 85/1.8D
These charts show the lens-performance at the largest aperture, in this case for f1.8. To read these charts you only have to understand that higher values are better and that the closer the dotted and the continuous lines of each color are together the less astigmatism (= resolution depends on the orientation of the test-pattern) the lens has. The x-axis displays the distance from the optical axis (=center of the sensor) in mm. I'll show you the real-life performance at 4 mm (center), 13 mm (DX-corner), and 20 mm (FX-corner) on a D800.
From the charts the new lens should perform better than the old one. But the new design has a little problem with astigmatism at very fine structures (S30/M30) between 4 mm and 14 mm from the center. But let's see how this theoretical performance translates into real life results in the sharpness test based on Siemens-stars.
I present near-center results (first column) followed by DX-corner results and FX-corner results on a D800. This makes the following crops incomparable to the crops shown in my previous test on a D300 (15% less linear resolution than a D800) and D700 (42% less linear resolution). It does also mean that the D800 results from the DX-corner may not even be identical to the results from the same lens on a D7000, although the pixel-pitch of both sensors are the same. Differences in the AA-filter and micro-lens-design of a D800 and a D7000 might be the reasons for this. But the results shown here should at least be a very good approximation for performance on a 16MP DX sensor. Just keep that in mind, when you look at the results compare them with my previous reviews.
Processing was done in Lightroom 4 from RAW at camera standard settings. This is another deviation from my former test-standards and was triggered by a close comparison of both RAW-converters: Lightroom 4 has a sharpening algorithm that can be better tuned for small details than CaptureNX2. Noise-reduction is set to 0, sharpening to 70/0.5/36/10, with no extra tone, color, or saturation adjustment. White-balance was adjusted to a neutral white and I did some exposure compensation to make the brightness match. CA-removal is ON. Focus was achieved in live-view (contrast-based) at f1.8.
These are 100% crops!
Nikkor AF-S 85mm f/1.8G with Nikon D800
100% crop from center

Nikkor AF-S 85mm f/1.8G with Nikon D800
100% crop from DX-corner

Nikkor AF-S 85mm f/1.8G with Nikon D800
100% crop from FX-corner

f1.8, 100 ISO

f1.8, 100 ISO

f1.8, 100 ISO

f2.0, 100 ISO

f2.0, 100 ISO

f2.0, 100 ISO

f2.8, 100 ISO

f2.8, 100 ISO

f2.8, 100 ISO

f4.0, 100 ISO

f4.0, 100 ISO

f4.0, 100 ISO

f5.6, 100 ISO

f5.6, 100 ISO

f5.6, 100 ISO

f8, 100 ISO

f8, 100 ISO

f8, 100 ISO
These 100% crops directly from a 36MP D800 sensor are proof of the incredible sharpness of this lens. Even wide open center resolution is very high and astigmatism is not really an issue. Deterioration of image-quality in the FX-corner is astonishingly small with the coloration of the small Siemens-star indicative of some astigmatism, but the concentric circles still showing very good definition. The astigmatism in the DX-corner is more pronounced with the circles now clearly loosing definition on the 11-to-5 diagonal. Interestingly the Siemens-stars in the DX-corner vs FX-corner show that the orientation of the magenta/green colorations has turned 90°: that is in line with the MTF chart showing that the sagittal and meridional performance (S30, M30) have switched position between 13mm and 20mm. Does this lab-performance regarding the DX-corner show in real-life images? You bet! I have one shot where you can clearly see the sharpness take a dip somewhere at 50-70% from the center of an FX-frame and sharpen up again when going further in the direction of the FX-corner.
Stopping down to f2.0 does almost nothing for the performance of this lens. But at f2.8 we get a marked improvement in the center-performance albeit with some sign of focus shift (thus the magenta coloring). The corners profit only a little at f2.8 but become visibly better at f4.0. At f5.6 the effects of focus-shift and astigmatism are almost gone and at f8 we get a perfect, almost apochromatic performance all over the image circle with just a hint of diffraction setting in. But have a look again at the FX-corner at f8 and scroll back to f1.8 and you see how little performance degradation you get when using this lens wide open. This is what I'd call an excellent performance.
Sagittal coma flare
This is something that influences corner performance by producing odd shapes out of point-light sources. Some large aperture primes are quite prone to this effect, as you can see in my Nikon 50mm f1.4G review. The 85/1.8G behaves clearly better in this respect as you would expect from the fantastic results above: Coma is almost gone at f2.8.
Nikkor AF-S 85mm f/1.8G
with Nikon D700

Nikkor AF-S 85mm f/1.8G
with Nikon D800

Nikkor AF-S 85mm f/1.8G
with Nikon D800

f1.8, 100 ISO

f2.8, 100 ISO

f5.6, 100 ISO
Nikkor AF-S 85mm f/1.8G with Nikon D800 in contra-light

From left to right: f1.8, f2.8 and f5.6
Behavior in contra-light
The image on the right shows a sequence of shots against a strong light-source shining directly into the lens but still outside the image circle of a FX-body. It shows how well the lens copes under these adverse conditions wide open and stopped down to f2.8 and f5.6.
Some lenses simply produce lower contrast when closing the aperture, although that should minimize stray-light in the lens. But unfortunately the reflections from the aperture itself sometimes cause some veiling glare.
You can judge the effect if you look at the shadows at the lower left of the camera body and the mounting-plate. The shadows become deeper when stopping down to f2.8 which is good. But at f5.6 shadows get lighter and the overall image contrast and dynamic range is reduced visibly. The effect is not too dramatic but reminds you that for optimal results you should prevent the sun from shining directly into the lens.
Nikon AF-S 85mm f1.8G sample images gallery
The following images were taken with the Nikon AF-S 85/1.8G on a D800. Each image was recorded in RAW and converted with Lightroom 4 at camera standard settings. Noise-reduction is set to 0, sharpening to 70/0.5/36/10, no extra tone, color, or saturation adjustment was used. Some images have White Balance set to a standard daylight value to make them comparable. You can click on each image to access the large original. Please respect our copyright and only use those images for personal use.
The first image shows what you can achieve in a typical landscape situation. Not that many people think of a 85mm large aperture prime as a landscape lens. But I urge you to have a look at these results: The 85/1.8G is fully capable of producing images at infinity that are full of fine details and sharp right into the corners of a very high resolution FX-sensor. Very impressive!
Unremarkables: Infinity shot with Nikon Nikkor 85/1.8G on a D800

f5.6, 100 ISO; Below: 100% crops from main image at different apertures

f1.8, 100 ISO

f2.8, 100 ISO

f4.0, 100 ISO
The next row shows 100% crops from the lower right corner. Apart from the vignetting it's pretty astonishing how this lens performs even wide open!.
Unremarkables: corner performance with Nikon Nikkor 85/1.8G on a D800, 100% crops

f1.8, 100 ISO

f2.8, 100 ISO

f4.0, 100 ISO
My second shot, below, should give you an impression of the bokeh that this lens can produce wide open. Very important for applications like portraiture. The 50% crops are from the background, the sharpest point, and the foreground in the overall image and should demonstrate the very smooth rendering of out-of-focus elements. This is clearly better than the bokeh of the Nikon AF 85/1.8D. How the 85/1.8G performs against the mighty (and expensive) AF-S 85/1.4G will be shown in my upcoming 85mm primes shootout.
Tulips: bokeh shot with Nikon Nikkor 85/1.8G on a D800
Main image and all crops: f1.8, 100 ISO
Other images shot with this lens will be added to my flickr set here in full resolution. Have a look if you like.
Focus and build quality
Focus accuracy and repeatability is especially critical for large aperture prime lenses with their shallow depth of field. Repeatability (=accuracy of focus on the same subject after repeated focus-acquisition) is excellent with no outliers over a series of shots. The lens focuses reasonably fast: around 0.6 sec from infinity to 0.85m.
The focus ring of the 1.8G turns about 100 degrees from infinity to MFD. This throw is good enough for manual focusing (in live-view or movies), and there is no slack/play between the focus-ring and the focus-action. The movement of the focus-ring is smooth and AF-operation is quiet. This is supporting the general impression of good build quality that this lens conveys: High quality plastic combined with a metal lens-mount, weather sealing, and seven rounded aperture blades. But in comparison to the smaller and heavier 1.8D it feels a little like a bloated plastic construction.
Overall the latest Nikon Nikkor AF-S 85mm f/1.8G delivers excellent value for money, which only leaves me to wrap things up in my Nikon Nikkor AF-S 85mm f/1.8G verdict.