Intro
NEW! Nikon 85mm f1.4G with D800 updated results!
The Nikkor AF-S 85mm f/1.4G was announced August 2010. It's the longest of four prime lenses sporting an f1.4 focal ratio in Nikon's current range, with the 50mm, 35mm and 24mm completing the line-up.
On both DX and FX format bodies the 85mm focal length is considered a prime candidate for portrait-photography as it gives you some distance from your subject which leads to a flattering perspective. This, combined with the capability to render blurred backgrounds with a smooth bokeh, makes 85mm f1.4 lenses very sought after.
In this review I'll take an in-depth look at Nikon's most expensive 85mm prime, and find out whether the lens lives up to its expectations. I originally tested it in March 2011 with the D300 and D700 bodies, and you can see this full report below. I retested the lens in June 2012 with the D800, and prepared a page of updated results to complement this main review. You can find these results in my Nikon 85mm f1.4G with D800 review. Alternatively if you're interested in the more affordable f1.8 version, again tested with the D800, please check out my Nikon 85mm f1.8G review!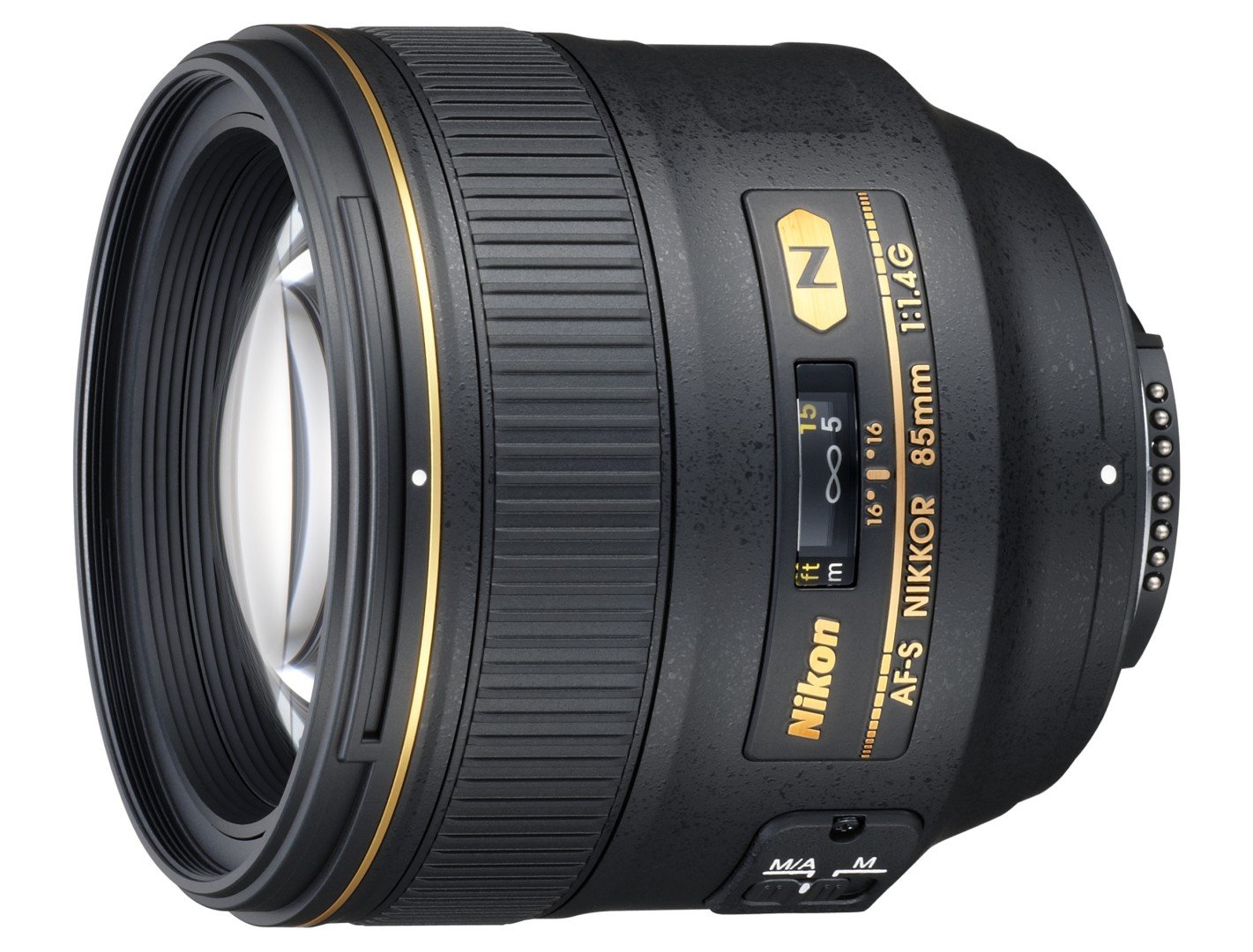 Facts from the catalog
Let's have a look at the technical data and make some comparison to similar lenses. We've rated the features with a [+] (or [++]), when it's better than average or even state of the art, a [0] if it's standard or just average, and [-] if there's a disadvantage.
Size: 87x84mm = medium size. 83x80mm is the size of the 85/1.4D so not much to be seen here. [+]
Weight: 595 g = Only 45 grams more than the old version. Not too heavy for such a large aperture lens. [+]
Optics: 10 elements in 9 groups vs. 9 elements in 8 groups on the 85/1.4D. This is much better than the zooms that tend to have something like 21/16 for the Nikon 70-200/2.8 . That bodes well for contrast and flare-resistance – helped by that mysterious Nano-coating that Nikon is using like snake-oil to improve lens-performance. Looking at the cross-section you see that there're no aspherical or ED-element at all: [0]
Closest focus distance/max. magnification: 0.85m / 1:8.3. This is too bad as I normally need something around 1:3-1:5. So no brownie points for this performance, but other 85mm lenses don't focus closer either. When you use a Canon 500D close-up filter (as some would call it) you could reach something around and beyond 1:5.8. So perhaps all is not lost. [0]
Filter-thread: 77mm = standard with pro-lenses [+]
IS: No = a pity! The Nikon 70-200/2.8 zoom has VRII. You can only hope that with a 2 stops larger aperture you could crank up the shutter speed to where shake is less likely. And shake you see: Just look through the viewfinder! [–]
AF: AF-S with SWM (silent wave motor), so does work on D60/3×00/5000-bodies , manual-focus override by turning the focus ring [+]
Covers full frame/FX or smaller = very good [+]
Comes with a flexible lens pouch, not a nice soft-case [0]
Price: around 1400 EUR new (incl. 19% VAT) = expensive! The old Nikon 85/1.4 is around 1100 EUR now, the Zeiss ZF.2 (manual focus only!) at 1100 EUR, the Sigma at 850 EUR and there's also the Samyang as "El Cheapo" for around 300 EUR. [-]
The lens-caps are standard Nikon's. The others still play catch-up. [+]
Distance information is relayed to the camera, so the Nikon body can do all the advanced exposure-related stuff with this lens. But this is true for all the alternatives too. [+]
Aperture ring = no, just like all Nikon G-lenses. [0]
Lens-shade included and revertible for transport. [+]
Sealing: yes! The 85/1.4D has none. [+]
So the score in the "features-department" is three negative, four average and nine positive (3[-] / 4[0] / 9[+]).
Motivation
:
Large aperture lenses are for isolating your subject. I need this as a nature shooter and even as a landscape shooter I love to have not everything in equal sharpness.
Alternatives
:
– The old Nikkor AF 85/1.4D
– The Sigma AF 85mm 1.4 EX DG HSM
– The Zeiss ZF Planar T* 85/1.4 manual focus
– Samyang 85/1.4 manual focus
Testing: Longitudinal Chromatic Aberration
Here's the test of axial color (longitudinal CA, loCA) and it shows some pretty nasty coloration. Left is the result for the AF-S 85/1.4G showing a 100% crop at f1.4. As the effect is reduced by stopping down, you can access a large composite image showing the loCA from f1.4 to f5.6 by clicking on the 100% crop. Processing was done in Capture NX 2 with standard setting meaning lateral CA removal was ON, loCA removal = OFF. At f5.6 the greenish (background) and reddish (foreground) hues are almost gone – but not completely.
Nikkor AF-S 85mm f/1.4G Longitudinal Chromatic Aberration (loCA)

100% crop, f1.4, loCA removal OFF in Capture NX2
100% crop, f1.4, loCA removal 100% in Capture NX2
The next image is a real-life example of some mild loCA. The main image shows the complete scene (you can access the large original by clicking on the image) and three 100% crops from areas that are in focus or slightly in front or behind the plane of sharpest focus. So there's not always the need to eliminate the effect in post-processing.
Longitudinal Chromatic Aberration: shot with Nikon Nikkor 85/1.4G on a D300

f1.4, 200 ISO

f1.4, 200 ISO

f1.4, 200 ISO

f1.4, 200 ISO
Sharpness and contrast
Let's have a look at the theoretical performance (MTF-charts) of the new lens and its predecessor first:
Nikkor 85mm f/1.4 MTF

The new Nikkor AF-S 85/1.4G
Its predecessor, the Nikkor AF 85/1.4D
These charts show the lens-performance at the largest aperture, in this case for f1.4. To read these charts you only have to understand that higher values are better and that the closer the dotted and the continuous lines are together the less astigmatism (= resolution depends on the orientation of the test-pattern) the lens displays. The DX-corners where I measure with the D300 are approximately at 12mm on the X-axis, the test-images from the D700 corner are from around 20 mm.
From the charts both lenses should perform very similar and on a high level! The new design shows a softer roll-off at the FX-corners and a higher contrast plus less astigmatism at very fine structures (S30/M30). But let's see how this theoretical performance translates into real life results in the sharpness test based on Siemens-stars.
I present center results (first row) followed by (almost) corner results on a D300 and the D700. So we're looking at the lens within the limited DX image circle with a pixel-pitch that is roughly equivalent to a D3x. But the corners of the D700 sensor have a lower pixel pitch than both the D3x and D300 so they are more "forgiving". Just keep that in mind, when you look at the comparison.
Processing was done in CaptureNX2 at standard settings, with white-balance adjusted to a neutral white and some exposure compensation to make the brightness match. CA-removal is ON. Focus was achieved as usual live-view based with a little optimization by hand and it was done separate for the center and the corners because the lens has slight field curvature. But I'd doubt that this is field-relevant.
These are 100% crops!
Nikkor AF-S 85mm f/1.4G with Nikon D300
100% crop from center

Nikkor AF-S 85mm f/1.4G with Nikon D300
100% crop from corner

Nikkor AF-S 85mm f/1.4G with Nikon D700
100% crop from corner

f1.4, 200 ISO

f1.4, 200 ISO

f1.4, 200 ISO

f2, 200 ISO

f2, 200 ISO

f2, 200 ISO

f2.8, 200 ISO

f2.8, 200 ISO

f2.8, 200 ISO

f4, 200 ISO

f4, 200 ISO

f4,200 ISO

f5.6, 200 ISO

f5.6, 200 ISO

f5.6, 200 ISO

f8, 200 ISO

f8, 200 ISO

f8, 200 ISO
Incredible how sharp this lens is center and corner straight from the largest apertures. There is only a slight increase in sharpness and contrast when you stop down to f2.8 where the results are excellent. This also shows in real-life images as you will see in our images section.
Sagittal coma flare is something that influences corner performance by producing odd shapes out of point-light sources. The Nikon AF-S 50/1.4G was quite prone to this effect, as you can see in our review of that lens here. The 85/1.4G behaves clearly better in this respect as you would expect from the fantastic results above: Coma is approximately one stop weaker in the 85/1.4G than on the 50/1.4G, and it is almost gone at f2.8.
Nikkor AF-S 85mm f/1.4G with Nikon D300 in contra-light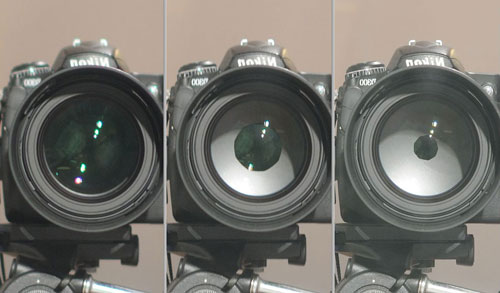 From left to right: f1.4, f2.8 and f5.6
Behaviour in contra-light
The image on the right shows a sequence of shots against a strong light-source shining directly into the lens but still outside the image circle of a DX-body. It shows how well the lens copes under these adverse conditions wide open and stopped down to f2.8 and f5.6.
The astonishing observation here is that you in fact get lower contrast when closing the aperture, although that should minimize stray-light in the lens. But unfortunately the reflections from the aperture itself cause some veiling glare.
You can judge the effect if you look at the shadows at the lower left of the camera body and the mounting-plate. The shadows become lighter and the overall image contrast and dynamic range is reduced by almost one stop when the lens is stopped down from f1.4 to f5.6. The effect is nothing dramatic but for optimal results you should prevent the sun from shining into the lens.
Gallery
The following images were taken with the Nikon AF-S 85/1.4G on a D300. Each image was recorded in RAW and converted with Capture NX 2 at standard settings. Some images have White Balance set to a standard daylight value to make them comparable. No extra sharpening, or tone-, color-, saturation-adjustment was used. The three crops are typically taken from the f1.4, f2.0, and f2.8 version of each image while the main image shows the shot at f5.6. You can click on each image to access the large original. Please respect our copyright and only use those images for personal use.
The first one is a near-field shot (magnification approximately 1:20) of colorful primroses. Sharpness and contrast even wide open proved again to be excellent: They were even better than from the Nikon AF-S 35/1.4G. And color rendition was lovely with a slightly cooler cast than its 35mm companion.
Primroses: near-field shot with Nikon Nikkor 85/1.4G on a D300

f5.6, 200 ISO

f1.4, 200 ISO

f2.0, 200 ISO

f2.8, 200 ISO
The next image shows what you can achieve in high contrast situations at wide open aperture. Naturally loCAs showed like crazy in this shot so I had to post-process the image in Capture NX 2 with loCA reduction set to 100% (the unprocessed version is here). The most impressive thing here is the performance against the glaring background and the sharpness and contrast wide open: This shot made my jaw drop in awe.
Trees: high contrast shot with Nikon Nikkor 85/1.4G on a D300

f1.4, 200 ISO; Column: 100% crops from main image after loCA correction

f1.4, 200 ISO

f1.4, 200 ISO

f1.4, 200 ISO
As I'm not content with the magnification that you can achieve with the lens unarmed, I tried to see what the addition of a Canon 500D close-up filter (reverse mounted) can give you.
Thistles: close-up shot with Nikon Nikkor 85/1.4G plus Canon 500D on a D300

f5.6, 200 ISO

f5.6, 200 ISO

f5.6, 200 ISO

f5.6, 200 ISO
Pretty decent performance at around 1:5 magnification, that is!
The final shot should give you an impression on the bokeh that this lens can produce wide open. The 100% crops are from the sharpest point and two successively further-away points in the overall image and should demonstrate the buttery rendering of out-of-focus elements. This is even more impressive than the bokeh of the Nikon 35/1.4G, but that was to be expected from the longer focal length.
Daffodils: bokeh shot with Nikon Nikkor 85/1.4G on a D300

f1.4, 200 ISO

f1.4, 200 ISO

f1.4, 200 ISO

f1.4, 200 ISO
Overall Performance and verdict
Having done over 500 shots with the new lens I have a pretty good feeling what the overall performance of the new lens is.
Sharpness/contrast
:
Overall contrast is very good even wide open and with very bright backgrounds like sky and snow. Sharpness and micro-contrast is reduced at f1.4 and f2.0 (you have to look at 66% or 100% magnification on your monitor to see it) but only slightly. The performance in this respect is really excellent.
Focus
:
Focus accuracy and repeatability is very critical with an f/1.4 lens where every inch of misfocus will immediately show up. That is one of the draw-backs when you use f/1.4 lenses. With the 85/1.4G you can observe a slight focus shift depending on subject distance – so for optimum focus quality you should control each shot (at f1.4, f2.0) or use live-view based focusing. Repeatability is pretty good with only one or two outliers in ten shots and the AF-quality almost independent from the direction the focus was coming from (infinity or minimum focus distance). Focus speed is a little on the slow side with around 0.8 sec from infinity to 85cm. But focus-gearing is very well suited for live-view assisted manual focus.
Longitudinal CA
:
Well, this can be really nasty in high contrast situations, and it may need post-processing.
Other observations:
In case you wonder: tele-converters are a no-no with this lens as the rear-element will immediately get in conflict with the TC. So there's no way to convert this beautiful lens into a 120/2.0 or 170/2.8 lens.
And on another note: While switching between the new 35/1.4G and the 85/1.4G it is very obvious that 85mm on a DX-body is already taxing your skills to keep the lens steady. Try to shoot 1/125 sec at least if you want to avoid shake and produce sharp photos hand-held!
This in turn raises the question why Nikon did not implement VRII with this lens. I can only speculate, but I think that the masses of lens-elements in such a large aperture prime that need to be moved to compensate for shake is beyond the framework for VR implementation (e.g. energy consumption, response times). This shows (again) why Nikon needs to implement body-based image-stabilization for use with such lenses as the 85/1.4G or other fast primes.
Summary from original test in 2011
Good points
The best 85mm prime from Nikon with lovely bokeh.
Excellent image quality even wide open on DX and FX bodies.
Very good quality built with weather sealing.
Quiet AF operation finally on a f/1.4 85mm lens from Nikon.
Bad points
loCA is pretty prominent.
Expensive.
No image stabilization.
Note
This review was made in March 2011 prior to the launch of the 85mm f1.8G and the D800 body. I've prepared some updated results in my Nikon 85mm f1.4G with D800 page.
If you have any question, comment or suggestion regarding the review head over here. A selection of my shots with this lens can be found there.
Und wenn es irgendwelche Fragen, Kommentare und Anregungen zu meinem Review gibt, hier gibt's die Möglichkeit auch für unsere deutschsprachigen Forums-Besucher. Und dort ist eine Auswahl an Bildern, die ich mit dieser Linse gemacht habe.