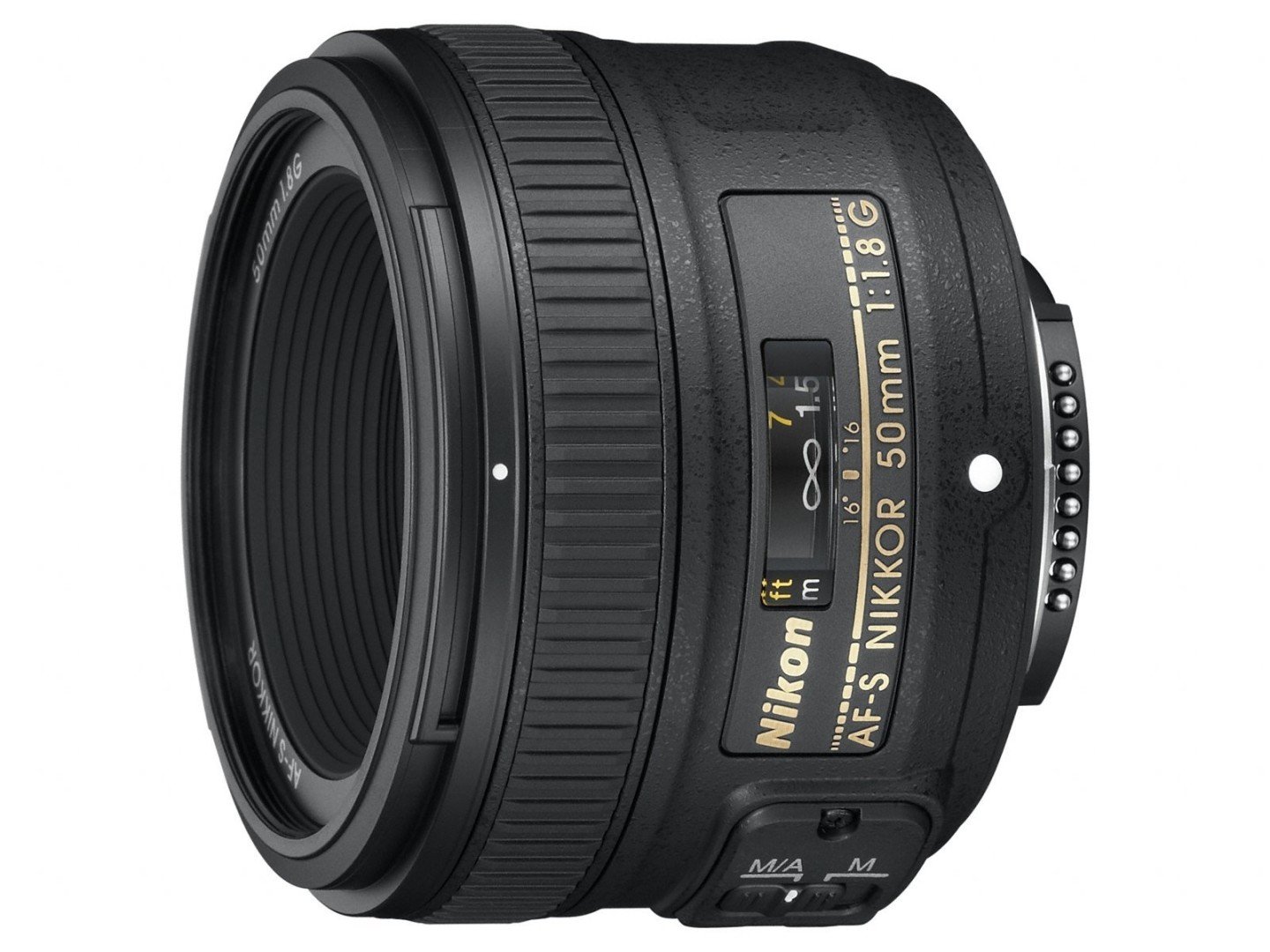 (Also see our Nikkor AF-S 50mm f/1.8G German review)
The Nikkor AF-S 50mm f/1.8G is an affordable prime lens for Nikon's range of FX and DX format DSLRs, and as an AF-S model, it'll autofocus on any Nikon body.
Announced in April 2011, the AF-S 50mm f1.8G is the successor to the ageing, but still popular AF 50mm f/1.8D. It's the first renovated f/1.8 prime lens for FX bodies sporting AF-S in Nikon's current range, with the 85/1.8D and 35/2.0D still awaiting an update. And that is sorely needed as the top-of-the-line f/1.4 primes that Nikon updated last year are pretty expensive – the only exception being the 50mm f/1.4G. So it will be interesting to see how the new 1.8G lens performs against it's bigger and pricier cousin.
The 50mm focal length has long been considered 'normal' on full-frame / FX format bodies, delivering a reproduction that is akin to the perception of the naked eye. Mounted on a cropped-frame / DX-format body, 50mm becomes equivalent to 75mm and thus becomes a prime candidate for portrait-photography as it gives you some distance from your subject which leads to a flattering perspective. It might even be more fit for portraiture in small studios on a DX-body than a 85mm prime as it renders a larger frame from any given distance. In this review I'll have a look at Nikon's latest 50mm prime, and find out whether it delivers a good price / performance ratio.
Facts from the catalog
Let's have a look at the technical data and make some comparison to similar lenses. We've rated the features with a [+] (or [++]), when it's better than average or even state of the art, a [0] if it's standard or just average, and [-] if there's a disadvantage.
Size: 72x53mm = relatively small but clearly larger than the 64x39mm of the 50/1.8D and only 1-2 mm smaller than the 50/1.4G. [0]
Weight: 185 g = Only 30 grams more than the old 1.8D but almost 100 grams lighter than the 50/1.4G. [+]
Optics: 7 elements in 6 groups vs. 6 elements in 5 groups on the 50/1.8D and 8 elements in 7 groups on the 50/1.4G. Designs of 50mm lenses tend to be quite simple with the only distinguishing factors being exotic glass, aspherical elements or special coating. The new 50/1.8G is the only current 50mm lens from Nikon that has an aspherical element. And none of the three has Nano-coating. [+]
Nikkor 50mm f/1.x cross-section

The new Nikkor AF-S 50/1.8G

The old Nikkor AF 50/1.8D

The Nikkor AF-S 50/1.4G
Closest focus distance/max. magnification: 0.45m / 1:6.7. This is standard with 50mm primes. [0]
Filter-thread: 58mm = same as 50/1.4G but other than that 58mm is not widely used: the 50/1.8D and the DX 35/1.8G use 52mm. [0]
IS: No = a pity! The Nikon 16-35/4.0 zoom has VRII, so why not a 50mm prime? You can only hope that with a 2.3 stops larger aperture you could crank up the shutter speed to where shake is less likely. But what if you need to stop down to get enough dof? On a 16MP DX-body like the D5100 or D7000 it is recommended to shoot at least 1/125 sec freehand if you want to avoid blur. [-]
AF: AF-S with SWM (silent wave motor), so does work on D60/3×00/5×00-bodies, manual-focus override by turning the focus ring [+]
Covers full frame/FX or smaller = very good [+]
Comes with a flexible lens pouch, not a nice soft-case [0]
Price: around 200 EUR new (incl. 19% VAT) = reasonable. The old Nikon AF 50/1.8D is around 130 EUR now, the 50/1.4G at 350 EUR. [0]
The lens-caps are standard Nikon's. Others still play catch-up. [+]
Distance information is relayed to the camera, so the Nikon body can do all the advanced exposure-related stuff with this lens. But this is true for all the alternatives too. [0]
Aperture ring = no, just like all Nikon G-lenses. [0]
Lens-shade included and revertible for transport, same as on the 50/1.4G. In addition to that the front lens element is quite deeply recessed in the barrel which adds an extra protection against light-sources outside the image circle. [+]
Sealing: yes! The older 50/1.8D has none. [+]
So the score in the "features-department" is 1[-] / 7[0] / 7[+].
B.t.w.: The 50/1.8G shows some small changes in design. The mounting index on the lens is now a small protruding white knob which is easy to feel when attaching the lens to the body. And there is the lens' designation in the front of the barrel just behind the filter-thread.
Motivation
Large aperture lenses are for isolating your subject and for shooting under low light conditions. So for a street-shooter / reporter and for capturing nature such a lens is very practical.
Alternatives
– The old Nikkor AF 50/1.8D. Cheap, sharp and small, but doesn't autotofus on budget bodies.
– The Nikkor AF-S 50/1.4G. The higher prices gets you another 2/3 of a stop and AF-S. See my review here.
– The Sigma AF 50mm 1.4 EX DG HSM. The largest and most expensive of the three. Week border / corner performance on FX and quite some longitudinal CA.
Testing: Longitudinal Chromatic Aberration
Axial color (longitudinal CA, loCA) is a very common problem with large aperture primes and is not as easy to correct in post processing (or in-camera) as lateral CAs. Longitudinal CAs create some greenish tint with background subjects and a magenta tint on foreground subjects. Nikon's latest f/1.4 primes had lots of loCA and so I was quite curious to see whether the small 50mm prime was also effected by this problem.
Below left is the result for the AF-S 50/1.8G showing a 100% crop at f1.8. The effect is reduced by stopping down and at f5.6 the greenish (background) and reddish (foreground) hues are almost gone. You can access a large composite image showing the loCA from f1.8 to f5.6 by clicking on the 100% crop to see for yourself. Processing was done in Capture NX 2 with standard settings meaning lateral CA removal was ON, loCA removal = OFF. Below right you see the results from setting loCA removal to 50% in Capture NX. Compared to the 50/1.4G loCA is less prominent and is more easily reduced.
Nikkor AF-S 50mm f/1.8G Longitudinal Chromatic Aberration (loCA)

100% crop, f1.8, loCA removal OFF in Capture NX2
100% crop, f1.8, loCA removal 50% in Capture NX2
Sharpness and contrast
Let's have a look at the theoretical performance (MTF-charts) of the new lens, its predecessor, and its bigger cousin first:
Nikkor 50mm f/1.x MTF

The new Nikkor AF-S 50/1.8G

The old Nikkor AF 50/1.8D

The Nikkor AF-S 50/1.4G
These charts show the lens-performance at the largest aperture, in this case for f1.8 on the new lens and its predecessor resp. f1.4. To read these charts you only have to understand that higher values are better and that the closer the dotted and the continuous lines are together the less astigmatism (= resolution depends on the orientation of the test-pattern) the lens displays. The DX-corners where I measure with the D300 are approximately at 12mm on the X-axis, the test-images from the D700 corner are from around 20 mm.
From the charts the new lens should perform clearly better than the 50/1.8D and should indeed reach a pretty high performance in the center with a gradual roll-off of sharpness while maintaining a very high contrast towards the borders / corners. When comparing the MTF-charts of both f1.8 lenses with the right one of the 50/1.4G you should not forget that this is not on an apples-to-apples basis: The chart for the f1.4-lens shows performance at f1.4, a disadvantage of 2/3 of a stop. As lenses sharpen up pretty quickly when being stopped down (at least up to f5.6) there is no way to know or calculate how the 50/1.4G performs at f/1.8 from these charts. So what we need to compare these lenses are real test-shots with a challenging target, the Siemens-stars.
I present center results (first column) followed by (almost) corner results on a D300 and then the D700. So within the limited DX image circle we're looking at the lens with a pixel-pitch that is roughly equivalent to a D3x. But the corners of the D700 sensor have a lower pixel pitch than both the D3x and D300 so they are more "forgiving". Just keep that in mind, when you look at the comparison.
Processing was done in CaptureNX2 at standard settings, with white-balance adjusted to a neutral white and some exposure compensation to make the brightness match. CA-removal is ON. Focus was achieved as usual live-view based with a little optimization by hand and it was done separate for the center and the corners because the lens has slight field curvature. But I'd doubt that this is field-relevant.
These are 100% crops!
Nikkor AF-S 50mm f/1.8G with Nikon D300
100% crop from center

Nikkor AF-S 50mm f/1.8G with Nikon D300
100% crop from corner

Nikkor AF-S 50mm f/1.8G with Nikon D700
100% crop from corner

f1.8, 200 ISO

f1.8, 200 ISO

f1.8, 200 ISO

f2, 200 ISO

f2, 200 ISO

f2, 200 ISO

f2.8, 200 ISO

f2.8, 200 ISO

f2.8, 200 ISO

f4, 200 ISO

f4, 200 ISO

f4,200 ISO

f5.6, 200 ISO

f5.6, 200 ISO

f5.6, 200 ISO

f8, 200 ISO

f8, 200 ISO

f8, 200 ISO
The center of this lens is very good straight from the largest apertures and achieves excellent sharpness from f/2.8 onwards. The corners need more stopping down to sharpen up but never quite reach the excellent results of the center, even on a DX body. But stopping down to f/4.0 should even satisfy the pixel-peeper. On A D700 the corner's weakness is masked by the relatively large photo sites of the 12MP FX sensor, on a D3x the results should be clearly worse than in the D300's corners.
Coma of Nikkor AF-S 50mm f/1.xG in the corners of a Nikon D300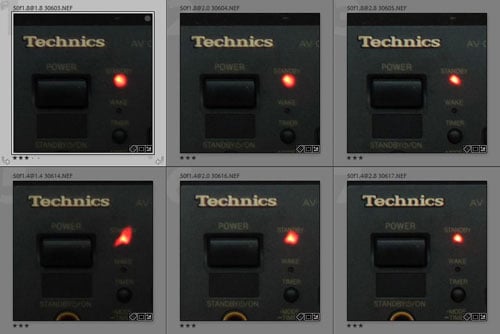 Top row: AF-S 50mm f1.8G, bottom row: AF-S 50mm f1.4G
From left to right: max aperture (1.8 top and 1.4 bottom), f2.0 and f2.8
Sagittal coma flare is something that influences corner performance by producing odd shapes out of point-light sources. The 50/1.8G (top row) behaves pretty well in this respect, and coma is almost gone at f2.8.
Compare this to the Nikon AF-S 50/1.4G which is quite prone to this effect, as you can see in the bottom row. The images show 50% crops. If you like to see the effect at 100% just click through the image.
Oof rendition of Nikkor AF-S 50mm f/1.xG in the corners of a Nikon D300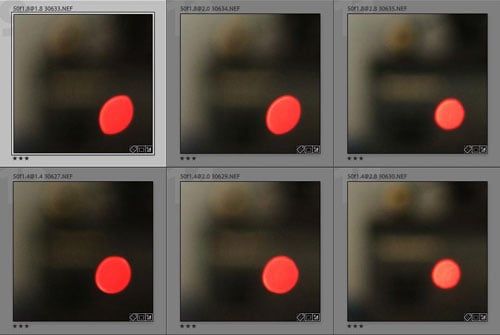 Top row: AF-S 50mm f1.8G, bottom row: AF-S 50mm f1.4G
From left to right: max aperture, f2.0 and f2.8
The above test setup can also be used to reveal the oof-rendering of point-light sources: You just focus the lens a bit closer so that the red power-LED is out-of-focus. See the results of the same comparison as above, that is 50/1.8G in the first row and the 50/1.4G in the bottom row.
Here you can see a "cat's eye" effect wit the 50/1.8G that renders the LED in an oval shape until you stop down to f2.8. The 50/1.4G gives you a rounder rendition (albeit not perfect) and also profits from its 9 aperture blades.
Nikkor AF-S 50mm f/1.8G with Nikon D300 in contra-light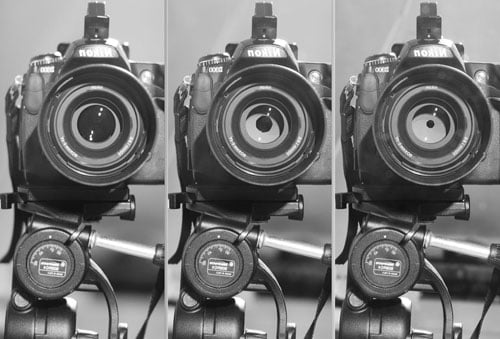 From left to right: f1.8, f4.0 and f8.0
Behaviour in contra-light
The image on the left shows a sequence of shots against a strong light-source shining directly into the lens but still outside the image circle of a DX-body. It shows how well the lens copes under these adverse conditions wide open and stopped down to f4.0 and f8.0.
On many fast primes you can observe contrast becoming lower when closing the aperture, although that should minimize stray-light in the lens. But unfortunately the reflections from the aperture itself cause some veiling glare.
You can judge the effect if you look at the shadows at the lower left of the camera body and the mounting-plate. The 50/1.8G does not show any significant change in contrast – which is a good thing.
Gallery
The following images were taken with the Nikon AF-S 50/1.8G. Each image was recorded in RAW and converted with Capture NX 2 at standard settings. Some images have White Balance set to a standard daylight value to make them comparable. No extra sharpening, or tone-, color-, saturation-adjustment was used.
The first shots show the performance at infinity on a D300. This is important for all landscape shooters. The three crops are taken from the f1.8, f2.8, and f4.0 version of each image while the main image shows the shot at f5.6. You can click on each image to access the large original. Please respect our copyright and only use those images for personal use. You can see the image sharpening up until f2.8 to produce crisp and contrasty images.
Field: infinity shot with Nikon Nikkor 50/1.8G on a D300

f5.6, 200 ISO

f1.8, 200 ISO

f2.8, 200 ISO

f4.0, 200 ISO
The next row shows 100% crops from the right border. In this case stopping down to f4.0 further increases sharpness.
Field: border performance with Nikon Nikkor 50/1.8G on a D300

f1.8, 200 ISO

f2.8, 200 ISO

f4.0, 200 ISO
The next shot should give you an impression on the bokeh that this lens can produce wide open. It was taken with a D700. The 100% crops are from the sharpest point and two successively further-away points in the overall image and should demonstrate the rendition of out-of-focus elements.
Tulips: bokeh shot with Nikon Nikkor 50/1.8G on a D700

f1.8, 200 ISO

f1.8, 200 ISO

f1.8, 200 ISO

f1.8, 200 ISO
Below are the same crops from an identical shot with the 50/1.4G at f1.4. As you can see there is only a slight difference between both lenses.
Tulips: Bokeh with Nikon Nikkor 50/1.4G on a D700

f1.4, 200 ISO

f1.4, 200 ISO

f1.4, 200 ISO
It should be clear by now that the latest Nikon Nikkor AF-S 50mm f/1.8G delivers great performance for the money, which only leaves me to wrap things up in the verdict.
Click here for my Nikon Nikkor AF-S 50mm f/1.8G review verdict.
XXX
Nikon Nikkor AF-S 50mm f/1.8G review verdict
Having done almost 500 shots with the new lens I have a pretty good feeling for the overall performance of the new lens. So here's my summary.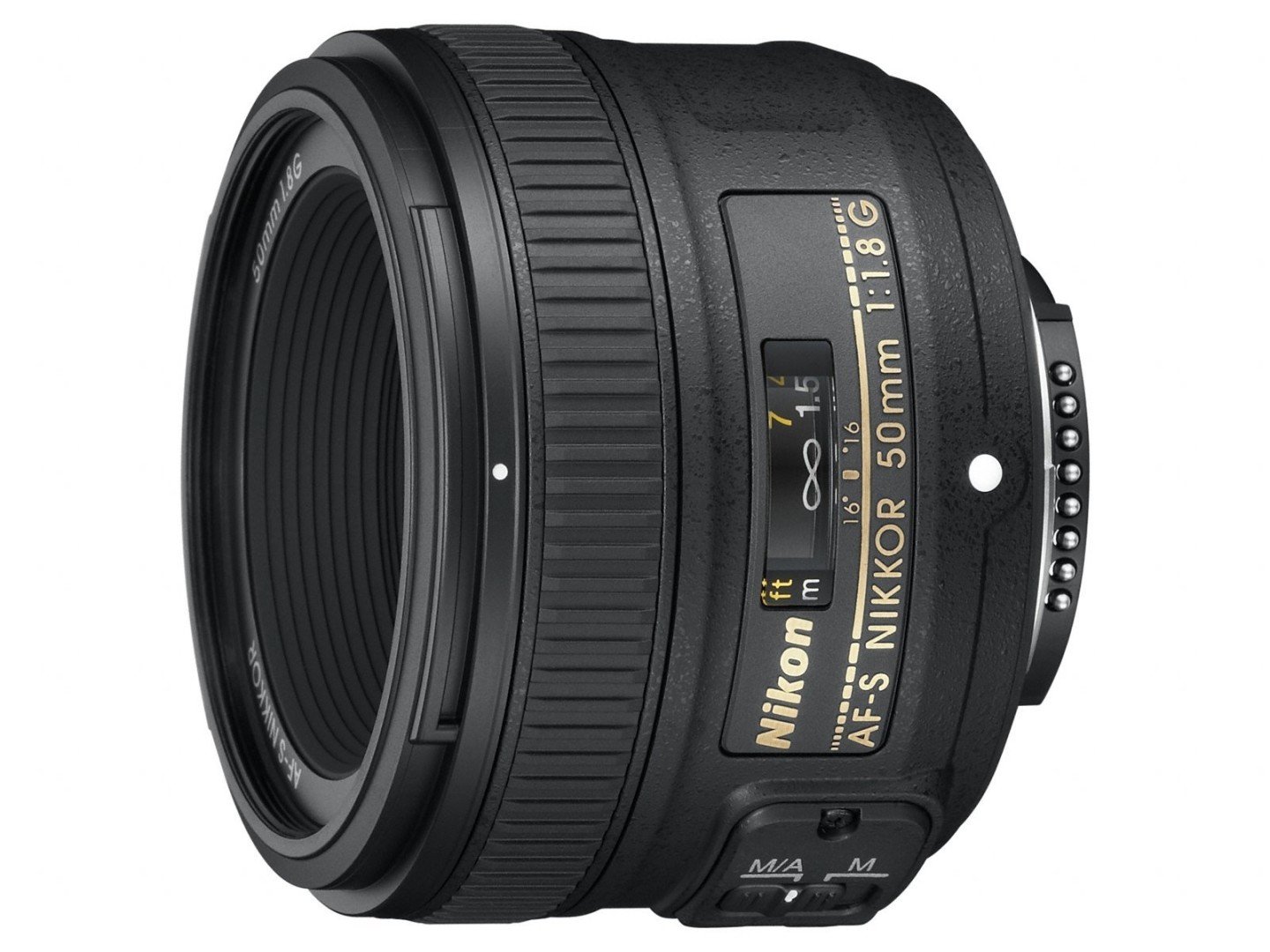 Sharpness / contrast:
Contrast of this lens is excellent even wide open. Sharpness in the center is excellent too, but deteriorates visibly in the borders / corners unless you stop down to f4.0 or f5.6.
Focus:
Focus accuracy and repeatability is quite critical with an f/1.8 lens where every inch of misfocus will immediately show up. That is one of the draw-backs when you use large aperture lenses. Repeatability (=accuracy of focus on the same subject after repeated focus-acquisition) is pretty good with only one outliers in ten shots and the AF-quality independent from the direction the focus was coming from (infinity or minimum focus distance). The 1.8G focuses clearly faster than the 1.4G, I'd guess about 1/3 faster. The focus ring of the 1.8G turns only about 90° from infinity to 45cm, the 1.4G turns about 180°. The short throw of the 1.8G is still good enough for manual focusing (in live-view), although the longer throw of the 1.4G makes that task much easier, and may also be preferred for movie focus-pulling. The only draw-back with the 50/1.8G: you can observe a slight focus shift between f2.0 and f2.8 – so for optimum focus quality of critical large aperture shots you should use live-view based focusing.
Longitudinal CA:
Well-controlled, nothing to worry about.
Other observations:
Again Nikon did not implement VRII with this lens – but that was to be expected after the 50/1.4G. This is a pity as any image stabilization would have extended the useful range of this lens even further. Compared to its bigger and pricier cousin, the 50/1.4G, the new lens has higher contrast and lower price as its advantages, so its price / performance ratio is excellent. So unless you really need the 2/3 larger aperture or the longer focusing throw, Nikon's newest baby should be your primary choice of a large aperture prime with the very useful focal length of 50mm – both for DX and FX shooters!
Summary
Good points
Very high contrast over the DX image-circle from f1.8 on.
Excellent sharpness in the center even wide open.
loCA is pretty well controlled.
Weather sealing.
Quiet, quick and reliable AF operation.
Reasonable price.
Bad points
No image stabilization.
If you have any questions or comments regarding the review head over here. A selection of my shots with this lens can be found there.
Und wenn es irgendwelche Fragen oder Kommentare zu meinem Review gibt, hier können Sie gerne auch in Deutsch posten. Unddort ist eine Auswahl an Bildern, die ich mit dieser Linse gemacht habe.
If you're looking for information on its bigger brother, check out my Nikon Nikkor AF-S 50mm f/1.4G review.