Intro
The Nikkor 35mm f1.8G ED fills the last gap in Nikon's 35mm line-up: a lens designed for full-frame DSLRs, but pitched at a more affordable price-point than the flagship model. Nikon already offers the gold-ringed AF-S 35/1.4G for professional use and the AF-S DX Nikkor 35/1.8G for owners of its DX-format APS-C models.
Until now, photographers looking for an affordable 35mm Nikkor lens that could accompany them on their path to a cheaper full-frame body like the D610 were limited to the venerable AF 35/2.0D, which is a design from 1995. Now they have the AF-S 35mm f1.8G, which joins three other full-frame compatible primes with f1.8 aperture: the 28/1.8G, 50/1.8G and 85/1.8G – of which interestingly only the 28mm is gold-ringed, denoting a higher grade.
35mm is a versatile focal length being equivalent to a "normal" lens on a DX-body and giving you a mild wide-angle on a full-frame body while avoiding the quirks of more extreme models. In my Nikon 35mm f1.8G review I'll present my findings from testing this lens on a 36MP Nikon D800 body.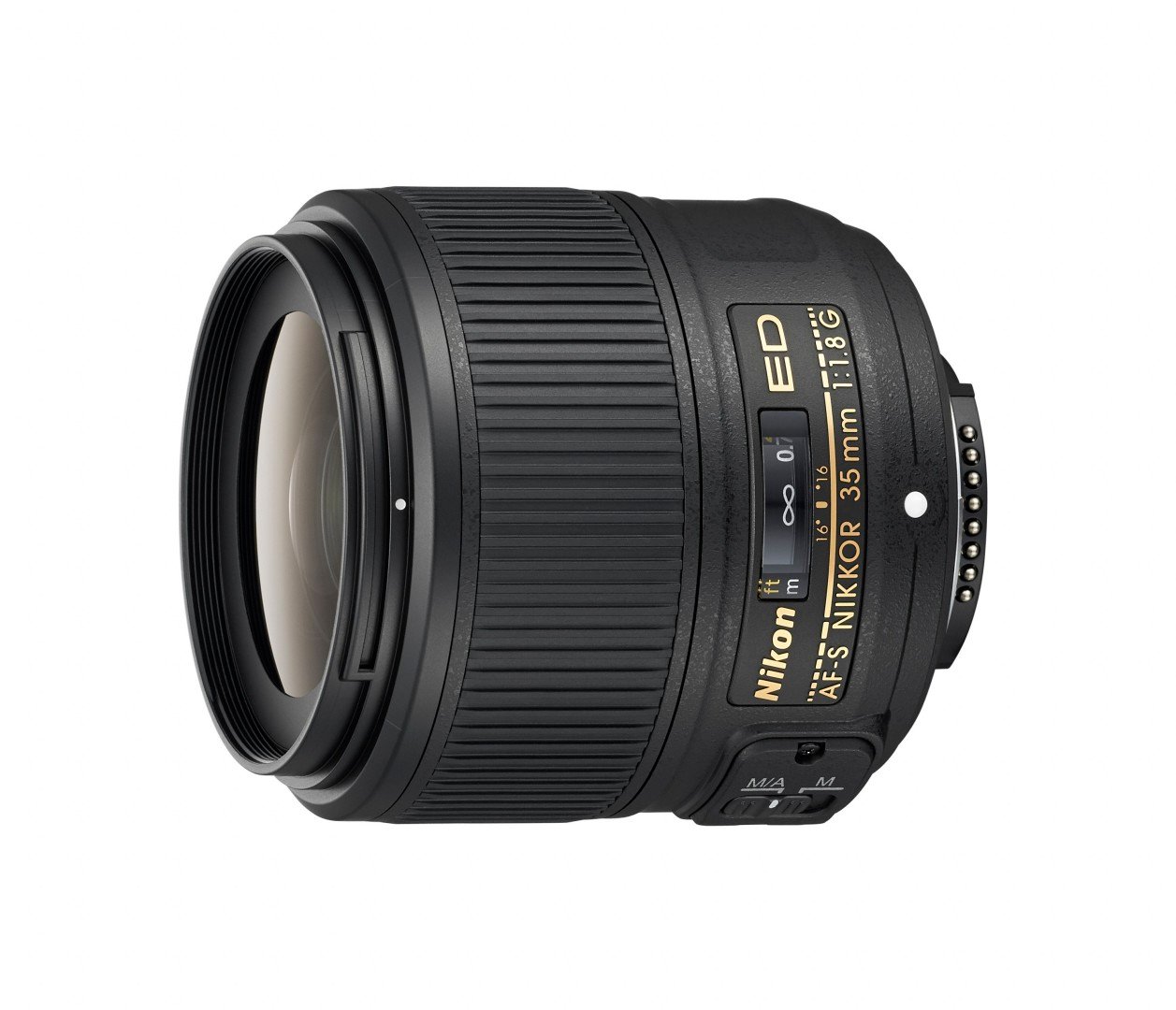 Facts from the catalog
As usual I'll have a look at the technical data first. I've rated the features with a [+] (or [++]), when it's better than average or even state of the art, a [0] if it's standard or just average, and [-] if there's a disadvantage.
Most features are compared to Nikon's AF-S 28/1.8G.
Size (diam. x length): 72 x 72 mm (2.8 x 2.8 in.). A little smaller than the 28/1.8G at 73 x 81 mm. [0]
Weight: 305 g (10.7 oz). 25g lighter than the 28/1.8G. [0]
Optics: 11 lenses in 8 groups vs. 11 elements in 9 groups for the 28/1.8G. This is about standard for wide-angle lenses. The lens contains one aspherical element and one special glass element while the 28/1.8G had two aspherical elements plus Nano-coating. [+]
Closest focus distance/max. magnification: 25 cm (0.82 ft.) / 1:4.2. I measured 1:4. This is actually a quite nice magnification that this lens can achieve and is similar to the 28/1.8G which goes to 25 cm and 1/4.5. [+]
Filter-thread: 58mm. That's the same as the 50/1.8G, the 50/1.4G, and the VR DX 55-300mm 4.5-5.6G ED. But other than that you're probably bound to need new filters for this lens. Fortunately 58mm filters are less expensive. The 28/1.8G has a 67mm filter-thread. [+]
Image stabilization: No, same as any other fixed focal large aperture lens from Nikon or third parties below 200mm focal length. [0]
AF: AF-S with SWM (silent wave motor), so it does work on Nikon D3x00/D5x00-bodies. Manual-focus override by simply turning the focus ring [+]
Covers full frame/FX or smaller = very good [+]
Price: around 500 EUR new (incl. 19% VAT). That's quite a hefty mark-up over the DX 35/1.8G which is at around 170 EUR but much cheaper than the 35/1.4G at around 1550 EUR. Its rightful predecessor, the 35/2.0D, can now be had for around 320 EUR. But compared to the 28/1.8G and 85/1.8G the price seems reasonable. [0]
Comes with a flexible lens pouch (no padding, no strap), the lens-shade is included, reversible for transport, and the lens-caps are standard Nikon's. [0]
Distance information is relayed to the camera, so Nikon bodies and flashes can do all the advanced exposure-related stuff with this lens. [+]
Aperture ring = no, just like all competitors with AF. [0]
Sealing: yes! The standard Nikkor rubber grommet at the lens-mount – but no further weather-sealing. [+]
The score in the "features-department" is 0[-]/8[0]/4[+]. This lens ticks almost all important boxes, except perhaps a price below 500 EUR – just like the 28/1.8G.
Alternatives

– A 35mm lens with an aperture of at least f/2, an image-circle that fills an FX-sensor, and auto-focus? Well, there is Nikon's old AF 35/2.0D for 320 EUR (see my Nikon 35mm primes comparison) , the AF-S 35/1.4G (see my Nikon 35/1.4G review) at around 1550 EUR, and Sigma's AF 35/1.4 "Art" DG HSM that can be had for 750 EUR. The Sigma looks perhaps like the most interesting alternative here, giving you a 2/3 stop faster aperture at a reasonably looking mark-up. And it earned a Highly Recommended for excellent performance in my Sigma 35/1.4 review.
– If you're comfortable with manual focus you could also get a Samyang/Walimex with an aperture of f/1.4 or f/1.5 which sells for around 400-500 EUR. Or you have a look at Zeiss' ZF.2 Distagon T* 35/2.0 at 1000 EUR or the more expensive Distagon T* 35/1.4 for 1600 EUR
– Or you take the even shorter focal length of 28mm which gives you a 25% wider field-of-view. Then you have a choice of the Sigma AF 28/1.8 EX DG Asp Macro at around 460 EUR, the Zeiss ZF.2 Distagon T* 28/2.0 (manual focus only) which sets you back at least 1100 EUR, or the Nikon AF-S 28/1.8G at 550 EUR which earned a Recommended in my Nikon 28/1.8G review.
Focus and build quality
Focus accuracy and repeatability is critical to consistently produce sharp shots, especially with large aperture primes. Repeatability (the accuracy of focus on the same subject after repeated focus-acquisition) of this lens is good with some variations but no real outlier over a series of 40 shots. The lens focuses in around 0.5 sec from infinity to 35 cm, which is fast. The 35/1.4G does this in 0.7 sec.
The focus ring has some slack/play between its movement and the focus-action which is a nuisance for manual focusing. And the throw of around 100 degrees is a little short for accurate focus wide open but the same as with the Nikon 35/1.4G. The focus ring has a broad 2.5 cm wide profiled rubber surface that is easy to grip and moves easily albeit with a clear geared feeling. AF-operation is barely audible from the outside. If you record video with the built-in microphone focus-movement starts and stops with almost no "clack" and the AF-drive itself is also not too annoying. Focus breathing is visible: things in the background become clearly larger the closer you focus. That may annoy videographers.
The lens has a weather sealed metal lens-mount and seven rounded aperture blades. The outer barrel is plastic and the lens-shade sits tight.
Now it's time to check out some results in my Nikon 35mm f1.8 quality and Nikon 35mm f1.8 sample images pages, or if you'd like to skip to chase, head straight for my verdict!