Nikon 18-35mm f3.5-4.5G review
Verdict
The Nikon 18-35/3.5-4.5G is a surprisingly good lens at a reasonable price. Very good center performance is accompanied by good performance in the DX-corners and decent performance in the FX-corners. Stop down to lift performance in the corners of a full-frame 36MP D800 towards good levels. Flare resistance is not bad and auto-focus is reliable albeit a bit slow.
This all comes in a small and light package that even has weather sealing at the lens-mount. Only the wavy nature of the distortions at 18mm might give those striving for straight lines in their architecture shots some trouble.
But how does it compare to some other options from Nikon's wide-angle zoom catalog?
Three wide-angle full-frame zooms from Nikon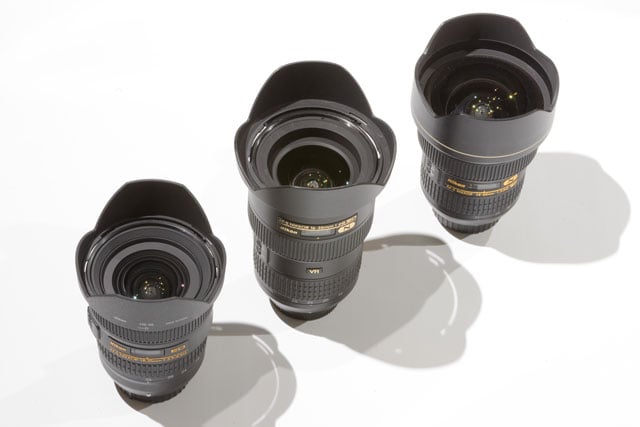 from left to right: AF-S 18-35/3.5-4.5G, AF-S 16-35/4.0G VR, AF-S 14-24/2.8G
Compared to Nikon AF-S 16-35mm f4.0G VR
Looking for a more up-market wide-angle zoom from Nikon? 1000 EUR (including 19% VAT) buys you a constant f4.0 aperture, image stabilization, a 2mm shorter wide end, and a gold ring.
I've tested this lens and it performs on a similar level: At 35mm it leads in the FX-corners but is a bit behind in the DX-corners. At 24mm there's not much of a difference. At 18mm it leads in the DX image-circle but performance in the FX-corners is poor and getting even worse at 16mm.
Distortions at the short end are even worse than with the 18-35mm zoom but resistance against flare is better. So if you don't need the aid of image stabilization which gives you a 2 stop advantage there's not much to recommend the 16-35/4.0 G VR over the 18-35/3.5-4.5G.
See my upcoming Nikon AF-S 16-35mm VR review for more details.
Compared to Nikon AF-S 14-24mm f2.8G
Need a lens that goes even shorter and offers a constant f2.8 aperture and a professional build-quality? Be prepared to invest around 1600 EUR (incl. VAT) on the AF-S 14-24mm f2.8, the darling of well-heeled landscape and architecture photographers the World over, and the reason many Canon owners consider a switch.
Its performance is top notch and it has the least distortions of the trio. But it does not allow for filters without third-party mounts, suffers from flares and ghosts pretty easily, and weighs 1000g. And it stops at 24mm which is 31% shorter than the 35mm focal length that the other lenses offer.
See my Nikon 14-24mm f2.8 review for more details!
Nikon AF-S 18-35mm f3.5-4.5G final verdict
Light, compact, and reasonably priced this lens covers most situations on the wide end that an owner of a full-frame DSLR might encounter. It's a perfect match for a D600 and even has enough resolving power for a 36MP D800 if you stop a little down. Overall it is a worthy compact wide-angle-zoom for those who start into FX-land or want to keep their options open for a future upgrade to an FX-body. A Recommended rating is well earned.


Summary
Good points
Good image quality in the DX image-circle.
Weather sealing at the lens-mount.
Quiet AF operation.
Small package.
Reasonably priced.
Bad points
Needs stopping down to f8 to produce good FX-corners.
Barrel-distortions at 18mm hard to correct.
Slow AF.
If you have any question, comment or suggestion regarding the review head over to our forum here. A selection of my shots with this lens in full resolution can be found here.