Nikon 16-35mm f4G VR review - Verdict
Verdict
The Nikon 16-35/4.0G VR is a mixed bag: with a constant f4.0 aperture and image stabilization it offers very nice features plus starts at 16mm which is very wide on a full-frame camera.
But performance is a bit behind what I'd expected from a gold-ringed Nikkor zoom and at this price-point: High performance in the center and the DX image-circle is accompanied by abysmal performance in the FX-corners at the wide end which not even stopping down can cure.
On the other hand the lens shows quite some good flare resistance and auto-focus performs fast and reliable. This all comes in an optical design that is pretty large and produces some hefty distortions at the short end.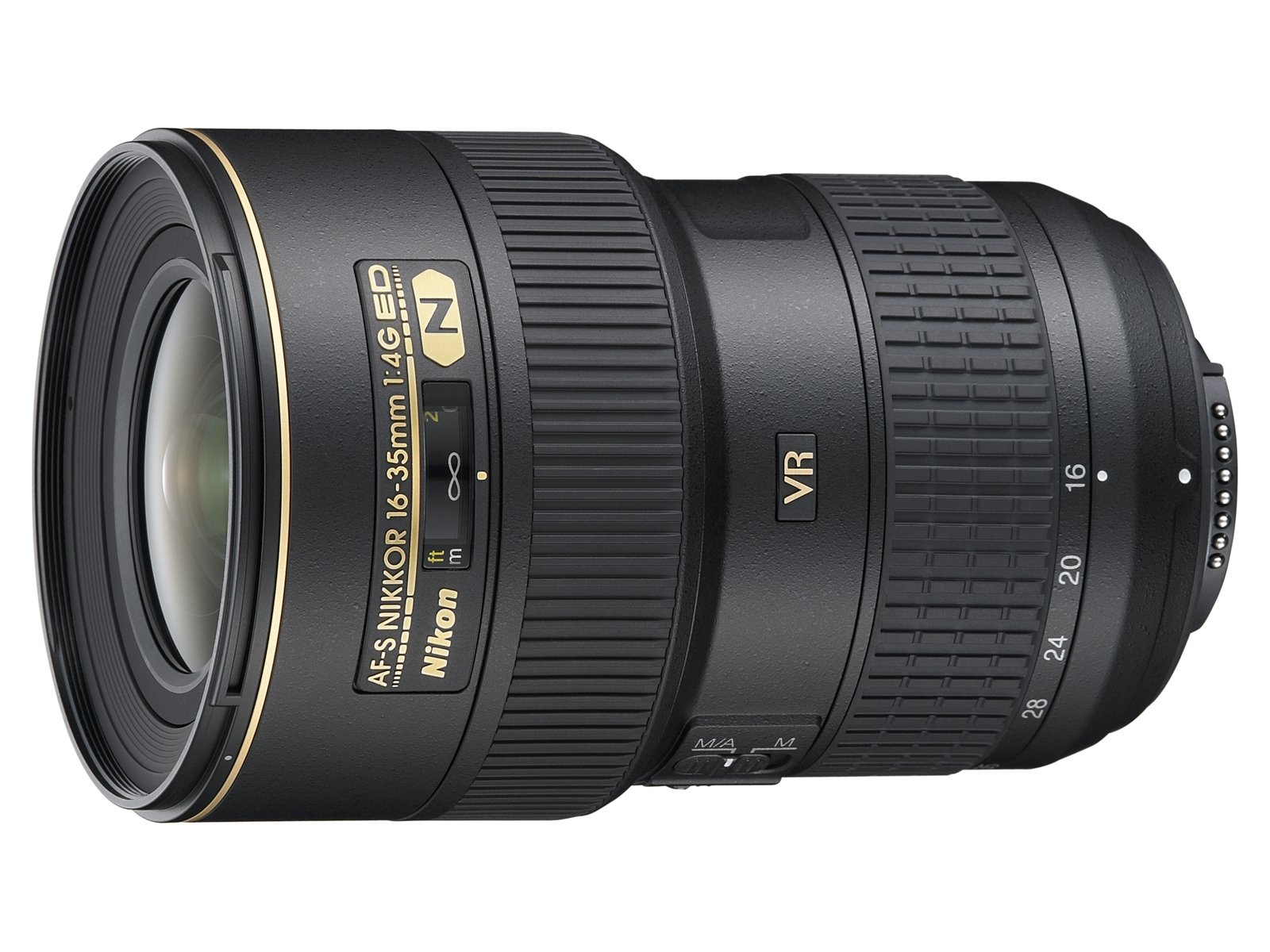 But how does it compare to some other options from Nikon's wide-angle zoom catalog?
Three wide-angle full-frame zooms from Nikon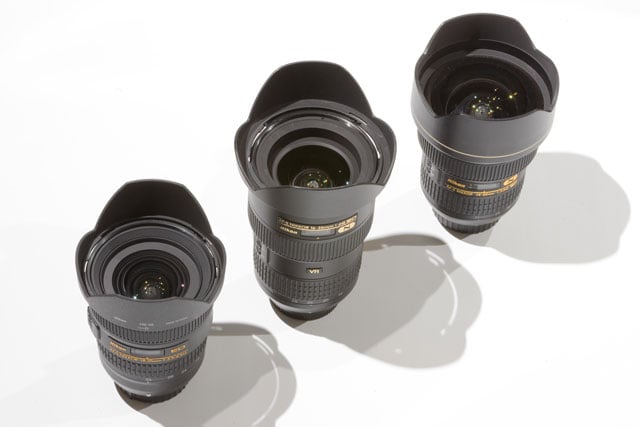 Three AF-S Nikkors from left to right: 18-35/3.5-4.5G, 16-35/4.0G VR, 14-24/2.8G
Compared to Nikon AF-S 18-35mm f3.5-4.5G ED
Looking for a cheaper wide-angle full-frame zoom from Nikon? 600 EUR (including 19% VAT) gets you a lens that has no constant aperture at f3.5-4.5, is not stabilized, goes only down to 18mm at wide end, and has no gold ring. Does this look like a bad deal?
Well, no! I've tested this lens (see my Nikon 18-35mm review) and it performs on a similar level: at 35mm it lags in the FX-corners but is a bit in the lead in the DX-corners. At 24mm there's not much of a difference. At 18mm it lags in the DX image-circle but performance in the FX-corners is better. Distortions at the short end are less severe than with the 16-35/4.0G VR zoom but resistance against flare is worse. And what about the missing 2mm on the wide end and the f3.5-4.5 maximum aperture? Unless you're a wide-angle fanatic, this difference in my opinion is too small to base a decision upon.
The 18-35 also has the advantage of being substantially lighter and smaller than the 16-35 – and did I mention the 30% lower price? So if you don't need the aid of image stabilization which gives you a two stop advantage I'd prefer the 18-35/3.5-4.5G over the 16-35/4.0 G VR.
See my Nikon 18-35mm review for more details.
Compared to Nikon AF-S 14-24mm f2.8G ED
Need a lens that goes even shorter and offers a constant f2.8 aperture and a professional build-quality? Be prepared to invest around 1500 EUR (incl. VAT).
The performance of the 14-24mm is top notch and it has the least distortions of the trio (see my Nikon 14-24mm review). But it does not allow for filters, suffers from flares and ghosts pretty easily, and is larger and heavier. And it also stops at 24mm which is 31% shorter than the 35mm focal length that the other lenses offer.
The 14-24/2.8G is a unique lens that no other manufacturer offers: if you want or need an ultra-wide-angle zoom for your FX-body that delivers the highest performance with a professional build and a constant f2.8 aperture there's only one choice: The Nikon AF-S 14-24mm f2.8G! This lens thus clearly earned a Highly Recommended rating in my review. But if your budget is limited or you need a zoom that goes longer than 24mm have a look at the alternatives.
See my Nikon 14-24mm f2.8 review for more details.
Nikon AF-S 16-35mm f4.0G ED VR final verdict
"Stuck in the middle" comes to my mind: The Nikon 16-35/4.0G VR has a lot going for it: the zoom range is very practical for a wide-angle zoom, and starting at 16mm, not 18mm as other alternatives do, is also a slight plus. Plus a constant aperture and image stabilization make it a proposition that would be pretty attractive had it not been for the somewhat disappointing performance especially considering the price.
For a lens costing close to 1000 EUR I'd have expected a better image quality – simple as that. It's also not the lightest and smallest zoom in this range. Still, valued on its own it is a worthy compact wide-angle-zoom for those who start into FX-land or want to keep their options open for a future upgrade to an FX-body. It has a similar optical performance as the cheaper 18-35/3.5-4.5 plus offers image stabilization, a shorter 16mm plus constant f4 aperture for its higher price. So a Recommended rating is well earned.
Summary
Good points
Good image quality in the DX image-circle.
Weather sealing at the lens-mount.
Quiet and fast AF operation.
Image stabilization.
Very wide 16mm focal length plus constant f4.0 aperture.
Bad points
Needs stopping down to produce good FX-corners.
Strong barrel-distortions at 16mm
Relatively large and heavy package.
Relatively high price.
If you have any question, comment or suggestion regarding the review head over to our forum here. A selection of my shots with this lens in full resolution can be found here
.