Nikon 14-24mm f2.8G review - Verdict
Verdict
The Nikon 14-24/2.8G is an extraordinary lens. It is in fact the only zoom from any manufacturer that covers a full-frame sensor, starts at 14mm and has a constant f2.8 aperture. Of course this would be meaningless if the performance didn't match the specifications, but the 14-24mm delivers fantastic results, with the only weak spot being at 18mm where you should stop down a bit to achieve tack-sharp definition. Combined with the professional build-quality the asking price is justified.
Indeed the 14-24mm is responsible for many landscape and architectural photographers adopting Nikon's system, and in some cases switching from rival formats. It's also fair to say most pro Canon owners would love an equivalent lens in the EF mount and rarely a week goes by that there's not a new rumour of such a lens in development.
There are really only two things that you could gripe about: the 14-24mm does not have a filter-thread and it is prone to flare. But in the days of ubiquitous post-processing with all types of filters emulated in software there are only three types of filters that you would miss: neutral density, graduated, and polarizing, although using the latter on an ultra-wide can lead to problems. If you desperately want to use physical filters on the 14-24mm, you'll need to invest in a large and fairly expensive system, such as the Lee SW150 or a Fotodiox 145mm adapter. As for the flare, sometimes all you need to do is slightly adjust the angle of the camera or your own position. So with that said, how does the 14-24mm measure-up compared to the alternatives from Nikon?
Three wide-angle full-frame zooms from Nikon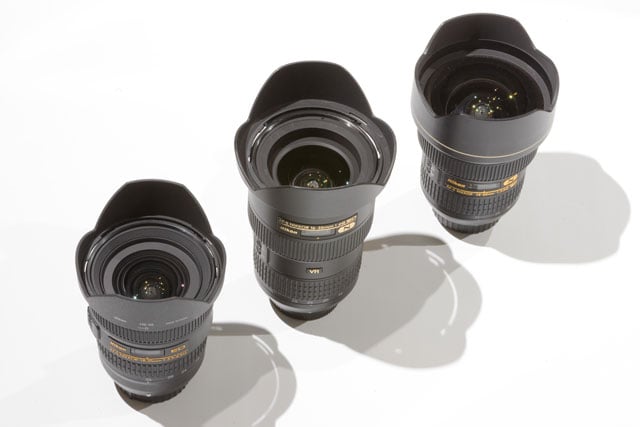 From left to right: AF-S 18-35/3.5-4.5G, AF-S 16-35/4.0G VR, AF-S 14-24/2.8G
Compared to the Nikon AF-S 18-35mm f3.5-4.5G
I've had the chance to review this latest addition to Nikon's family of wide-angle lenses. It performs astonishingly well especially considering its price and it has the benefit of reaching a focal length of 35mm. It takes standard 77mm filters and is much less prone to flare than the 14-24/2.8.
But it only only starts at 18mm focal length (100 degree angle of view) and thus forces you to get further away to capture the same frame or will simply crop content you'd like to capture. And it neither has the tank-like build of the 14-24/2.8 nor does it offer a constant aperture of f2.8.
Still it is a compelling package and consequently got a Recommended rating in my Nikon 18-35mm f3.5-4.5 review but it is a different lens with a different scope altogether.
Compared to the Nikon AF-S 16-35mm f4.0G VR
I also recently tested this only stabilized wide-angle zoom for full-frame bodies. It offers a constant aperture but only of f4.0 so it is one stop darker than the 14-24/2.8. Its unique selling point is optical stabilisation, which is very useful for video and in my tests easily compensated for two stops on stills. But it doesn't help you when you're after shorter shutter speeds for capturing shots of moving objects or are trying to get some background isolation from using a large aperture.
Its performance in the overlapping range also disappoints with poor FX-corners. So if you don't need the aid of image stabilisation there's not much to recommend the 16-35/4.0 G VR over either the 14-24/2.8G or the 18-35/3.5-4.5G.
See my upcoming Nikon AF-S 16-35mm VR review for more details.
Nikon AF-S 14-24mm f2.8G final verdict
This one is really simple: if you want or need an ultra-wide-angle zoom for your FX-body that delivers the highest performance with a professional build and a constant f2.8 aperture there's only one choice: The Nikon AF-S 14-24mm f2.8G! This lens thus clearly earns a Highly Recommended rating.

Below I have listed the good and bad points of the Nikon 14-24/2.8G for you.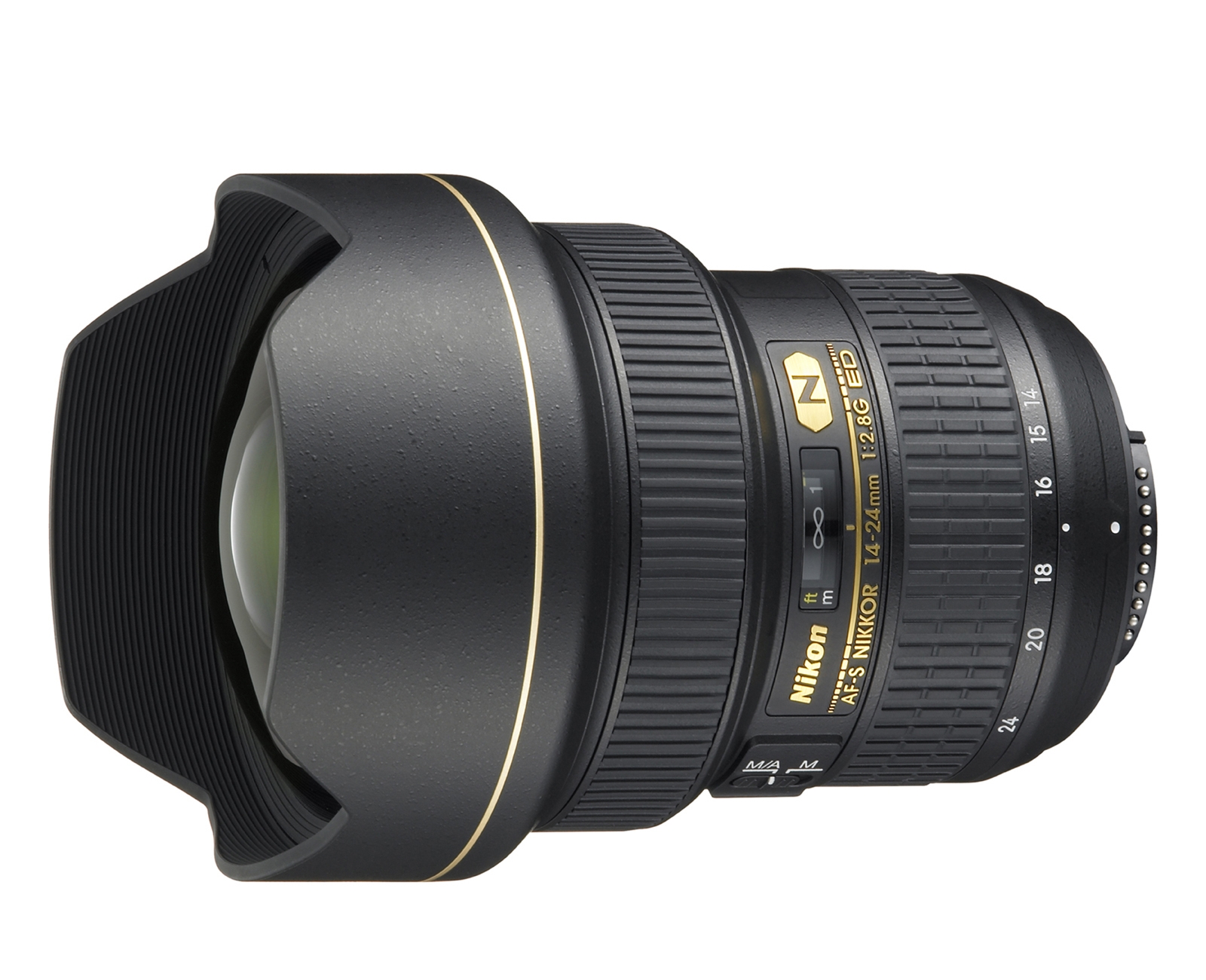 Good points
Good to excellent quality across the FX image-circle.
Weather sealing.
Quiet and fast AF operation.
Sturdy build quality.
Bad points
Prone to flare.
No filter-thread.
High price.
Modest zoom range.
If you have any question, comment or suggestion regarding the review head over to our forum. A selection of my shots with this lens in full resolution can be found here.