Nikon 14-24mm f2.8G review
Intro
The AF-S Nikkor 14-24mm f2.8 is an ultra-wide angle zoom designed for full-frame FX-format Nikon DSLRs. Announced in 2007, alongside the AF-S Nikkor 24-70mm f2.8, it delivers a unique combination of ultra-wide coverage, fast and constant focal ratio, pro build quality and superb results which has deservedly seen it become one of the most desirable and successful high-end lenses of any system.
It's no exaggeration to say the Nikkor 14-24mm has driven many professional landscape and architectural photographers to the Nikon system, and even converted many from rival formats. This is not just the lens that many Nikon owners desire, but the model that's responsible for countless Canon owners looking into adapters and clutching onto every rumour that a similar model may be under development for the EF mount.
So you already know it's very good, but since 2007 there's been a number of alternatives launched, including two from Nikon, offering such temptations as broader ranges, optical stabilization and lower price tags. So the big question is just how good is the Nikkor 14-24mm, and six years after its launch, should it still be the wide zoom that FX owners aspire to? To find out I tested it on Nikon's highest resolution full-frame DSLR, the D800, for my in-depth review!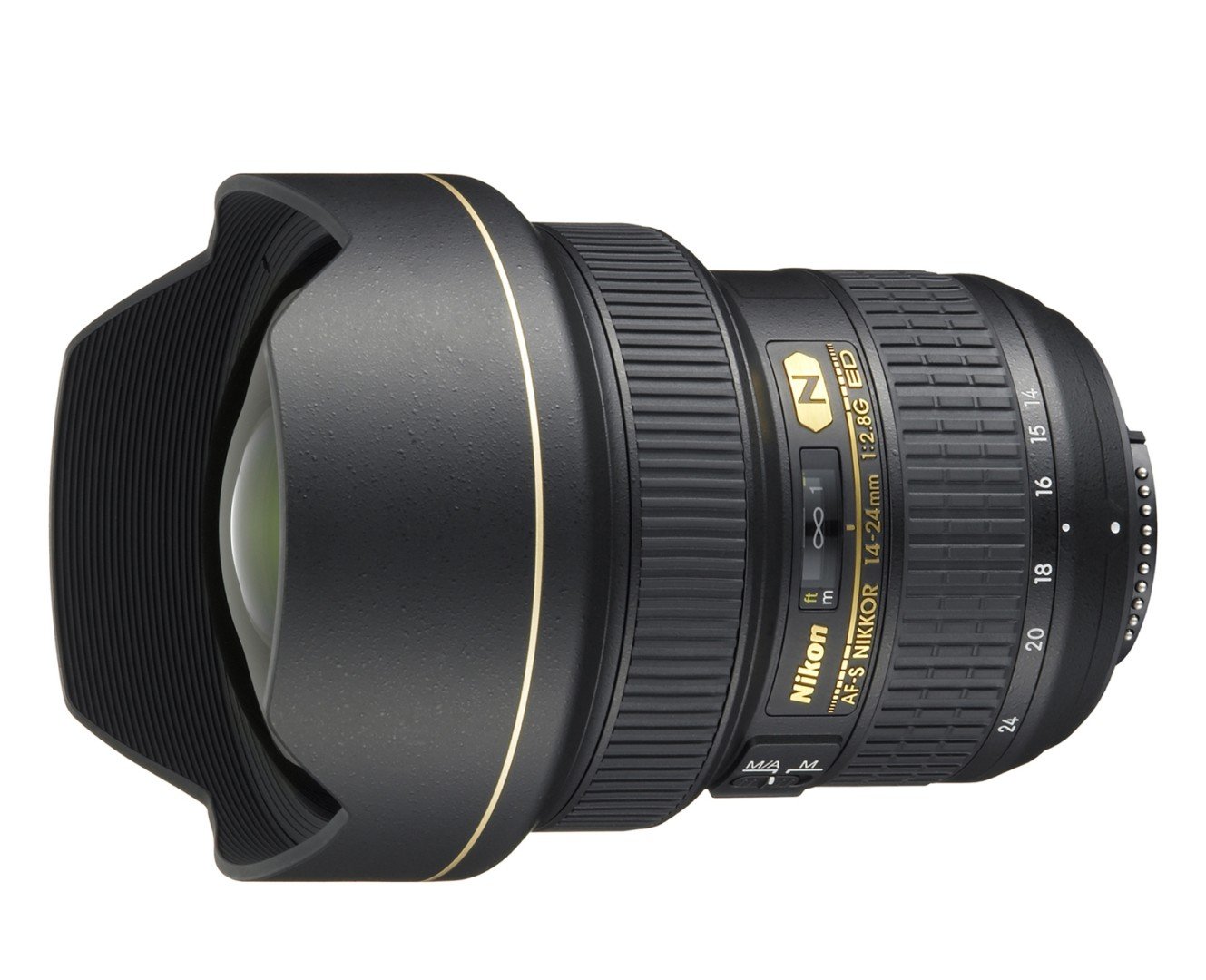 Facts from the catalog
As usual I'll have a look at the technical data first. I've rated the features with a [+] (or [++]), when it's better than average or even state of the art, a [0] if it's standard or just average, and [-] if there's a disadvantage.
Size (diam. x length): 98 x 132 mm (3.9 x 5.2 in). The lens-hood is built in and not collapsible. It protects the bulging front lens in combination with a non-standard front-lens cap that simply slots over the lens-hood and held (surprisingly effectively) by friction. [0]
Weight: 1,000 g (35.3 oz.). This is a massive wide-angle lens and together with a full frame body you'll be schlepping 1.8kg around. [0]
Optics: 14 elements in 11 groups. That's pretty low in comparison but still: 11 groups have 22 air/glass-surfaces that produce a lot of opportunities for flares and ghosts. Nikon has applied their special Nano Crystal Coat on one element. We'll see how this works out in practice as wide-angle lenses are extremely prone to internal reflections. The cross-section shows a lot of special elements: three aspherical and two extra-low dispersion elements. [0]
Closest focus distance/max. magnification: 0.28 m (0.9 ft.) / 1:6.7. In my test I was able to confirm this. At closest focus distance objects are only 10 cm away from the lens-hood. [0]
Filter-thread: No filter-thread at all. So if you want to use physical filters, you'll need to invest in a third party solution which attaches to the end of the barrel, such as the Lee SW150 system. This adds significantly to the overall size and is not a casual purchase – but then neither is the 14-24mm. [-]
Image stabilization: No, but this is almost irrelevant with such short focal lengths. To be fair, there's also very few ultra-wide zooms with optical stabilisation for any system beyond Nikon's 16-35/4.0G VR and Sony's 10-18mm f4 for NEX. [0]
Auto focus: AF-S with SWM (silent wave motor), so it does work on D60/3×00/5×00-bodies, manual-focus override by turning the focus ring [+]
Covers full frame/FX or smaller = very good [+]
Price: around 1600 EUR new (incl. 19% VAT) = expensive. But there's no comparable alternative. [0]
Comes with a very nice semi-soft lens-case that is well padded, rear and front lens-cap are included. [+]
Distance information is relayed to the camera, so the Nikon body can do all the advanced exposure-related stuff with this lens. But this is true for all alternatives too. [+]
Aperture ring = no, just like all competitors. [0]
Sealing: yes! A rubber grommet at the lens-mount. [+]
The score in the "features-department" is 1[-]/7[0]/5[+]. The minus-point being the missing filter thread. All-in-all the feature set does not look too exciting, with the exception of the optical formula: 14-24mm f2.8. If the lens can deliver a fine optical performance this would put it in a unique one-of-a-kind position on the market.
Alternatives
– There's the Sigma AF 12-24mm 4.5-5.6 II DG HSM. It goes wider even than the insanely wide Nikon 14-24mm but it is pretty dark: a maximum aperture of f4.5 on the wide end and if you zoom in you become two stops behind the Nikon pretty quickly. You can find it for below 800 EUR which makes it the cheapest of the alternatives.
– Then there's the Tokina AT-X Pro 16-28mm 2.8 FX starting only at 16mm but reaching 4mm longer at the long end. Interestingly this lens looks almost like a copy of the Nikon from the outside. Starts at 800 EUR.
– And you can go for Nikon's own AF-S VR 16-35mm 4.0G ED: lose 2mm on the wide end but gain almost 50% more reach on the long end. This might well be an attractive trade-off and the lens also offers image-stabilization which is a curiosity on such a wide-angle zoom. But it only has a maximum aperture of f4.0. It is also the most expensive alternative at around 1000 EUR but it is still comfortably cheaper than the Nikon 14-24/2.8.
Note if you're a DX owner who intends to stick with the cropped format, I'd recommend the Nikkor DX 10-24mm zoom instead. It may not be as professional a lens, but it will deliver ultra-wide coverage. Then again if you're a DX owner who's thinking of going full-frame, then the 14-24mm, not to mention the others mentioned above, become options with future-proofing – just remember all lenses you mount onto a DX body will have their coverage effectively reduced by 1.5 times, making an ultra wide lens less wide.
Focus and build quality
Focus accuracy and repeatability is critical to consistently produce sharp shots. Repeatability (the accuracy of focus on the same subject after repeated focus-acquisition) of this lens is excellent with no outliers over a series of 40 shots. And there is no performance variation whether the lens focuses from infinity or the minimum focus distance. The lens focuses very fast: around 0.4 sec from infinity to 0.35m.
The focus ring has no slack or play and a throw of around 50 degrees, which is still enough to make accurate focus wide open at the long end easy. The focus ring is easy to grip and movement is very smooth as is the zoom action. AF-operation is pretty quiet on the outside, but if you record video with the built-in microphone every focus-movement produces an audible "clack". Shaking the lens also produces some clunking sound. But apart from that the general impression of build quality is that of a pro-level lens: A high quality metal/plastic construction combined with weather sealing and nine rounded aperture blades.
Now it's time to check out the results in my Nikon 14-24mm f2.8 quality and Nikon14-24mmf2.8 sample images pages, or if you'd like to skip to chase, head straight for my verdict!