The Nikon Df is a retro-styled DSLR which pays homage to Nikon's iconic film SLRs of the Seventies. Announced in November 2013, it takes the 16.2 Megapixel full-frame sensor of the flagship D4 and houses it in an unashamedly old-fashioned body with physical dials for the shooting mode, release mode, shutter speed, ISO and exposure compensation.
Many thought the Df would be a mirrorless camera, but it is a traditional DSLR with an optical viewfinder sporting 100% coverage and a circular eye window. What's different from previous DSLRs though is a collapsing coupling lever which supports full aperture metering on older non-Ai lenses. Got a bunch of these in your closet collecting dust? Well get them out! Indeed I learned it was support for these older lenses which partly drove the use of the D4 sensor over the D800 / D800e's sensor, because 36 Megapixels would have out-resolved their optical capabilities. Going for the lower resolution sensor also means the Df inherits the D4's excellent low light performance, with the same sensitivity range that's expandable to 50-204,800 ISO.
The MultiCAM 4800 provides a 39-point AF system with nine cross-type sensors and seven that are compatible down to f8; the system also autofocuses at light levels down to -1EV. Continuous shooting is rated at 5.5fps with autofocus, compared to 10 on the D4 and the body, with magnesium alloy top, rear and bottom covers, is weather-sealed to the same extent as the D800. There's a screen on the rear with Live View options, but no movie mode, and while it is designed for use with older manual focus lenses, there's no peaking in Live View, although there is at least magnified assistance. Finally, the Df is sold in a kit with a new 50mm f1.8 lens that's styled to match the silver or black body, but which sports the same optical quality as the existing 50mm f1.8G; the kit costs 2749 GBP / 3350 EUR and is expected by the end of November. I got to try the Df at a Nikon press event and can continue my hands-on report below.
Nikon Df Hands On review

The Nikon Df was heavily leaked before launch, first as a mirrorless camera, then a DSLR, but always as a retro-styled full-frame camera. From the various teasers we all had an idea of what it would look like, but the big surprise for me was how large it was in person. Measuring 144x110x69mm and weighing 710g, it may be the smallest and lightest full-framer from Nikon, but it remains much larger than a modern mirrorless model. Indeed it's only a little smaller than the D610 which measures 141x113x82mm and 760g. For comparison the mirrorless Sony A7r measures 127x94x48.2mm and weighs 465g.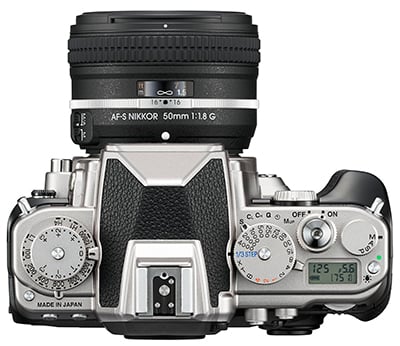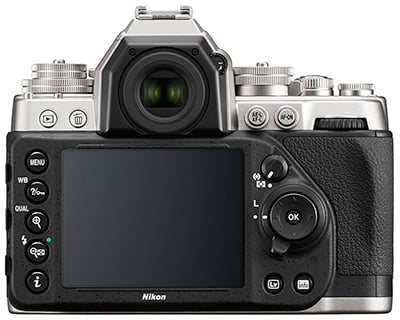 The retro styling means you get levers and dials for the exposure mode, release mode, shutter speed, ISO and exposure compensation, but like its analogue cousins the shutter speeds are only offered on the dial in the traditional 1EV increments. Aha says Nikon though, by turning the shutter dial to a new 1/3 STEP position you can use the rear controls to set the exposure in finer 1/3EV increments. But to me this feels slightly uncomfortable, embracing the old but with a slightly messy workaround to support finer steps. I was also a little disappointed to find the maximum shutter speed was 1/4000 and the fastest flash sync was 1/200, both unremarkable figures for a camera of this price aimed purely at picture-taking.
Arguably one of the headline features is support for old non-AI lenses. These always worked on other Nikon DSLRs, but mount them on the Df and you'll enjoy full aperture metering in Aperture Priority or Manual that's equivalent to AI lenses. The lens focal length and maximum aperture can be programmed into the Df, allowing it to recognize the aperture and work out the right exposure.
With this in mind, you'd think the Df would include some cunning new technology for aiding manual focusing, but the viewfinder screen doesn't have the traditional split image design (as it would have compromised composition with AF lenses) and the Live View doesn't offer focus peaking. Indeed the best assistance on offer is a magnified view in Live View, which lest we forget is not one of Nikon's strong suits compared to its rivals.
The absence of a movie mode may delight traditionalists, but to me feels like Nikon are cutting their noses off to spite their faces. The D4 has a movie mode and it's within the capabilities of the Df's sensor and processor, but the codecs have been deliberately left out here, so there's no chance of a workaround or firmware update. Yes, I understand the Df is about picture taking, but why hobble it in this way? If you don't like movie modes, just ignore them. As it stands, the Df's lofty approach just alienated a bunch of potential buyers – can anyone afford to do that nowadays?
So with this in mind, it's also not surprising to find an absence of Wifi or GPS too. Again the target audience probably don't want it – and many may not even know what it is – but again why restrict a camera from appealing to a broader audience? Yes, I know supporting old style cable releases is fun, but not as much fun as supporting remote control via your phone over Wifi.
Retro styling is all about nostalgia, but industries move on for a reason. So in order to be successful with a retro concept, I believe you have to serve it with a generous dollop of the modern too. Trouble is, this is not always an easy balance to get right.
I feel the balance between retro and modern is something Fujifilm and especially Olympus have done very successfully: appealing to those who enjoy retro-styling, but complementing them with modern facilities. After all, we like the dials and levers, but also appreciate the modern comforts too.
Arguably I should be one of the target customers for the Df as I lusted after classic Nikon film SLRs throughout my childhood in the Seventies and was a proud owner of several in the Eighties. But the Df just doesn't appeal to me – it feels like the styling and concept has got in the way of what we expect from a camera today – indeed if I'm being unfair, it's an old sensor in an even older body.
But that said there's nothing wrong with the D4's image quality and the Df effectively gives you it at almost half the price of the flagship model – this could be seen as a bargain to some, although others won't help but notice it costs about the same as a D800. There's also undoubtedly a group of people for whom the Df's styling and approach will be a dream come true, but I fear it's a small and literally dying audience.
Don't get me wrong, I believe celebrating heritage is an honourable and worthwhile exercise and Nikon certainly has more of it than most. Again I was a passionate Nikon 35mm owner who drooled over the design of the F3, and I reckon a retro-styled digital version is a great idea. But I feel the feature-set of the Df (not to mention its surprising heft which is only 'small and light' compared to a D800) limits its audience. There's nothing wrong with releasing a niche product, but it's a move that's best made in a climate of confidence, not at a time when DSLR sales are dropping and most customers are looking for innovation, not a step backwards.
A full-frame mirrorless camera in a mini F3 body with Wifi and movies? Now that's something I'd go for and I suspect I'm not alone. But a full-frame DSLR that's barely smaller than a D610 and lacking many features most of us now take for granted? That's a much harder sell in today's market. The f in Df may stand for Fusion between old and new, but there's not enough of the latter for my liking here.
Have I missed the point? Will the Df inspire you in a way that modern digital cameras don't? Or has Nikon lost the plot? I'd love to hear what you think on my social channels!