Nikon D90 - Nikon D90 verdict
Nikon D90 verdict
The Nikon D90 is a feature-packed mid-range DSLR which inherits a number of aspects from the semi-pro D300, while adding some unique capabilities to deliver a highly compelling proposition. As the long-awaited successor to the popular D80, it brings that model bang up-to-date with the latest features and gadgetry.
Nikon's sensibly not messed too much with the excellent body, viewfinder and AF system of the earlier D80. These were already a cut above entry-level DSLRs, so there's no reason to make any changes here. Electronically though, the D90 enjoys a number of upgrades including a new sensor with live view capabilities, a larger and more detailed 3in VGA screen, quicker 4.5fps continuous shooting, HDMI output, a GPS option and of course movie recording – a first for DSLRs.
As a stills camera, the D90 handles beautifully. Like the earlier D80, it feels solid and confident in your hands, with all the controls comfortably positioned. The AF speed, accuracy and speed of handling are as good as any DSLR in its class, and the boost in continuous shooting a real benefit to action photographers. Like the higher-end Nikon DSLRs, the VGA screen is also a joy to use, rendering fine details in playback and allowing smooth fonts in the well-designed menu system. The combination of an upper screen and the Info option for the colour monitor also ensure most shooting details are readily available, while the Quick Access bar at the bottom of the screen makes changing key settings very easy.
Conservative DSLR owners may not see the value of Live View, but we've found a number of situations where it can prove invaluable. It's therefore a welcome addition to the D90, although while the exclusively contrast-based AF system can be quicker than previous models, it can still take several seconds to lock into place. While the magnified options to aid focusing were beneficial, we also found they didn't deliver as sharp a result on-screen as Canon's models – see our Design page for full details.
In terms of image quality, the D90 has a lot in common with the semi-pro D300, as you'd expect given the similarities in their sensors (although Nikon remains ambiguous on whether they're actually the same). There's certainly little if any difference in resolving power, and the default image processing delivers a similar refrained style. Both cameras also do a good job of reducing coloured fringing with in-camera processing. The D300 does however have the edge in terms of tonal subtleties and dynamic range, with the option of 14-bit A-D conversion and 14-bit RAW files.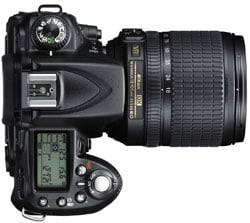 The image quality is however significantly different from the earlier D80, and we're not referring to resolving power. The D80 was already top of the class for 10 Megapixel models, so there's little if any perceptible benefit to having an extra two Megapixels on the D90. The difference between them lies with image processing, with the D80 going for consumer-friendly vibrant output, while the D90 opts for a more refrained approach which looks quite muted in comparison; you can of course adjust either camera as desired though. But if you're switching from the D80, be prepared for quite different-looking images using the default settings, and don't expect much difference in resolving power. Going for the D90 is more about having the new features.
Speaking of which the biggest new feature is of course the movie mode, which in use turned out to be a real mixed bag. Under the right conditions, the D90 is capable of capturing good looking HD footage with effects that would be hard or even impossible to achieve with a consumer camcorder, but at other times it can look downright nasty.
We've discussed this at length in our Features section, so head over there for a full explanation, but just briefly here, the D90's rolling shutter can result in some highly undesirable artefacts given certain types of motion. Unfortunately this tends to include most handheld footage or those with zooms or quick pans.
In addition the requirement to manually focus while filming can prove difficult, and there's the simple fact the DSLR form factor, not to mention their lens controls simply weren't designed with video in mind. This discomfort and inconvenience becomes obvious once you start filming.
So the D90 won't replace your camcorder, but it could complement it very well. Given a lens with a bright focal ratio, it can excel under low light while also delivering shallow depth of field effects. You could alternatively fit other types of lenses for special effects. It's all about learning the D90's foibles and working around them. Do this and you can have great fun with the video mode, but try and use it as a normal camcorder and you will be disappointed. Again see our Features section for a detailed report.
But now before our final verdict, how does the D90 compare against its predecessor and other key rivals?
Compared to Nikon D80

Nikon's D80 is one of the most successful DSLRs of recent times, offering a step-up from rival models at the time it launched in August 2006, and still delivering a classy photographic experience today. Two years on, the new D90 has adopted the same strategy of offering a step-up in terms of features, so while it physically resembles its predecessor, there's plenty of enhancements under the hood.
Most obviously the resolution has increased from 10.2 to 12.3 Megapixels, and the maximum sensitivity boosted from 3200 to 6400 ISO. Continuous shooting is impressively 50% quicker at 4.5fps to its predecessor's 3fps. Unsurprisingly for a 2008 model, the D90 also features Live View and anti-dust facilities, while additionally becoming the first DSLR to market featuring video recording capabilities.
The screen enjoys a significant upgrade from the 2.5in / 230k of the D80 to a larger and more detailed 3in / 920k model – that's a jump from 320×240 pixels to 640×480 pixels. In terms of connectivity, the D90 also offers HDMI output to HDTVs along with a port which connects to a new optional GPS accessory which slots onto the hotshoe. There's also a new DX 18-105mm VR kit lens which may be slightly shorter than the DX 18-135mm option popularly bundled with the D80, but now offers Vibration Reduction to combat camera-shake.
So the D90 is clearly better-featured than its predecessor, but much of it is modern gadgetry. The D80 shares essentially the same ergonomics, build quality, viewfinder and 11-point AF system, while in previous tests we've not measured a great deal of real-life difference between 10 and 12 Megapixel DSLRs.
So unless you want or need Live View, faster continuous shooting, video recording, a better-looking screen, HDMI output and a stabilized kit lens, existing D80 owners should be happy with what they've got. Indeed if you can live without the new gadgetry, the D80 remains a great choice for new buyers with potential bargains once the D90 becomes established in the market – and remember that price difference could go towards a second lens, or a better quality one to start with.
In fact for pretty much the same price as the D90 kit, you could alternatively buy the D80 body with the excellent Nikkor DX 18-200mm VR superzoom lens. For more details, see our Nikon D80 review and Nikkor DX 18-200mm VR review.
Compared to Nikon D300

The Nikon D300 is the next step-up from the D90, although both models share a number of features in common. Both share the same 3in / 920k monitor, an HDMI port for connection to HDTVs and we believe the 12.3 Megapixel CMOS sensor is the same chip – or at least very similar. Certainly the resolving power is essentially identical.
As a semi-pro DSLR though, the D300 does of course boast a number of additional features. The build quality is much tougher with weatherproofing, continuous shooting is quicker at 6fps (boost-able to 8fps with the optional battery grip), RAW files can be recorded with 14-bits of tonal detail, the AF system boasts 51 points, the viewfinder has 100% coverage, the 1005 pixel metering sensor is more sophisticated, there's 9-frame bracketing, a built-in intervalometer, AF fine-tuning of lenses, in-camera vignette control, and also a PC Sync port for external lighting. The shutter block is also tested for 50% more cycles.
In its favour, the new D90 features video recording, a slicker GPS option, face detection and while the build quality is more of a consumer grade, this makes it smaller and lighter; it's also obviously cheaper. So like choosing between the earlier D80 and D200 it boils down to how much you value those semi-pro features. If you do, then it's well worth spending the extra on the D300, but if not, the D90 offers essentially the same image quality (for JPEGs anyway) at a cheaper price with a few additional features. See our Nikon D300 review for more details.
Compared to Canon EOS 40D

The Canon EOS 40D has been heavily discounted in recent times, and its body-only price is now identical to that of the Nikon D90's launch price – as such, it's likely to be one of its biggest rivals, and there's a lot to weigh up between them.
In its favour the EOS 40D has arguably superior build quality, comfortably quicker 6.5fps continuous shooting, a PC Sync port for external lighting, 14-bit recording, a live histogram in live view and comes supplied with software for PCs and Macs which allow you to fully remote control the camera including focusing and live view.
In its favour, the D90 has two extra Megapixels, a more detailed screen with VGA resolution, on-demand grid lines in the viewfinder, contrast-based AF in Live View, one stop higher maximum sensitivity, two extra AF points, in-camera vignette reduction, an HDMI output, a cheaper GPS option and of course HD movie recording. The D90 is also a little smaller and lighter than the EOS 40D.
So it's a case of weighing up which features are more important to you, and which manufacturer offers the lenses which best suit your requirements. Ultimately the D90 out-gadgets the EOS 40D with its movie mode, VGA screen and HDMI output, but the Canon is better-suited to semi-pro use with its superior build, quicker shooting and PC Sync terminal. See our Canon EOS 40D review for more details.
Compared to Canon EOS 450D / Rebel XSi

Canon's EOS 450D / Rebel XSi is priced comfortably below the D90, but like the 400D / XTi and D80 before them, many will compare the two models. Canon has certainly learnt from that previous battle where Nikon equipped the D80 with better features for only a little extra money, and managed to up-sell many new buyers from its arch rival. Canon adopted a similar strategy with the 450D / XSi, fitting it with a number of enhancements over cheaper models, but half a year on, Nikon has once again trumped its arch rival in many respects.
The D90 and 450D / XSi may share roughly the same resolution and both offer Live View facilities, but the D90 has a much higher maximum sensitivity of 6400 ISO to the Canon's 1600 ISO and quicker 4.5fps continuous shooting to the 450D / XSi's 3.5fps. Both screens measure 3in, but the D90's has double the pixels in each axis, delivering far more detailed playback, live view and menu fonts. The D90 also offers video recording, a bigger viewfinder with on-demand grid lines, HDMI output and direct connectivity to an optional GPS accessory.
The Canon does have a few advantages of its own though. It offers 14-bit processing and RAW files, comes supplied with more capable RAW processing software along with remote control capabilities for PCs and Macs. Live View on the Canon also has a Live Histogram and smoother refresh rate. All are nice to have, but the D90 is better-featured overall – so once again if you value the extra features of the Nikon, it could be worth spending the extra. But in terms of image quality, there's not much in it. See our Canon EOS 450D / XSi review for more details.

Also consider:

For the same money you could alternatively buy the Pentax K20D which features weather-proofing, built-in stabilisation and great-quality 14 Megapixel images. See our Pentax K20D review for more details.
Nikon D90 final verdict

There's no doubt the Nikon D90 is a very impressive DSLR, but like its predecessor, it's more about enhanced features and superior handling, rather than greatly improved image quality. Don't get us wrong, the D90's stills look great, but they're not a significant step-up from 10 Megapixel models, and as you can see in our Results pages, you can achieve very similar output with the cheaper Canon EOS 450D / XSi.
So you should only go for the D90 if you value its enhanced features and handling, and are willing to pay more for them. This is the same gamble Nikon took with the earlier D80 and it certainly paid off back then. Many DSLR buyers compared the Nikon D80 against rivals like the cheaper Canon EOS 400D / XTi and were up-sold to the former thanks to its superior handling and feature-set, even though both shared 10 Megapixel resolution.
Today though the D90 enters a different market. Sure there's the cheaper, but less classy Canon 450D / XSi below it, again with the same resolution, but a previous price-war between the two companies has seen Canon's next model up, the EOS 40D, available at pretty much the same price. This is a very tough rival for the D90, as while it's lacking the gadgetry like the VGA screen, HDMI port and movie mode – not to mention having two fewer Megapixels – the EOS 40D is tougher, quicker and better-suited to high-end enthusiasts.
Then there's Nikon's own D300 which while sharing several features in common with the D90, is packed with lots of smaller differences which add up to a more sophisticated camera. We've listed many of these in the comparisons above, but anyone wanting a bigger step-up in traditional photographic respects won't be disappointed.
And if you love the D90's build, viewfinder and AF system, but aren't that bothered by the new gadgets, there's of course its predecessor, the D80 to consider. It's still a great camera and now the D90 is available, there's some discounts – indeed you could buy the D80 body and the excellent Nikkor DX 18-200mm VR super-zoom for the same price as the standard D90 kit.
Interestingly what the D90 doesn't deliver is a significant boost in resolution. Nikon now has four DSLRs with 12 Megapixels and is sorely lacking an option with more detail. Pentax and Sony both have 14 Megapixel cropped bodies and Canon has the 15 Megapixel EOS 50D, while in the full-frame market are 21 and 24 Megapixel models from Canon and Sony. Everyone understands higher resolutions can result in compromises with noise and dynamic range, but there's the simple fact existing owners of 10 Megapixel Nikon DSLRs don't really have anywhere to go if they want a significant boost in detail from the same company.
The D90's movie mode is also an interesting feature, and while it should be treated with care for the best results, we commend Nikon for getting there first and starting the ball rolling. Like Live View today, we'd expect to see video recording become the next big feature of DSLRs over the following year.
Ultimately the Nikon D90 is an excellent DSLR that easily earns our Highly Recommended rating, but it's not the same slam-dunk of its predecessor. Back then if you wanted a classier mid-range DSLR, you'd get the D80. Today though there's several compelling alternatives that demand very careful consideration of feature-sets, build and handling, not to mention an honest evaluation of your own photographic requirements.
There's no doubt the D90 should be short-listed by anyone shopping in its price-bracket, and should its features match your requirements, you'll be very happy with it. Existing D80 owners should however think very carefully about whether it really offers them an upgrade, or whether stretching to the D300 – or indeed waiting – is a better bet.
---


Good points


Great handling and ergonomics.
Big viewfinder and detailed screen.
First DSLR with movie mode.
4.5fps shooting & 11-point AF.

Bad points


Motion artefacts in movie mode.
Tough rival in Canon EOS 40D.
Resolution not a big step from D80.
Remote & RAW software costs extra.


Scores
(relative to 2008 mid-range DSLRs)


Build quality:
Image quality:
Handling:
Specification:
Value:

Overall:



16 / 20
18 / 20
19 / 20
19 / 20
17 / 20

89%