Verdict
When it introduced the D3300's predecessor, the D3200, Nikon established a new benchmark for resolution on entry-level DSLRs. After such a leap, (the D3200 almost doubled the resolution of its predecessor, the 14 Megapixel D3100) it was hard to imagine what the next move would be. The answer turns out to be more of the same, with a new sensor that offers not more Megapixels, but better image quality and superior noise performance.
There are other, to be honest, mostly fairly minor improvements. The D3300 has a new kit lens that collapses and makes the camera a little less bulky. The new sensor and upgraded EXPEED 4 processor combination brings slightly faster continuous shooting at 5 frames per second, a higher maximum ISO sensitivity of 25600 plus a 1080p50/60 best quality movie mode. Special Effects modes are introduced for the first time on Nikon's entry level model – where they'll arguably be more appreciated than on the higher end D5300 and battery life has been substantially improved.
It's unlikely that'll be enough to tempt existing D3200 owners to upgrade, but that's not really the issue. For Nikon the question is can they outrun the competition not just from Canon's entry level EOS SL1 / 100D, but the onslaught from mirrorless system cameras, an increasingly popular choice for improving photographers looking to move up from a compact or phone.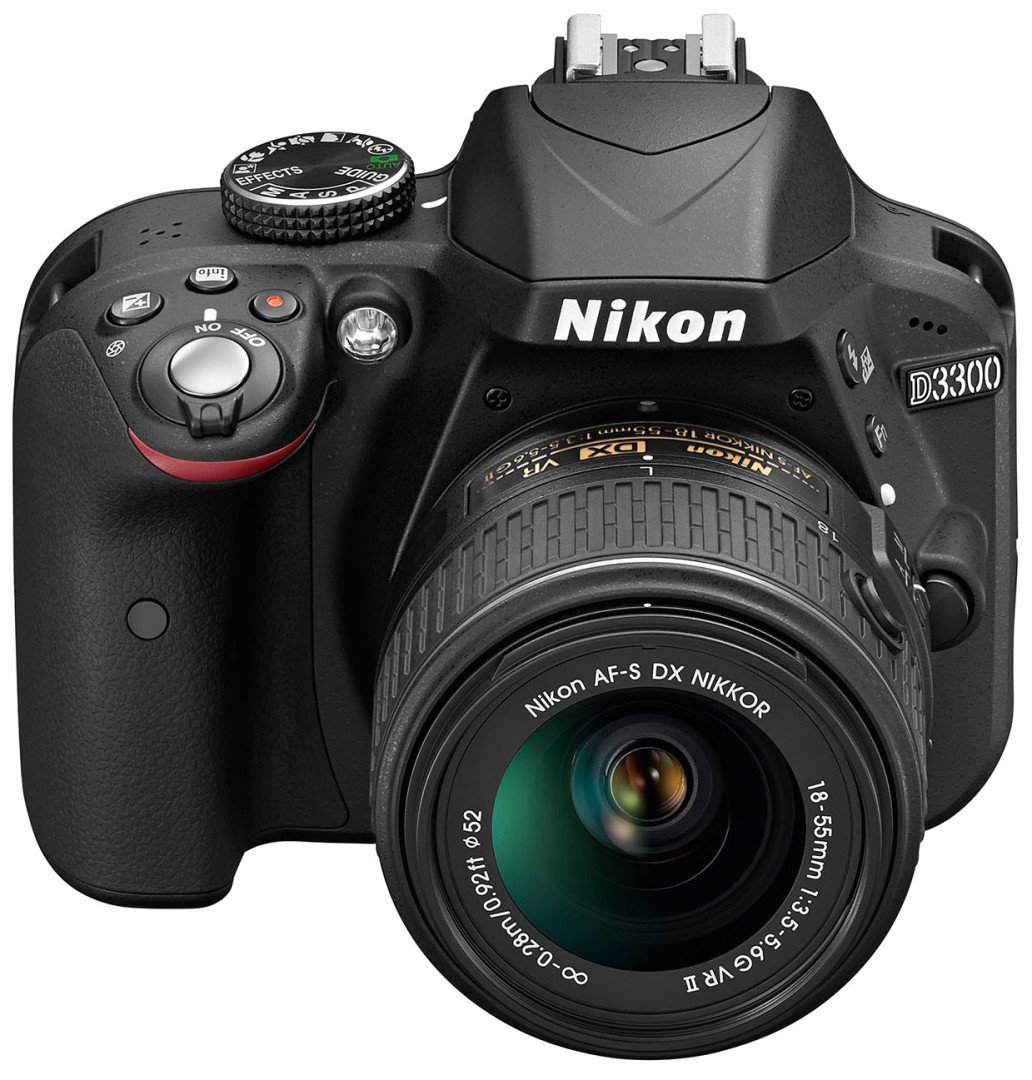 Nikon D3300 vs Canon EOS Rebel SL1 / 100D

In the DSLR arena Canon's EOS SL1 / 100D will be the camera most likely to temp first time 'serious' camera buyers away from the Nikon D3300. So what does it have to offer to push the D3200 into second place? If first impressions count, then the SL1 / 100D gets off to a good start by being significantly smaller and lighter than the D3300. Because of their generally bigger lenses, DSLRs are rarely going to compete with mirrorless models on size, but for those wedded to the idea of an optical viewfinder, the EOS SL1 / 100D's relative compactness win it a lot of admirers. On the subject of viewfinders there's nothing to separate these two models but the EOS SL1 / 100D's 3:2 proportioned screen has a slightly higher resolution than the D3200's and, more importantly, offers touch control. The Canon live view experience is also superior with a cleaner, more detailed magnified view.
On the inside, the Nikon D3300's 24 Megapixel OLPF-less sensor not only offers higher resolution than the 18 Megapixel EOS SL1 / 100D, the image quality is better and the sensor produces less noise throughout the sensitivity range. Both models offers a similar range of shooting modes with, obviously, the full PASM suite plus auto modes with scene detection and a broadly equivalent range of effects filters. The D3300 also offers a Guide mode, something that's likely to appeal to first time buyers. The EOS SL1 / 100D lacks a panorama mode, but at least offers basic 3-frame auto exposure bracketing and an HDR scene mode, two things the D3300 is sorely lacking. The Canon also has an optical depth of field preview facility.
The Canon EOS SL1 / 100D's Hybrid AF system was slightly faster in practice than the Nikon D3300, and it's much better suited to autofocusing during movies with more confident operation, especially when coupled with an STM lens like the kit zoom. The Nikon D3300 has a better quality 1080p60/50 mode compared with 1080p30 on the EOS SL1 / 100D, with both models offering a broadly equivalent range of other movie resolutions. The EOS SL1 /100D provides full manual movie exposure control compared with only ISO and shutter speed on the D3300, and also has the excellent movie snapshot mode which edits together short clips in the camera. Both models have a built-in mono mic and provide a socket for an external mic.
The D3300 offers slightly faster 5fps continuous shooting, compared with 4fps on the EOS SL1 / 100D, but offers a longer JPEG burst rate of 100 frames ( though in practice I found the D3300 slowed significantly after around 70 frames) compared with 28 on the EOS SL1 / 100D. And with a battery that delivers enough power for 700 shots the D3300 will outlast the 380-shot EOS SL1 / 100D between charges.
In terms of really significant differences, you could sum it up by saying that the EOS SL1 / 100D is more compact and offers better handling and AF performance, especially for movies. Against that, the D3300 counters with better image quality and noise performance. In the end its about deciding which of those factors is most important to you. One final factor that may also influence your decision is price. At the time of writing the Nikon D3300 was around 25 percent more expensive than the Canon EOS SL1 / 100D, with the latter enjoying more discounting due to its older age.
See my Canon EOS SL1 / 100D review for more details.
Nikon D3300 final verdict
The Nikon D3300 is an incremental improvement on its predecessor in terms of specification and features, but its new sensor raises the bar in terms of the image quality we've come to expect from entry level DSLRs. That on its own will probably be enough to attract many people. Beyond that it offers a range of improvements – collapsible kit lens, increased battery life, revised info panels and special effects filters, which are useful enough, but don't really warrant much more of a response than a raised eyebrow.
If Nikon were competing only with other DSLR's this might be enough, but these days more and more people are concluding that a mirrorless system camera provides a more portable and equally, if not more capable entry into the world of interchangeable lens photography. In the face of that, I'm not sure the D3300 has the knockout punch. The main advantage of a DSLR over most mirrorless cameras is its optical viewfinder and the D3300's has remained the same for several generations. And while it's finally introduced some effects filters Nikon could have gone further to woo potential customers, starting with built-in Wifi and GPS, not to mention AE bracketing of any description, all features which are commonplace on rival mirrorless cameras.
It's also worth remembering the earlier D3200 which may well do everything you need at a lower price: if you're happy with 1080p at a maximum of 30p, 4fps continuous shooting, a less compact kit zoom and a sensor with a low pass filter, you should look out for possible bargains while it remains on sale. See my Nikon D3200 review for more details.
But lets not lose sight of the fact that the D3300 is still a pretty remarkable offering for an entry level DSLR. It offers unsurpassed quality at this price point and a compelling range of features that will delight many a first time DSLR user. For that reason I'm going to give it a recommended award, but please Nikon, equip this range with AE bracketing and Wifi sooner rather than later.
Good points
Excellent image quality and noise performance.
Collapsible 18-55mm VR II kit zoom.
Guide mode for novice photographers.
1080p50/60 video with some exposure control.
Range of effects filters.
Bad points
No auto exposure bracketing or optical depth-of-field preview.
Lacks built-in Wifi and GPS.
Button press required to extend lens.
Movie AF lacks confidence and looks distracting.