Nikon D300s lenses and autofocus
The Nikon D300s features an F-mount which can accommodate most Nikkor lenses, with the DX-format sensor resulting in their field of view being reduced by 1.5 times. As with all Nikon DSLRs, you'll need recent lenses to support the full focusing and metering modes. There's a compatibility chart in the D300s manual or specification sheets, but just briefly you'll need a Type G or D AF (including AF-S and AF-I) Nikkor to support all functions including the most sophisticated 3D Colour Matrix Metering II system.
The less sophisticated (but still capable) Colour Matrix Metering system is supported on non-CPU lenses if you enter their focal length and maximum aperture into the D300s; there's room to store details of nine different non-CPU lenses with focal lengths from 6 to 4000mm and apertures from f1.2 to f22.
As a higher-end model, the D300s will be typically sold body alone, leaving the buyer to choose a lens. Nikon's certainly not short of general-purpose lenses designed for the DX-format, although there's a few which stand out for the D300s.
One of the most popular models is still likely to be the DX 18-200mm VR, now in version II. This super-zoom lens delivers a very flexible range equivalent to 27-300mm in 35mm terms, and while its large zoom ratio means there's inevitably sharper tools in the box, its sheer convenience will outweigh any optical downsides for many photographers – indeed the D300s is also available from some suppliers as a kit with this lens. See our Nikkor DX 18-200mm VR review for more details.
Portrait, wedding and low light photographers will favour the bright aperture of the DX 17-55mm f2.8. It may not have Vibration Reduction, and certainly suffers from softening towards the periphery, but it delivers a nice bright aperture with the opportunity to really throw the background out of focus.
Our personal choice though for the discerning photographer is the DX 16-85mm VR. Its price may be close to that of the DX 18-200mm VR yet with half the optical range, but for our money it's the sharpest general-purpose DX-format zoom in the current catalogue.
It may not zoom-in anywhere near as close as the popular super-zoom, but it does zoom a little wider to an equivalent of 24mm, while retaining a relatively light and compact form factor. If you're happy carrying a second lens for long telephoto work (such as the Nikkor 70-300mm VR), then the DX 16-85mm VR is arguably the best all-round general-purpose zoom for DX-format bodies, and comes recommended for the D300s. Check out our DX 16-85mm VR review for more details.
Nikon D300s focusing

The Nikon D300s inherits the powerful 51-point AF system of the D300, using the same Multi-CAM 3500DX sensor. The 51 AF points cover a broad area of the frame – as seen in the viewfinder image on the previous page – and no fewer than 15 of them are cross-type. It's a very impressive specification when the total number of AF points on many rival systems don't even match the number of cross-type sensors on the Nikon.
Like the D300, a three-way switch on the back of the camera allows you to select between Single Point AF (where you choose the focus point manually using the rocker), Dynamic Area AF (which can track a moving subject) and Auto-area AF (which detects subjects like people against backgrounds). Another switch by the lens mount lets you choose between Manual, Single or Continuous auto focus.
The thought of 51 focus points packed into the viewfinder sounds like potential clutter, but like other Nikon DSLRs, each point is indicated by an LCD rectangle which completely disappears from view when not active. So the reality of the system is that only a handful of active focus points are seen, which thankfully makes for a cleaner viewfinder experience.
Like the D300, you can choose between four different Dynamic AF Area modes which employ nine, 21, or all 51 focus points, the latter with an additional 3D tracking option. You might think you'd always go for the full 51-point system for all moving subjects, but there are benefits to the others.
The nine-point system reacts quickly to predictably-moving subjects which tend to stay in the middle of the frame, such as runners or cars. The 21-point system considers a slightly larger area, allowing you to better track unpredictable motion like football players. If the subject is moving very quickly and can't be easily framed in the centre, like a bird in flight, then go for the full 51-points. And finally, the 51-point 3D-tracking option remembers the colours of the area in the initially selected focus point and tracks the subject based on them – ideal for erratic motion like a tennis player against a coloured court.
Like the D300, it all comes together very well in practice. With the D300s set to Continuous shooting and the 21-point dynamic area, it effectively tracked and photographed rapidly moving jetboats using the Nikkor DX 16-85mm VR lens – you can see some sample images in our Gallery or our HD video tour.
Set to 51-point 3D-tracking, it coped with sports where the subject moves erratically around the frame, with the active focus point visibly following them through the viewfinder with pretty decent accuracy. It works very well in this environment where a subject stands out against the background, like a skiier or snowboarder against a white surface.
As always you'll need a lens with quick focusing for the best success, but the camera's AF system coupled with its 7fps continuous shooting capabilities and tough build quality, makes it a formidable tool for action photography, and you can see a sample sequence in our Gallery page. Just be sure to experiment with the different focusing area options as one may work much better than another depending on the subject and conditions.
In Live View mode, the D300s can use either the traditional 51-point phase-change AF system, or a compact camera style contrast-based AF system – both are fully described on our Design page.
Recognising that not all lenses are perfect, Nikon also allows you to fine-tune the AF on up to 12 models by 20 steps either way. This is a very welcome feature that we'd like to see on higher-end DSLRs from all manufacturers.
Finally, we'd be remiss not to mention the AF system of its major rival, the Canon EOS 7D. The 7D features a brand new 19-point AF system where all 19 points are cross-type sensors (compared to 15 on the D300s). Points can be shrunk if required for greater accuracy, and new zoning capabilities allow you to manually select clusters of AF points rather than single ones at a time – a key advantage over the D300s. In terms of numbers, the Nikon still sounds more impressive with its 51-points to the Canon's 19, but as always, numbers alone don't tell the whole story. We'll report in detail on the EOS 7D's AF capabilities once final production samples become available.
Nikon D300s metering, exposures and bracketing

The Nikon D300s offers three main metering modes, selected using a dial to the right of the viewfinder: Spot, Centre-weighted and 3D Colour Matrix II. The latter employs a 1005 pixel sensor and considers brightness, colour, distance and composition information to evaluate the scene; note you'll need a type G or D lens to deliver distance information. If focal length and maximum aperture settings are entered for non-CPU lenses, the D300s can offer its still very capable Colour Matrix Metering.
We used 3D Colour Matrix Metering II for all our test shots and like previous Nikon DSLRs, found it had an uncanny ability of working out what you intended for the shot. We've said it before and will say it again: Nikon's metering is the best around.
Like the D300, you can also adjust the diameter of the circle in the Centre-Weighted mode to 6mm, 8mm (the default), 10mm or 13mm; there's also an Average option which takes the average of the entire frame.
The D300s offers shutter speeds from 1/8000 to 30 seconds plus a Bulb option. Exposure compensation is available in a wide range of +/-5EV, and you can choose whether exposure increments are in 0.3, 0.5 or 1EV increments. Pros should note the shutter block is tested to the same 150,000 cycles as the D300 and D700, along with Canon's EOS 7D; if you want more from Nikon, you'll need to go for the D3 / D3x which boasts 300,000.
Exposure bracketing is a joy on the D300s. HDR fans will be delighted to find up to 9 frames can be taken at increments of 0.3, 0.5 or 1EV apart. Flash, White Balance and even Active D-Lighting bracketing are also available.
Nikon D300s anti-dust

The Nikon D300s vibrates a filter in front of the main sensor in an attempt to shake-free any foreign particles. You can set the camera to perform this process at startup, shutdown, both or neither. You can also activate it manually at any time, along with recording a dust reference frame for automatic dust removal of RAW images in the optional Capture NX software.
Following our usual DSLR torture-test we left the D300s face-up without a lens, inside and outside for ten minutes each; we can't know how much dust entered the body during this time, nor even how much was present to start with, but we know such a process would result in dust being a problem for most models.
With Cleaning set to take place at startup and shutdown we then powered the camera on and off twice, before taking a series of photos at every aperture setting of a plain white surface at close range with the Nikkor DX 16-85mm VR lens at 85mm and manually focused to infinity. Dust marks normally become most apparent at the smallest apertures (eg f16 and f22), but it's also important to test at more common apertures.
Support this site by shopping at Amazon Nikon D300s dust example at f22 / f22 with Levels

100% crop, 16-85mm at 85mm, f22

100% crop, 16-85mm at 85mm, f22
At f22, a few small dust marks were very faintly visible on the image and we've cropped the darkest of them above on the left; as you can see, it's barely visible and we've needed to apply Auto Levels to properly reveal it above right. At f16, they grew larger and fainter and by f11 had become almost invisible. We also tried applying a dust reference frame to the RAW version of the same image in Capture NX 2, and all the dust marks were eliminated.
So while some dust remained after cleaning, it wasn't a serious issue during this test. What few marks were remaining were very faint, and also easily removed from RAW files using Capture NX 2.
Nikon D300s sensor and processing

The Nikon D300s is equipped with the same 12.3 Megapixel CMOS sensor as its predecessor, not to mention the D90 and D5000 models. It conforms to Nikon's DX format, measuring 23.6×15.8mm, and effectively reducing the field of view of all lenses by 1.5 times.
It generates 3:2 aspect ratio images with a maximum resolution of 4288×2848 pixels and there's the choice of two lower resolutions, along with a variety of compression settings. For starters, there's three JPEG settings: Fine, Normal and Basic, and you also get to choose whether the compression is prioritised to maintain a consistent file size or for quality. Unusually for a modern camera, there's also an 8-bit TIFF option.
In terms of RAW files, the D300s gives you plenty of choice. You can record them as uncompressed data or with lossy or lossless compression. You can choose between 12 bit and 14 bit tonal depth, although the latter significantly reduces the continuous shooting rate from 7 to 2.5fps (note, Canon's EOS 7D shoots 14-bit RAW files at its full 8fps speed). And finally, once you've chosen your desired RAW type on the D300s, you can accompany it with a JPEG at any compression setting.
Best quality Large Fine JPEGs typically measure 6MB each, while lossless compressed RAW files measure 12.1MB in 12-bit or 14.9MB in 14-bit. Switch to lossy compression and the 12 and 14-bit RAW files fall to 10.5 and 13MB respectively, Opt for no compression and they increase to 19.5 and 25.4MB respectively, Finally, you're looking at about 36.6MB for an 8-bit TIFF; (figures from Nikon).
Nikon supplies basic conversion software for RAW files, but you'll want to upgrade to the more capable Capture NX 2 for the greatest results and flexibility. Sadly this remains an optional purchase, as does the remote control software, while both decent RAW conversion and remote software comes free with Canon's EOS 7D, not to mention every other DSLR in its current range. Since we berate Canon for not supplying lens hoods with anything other than its premium L range, it's only fair to do the same to Nikon for its approach to software. So come on Nikon, supply Capture NX and Camera Control Pro with your DSLRs, or at least with the higher-end ones like the D300s.
Rant out of the way, and back to the review, the D300s's sensitivity runs between 200 and 3200 ISO with additional L1.0 and H1.0 options representing 100 and 6400 ISO respectively.
High ISO Noise reduction is applied at 800 ISO and above, but you get the choice of four settings: Low, Normal (the default), High, and Off, although even when 'Off', there's some noise reduction applied above 3200 ISO.
White Balance can be set to Auto, Incandescent, Fluorescent, Direct Sunlight, Flash, Cloudy, Shade, a manually set colour temperature or a preset. Each can be fine-tuned, and bracketing is also available.
Image processing is taken care of by Nikon's EXPEED processor, which not only races through data to provide a very quick handling experience, but also includes a number of tricks. First is the automatic removal – or at least reduction – in optical chromatic aberrations, best recognised as purple fringing. This correction is applied automatically to all JPEG and TIFF files whether you like it or not, but not to RAW files, which gives us a chance to make a comparison.
Below are crops taken from our outdoor test scene taken with the D300s and DX 16-85mm VR lens at f8. We shot this using Large Fine JPEG and 14-bit lossless RAW mode. Below left is a crop taken from the JPEG file which is essentially bereft of fringing. In the middle is a crop from the RAW file without any CA correction, and while the lens performs fairly well, some colour is visible. Below right is the same RAW file, with Capture NX's default CA Correction applied, and as you can see it's essentially eliminated any fringing. It's an impressive capability, although it's a shame not to also find the Vignette Control of the D700 offered here – to be fair though, you can apply it using Capture NX and vignetting is generally less of an issue with the DX format compared to full-frame.
Nikon D300s
JPEG from camera

Nikon D300s
RAW without Auto CA

Nikon D300s

RAW with Auto CA

16-85mm at 25mm f8, 100% crop

16-85mm at 25mm f8, 100% crop

16-85mm at 25mm f8, 100% crop
The headline feature of EXPEED remains Active D-Lighting which adjusts the tonal curve of images in an attempt to boost darker areas without blowing highlights. Unlike Nikon's original D-Lighting system, the Active version applies the adjustments to JPEG and TIFF files as they're being processed, although normal D-Lighting is still offered in the Retouch menu for existing images.
Active D-Lighting is offered in Low, Normal, High, or (following the D90), Extra High settings and is non-reversible on JPEGs; you can however opt for a bracketing option which can take a series of images with a variety of Active D-Lighting settings. There's additionally an Auto mode which adjusts the Active D-Lighting depending on the conditions. By default, Active D-Lighting is disabled on the D300s, so that's what we've used for our main Results and Gallery pages.
The current Active D-Lighting setting is also stored with RAW files and applied as you open them in Capture NX, but the software allows you to adjust the setting, or switch it off entirely if preferred. You don't however get this option on RAW files if they were taken with Active D-Lighting switched off.
Active D-Lighting preserves highlight areas by first reducing the exposure slightly, then boosting the darker areas with a tone curve. You can see two examples of this below taken with the D300s in Aperture Priority at f8 and 200 ISO. The first image, on the left side is a normal exposure without Active D-Lighting, and the camera metered a shutter speed of 1/2. To the right is an image taken with Active D-Lighting set to its maximum setting of Extra High, which with the same aperture and sensitivity resulted in a faster exposure of 1/4 of a second.
Support this site by shopping at Amazon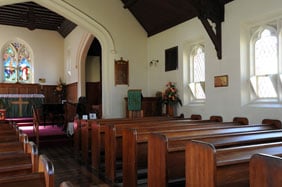 Nikon D300s Active D-Lighting

Active D-Lighting Off: 200 ISO, f8, 1/2 sec

Active D-Lighting Extra High: 200 ISO, f8, 1/4 sec
The histograms below each image illustrates exactly how Active D-Lighting works. The shorter exposure above right has retained more highlight detail, which in turn has meant the bright window areas are less burnt-out; the brightness of some walls have also been reduced. At the other end, shadow and mid-tones have been stretched, although with some undesirable spikes. That said in this particular example there's not a great deal of difference in the dark shadow areas. In other examples we saw a bigger impact, but like other systems which boost shadow areas, there's inevitably the risk of increased noise.
Finally, in terms of traditional dynamic range, we found 12-bit RAW files taken at the same exposures as in-camera JPEGs contained greater tonal detail at both ends of the scale. The jump from 12 to 14-bit was much more subtle though and in some cases almost impossible to spot, but since the file sizes aren't much greater, we'd recommend it for the ultimate potential quality – unless of course you're shooting fast action, in which case the 12-bit mode is required for the full-speed of 7fps.
More traditional image processing options are applied using a series of Picture Controls. The Standard, Neutral and Vivid Picture Controls all offer adjustment of Sharpening (0-9), Contrast (+/-3), Brightness (+/-1), Saturation (+/-3) and Hue (+/-3), while the Monochrome Picture Style swaps Saturation and Hue for nine Toning and four Filter Effects, the former also offering seven subtle variations for each colour. If you're in a real hurry, a Quick Adjust option can boost or lessen a group of settings in one go.
We used the Standard Picture Control throughout our results and gallery pages and found the output quite punchy and surprisingly consumer-friendly compared to its predecessor and many other semi-pro models. The many settings however allow you to tweak to your heart's content.
Nikon D300s drive modes

The Nikon D300s offers two continuous shooting modes on the Release dial: CL for Continuous Low and CH for Continuous High. Set to Continuous High mode, the D300s can shoot at 7fps, while Continuous Low is configurable between 1 and 7fps. The maximum speed of 7fps (without grip) is one frame faster per second than its already swift predecessor and will be welcomed by sports shooters. It is however important to note Canon's slightly overtaken Nikon in this regard, with the EOS 7D boasting a slightly faster 8fps speed. Impressively the EOS 7D also maintains this speed for 14-bit RAW files, whereas the D300s only offers it top speed for JPEGs and 12-bit RAW files, slowing to just 2.5fps when recording 14-bit RAW data.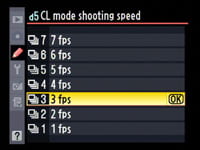 Like the D300 before it, the D300s can boost its continuous shooting speed to 8fps when using the optional MB-D10 battery grip – although to support this speed you'll need to fit the MB-D10 with either a set of AAs, or the higher-capacity EN-EL4a battery pack. This extra speed also still only applies to JPEGs or 12-bit RAW files.
To test the D300s's continuous shooting capabilities we fitted a Lexar Professional UDMA 300x 16GB compact flash card. With the camera set to Large Fine JPEG (optimised for quality) at 200 ISO and with Active D-Lighting switched disabled, we fired-off 41 frames in 6.5 seconds before the D300s slowed slightly. This corresponded to a rate of 6.3fps. The camera was then ready to shoot in smaller bursts almost instantly.
Set to record 12-bit RAW only with lossless compression, we fired-off 18 200 ISO frames in 3.2 seconds before the buffer filled, working out at just under 6fps. Set to record 12-bit RAW with Large Fine JPEGs, we managed 15 frames in three seconds, corresponding to a rate of 5fps. Set to 14-bit RAW only with lossless compression, we managed 30 200 ISO frames in 10.2 seconds before the buffer filled, corresponding to a rate of 2.35fps.
One of the killer aspects of the D300s is its ability to write to two cards simultaneously, but does this have any impact on continuous shooting performance? We fitted a Lexar Professional 8GB 133x SDHC card and set the D300s into backup mode, duplicating images on both cards. This time we managed to fire-off 29 Large Fine JPEGs in 4.5 seconds, corresponding to a rate of 6.4fps – so the rate wasn't affected, but we managed about one quarter fewer frames in the burst before the camera stalled.
Next-up shooting 12-bit RAW to the CF card and JPEG to the SD. This time the same 15 frames as before, but now at a quicker 2.3 seconds, corresponding to a rate of 6.5fps. Switching the primary card so the RAW files were recorded to the SD and JPEGs to the CF, we managed 15 frames once again, but in three seconds, corresponding to a rate of 5fps.
Support this site by
shopping below

Obviously the speed of each card varies, but it's reassuring to see how recording RAW to one and JPEG to the other can work a little like a RAID 0 array, improving the overall shooting rate over a single card. Unsurprisingly the speed benefit here was only effective when recording the bigger RAW files to the faster of the two cards, so it pays to put a little thought into how to configure the camera for the best results.
Overall, it's interesting to note the D300s, despite claiming an extra 1fps over its predecessor, performed roughly the same in our continuous shooting tests. The best speed we measured from either model (with a single card) was 6.3fps, which is slightly higher than the D300 specs, but slightly lower than the D300s. Perhaps Nikon recognised the earlier D300 actually performed a little better than claimed, so decided to up the official specification here. Either way, while our D300s didn't achieve its claimed 7fps top speed in practice, shooting above 6fps remains sufficiently quick to capture high-speed action and we have an example at the bottom of our Gallery section.
Finally, it should be noted that like its predecessor, the shooting rate dramatically falls when recording 14-bit RAW files. Nikon doesn't hide this fact, but it's important to note the Canon EOS 50D and 7D only shoot their RAW files in 14-bit and it doesn't affect their shooting rate.
Like its predecessor the D300s offers four different self-timer delays: two, five, 10 and 20 seconds, with the default being 10 seconds. The self-timer itself is selected from the release mode dial, while the delay can be chosen from a custom menu.
Turn the release mode dial to Mup and you can use the D300s's Mirror-lockup facility. With this selected, press the shutter release once to raise the mirror, then once again to actually take the photo. While this will eliminate shake from the mirror's action, obviously it's best-used with a cable release to subsequently fire the shutter.
New to the D300s over its predecessor is a Quiet mode, indicated by Q on the Release dial, and replacing the position vacated by Live View. In use this slows (and potentially delays) the mirror lowering back into position so what you hear are two distinct sounds rather than a single 'chunk'. In practice it sounds like a mechanical click followed by a motorised noise, and the latter can be delayed while you hold the shutter release down. It's certainly a little quieter and may be useful in discreet situations, but don't expect the difference between night and day. You can hear how it sounds in our Nikon D300s video tour.
Finally, the D300s shares its predecessor's handy built-in Intervalometer capabilities to shoot at timed periods. You can set the start time, interval period (from one second to one day) and both the number of intervals (up to 999) and shots taken per interval (up to nine). This is another useful feature to have built-into the camera and will delight anyone wanting to create a time-lapse sequence without additional equipment. It also goes some way to compensate for the Camera Control Pro software being an optional accessory, and is of course much more useful in the field rather than relying on a laptop.
Now let's find out about the new video recording capabilities in our D300s Movie Mode section!