Nikon COOLPIX S9700 review - Verdict
Verdict
The COOLPIX S9700 is a competitively-priced 30x compact superzoom with a great range of features and a useful lens range of 25-750mm.
It offers the full range of PASM shooting modes for those who like to take control of exposure plus a good range of fully auto and scene modes coupled with a choice of capable AF modes. In addition to a range of scene modes and effects that can be applied during or post shooting, there are useful feature modes like Easy panorama and HDR Backlighting mode.
Add to that a very comprehensive range of movie modes including HD slow motion, respectable full-resolution burst shooting backed up with a wealth of lower resolution continuous feature modes, and this is a model that begins to look like an attractive alternative to the popular travel-zoom offerings form Panasonic, Sony and Canon. For a travel zoom built-in Wifi is a must, the COOLPIX S9700's Wifi implementation lacks NFC, but the built-in GPS receiver more than makes up for that ommission.
Finally, the S9700 is priced below most of the competition, so if you're looking for the best value compact super-zoom it's a strong contender. Below you can read how the COOLPIX S9700 compares with its nearest priced competitor the Canon PowerShot SX700 HS before my final verdict at the bottom of the page.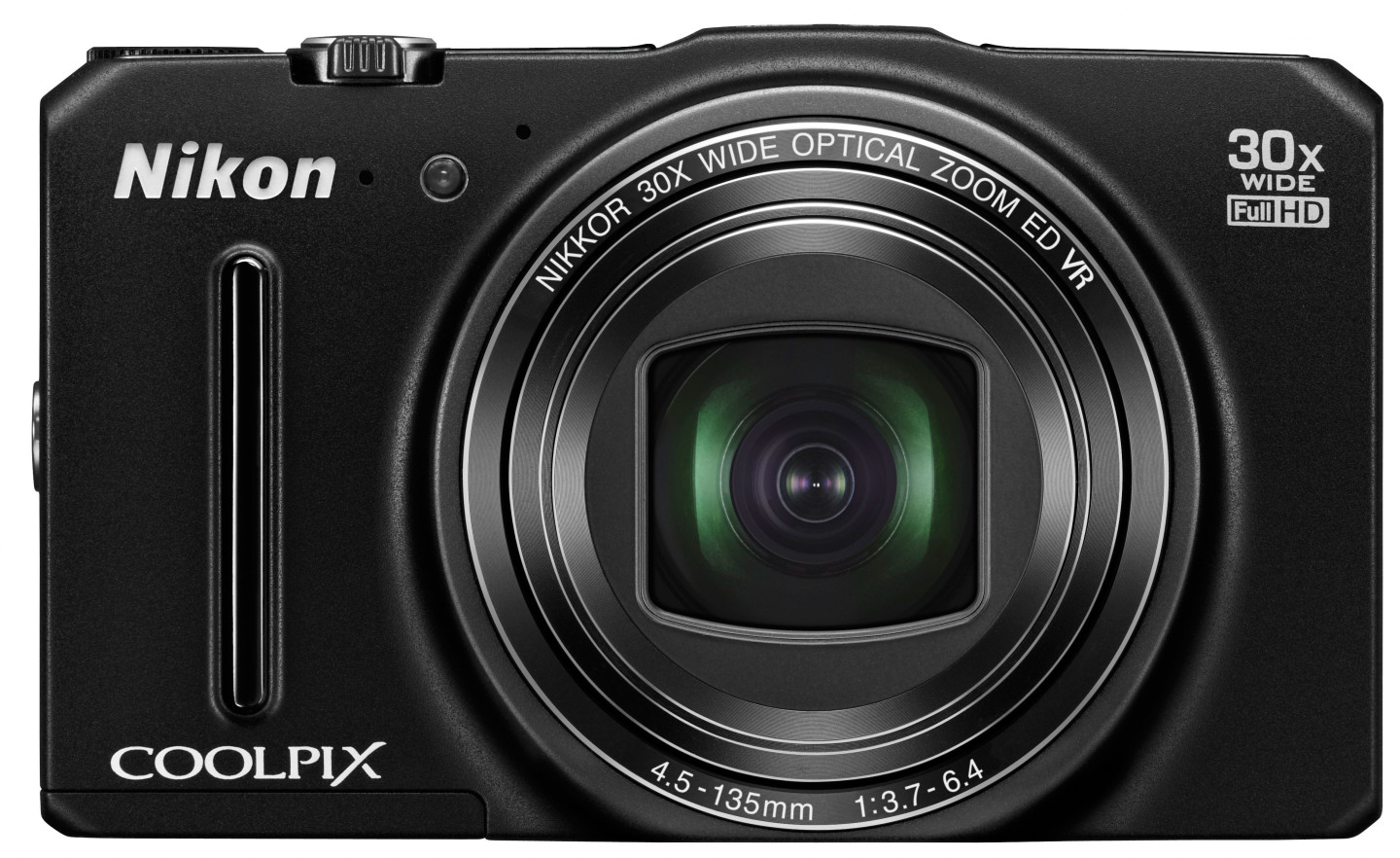 Compared to Canon PowerShot SX700 HS
On the face of it, the PowerShot SX700 HS and COOLPIX S9700 are very closely matched. A compact super-zoom's most important feature is its lens and both models share a 25-750mm equivalent zoom range. The PowerShot SX700 HS starts a little brighter at the wide angle end, but it's f3.2-6.9 lens ends up not quite so bright as the f3.7-6.4 aperture of the COOLPIX S9700 when fully zoomed in – so we'll call that a draw. In my quality tests, though, the Canon lens performed a little better at the edges.
Both models are equipped with a 16 Megapixel CMOS sensor, and both produce good quality images that stand up to close inspection at the lower sensitivity settings. The COOLPIX S9700 applies more aggressive noise reduction, resulting in smoother less grainy photos with a little less detail than those from the PowerShot SX700 HS.
The COOLPIX S9700's 3 inch 921k dot OLED screen has the same physical size and resolution as the PowerShot SX700 HS's LCD screen and though the two use different display technologies, neither one has an advantage in terms of the viewability of the image or the angle of view.
Both models are equipped with built-in Wifi, but if you have an NFC capable smartphone you can connect to the PowerShot SX700 HS by tapping the two devices together. But while the COOLPIX S9700 lacks NFC it does have a buit-in GPS receiver, something many people will regard as more useful. As well as allowing you to tag images with geolocation metadata, the GPS lets you display a map of your current location and shows you where photos were shot on a map display on the camera screen. Though the PowerShot SX700 HS lacks a built-in GPS receiver you can use your phone's GPS to record a track log then append the GPS data to images in the camera. It's a little more involved than using a built-in GPS which you just turn on and forget about, but a feature worth having nonetheless.
Both models can be remote controlled over Wifi using an iOS or Android app and both offer similarly basic shooting functions. both allow transfer of images from the camera card to your phone, however, the SX700 HS also allows you to connect to a printer or another camera over Wifi and you can also upload to social media and photo sharing sites via Canon's Image Gateway platform.
Both models offer the full PASM set of manual and semi-auto shooting modes in addition to auto modes, though the PowerShot SX700 HS is a little more sophisticated when it comes to scene detection and its smile-activated Smart shutter mode is more versatile than the S9700's Smart portrait mode. In addition to its wide range of effects, the PowerShot SX700 HS also has Creative shot mode, which does all the creative work for you and Hybrid Auto mode which shoots a short movie clip prior to each photo you take and assembles them into a movie of the day's shooting. In its favour, the COOLPIX S9700 has two panorama modes versus none on the SX700 HS, but if its feature modes you're looking for, the SX700 HS is the winner here.
Neither model is outstanding when it comes to continuous shooting with both providing short bursts at full resoution – 5 frames at a quoted 6.9fps on the S9700 (nearer 5fps in practice) and 4 frames at 8.5fps on the SX700 HS. However, like all Nikon compacts, the S9700 offers a range of reduced resolution and feature continuous modes. And while both offer a good range of video modes the SX700 HS can shoot 1080p60/50 HD compared with 1080p30/25 on the S9700. Beyond that, the S9700 has a better choice of slow motion video options with half and double-speed playback at 720p where the SX700HS can only offer the choice of QVGA (320×240) at 240fps or VGA (640×480) at 120fps. Though if you're prepared to post process you can get half-speed 1080p30 video from the SX700 HS's 1080p60 mode.
Finally, before I get on to pricing it's worth mentioning one other thing, that you won't find in the specs and only becomes apparent after a while using both of these models. The SX700 HS offers a better handling experience. Particularly if you're shooting in the PASM modes it's much easier to make changes to settings using the SX700 HS's quick menu compared with scrolling through the S9700's menu system.
Though, as always, it pays to shop around, both of these models are now pretty closely matched in price. That means you can decide on the basis of performance and features alone. There isn't a massive difference in terms of performance, so it's the features that'll swing it. As usual you'll need to fugure out what kind of photography you'll spend most of your time doing and which model is best suited for it. Is NFC connectivity or built-in GPS the best choice? How important are HD slomo video modes, or would you rather have the option to shoot miniature mode video? Is the ability to fire the shutter with a wink, easily create filtered shots or compile a movie of your days shooting more useful than the ability to shoot 360 degree panoramas? If you can answer those questions you should be well on the way to deciding which of these two models is the best compact super-zoom for you.
Also consider…
The COOLPIX S9700 was launched in 2014 and at the time of writing its successor, the S9900, was announced. The S9900 keeps the same 16 Megapixel resolution and 25-750mm lens range, but adds a fully-articulated screen, along with NFC to aid Wifi negotiation (with compatible handsets). The articulated screen is unique among its 30x rivals new or old, and I'm also pleased to see Nikon keeping the built-in GPS receiver as its rivals have now removed it and rely on smartphone syncing instead.
That said, there are pros and cons to each model. Canon's latest PowerShot SX710 HS boosts its resolution to 20 Megapixels, delivering the finest detail at low sensitivities, albeit succumbing to noise sooner at high ISOs. Meanwhile, Panasonic's Lumix TZ70 / ZS50 remains the only one of the group with a built-in viewfinder which really helps when composing in bright sunlight or at long focal lengths. The Lumix also takes the high ground in its feature-set with RAW files, twin control dials and plenty of button customisation. See my Canon SX710 HS review and Lumix TZ70 / ZS50 review for more details.
Nikon COOLPIX S9700 final verdict
The COOLPIX S9700 is a difficult camera to ignore. Possibly not the first model you'd think of when compiling a list of popular super-zooms, when you see what it has to offer you really begin to wonder if if the price premuim you'd have to pay for some other models is really justified. All the really important features are there – 30x stabilised zoom, capable sensor, great screen, PASM exposure control, Wifi and GPS. Beyond that, it's an excellent movie camera and has a good range of effects and feature modes.
As with all Nikon compacts, the lack of quick access to settings hampers it a little when in PASM modes. And compared with other models, mostly costing more, it also looks a little thin on feature modes. But they're fairly minor shortcomings that don't overly detract from one of the best value travel zooms currently available and one well worthy of a Cameralab's recommended award. Compare prices closely against the latest S9900 though as in some regions there may not be much in it, and the new model adds NFC and an articulated screen.
Good points
30x optical stabilised zoom.
3in 921k dot OLED screen.
Built-in Wifi and GPS with map display.
Wide range of movie modes.
Bad points
No built-in viewfinder.
Lacks NFC connectivity. (Newer S9900 has it though).
Settings inacessible in PASM modes.
Basic and clunky remote shooting.