Intro
The Nikon COOLPIX S9100 is a 12.1 Megapixel compact super-zoom with an 18x optical zoom lens and a 3in 4:3 aspect ratio LCD screen. Released in February 2011, its back-illuminated CMOS sensor provides it with high-speed continuous shooting capabilities, a 1080p30 HD best quality video mode and slow motion movies.
Other features that take advantage of the sensor's fast shooting ability are three new composite scene modes, two for night shooting and one that produces HDR images for backlit and other subjects with a wide tonal range.
This is the first COOLPIX compact to use a Nikkor ED glass lens, and the 18x optical zoom has an impressive range, starting at 25mm and outreaching the competition with a 450mm telephoto. Like all Nikon compacts, the COOLPIX S9100 opts for sensor-shift (rather than optical lens-based) stabilisation, and couples it with Motion Detection which automatically increases the ISO sensitivity and shutter speed to avoid camera shake.
Nikon has updated its basic Panorama Assist mode with the addition of a pan-and-shoot Easy panorama mode on a par with what's been available on selected Sony Cyber-shot compacts for a couple of years now. The COOLPIX S9100's 18x zoom puts it in a strong competitive position up against models from Panasonic, Sony and Canon, but beyond the headline specification does it have the features in depth to provide a real alternative to models like the Lumix TZ20 / ZS10, Cyber-shot HX9V and PowerShot SX230 HS. Read our full review to find out.
Nikon COOLPIX S9100 Design and controls

The COOLPIX S9100 measures 105x62x35mm which makes it pretty much identical in size to the TZ20 / ZS10, SX230 HS and HX9V. It is a little lighter though, and the absence of an expanded grip – there's just a raised plastic bar – makes it look slimmer. The front of the camera is covered with rubberised plastic which is practical, but also looks and feels rather nice. I initially thought the COOLPIX S9100 had a bit of a budget look about it, but over the weeks it's grown on me. It's not as stylish as the PowerShot SX230 HS and lacks the technical chic of the Lumix TZ20 / ZS10 and Cyber-shot HX9V, but is well-designed with clean and simple lines.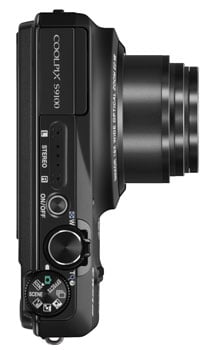 On the top panel is a recessed on-off button with an LED power indicator surround, a nice big shutter release button with zoom collar and a mode dial that sits slightly proud of the surface and is thumb-operated. The COOLPIX S9100 follows the trend for pop-up flashes, this one is operated by a physical catch on the left side of the body. The flash has a quoted range of 4 Metres and recharges very quickly between shots – it's ready as soon as the camera is, about a second if you turn the image preview off. The flash has five modes including Auto with red-eye reduction and slow-sync.
Flash modes are selected using the four-way control wheel on the rear panel, the other three positions are allocated to exposure compensation, Macro focusing and self-timer options and, of course, the wheel is also used to navigate menus. The knurled ring freewheels (unlike the one on the HX9V, for example, which softly clicks into position every few degrees) and this takes a little getting used to before you can make confident menu selections without whizzing past your target.
The COOLPIX S9100's 3 inch LCD screen has 921 thousand pixels and provides a detailed view with a wide viewing angle. Like the Cyber-shot HX9V, which has the same resolution, it's slightly lacking in contrast, though, which makes it a little more difficult to see in bright outdoors conditions. The plastic of the screen is slightly raised, which makes it more than usually susceptible to scuffs and scratches.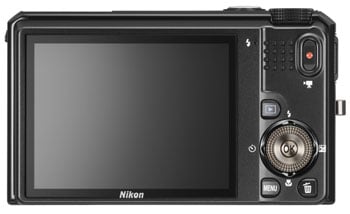 You can connect the COOOLPIX S9100 to an HD TV via the mini HDMI port on the right side of the camera body, while the A/V / USB port, for connecting the camera to a standard resolution TV (cable included) or to PC to transfer photos and movies, is located on the underside, next to the combined battery and card compartment. There's about 74MB of internal memory, which is fine for emergencies but, for shooting video or more than a few shots, you'll need an SD card or one of the newer SDHC or SDXC high capacity variants. SD cards with a Speed Class rating of 6 or higher are recommended for movie recording.
Nikon COOLPIX S9100 lens and stabilisation

The S9100 is the one of first COOLPIX compacts to have a Nikkor ED glass lens, so Nikon is taking image quality seriously, but what will interest people more is the optical zoom range: 18x extending from a 25mm super-wide-angle to a 450mm telephoto. This is pretty impressive in its own right, but what's significant is that it offers more telephoto range than the competition. Crucially, it outreaches Panasonic's Lumix TZ20 /ZS10 by 66mm, enough to make quite a difference to the field of view. The COOLPIX S9100's maximum aperture is f3.5.
| | | |
| --- | --- | --- |
| Nikon COOLPIX S9100 coverage wide | | Nikon COOLPIX S9100 coverage tele |
| | | |
| 4.5 – 81mm at 4.5mm (25mm equivalent) | | 4.5 – 81mm at 81mm (450mm equivalent) |
Whereas Panasonic, Sony and Canon favour lens-shift optical image stabilisation, the COOLPIX S9100 uses a sensor-shift system. Vibration reduction moves the sensor to compensate for camera movement and, hopefully, eliminate blurring of the image caused by camera shake. The COOLPIX S9100 can rather cleverly detect if you're panning and restrict stabilisation to one plane, depending on whether you're holding the camera in landscape or portrait mode. So there's no need for manually set panning modes, but you can turn it off if you have the camera mounted on a tripod and there's also a Hybrid mode which augments the physical sensor-shift system with 'Electronic vibration reduction' – post processing to remove any residual blurring.
The crops below are from images shot with the COOLPIX S9100 at its maximum 450mm zoom setting with Vibration reduction set to Off (left) and On (right). At 1/30th of a second the COOLPIX S9100 is managing an impressive four stops of stabilisation.
Nikon COOLPIX S9100, Vibration reduction Off / On

100% crop, 4.5-81mm at 81mm, 160 ISO 1/30th, Auto, Vibration reduction Off.

100% crop, 4.5-81mm at 81mm, 160 ISO 1/30th, Auto, Vibration reduction On.
Nikon COOLPIX S9100 shooting modes

The COOLPIX S9100 doesn't provide manual control over exposure settings, the closest thing being Auto exposure mode which allows you to set, among other things, the ISO sensitivity, white balance, metering and AF area mode. The last of these offers the choice of nine-area AF, Centre AF, Subject tracking, Face priority and Manual. All work very well in good light, but have their limitations when conditions become sub-optimal. The Nine-area AF system rarely put a foot wrong and the misleadingly-named manual AF, which allows you to select from one of 99 areas on the screen adds flexibility. Face priority works like a dream, providing people are within a few metres of you and looking directly at the camera, but once they move away or turn side-on it's less positive.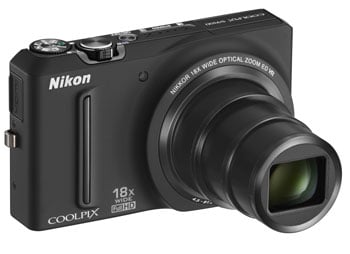 The next position on the mode dial activates Scene auto selection mode which uses scene detection to automatically select one of seven scene modes. Three of these, Night Landscape, Night Portrait and Backlighting have their own dedicated positions on the mode dial and all three shoot multiple exposures from which a composite image is produced. All three modes have a tripod option which disables Vibration reduction shoots a single image using a longer exposure of up to one second.
Backlighting also has an HDR option. When this is set to off the COOLPIX S9100 uses the Flash (you have to remember to pop it up) for fill-in light for a single exposure. Turn HDR on and multiple exposures are shot when you press the shutter release and two images are saved. The first is a single image processed using Nikon's D-lighting process that enhances shadow detail, the second is an HDR composite.
The Scene mode position allows you make your own assessment of the conditions and choose an appropriate scene mode. Mostly these are the usual fare – Portrait, Landscape, Sports, Snow, sunset and the like. There is, however, one interesting new addition. Past COOLPIX compacts have included Panorama assist mode which provides an overlap guide to help you align shots for subsequent stitching on a PC. The S9100 adds a new easy mode which produces a finished panorama from a panned shot.
Nikon COOLPIX S9100 Easy panorama

Click image to access original at Flickr
If you've ever used the iSweep panorama mode on a Cyber-shot compact, that tells you pretty much all you need to know about how the new Easy panorama mode on the COOLPIX S9100 works. Two options Normal (180) and Wide (360) can be used with the camera in either portrait or landscape orientation to produce images with a maximum horizontal field of view of 360 degrees and a resolution of 1024 x 6400 pixels. It's great to see a COOLPIX compact finally making panoramic photography easy, even if Sony has raised the bar with the Cyber-shot HX9V offering a 43 Megapixel high resolution panorama mode. The example above was taken in Normal mode and you can see the full resolution image at flickr by clicking it.
There's one more position on the mode dial, Effects includes six special effects filters, including a sepia and monochrome effect. Even if you're of the view that effects filters are a bit of a gimmick, this is a pretty uninspiring array that lacks any of the fun or novelty of, for example, the PowerShot SX320 HS creative filters.
Nikon COOLPIX S9100 movie modes

The best quality movie mode on the COOLPIX S9100 is 1080p30, encoded in H.264 at an average bit rate of 14Mbps and saved in a QuickTime file with a .mov extension. There's a second 1080p30 mode which encodes at a slightly reduced bit rate of 12Mbps, followed by 720p (9Mbps) and VGA resolutions. The COOLPIX S9100 can also create movie files in iFrame format which has a frame size of 960 x 540 pixels and is much better suited to editing, particularly on older, slower PCs, than H.264.
The COOLPIX S9100 has a dedicated movie record button conveniently situated to the right of the dimpled thumb pad on the rear panel. It's good to see Nikon adopt this layout after our criticisms of the reversed arrangement on the earlier COOLPIX S8000. You can use the optical zoom during movie shooting, which is slowed and noise-dampened and you can also shoot reduced resolution 16:9 stills using the shutter release button.
It's a real shame that sensor-shift stabilisation is not enabled for movie shooting. Electronic VR can be applied, but it's not nearly as effective. Another drawback of using the powerful zoom during movie shooting is that the Autofocus has real difficulty keeping things sharp. While it's common for the focus to wander a little during zooming, on several occassions the COOLPIX S9100 left home never to return.
In addition to the 'normal' movie modes there are two slow motion modes that record in 4:3 aspect ratio at quarter speed (640 x 480) and 1/8th speed (320 x 240) with a maximum recording time of 10 seconds.
Nikon COOLPIX S9100 sample video 1: outdoors, sunny, handheld pan with optical zoom
In the absence of optical image stabilisation, this handheld panning shot starts to look pretty wobbly. But a much bigger problem is the focus during zooming, which loses it pretty badly and never recovers.
Nikon COOLPIX S9100 sample video 2: outdoors, sunny, tripod pan with optical zoom
Despite the problems with the focus on the previous clip, the quality of the COOLPIX S9100 1080p30 video is very good. And this time though there's a little bit of wandering, the focus during zooming is much improved.
Nikon COOLPIX S9100 sample video 3: indoors, low-light, handheld pan
On this interior shot, its hard to ignore the wobbles and the exposure control isn't very smooth, with noticeable steps as the camera is panned across the bright entrance to the bar.
Nikon COOLPIX S9100 handling

When you press the on/off button the COOLPIX S9100's lens extends and the camera is ready to shoot in a little under two seconds. The zoom rocker covers the range swiftly and provides good fine control, though Nikon still insists on displaying the digital section of the on-screen zoom bar even when you've disabled the digital zoom. In action the zoom motor sounds like a bag of spanners, but thankfully when movie shooting it's all but silent.
The menu is a very simple three-tab affair with Shooting, Movie and Setup tabs accessed via the menu button on the rear panel. The S9100 doesn't have a shortcut menu because it doesn't really need one, there is, however, a neat little arrangement assigned to the Exposure compensation button which allows you to change not only the exposure, but white balance (Hue) and saturation (Vividness) using the control wheel to adjust sliders.
The COOLPIX S9100 has a wide range of continuous shooting modes, but only two of them operate at full 12 Megapixel resolution. Continuous H shoots a burst of up to 5 frames at just under 10fps and Continuous L a burst of up to 24 frames at just under 2fps. Then there are reduced resolution 60 and 120fps burst modes at 2M and 1M resolutions respectively. Best shot Selector, or BSS mode shoots five images and saves the sharpest one and Multi-shot 16 shoots 16 images at around 30fps and arranges them in a 4×4 grid as a single 2560 x 1920 image. Finally and possibly of most interest, there's a Pre-shooting cache mode that starts buffering images when you half-press the shutter release and includes two cached images in series of five shot at around 7fps.
The COOLPIX S9100's 12.1 Megapixel backlit CMOS sensor shoots images with a maximum resolution of 4000 x 3000 pixels. At the largest image size there's a choice of two compression settings and the best quality one produces JPEG images with an average file size of around 4.5MB. The ISO sensitivity ranges from 160 to 3200 ISO and the shutter speed ranges from 1s to 1/2000 extending to 1/4000 in continuous modes and 4 seconds in Fireworks Show scene mode.
To see how the quality of the Nikon COOLPIX S9100 measures-up in practice, take a look at our real-life resolution and high ISO noise results pages, browse the sample images gallery, or skip to the chase and head straight for our verdict.