Intro
Announced as the world's slimmest 10x super-zoom when released in February 2010, the Nikon COOLPIX S8000 is Nikon's attempt to corner the increasingly popular 'travel zoom' market. With a 10x optical zoom, 14 Megapixel sensor and 3 inch, high-resolution, LCD screen packing in 921 thousand pixels, this is a model designed for people who are serious about picture-taking, but want a camera that's easy to use and, above all, easy to carry around.
The S8000's zoom extends from 5.4 to 54mm, 30-300mm in 35mm terms, and has optical image stabilization – pretty much an essential requirement on a compact with this kind of telephoto reach. It can shoot 720p HD video and has consumer-friendly features like scene detection, Face AF and smile shutter.
Although the travel zoom market is still evolving there's already strong competition from companies like Panasonic, which arguably invented the category with the launch of the TZ1 in 2006, and Sony, among others. Has the COOLPIX S8000 got what it takes to carve out a niche for itself in the world of big zooms in small bodies? To find out we tested it against two cameras with similar hardware specifications: the Sony Cyber-shot DSC-H55 and the Panasonic Lumix DMC-TZ8 / ZS5. These cameras are cut-down versions of two very capable advanced super-zooms, the HX5 and TZ10 / ZS7 respectively and share many of their more sophisticated siblings' features, so the COOLPIX S8000 really has it's work cut out. Read on to find out how it compared and whether it represents real value for money.

As well as being slim, the COOLPIX S8000 is also a very good-looking camera. The front plate has a satin metallic finish and the area around the lens bezel rises in a smoothly contoured bulge. Aside from that and the chamfered edges the camera is a solid rectangular block that, compared with many modern compacts, and even super-zooms like Fujifilm's FinePix JZ300, looks big. Compared with the competition, however, the COOLPIX S8000's dimensions are fairly typical and, for a camera with a 12x zoom and 3 inch screen, remarkably portable. At 103 x 57 x 27mm it's significantly slimmer than both the Sony Cyber-shot H55 and Panasonic Lumix TZ8 / ZS5 and a tiny bit smaller in the other two dimensions, and at 183g including the battery, it's also significantly lighter than either of those two models.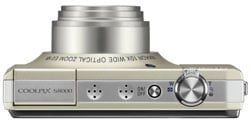 Given it's dimensions, you might expect the S8000 to be reasonably comfortable in the hand, but it's slimness, and the flatness of its surfaces make it a difficult camera to hold in one hand with any confidence. This is partly down to the positioning of the thumb rest on the top right corner of the back panel. It feels a little too near the edge and the natural thing to want to do is move your thumb across so that it rests directly behind your index finger on the shutter release. The problem is that your thumb is then resting directly on the movie button and before you know it you're inadvertently recording video.
The solution is, of course, to hold the camera with both hands. The problem then becomes what to do with your left hand. You can't support the camera at the top and bottom left corners with your index finger and thumb because that would prevent the pop-up flash from operating. If you mimic the positioning of your right hand then your thumb obscures part of the screen. You either have to live with that or contrive to support the base of the camera with your thumb while resting your index finger on the left edge; it takes a bit of getting used to, but it works.
As we've mentioned, the S8000 has a pop-up flash unit located on the left of the top panel. Alongside it there are two small circular grilles for the cameras stereo mics and to the right of these the flush mounted on/off button. This is surrounded by an LED which flashes green when the camera goes into sleep mode. The shutter release is a nice big button surrounded by a zoom collar with a prominent knurled nipple on the front.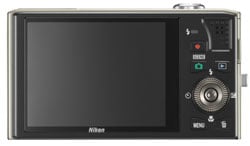 On the back panel the topmost button activates movie recording with a single press, a great idea, arguably even essential in the absence of a mode dial but, as we've said, because of its positioning prone to accidental activation. Directly below it are the shooting mode and playback buttons and below those is a four-way control wheel or, as Nikon calls it, a 'rotary multi selector.' This works like the pad/disc controls found on almost every compact, doubling up as a single-touch controller for flash, exposure compensation, macro and self timer functions as well as acting as a menu navigation device. The S8000's control wheel is also able to rotate, so you can quickly whizz through long menus with a flick of the thumb, rather than having to continuously press the up and down buttons to get where you want to go. Underneath the control wheel is a button to activate the main menu system and alongside that a dedicated delete button.
Support this site by
shopping below

Behind a flap on the right is a mini HDMI port which can be configured to output 480p, 720p or 1080i. There's also an auto option which selects the most appropriate setting for the TV to which the camera is connected.
On the base of the camera body a small flap covers the combined A/V / USB connector, and two cables are supplied for this port allowing you to connect to a PC or a TV via composite video and mono audio phono connectors.
The card/battery compartment is located on the right side of the base. The COOLPIX S8000 takes SD and SDHC cards but support for the latest SDXC high-capacity high-speed cards wasn't stated.
The tripod bush is mounted on the far left corner of the base. This has the advantage of providing access to the card/battery compartment, but it isn't the most stable arrangement, particularly when using smaller tripods or a Gorillapod.
The COOLPIX S8000 has an integral pop-up flash located on the top left corner of the body. It has a quoted maximum range at the wide angle focal length of 5.5 metres, marginally further than the Lumix TZ8 / ZS5 and considerably better than the 3.8 metres quoted by Sony for the Cyber-shot H55. It's best not to set too much store by these published figures, however, as none of them uses a fixed ISO setting making comparisons all but meaningless. In practice however, the flash provides good illumination with little fall-off at the edges and is reasonably quick to recharge between shots.
In most modes the flash pops up and fires automatically when the lighting conditions require it. In Auto mode and some scene modes it can be forced off or on, set to auto with red eye reduction and there's also a slow sync mode. Where some compacts with a red-eye flash setting fire a pre-flash to cause people's pupils to contract, the S8000 does this as a matter of routine for flash metering purposes; the auto with red-eye reduction mode applies in-camera processing to remove the effects of red eye.
The S8000's EN-EL12 Lithium Ion battery provides enough energy from a full charge to shoot 210 photos. Generally speaking this isn't bad, however, both the Sony Cyber-shot DSC-H55 and Panasonic Lumix TZ8 / ZS5 outrun it by a distance, providing well over 300 shots from a fully charged battery. One thing the COOLPIX 8000 has over both those models, though, is the ability to be charged from a computer via the USB connector, which means if you're on the road with a notebook you don't have to lug the camera's mains charger with you.
| | | |
| --- | --- | --- |
| Nikon COOLPIX S8000 coverage wide | | Nikon COOLPIX S8000 coverage tele |
| | | |
| 5.4-54mm at 5.4mm (30mm equivalent) | | 5.4-54mm at 54mm (300 mm equivalent) |
The COOLPIX S8000 has a 10x optical zoom with a range of 5.4 to 54mm, the 35mm equivalent of which is 30-300mm. No one would argue that a lens with a 10x zoom range on a camera that you can carry in your pocket isn't a wonderful thing. But we wonder whether the S8000 wouldn't be better served with more scope at the wide-angle end of the range. With many recent compacts offering a 28mm wide angle and the Sony Cyber-shot H55 and Panasonic Lumix TZ8 / ZS5 offering a 25mm ultra-wide angle, the S8000's wide-angle performance doesn't look so impressive. It's possible that, in it's desire to produce the slimmest possible compact with a zoom in this range, Nikon may have made a compromise that will, for many, be a deal-breaker.
At the other of the scale though, a 300mm telephoto is going to get you in close to the kind of action that most other compacts can only see from a distance. So if you like to shoot wildlife, sports and action subjects and to get close in to street life without being noticed, you won't be disappointed.
The S8000's zoom covers the range pretty swiftly in almost exactly two seconds. Though not a completely smooth ride it's not jumpy either and while the focus wanders a little it's quick to recover. We managed to nudge it through 17 discrete steps in both directions, the response from the zoom motor always being positive and precise.
The zoom is relatively quiet, if a little 'buzzy' but as it can't be used while shooting video this isn't such an issue. The progress bar is a bit small and insignificant, it could easily be bigger if Nikon configured it not to display the digital zoom segment when that feature was disabled. This would also provide confirmation that digital zoom was active without the need to go looking through the menu system. It's a small point, but other manufacturers do it and it's things like this that add up to a better user experience.
Nikon COOLPIX S8000 Vibration reduction: off / continuous

100% crop, 5.4-54mm at 54mm, 1/25, 100 ISO, Auto mode, Vibration reduction off.

100% crop, 5.4-54mm at 54mm, 1/25, 100 ISO, Auto mode, Vibration reduction on.
For compacts with long telephoto lenses, like the S8000, image stabilization is an essential feature, allowing you to get shots at lower shutter speeds and longer zoom settings. With long telephotos camera shake becomes an issue at much faster shutter speeds than for 'normal' shooting and it's not therefore just a problem in low light conditions.
The COOLPIX S8000's Vibration reduction system reduces the effects of camera shake by shifting the lens to compensate for camera movement. Vibration reduction is activated from the Set up menu and there are only two settings – off and on.
According to the Photographer's rule of thumb, camera shake can be avoided by choosing a shutter speed of at least one over the lens focal length. So, in the absence of stabilization, you could expect to see camera shake in pictures taken with the S8000 at its maximum 300mm zoom setting using shutter speeds slower than 1/300th of a second.
The crops above are from shots taken with the COOLPIX S8000 in Auto mode with the Sensitivity set to 100 ISO. The camera set an exposure of 1/25th of a second at f5.6. The shot on the left was taken with Vibration reduction turned off and the one on the right with it turned on. This is about as clear an example as you'll see of effective image stabilization, there's no trace of camera shake in the right hand crop which means that the COOLPIX 8000 is capable of delivering an additional three and a half stops of handheld exposure using its Vibration reduction system.
The various AF modes available on the COOLPIX S8000 are usually, though not always, associated with a shooting mode. In Auto mode there are 4 options – Auto, Face Priority, Center, and Manual. The first of these is a nine-area autofocus system, suitable for everyday shooting and pretty much anything else, it's quick and accurate, and works well in low light, enlisting the aid of an AF-assist LED lamp when required.
Face Priority, as you'd expect, detects and prioritizes focus on faces in the frame. It can detect up to 12 faces and focuses on the one closest to the camera which it frames with a yellow box. No face detection AF system is flawless and the S8000's does a good job in bright conditions when people aren't too far away. One limitation we found is that for it to work well, people do have to be facing the lens – turning even to a three quarter profile often resulting in the disappearance of the framing border. If the camera can't detect any faces it reverts to the Auto AF mode.
Center AF mode focuses on a small central area of the screen. It's an infallible system that only requires you to place your subject in the centre of the frame before applying a first press on the shutter release to lock the focus, you can then recompose your shot if you want to.
Manual is an interesting and worthwhile addition to the other focusing options. It allows you to select one of 99 focus points in an 11×9 grid using the control wheel. While not as quick as turning a lens collar it's a workable system that's ideal if, for example, you're shooting a static scene with the camera on a tripod.
Smart Portrait shooting mode is dedicated to, that's right, portraits and other shots with people in. Like Face Priority AF, it detects faces in the frame, this time up to a maximum of 3. It differs from Face Priority AF in that it focuses on the face closest to the centre of the frame, rather than the one closest to the camera, and there are other parameters that can be set from the Smart Portrait menu. You can set a smile timer which is not in fact a timer, but a switch that, when turned on automatically activates the shutter when a smile is detected in Smart Portrait mode. Blink detection automatically takes two shots and chooses the one where the subject's eyes are open and you can also choose to apply in-camera skin softening, (in other words a blur filter).
Finally, there's a tracking AF mode that locks onto and tracks any subject. It works pretty well, subject to the usual caveats, in other words the better the lighting conditions and the bigger and more predictable your subject's movement, the better it'll stick to it. Tracking mode uses full-time AF which continually adjusts the focus to keep the subject sharp. Full-time or single AF can be set for other focusing modes too, but with the lens continually adjusting focus you can expect battery life to shorten significantly.
The COOLPIX S8000's 3 inch LCD screen has 921 thousand pixels, one of only a handful of compacts with such a high-resolution display. This, of course, makes no difference to the quality of the images you shoot, but they do look sharper and more detailed when viewed on the S8000's screen. The higher resolution doesn't make the S8000's screen any easier to see in bright sunlight, but in that respect it's no worse than most other compacts. It's a shame Nikon doesn't update the look its menus though, which have more in common with a 1980's VCR than a 21st century digital camera, to take advantage of the design opportunities offered by the higher resolution screen.
The S8000's menu system is activated by pressing the menu button and, in shooting modes, is arranged on three tabs providing a shooting menu, a movie menu and a set up menu. On of the disadvantages of not having a distinct movie mode (you can shoot movies anytime by pressing the record button) is that you can't provide a modal movie menu that only appear when appropriate). The shooting menu is modal though and only shows the appropriate options for the current shooting mode. In Auto mode they include image mode (size), white balance, metering, continuous shooting, ISO sensitivity, AF mode and autofocus mode.
The set up menu contains 18 settings over three pages including Language, welcome screen (you can use one of your own pictures) screen brightness, date stamping, vibration reduction, motion detection, digital zoom and formatting.
Support this site by
shopping below

The playback menu includes basic editing tools like rotate and resize, as well as processing filters like Nikon's D-lighting tonal enhancement and skin softening. You'll also find print and slide show options here. In playback mode pressing the OK buttons displays an extended info view with a histogram and basic exposure information.
The S8000's exposure options are selected from the shooting mode button which has four options, all of them select the exposure automatically in a variety of different ways. Auto mode meters the scene according to the metering mode selected from the shooting menu. The default 'Matrix' setting meters from the entire frame, the alternative is center-weighted.
In auto mode, you can't directly change the selected shutter speed and aperture, but you can adjust the exposure by up to two stops in either direction using the exposure compensation button on the control wheel.
A live histogram is displayed on screen when the exposure compensation button is pressed – a useful way to get graphical feedback on exposure settings whether you choose to use exposure compensation or not. You also have access to other settings such as ISO sensitivity and white balance from the main menu.
The S8000 has scene detection – implemented as the Scene Auto Selection option on the Scene mode menu. The camera automatically chooses one of six scene modes – Landscape, Night landscape, Backlight, Portrait, Night portrait and close-up – depending on its analysis of the scene before it.
On the whole, scene selection works pretty well on the S8000, although it was occasionally prone to instances of mistaken identity such as identifying landscapes with an expanse of sky as backlit. If the S8000 can't decide on a mode it defaults to auto mode exposure.
You can also set the scene mode yourself, rather than leaving it to the S8000 to do it for you. In addition to the six already mentioned, options include Party/indoor, Beach/snow, sunset, Dusk/dawn, Museum, and fireworks show.
The S8000 can shoot 720p HD video at 30 frames per second. There are two non-HD modes, 640 x 480 pixels (VGA) and 320 x 240 pixels (QVGA) both also at 30fps. HD video is encoded using the AVC codec at an average bit rate of 8.1Mbps and saved in a QuickTime wrapper with a .mov suffix. The audio is encoded as AAC stereo. Your get about an hour of video on a 4GB card and the maximum continuous recording time is 29 minutes. Registered members of Vimeo can download the clip shown here for evaluation on their own computers.
Probably the biggest disappointment of all with the S8000 is that you can't use its optical zoom during video shooting. Zooming during video recording isn't that common on digital compacts, but it is beginning to appear more on recently released models. It's also a feature that Nikon's competition has implemented in an exciting and impressive way. Both the Sony Cyber-shot DSC-H55 and Panasonic Lumix DMC-TZ8 / ZS5 can unleash their full optical zooms when filming, so the COOLPIX S8000's 2x digital zoom just doesn't compare.
The COOLPIX S8000 has no fewer than 4 continuous shooting modes. In Continuous mode at full resolution up to ten images are shot at a rate of 0.7 frames per second. If you reduce the image size to 3 Megapixels (2045 x 1536) the frame rate increases marginally to 1.25fps.
If you don't mind the smaller image size though you're better off with the Sport continuous mode. This shoots up to 45 3 Megapixel images at a rate of 3fps. Then there's Best Shot Selector (BSS) which is included on most Nikon compacts and takes up to ten images while the shutter release is held down then selects the sharpest and deleted the rest. Finally, Multi-shot 16 is, depending on your view a clever, fun and worthwhile feature, or a bit of a gimmick, that takes 16 shots at 30fps and arranges them in a 4×4 grid on a single image. We rather like it.
The COOLPIX S8000's sensor is a 1/2.3in CCD with a maximum image size of 14 Megapixels. At this size, it has two compression options, but all the smaller sizes use a single, non-optional compression setting. At the best quality setting image files are 4.5 to 5MB in size. There's 32MB of internal memory to get you started, but you'll want to buy an SD card with the camera, particularly if you plan to shoot HD video. For recording movies Nikon recommends cards with an SD speed class rating of 6 or better.
The COOLPIX S8000 has an ISO sensitivity range of 100 – 3200 ISO at the maximum image size and the shutter speed range is 8 – 1/2000th of a second with limits applied at higher ISO settings.
To see how the quality of the COOLPIX S8000 measures-up in practice, take a look at our real-life resolution and high ISO noise results pages, browse the sample images gallery, or skip to the chase and head straight for our verdict.