Intro
The Nikon COOLPIX S80 is a 14 Megapixel compact with a 3.5 inch OLED touch-screen and a 5x optical zoom lens. A slim tablet-style design with a sliding front panel, it bears a striking resemblance to Sony's Cyber-shot TX9, except that the front panel slides horizontally, rather than vertically.
Launched in September 2010, the COOLPIX S80 replaces the S70, with an additional 2 Megapixels on the sensor. It retains the 5x range of its predecessor, but shifts it towards the telephoto end with a 35mm equivalent wide angle extending to 175mm.
On a touch-screen camera, the interface is everything, and Nikon has taken a bold approach, forsaking all physical controls on the COOLPIX S80, with the exception of the shutter release, for touch icons. So how does it measure up against rivals from other manufacturers? To find out we pitched it against two compacts with similar specifications. The Sony Cyber-shot TX9, as we've said, closely resembles the S80 in appearance; it also competes closely on price. Panasonic's Lumix FX700 is a touch-screen model with a slightly different approach, combining physical controls with touch-icons, in a larger, more conventional compact body.
Can you substitute 'real' physical knobs and buttons with virtual screen surrogates and expect the same from a compact in terms of handling and control? And how do these touch-screen models compare in terms of features and performance? For answers to these questions and to discover if the COOLPIX S80 is the touch-screen compact you've been waiting for read our full review.
| | |
| --- | --- |
| | |
| | |
| | |
To say, as we have, that the COOLPIX S80 is a ringer for the Cyber-shot TX9 is to do it a bit of a disservice. It has almost identical dimensions (at 99 x 62 x 16.5mm, it's actually a millimetre longer and a millimetre thinner than the TX9), and it has a sliding front cover, though on the S80 it slides horizontally, rather than vertically. But small details make a difference and Nikon has paid great attention to the detail of the S80's styling. The top and bottom edges are softly rounded and the sliding panel wraps snugly around them. The absence of physical controls makes for very clean uncluttered lines and the 3.5inch screen occupies the entire camera back.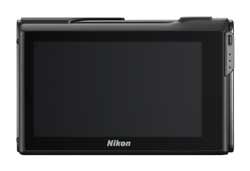 So, on the front, there's nothing but the sliding panel covering the lens and flash when the camera isn't in use, while on the back there's nothing but the screen. On the top, there's nothing but the shutter release, which leaves only the sides and underneath to talk about. The right hand panel slides down and pops out to reveal the battery and card compartment. It's easy to get to, even if the camera is on a tripod or Gorrillapod and it's very neat.
On the base of the camera there's a slightly off-centre tripod bush and, beneath a rubber flap a combined USB / AV out port and an HDMI port. When you think about it, this arrangement makes perfect sense; the card and battery compartments should be easily accessible when the camera is in use, it's less of an issue when charging and connecting to a PC or TV.
The COOLPIX S80's built-in flash is located on the front panel immediately to the right of the lens. It has a quoted range of 4 metres on the auto ISO sensitivity setting and it took about 4 seconds to recharge between shots which is pretty swift and slightly faster then the Cyber-shot TX9. The flash has four modes – Auto, Auto with red-eye reduction which fires a sequence of pre-flashes, off and slow synchro for fill-in illumination.
The COOLPIX S80 uses a slim EN-EL10 Lithium Ion battery which on a full charge provides enough power for 150 shots using the CIPA (Camera Imaging Products Association) standard tests. This is pretty meagre, both in general terms and compared with the Sony Cyber-shot TX9 (230 shots) and the Panasonic Lumix FX700 (300 shots). Look at this way, if you buy a second battery and take it with you you can match the performance you get from the Lumix FX700's single battery.
The battery is charged in the camera either using the supplied charger or by connecting it to a PC USB port. All things being equal, this is a nice idea as it means if you take a computer on your travels you don't have to bother with the mains recharger. The downside is that you can't charge one battery while you're using the other.
| | | |
| --- | --- | --- |
| Nikon COOLPIX S80 coverage wide | | Nikon COOLPIX S80 coverage tele |
| | | |
| 6.3-31.5mm at 6.3mm (35mm equivalent) | | 6.3-31.5mm at 31.5mm (175mm equivalent) |
The COOLPIX S80's 5x optical zoom lens has an equivalent range of 35-175mm. The S70 that it replaces also had a 5x zoom, but its range was 28-140mm, providing a much more effective wide angle. The S70 was 20mm thick, however, and the only reason we can imagine for Nikon's decision to drop the wide angle in favour of a longer telephoto is to shave three and a halve millimetres off the camera's width.
While compactness is undoubtedly important we can't help but think this is a real shame. But it's not implausible to suppose that potential buyers of stylish slimline touch-screen point-and-shoot compacts might be more concerned with size than zoom range. And if Nikon has done its market research, the half millimetre width advantage the COOLPIX S80 has over the Cyber-shot TX9 will sway more buyers in its direction than will be travelling the other way for the sake of an extra wide-angle view – we're just not so sure ourselves.
Slide open the front cover of the COOLPIX S80 and the camera is ready to shoot in a somewhat sluggish two and a half seconds. As we've already mentioned, the COOLPIX S80 has no external physical controls other than the shutter release, even the zoom is activated by touch icons and this can take a little getting used to.
For one thing, physical zoom controls are usually located on or near the shutter release so you can operate them with your index finger. On the S80 screen the T and W zoom buttons are at the bottom of the left side, so your right thumb is the most obvious digit to use. The zoom controls are responsive and cover the full range in around two seconds with ten discrete steps available when you lightly tap the icons. Each time you press a zoom icon the camera beeps, but you can turn the beeping sounds off and you'll need to do this if you intend to use the zoom while shooting video.
>
Nikon COOLPIX S80 Vibration reduction off/on

100% crop, 6.3-31.5mm at 31.5mm, 1/12, 80 ISO, Auto mode, Vibration reduction Off.

100% crop, 6.3-31.5mm at 31.5mm, 1/12, 80 ISO, Auto mode, Vibration reduction On.
The COOLPIX S80 uses sensor shift image stabilization which Nikon calls Vibration reduction. This can be set to one of three modes, On, Off and On (hybrid). The first two are self-explanatory, the hybrid option is the same as On, but in addition to the physical sensor-shift stabilisation the image is post-processed to remove any residual blurring.
To test the effectiveness of the COOLPIX S80's Vibration reduction we photographed a distant building in low light with S80's zoom set to its maximum equivalent focal length of 175mm, first with Vibration reduction set to off, then with it turned on. Conventional photographic wisdom would suggest a shutter speed of 1/175 to completely eliminate camera shake, but with Vibration reduction enabled the COOLPIX S80 managed to produce a sharp image at 1/12th of a second, an excellent result nearly four stops slower than you'd expect to achieve unstabilised.
Like most modern compacts, the COOLPIX S80 has face detection AF. Up to 12 faces can be detected and focus is locked on the nearest one which is framed with a double border. To select a different face you simply tap it. The COOLPIX S80's face detection is quick and effective in good light, but as with most Face AF systems it struggles both to detect faces and to effectively track them once the light levels start to fall. The S80's face detection isn't as sophisticated as the Cyber-shot TX9's with its ability to prioritise adult or child faces and it lacks the ability to recognise faces like the Lumix FX700, but for all that it's simple and effective. If there are no faces in the frame the S80 defaults to nine-area autofocus choosing one or more of nine large rectangular regions in the middle of the screen.
The S80 has three 'touch shooting' options, one of which, AF/AE, sets focus and exposure at a spot where you tap the screen, there's also a Subject Tracking option which follows a moving subject once the screen has be tapped to lock onto it. The last option, and the one that's set by default is touch shooting which fires the shutter when you tap the screen. This has the advantage that the focus and exposure are set from the tapped screen position. The drawback is that, if you leave it turned on, it's very prone to accidental activation – be prepared for lots of pictures of the sky, your feet and other random subjects.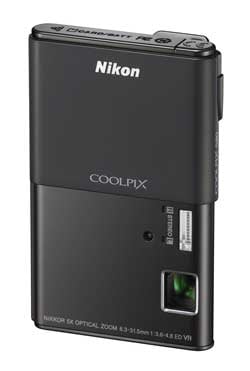 The COOLPIX S80 has an 819k pixel 3.5 inch OLED touch-screen that occupies the entire camera back. The 16:9 proportions are ideally suited to HD movie shooting where the view fills the screen with the touch icons overlayed on the image. In 4:3 shooting modes black bands appear down either side. The screen image is bright, contrasty and every bit as good as the fractionally higher resolution LCD screen of the Cyber-shot TX9. In fact we'd say that the COOLPIX S80's OLED screen produced a slightly more contrasty image both indoors and out. Another advantage of the OLED technology used in the S80's screen is that it provides an extraordinarily wide viewing angle both vertically and horizontally with almost no drop off in image brightness or quality. That makes the S80 ideal for above the head shots and for playback among small groups where everyone can get a look in without having to be directly behind you.
Inevitably a touch screen is going to pick up a lot of smears and finger prints, and with the S80's screen occupying the whole of the rear panel it's impossible to keep it clean for any length of time. Accidental activation of touch icons wasn't too much of a problem, though, and with the exception of the touch shutter we found that touch icons behaved themselves, activating only when deliberately touched.
Ease of operation of touch-icons is obviously a priority on any touch-screen camera. The COOLPIX S80's lack of physical controls other than the shutter release makes it imperative that touch control is silky-smooth and flawless and, for the most part, the S80 delivers and the icons are responsive without being too sensitive. You don't have to press hard, but you do have to be accurate, the design and clean layout of screen icons means that, after a short acclimatisation period, this becomes a fairly natural process.
The COOLPIX S80 has a docked tab at the bottom of the scene that opens to reveal a selection of commonly used functions including, in Program mode, self timer, image size touch-shooting, ISO, continuous shooting white balance and exposure compensation. Touching any of these icons activates a further menu level providing touch controls for the selected option. The final icon activates the Set up menu with touch-panels for, among other things, card formatting, digital zoom, sound settings, vibration reduction and date functions. There are seventeen in all on a single scrollable page, most offer simple on/off buttons or are limited to a few options that are boldly displayed on a single page. By limiting the options and keeping the design simple, Nikon has succeeded in producing a touch-screen menu that works without you having to think too much about it.
A second docked tab on the right of the screen holds the flash and macro focus controls and that's it for menus. The only other touch icons are the zoom controls, playback/shooting mode toggle and the mode selector which displays the currently selected shooting mode at the top left corner of the screen.
Before we talk about that we should mention that the COOLPIX S80 screen layout automatically adapts to the camera's orientation rotating and arranging icons so that they're always the right way up. It's a simple enough idea and makes everything much easier to see whichever way you're holding the camera, which makes it all the more surprising that neither the Sony Cyber-shot TX9 nor the Panasonic Lumix FX700 does it.
In playback mode the bottom tab includes touch icons for favourites, deletion, protection, slide shows, printing, painting, retouching and voice memos. Painting and stamping with your finger works pretty well and there's a useful set of retouch tools, but doing this kind of editing on a touch screen camera is no more compelling than on a conventional one and you're probably better off leaving it until you've downloaded your images to a computer.
One problem with touch icons, and it's a general complaint not just targeted at the COOLPIX S80, is that it's not always easy to guess what the icons do. You have to press them before you get a description of the tool's function. Having said that, the S80 doesn't have too many icons to remember and once you've familiarised yourself with them, you're unlikely to need further reminding.
Pressing the mode icon provides five further icon choices for exposure mode. With the exception of the scene mode icon, which activates an overlay with 17 scene modes, the others – Easy auto, auto Smart portrait and Movie take you directly into the selected shooting mode.
Easy auto is the simplest point and shoot mode with fully automatic exposure using scene detection or, as Nikon calls it, Scene Auto Selector to choose from one of six modes – Portrait, Landscape, Night landscape, Night portrait and Backlighting. If none of these scene types is detected, straightforward auto exposure is used. The COOLPIX S80's scene detection works well, though it can take a little while to make its mind up and occasionally mis-identifies scenes. Settings in Easy auto mode are restricted to self-timer, picture size, touch shooting (no subject tracking) and exposure compensation – more leeway than you get on many other compact easy modes.
Auto mode provides the most control over settings though, with the bottom panel providing touch icons for ISO sensitivity, continuous shooting and white balance in addition to those we've already mentioned for Easy Auto mode. In Smart portrait mode the camera detects up to three faces and automatically takes a shot when someone is smiling. Smart portrait mode doesn't have a sensitivity setting like the Cyber-shot TX9, but it works perfectly well with natural smiles and it isn't necessary for people to adopt insane grins in order to get snapped. The COOLPIX S80 has 17 scene modes including Portrait, Beach, Close up, Museum, Sunset, Dusk/dawn, Night Portrait, Night landscape and panorama assist.
Nikon COOLPIX S80 Movie Mode

The COOLPIX S80's best quality video mode is 720p HD. The 1280 x 720 30fps video stream is encoded in MPEG-4 format at an average bit rate of 10 Mbps and saved in a QuickTime .mov wrapper. The optical zoom can be used while shooting movies and the almost inaudible motor noise isn't picked up by the twin stereo mics located just below the flash. As you can see on our test clips though, the focus does have a slight tendency to wander during zooming, though this is quickly corrected. Another thing you'll notice in the first test clip is the streaking typical of cameras with CCD sensors when pointed directly into the sun or photographing reflections and other bright light sources.
Nikon COOLPIX S80 sample video 1: outdoors, sunny conditions, handheld panning with zoom
The COOLPIX S80 zoom controls are, like everything else, touch icons, and it takes a bit getting used to while shooting video. you also need to turn off sounds to avoid beeping on the audio.
Nikon COOLPIX S80 sample video 2: outdoors, sunny conditions, tripod panning with zoom
In this tripod-mounted panning shot, the COOLPIX S80 loses the focus while zooming, but regains it fairly quickly. Note the streaking caused by the CCD sensor when the camera pans into the sun.
Nikon COOLPIX S80 sample video 3: indoors, low-light, handheld panning
The COOLPIX S80 copes fairly well with the changing light conditions in this interior low-light panning shot..
Nikon COOLPIX S80 Continuous shooting and sensor

In Continuous shooting mode the COOLPIX S80 has a quoted speed of 0.9 frames a second for a burst of 6 images. This is slow to the point where it hardly justifies the 'continuous' label and isn't even for full resolution images but applies to 8 Megapixel 16:9 3968 x 2232 image size. In practice we managed to shoot six pictures in 8 seconds – a rate of 0.75fps. At the maximum quality and size the COOLPIX S80 gives up the ghost after a couple of frames. Like other Nikon Compacts, the COOLPIX S80 includes Best Shot Selector mode, which shoots 10 images and then choses the 'best' one, but even this takes around ten seconds so isn't very effective for high speed action. Multi-shot 16 mode shoots 16 images at around 7fps and arranges them in a single image in a 4 x 4 grid.
The COOLPIX S80's 14 Megapixel sensor produces images with a maximum size of 4320 × 3240. Two compression settings are available for 14 Megapixel images, all the other image sizes use a single compression setting. At the best quality compression setting image file size is around 5.5MB. The ISO range is 80 to 6400 (max images size at 3200 and 6400 ISO is 3 Megapixels) and the shutter speed range is 1/1500 to 2 seconds with a 4 second limit in in the Fireworks show scene mode. The camera has 79MB of internal memory
To see how the quality of the COOLPIX S80 measures-up in practice, take a look at our real-life resolution and high ISO noise results pages, browse the sample images gallery, or skip to the chase and head straight for our verdict.