Intro
The Nikon COOLPIX S570 is a 12 Megapixel compact with a 5x optical zoom lens and a 2.7 inch screen. Launched in August 2009, it's a fairly stylish mid-priced compact with a middle-of-the-road specification. Along with 12 Megapixel stills, the S570 offers four movies modes with the best quality option delivering VGA video (640×480) – sadly there's no HD movies here, but this keeps the cost down.
Its largely automated exposure controls place it firmly in the point-and-shoot category, but one thing that makes the S570 stand out from the crowd is that its picture quality is much better than you'd expect from a camera in this price bracket.
We tested the COOLPIX S570 alongside two Canon Cameras that have a lot going for them in terms of stand-out specifications – the Digital IXUS 120 IS / SD940 IS and the Digital IXUS 200 IS / SD980 IS. The COOLPIX S70 is considerably less expensive than either of the two Canon IXUS compacts and lacks many of their advanced features. Yet it offers the same maximum image size, a comparable zoom and takes pictures of a comparable quality. Read our full review to discover if this makes it a viable alternative for those on a budget who don't want to compromise on quality.
The COOLPIX S570 is available in pink, red, blue, black and silver. The front of the camera is finished in a metallic lacquer and looks quite stylish with it's rounded corners and polished lens bezel. But this is a camera of two halves and the rear portion, finished in matt black plastic, isn't nearly so attractive.
The COOLPIX S570 is quite light and sufficiently compact to carry around in you pocket. It handles nicely but it's a little to easy to inadvertently press the rear panel buttons with your thumb, so you need to make a conscious effort to keep it on the dimpled area above the controls.
The rear panel houses the 2.7in LCD screen mounted in a raised section with a bevelled top edge into which is set a flash-ready LED. The controls are layed out on the right below a dimpled thumb rest and comprise a four-way control disc with central button. Mode selector and playback buttons are arranged above and menu and delete buttons below.
The top panel houses a recessed on/off button and shutter release with zoom collar. The on/off button has an LED surround which flashes green when the camera goes into standby mode to save power. As well as being functional it looks pretty cool. On the bottom a spring hinged door reveals a single compartment for the battery and SD card, with a small orange clip holding the battery in place so it can't fall out accidentally.
Support this site by
shopping below
Unlike Canon compacts, which turn the camera off if the battery/card compartment door is opened, it's possible to open the door and even remove the card with the camera powered up, with the consequent potential for losing or corrupting the image data on it.
The plastic tripod bush is situated on the extreme left corner of the bottom panel. While this makes it possible to open the battery/card compartment, it doesn't provide the most stable or level platform.
The built-in flash has a quoted range of 5.5 metres at the maximum wide angle lens setting, which is a little better than average and longer than both the Canon IXUS 120 IS/ SD940 IS and the IXUS 200 IS / SD980 IS. Five modes are available – on, off, auto, red-eye reduction and slow sync.
In red-eye reduction mode a sequence of low-intensity pre-flashes is fired before the main flash exposure and the image is post-processed to remove red-eye in the camera. Unlike the Canon compacts you can't have one without the other, it's either both pre-flash and processing or nothing.
The COOLPIX S570 actually fires a single pre-flash whatever the flash mode. Possibly this is to determine TTL exposure, but whatever the reason, there's an extended wait between flash exposures of anything up to seven seconds. During this time the flash indicator LED flashes red when you put first pressure on the shutter release. It won't update it's status while you have the shutter depressed, so you've got to release it and try again, and if it's still not ready again, and again, until it illuminates continuously. As you can imagine this can be quite frustrating.
The COOLPIX S570 uses a Nikon EN-EL10 Lithium-ion battery which provides sufficient power for 220 shots using the CIPA (Camera Imaging Products Association) standard which provides a good guide of how the camera will perform in real-life situations with typical use of the flash, zoom and LCD panel. This isn't spectacular, but it is at least on a par with the Canon IXUS 120 IS / SD940 IS and the IXUS 200 IS / SD980 IS.
| | | |
| --- | --- | --- |
| Nikon COOLPIX S570 coverage wide | | Nikon COOLPIX S570 coverage tele |
| | | |
| 5-25mm at 5mm (28mm equivalent) | | 5-25mm at 25mm (140mm equivalent) |
The COOLPIX S570's 5x optical zoom has a range of 5 to 25mm which in 35mm equivalent numbers is 28 to 140mm. This is pretty much the optimal range for a 5x zoom lens, providing excellent wide angle coverage and a telephoto that, while not long enough for specialised areas like sport or wildlife photography, will get you close enough to the action for candid portraiture. The maximum aperture of f2.7 is numerically, but not significantly brighter than the f2.8 of both the IXUS cameras.
When you press the the on/off button, the cover opens, the lens extends by 20mm and the camera is ready for action in about two and a half seconds. The zoom action is very swift, covering the entire range in around a second. The zoom collar control is very responsive and, though you can coax twelve discreet steps out of it by giving it the merest of flicks with your index finger, you're unlikely to manage this level of dexterity 'in the field'. Unless you really make an effort with it you'll find yourself going from wide to tele in five or six steps. The zoom indictor bar is split into two segments indicting optical and digital zoom ranges. When the digital zoom is disabled, both segments are still displayed but you can only go as far as the tele end of the optical zoom bar.
The Nikon COOLPIX S570 employs two methods of reducing the effects of camera shake, but unlike the Canon Digital IXUS 120 IS / SD940 IS and the IXUS 200 IS / SD980 IS, neither involves moving the lens optics to compensate for camera motion.
Instead on the S570, it's an electronic system. Motion detection simply increases the ISO sensitivity to enable a faster shutter speed to be used in low-light situations. Electronic VR post-processes the image in the camera to remove, or at least reduce, the blurring caused by camera shake. Neither of these technologies is as effective or versatile as optical image stabilisation. One particular limitation is that both are restricted in operation to the auto ISO setting – if you set the ISO manually you'll have to get by without them. Even if the camera has free-range with the sensitivity though, increasing it will reduce the image quality. Both motion detection and electronic VR are set from the set up menu and have two options – off and auto.
Nikon COOLPIX S570 : VR off / auto

100% crop, 5-25mm at 25mm, 1/25, 400 ISO, VR off

100% crop, 5-25mm at 25mm, 1/25, 400 ISO, VR auto
The two crops above are taken from the COOLPIX S570 with the lens set to its maximum 25mm (140mm equivalent) focal length. In Auto mode with the ISO sensitivity set to auto the camera set an exposure of 1/20th of a second at f6.6 and an ISO setting of 400.
The crop on the left is from a shot taken with Electronic VR turned off, the one on the right from one taken with it set to automatic. Though there appears to be a slight improvement in the right crop, it hasn't entirely eliminated the camera shake and this was the best result from a series of shots taken at this shutter speed. Compared with the optical image stabilisation of the Canon IXUS compacts, the COOLPIX S570 is a long, long way behind.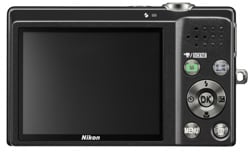 The COOLPIX S570 has four focusing modes, Face priority, Auto, Manual and Center. Face priority locks onto and tracks up to 12 faces in the frame, and if there's more than one face, the closest to the camera is given priority. Providing faces are reasonably close to the camera and front-on, Face priority works pretty well. In less than optimal conditions though, for example in low light and with subjects more than a few metres away and not face on, it can be slow both to get an initial lock and to hold it. When the are no faces in the frame, Face priority defaults to Auto mode.
Auto mode works much more quickly and assuredly using a nine area system to detect and lock focus on high contrast edge detail. The manual focusing system is simple and reasonably effective. Using the control disc you can select from one of 99 focus areas arranged in an 11×9 grid, once a focus area is selected it remains in use until changed. It's a system that works well for static subjects and even for moving ones when you know where they're going to be in the frame before you press the shutter. Center mode simply uses a single centrally located focus area.
The 2.7in screen on the COOLPIX S570 does the job required of it, but is pretty average in most respects. The 230k pixel count is now the standard for even budget-priced compacts. The image when viewed face-on looks detailed, reasonably bright and contrasty, but turn the camera more than 45 degrees in either the vertical or horizontal plane, and the brightness and clarity drop off fairly rapidly. So seeing what you're capturing is difficult when holding the camera in an outstretched arm or above your head, and friends will have to get close and personal to get a good view during playback.
In common with other COOLPIX compacts, the menu and information display text and graphics are quite crude and blocky and while this doesn't affect their utility it does impact on the overall experience of using the camera. By comparison with the IXUS cameras, the COOLPIX graphics feel a little primitive.
Pressing the S570's menu button in capture mode displays two tabbed menus, one for shooting and the other for setup. Shooting menu settings include image size and quality, white balance, continuous shooting, ISO sensitivity, colour rendering presets and AF modes. The setup menu includes settings for motion detection and electronic VR, the AF assist lamp, digital zoom, card formatting and date and time settings. From here you can also activate a blink warning message, overprint date settings on photos and select display brightness, information and grid overlays.
Support this site by price checking below
In playback mode the Shooting menu is replaced with a playback menu with a wide range of options for enhancing and retouching, editing, printing and viewing photos plus a voice memo option which records and appends an audio clip of up to 20 seconds to an image.
Quick retouch and D-lighting are global image adjustments for contrast and shadow recovery respectively, skin softening blurs skin tones in portraits, then there are the more conventional delete, protect, rotate and resample options. Pressing the play button whilst in playback mode activates an overlay menu from which images can be filtered and sorted, but there's no slideshow option.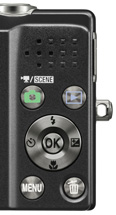 In Auto mode the COOLPIX S570 sets the exposure in the conventional way, by metering the scene and setting an appropriate aperture and shutter speed. The first option on the scene mode menu uses automatic scene selection to determine the best exposure settings. Automatic scene selection recognises six scene types – Portrait, landscape, night portrait, night landscape, backlight and close-up and sets exposure and focus accordingly. If none of the above scene types is recognised the default auto exposure mode is used. Generally, automatic scene selection on the COOLPIX S570 works pretty well, though the opportunity to automatically select portrait scene modes is often overlooked and it also had a habit of seeing people where there were none.
If you don't want to use automatic scene selection you can set the Scene mode manually, choosing from one of sixteen options that include, in addition to those already mentioned, sports, party/indoor, beach/snow, sunset, food, museum and fireworks. There's also a panorama assist scene mode which displays a semi-transparent image of the right hand side of the previous shot in the left quarter of the display to help you align overlapping shots while rotating in a clockwise direction.
The COOLPIX S570 has no manual exposure controls as such, but you can manually set the ISO sensitivity from the shooting menu and you can also limit the range of the auto ISO mode to either 80-400 or 80-800 ISO, a useful thing to be able to do if you're not prepared to accept the increase in noise levels that occur at the higher ISO settings.
The COOLPIX S570 can record movies in one of two sizes – 640 x 480 pixels and 320 x 240 pixels, at one of two frame rates – 30 and 15 frames per second. It's a little disappointing that there's no HD video mode, though perhaps not surprising when you consider that the more expensive COOLPIX S640 released at the same time doesn't offer it either.
Movies are saved as AVI files using a Motion JPEG codec and the maximum continuous shooting time is 25 minutes, regardless of the format. You can't use the optical zoom during shooting and the digital zoom, while operative, is restricted to 2X.
Registered members of Vimeo can download the original movie clip shown here for closer analysis.
In our continuous shooting test the COOLPIX S570 managed a consistent 0.8 frames per second at the highest quality image setting. Reducing the image size to the 3M (2048 x 1536) setting actually slowed the continuous shooting rate to 0.6fps.
There are two other options that appear under the continuous shooting menu. Best Shot Selector (BSS) takes up to ten shots and chooses the sharpest one with least camera shake and motion blur. Multi-shot 16 takes sixteen images at about 24 low resolution frames per second (i.e. all are shot in well under a second) and arranges them as a single image in a 4×4 grid.
The 1 /2.3in CCD sensor in the COOLPIX S570 produces images with maximum dimensions of 4000×3000 pixels. At this size there are two available quality settings – High and Normal, all the other sizes use the Normal setting. The best quality setting produces image file sizes of around 5MB. The ISO sensitivity range is from 80 to 3200 at full resolution and the shutter speed ranges from 1/1500 to 1 second in normal operation with a 4 second setting in the Fireworks show scene mode.
To see how the quality of the COOLPIX S570 measures-up in practice, take a look at our real-life resolution and high ISO noise results pages, browse the sample images gallery, or skip to the chase and head straight for our verdict.