Intro
Nikon's COOLPIX P90 is the company's latest super-zoom digital camera, sporting 12.1 Megapixel resolution, a tilting 3in screen and a 24x optical range that's equivalent to 26-624mm. Announced in February 2009, it's the successor to the COOLPIX P80 and joins the increasingly competitive market for SLR-styled cameras with enormous zoom ranges.
The COOLPIX P90 may be similarly-styled to its predecessor and retains Vibration Reduction, a 1cm Macro mode and the same degree of manual exposure control, but sports upgrades in all the key departments: the sensor resolution has increased from 10.1 to 12.1 Megapixels, the screen enlarged from 2.7 to 3in and fitted to a tilting platform for greater compositional flexibility, and the zoom range increased from 18x (27-486mm) to 24x (26-624mm).
To this, Nikon's also added Smile and Blink detection, Scene Recognition, Active D-Lighting, time-lapse movies and a high-speed shooting mode which can fire-off up to 45 low resolution frames at an impressive 15fps. It's a competitive specification and priced at a similar level to key rivals like Canon's PowerShot SX10 IS. But the question as always is whether it can live up to the promise and deliver the goods in practice. Find out in our review where we'll detail the new features and directly compare the image quality against key rivals.

Measuring 114x83x99mm, the COOLPIX P90 is 10mm narrower and 5mm shorter than arch-rival the Canon PowerShot SX10 IS, so viewed from the front it looks comfortably smaller – but the Nikon is 12mm thicker thanks to a lens barrel and viewfinder housing which extend outwards further. Panasonic's Lumix DMC-FZ28 is 4mm wider than the P90, but 8mm shorter and 10mm thinner, making it the smallest of the three overall.
The COOLPIX P90 feels fairly light, weighing 490g with its battery, although Panasonic's FZ28 manages to be lighter still at just 417g with battery. Both models fall way below the relative heft of Canon's SX10 IS which when fitted with four AA batteries weighs-in at 680g. Indeed as remarked in our SX10 IS review, its operational weight is only 20g lighter than Canon's own EOS 1000D / XS DSLR complete with battery and (admittedly only 3x) kit lens.
Ever the master of ergonomics, Nikon has sensibly coated the P90's grip with a rubber finish which allows you to hold it very securely. In contrast, Canon's SX10 IS may have a chunkier grip, but its shiny plastic finish feels quite slippery in comparison. The build quality is roughly similar to the Canon and Panasonic super-zooms with the P90 feeling solid and well-constructed. In our view it felt the best-balanced of the three, avoiding the almost empty feeling of the FZ28 and the surprising heft of the SX10 IS.
A relatively long 'nose' section at the top of the body accommodates a flash that pops-up comfortably higher than that on the Canon SX10 IS / SX1 IS, allowing it to better avoid red-eye. Like the Canon models and Panasonic's FZ28, you need to manually raise the flash by hand. This avoids any unwanted surprises, although you do have to remember to raise it when required, even in fully Auto modes. Like most super-zooms, there's no flash hotshoe; the Canon SX10 IS / SX1 IS is the exception here boasting one to connect external flashguns, although the Olympus SP-590UZ offers wireless control over compatible flashguns.
The COOLPIX P90 is powered by a slim 1100mAh Lithium Ion battery pack which Nikon claims is good for around 200 shots under CIPA conditions. This is considerably lower than the 460 of the Panasonic FZ28 and the 340 or 600 of the Canon SX10 IS depending on whether you're using Alkalines or NiMH rechargeables respectively. Mains operation is possible with the optional EH-62A AC adapter kit. The battery compartment additionally houses an SD memory card slot, and alongside the door, in the centre of the body, is a metal tripod thread.
Behind a small flap in the upper right corner of the camera's rear are a combined USB and standard TV output; sadly like the SX10 IS, there's no HD connectivity here, but some rivals are better-equipped in this regard: Panasonic's FZ28 offers HD output using an optional analogue component video cable, while the Sony HX1, Olympus SP-590UZ and Canon SX1 IS all sport HDMI ports.
The 24x optical zoom range is the headline feature of the COOLPIX P90, making it one of the longest super-zoom ranges on the market today. The 26-624mm equivalent range zooms wider and longer than the 18x (27-486mm equiv) of the Panasonic FZ28 and the 20x (28-560mm equiv) of the Canon SX10 IS / SX1 IS and Sony HX1. Pipping the P90 to the post of having the longest range of all though is the Olympus SP-590UZ which boasts nothing less than a 26x zoom which starts at the same 26mm equivalent of the Nikon, but extends a little further to 676mm.
While Nikon can't claim the longest zoom on the market, the 24x range of the COOLPIX P90 certainly isn't restrictive in any way. Indeed, starting at a decent wide angle equivalent of 26mm before zooming into a powerful 624mm at the telephoto end gives you great compositional flexibility. You can see an example of its coverage below, and further examples of how you can use it in our sample images Gallery.
Support this site by shopping via these links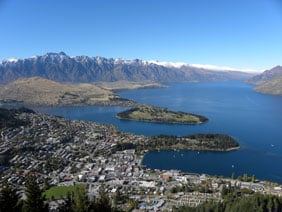 Nikon COOLPIX P90 coverage

4.6-110.4mm at 4.6mm (26mm equivalent)

4.6-110.4mm at 110.4mm (624mm equivalent)

The focal ratio of f2.8-5.0 is roughly the same as rival super-zooms, although a little brighter at the telephoto end than the f5.7 of the Canon SX10 IS / SX1 IS. The closest focusing distance of 1cm sounds impressive, but is actually par for the course with today's super-zooms: it matches the closest focusing distance of the Panasonic FZ28, although Canon's SX10 IS / SX1 IS can actually focus at zero cm with the subject touching the end of the lens barrel – obviously best used for backlit subjects. You can see an example of a macro shot taken with the P90 in our Sample Images Gallery.
A manual focusing mode lets you make fine adjustments using the up and down buttons and the aid of a magnified area which either fills the screen or occupies a window in the middle. You can also lock the focus at infinity if desired.
Like Panasonic's FZ28, the P90's lens cap clips to the static outer barrel of the lens housing, and as such annoyingly blocks the lens from extending during power-up. Leaving the cap on while the lens tries and fails to go anywhere results in some grinding followed by a warning to remove the cap before powering off and on again; why all super-zooms can't have lens caps that simply clip to the extending part of the barrel like the Canon SX10 IS / SX1 IS, we don't know.
With the cap removed, the P90 extends it lens barrel by 16mm and is ready for action in about 2.5 seconds. Zooming to the maximum focal length extends the barrel by a considerable 60mm and there's two zooming speeds depending on how far you push the lever. We counted around 25 steps across the range, and strangely while there was no lurching when going from wide to tele, there were quite noticeable lurches going back in the other direction.
Nikon's equipped the COOLPIX P90 with Vibration Reduction facilities to counteract camera-shake, although unlike the optical system used on Canon and Panasonic's super-zooms, not to mention Nikon's own DSLR lenses, the VR on the P90 shifts the actual sensor within the body; we've seen a similar system used on Olympus super-zooms. Cleverly the system can detect horizontal or vertical panning and automatically cancel the stabilisation on the axis that's in deliberate motion. Sensor-shift VR is not available in the movie mode though, which instead employs an electronic VR system if desired.
Nikon COOLPIX P90 Vibration Reduction (VR) off / on

100% crop, 4.6-110.4mm at 110.4mm, 1/80, 64 ISO, VR off

100% crop, 4.6-110.4mm at 110.4mm, 1/80, 64 ISO, VR on
Above are examples taken with and without VR with the COOLPIX P90 fully zoomed-into its maximum equivalent of 624mm. Traditional photographic advice would recommend a shutter speed of at least 1/624 to eliminate camera shake, so by achieving almost complete sharpness at 1/80 with stabilisation proves the system is good for around three stops of compensation.
It is however important to note we experienced more camera shake with the P90 when zoomed-in than rivals like the Panasonic FZ28 and Canon SX10 IS, due partly to its slightly less effective sensor-shift stabilisation system and also to its longer focal length. The maximum equivalent of 624mm is simply too long to be effectively stabilised by any anti-shake system unless also coupled with a reasonably quick shutter speed – which in turn means bright conditions or bumping up the ISO sensitivity. As our results here and in the Gallery prove, it is possible to handhold at 624mm with VR under the right conditions, but don't expect miracles – this is, after all, a very long focal length.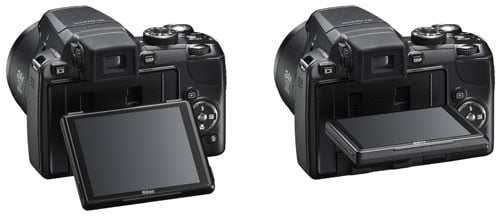 Round the back you'll find a 3in screen with 230k pixels – the same resolution as its rivals, but slightly larger than most: the Panasonic FZ28 and Olympus SP-590UZ both have 2.7in screens, while the Canon SX10 IS and the earlier COOLPIX P80 have 2.5in models. Sony's HX1 matches the 3in size of the P90, and again shares the same 230k resolution. In use we found the P90's screen looked quite coarse and less vibrant than rivals like the SX10 IS and FZ28. It could be argued 230k isn't sufficient resolution for a 3in screen, but Canon's SD 880IS / IXUS 870 IS proves 230k / 3in screens can look much better. So while the P90's screen quality is not exactly bad, it's just not as good-looking as its rivals.
Support this site by shopping below



Like the Sony HX1, the P90's screen is mounted on an adjustable platform which tilts downwards by up to 45 degrees to allow easier viewing with the camera held overhead. With the screen tilted out you can then twist it to face directly upwards for framing at low angles. This gives the P90 (and Sony HX1) greater compositional flexibility than cameras with fixed screens like the Panasonic FZ28 and Olympus SP-590UZ. Neither the Nikon nor Sony can match the complete flexibility of Canon's screen on the SX10 IS / SX1 IS though which can flip and twist to face directly up or down, not to mention facing the subject or back on itself for protection.
Like most super-zoom cameras, the P90 is also equipped with an electronic viewfinder (EVF) as an alternative means of composition. As a 0.24in type, it's closer in apparent size to Panasonic's FZ28, both of which are dwarfed by the relatively large (but subsequently coarse) view of the 0.44in EVF on the Canon SX10 IS.
Pressing the DISP button cycles between a clean view of the composition, one with shooting information, and one with an alignment grid.
These are replicated on the EVF which is toggled with the screen using the monitor button; sadly unlike Canon's SX10 IS / SX1 IS and Panasonic's FZ28, there's no live histogram option
During playback you can view a brightness histogram though, along with a clean view of the image or one with shooting information, again cycled using the DISP button.
Bucking the trend of most digital cameras, the COOLPIX P90 does not have a super-imposed menu system offering quick access to common settings.
So beyond the flash, compensation, macro and self-timer options accessed using the four-way control on the rear, you'll need to enter the main menu system. At least image quality, white balance, sensitivity and metering are all on the first page.
The COOLPIX P90 offers shutter speeds from 1/2000 to 8 seconds, with an extra 1/4000 speed accessible in Continuous H shooting mode. There's also ten aperture settings from f2.8 to f8 when zoomed-out. Like most super-zooms, you have complete control over both settings with the P90's Manual, Aperture and Shutter Priority modes; Program shift is also available. In each, a small thumb wheel is used to adjust the settings.
The traditional PASM modes are joined on the main mode dial by Auto, Sport Continuous (which shoots up to 45 lower resolution images at up to 15fps), Scene (the choice of 16 presets selected on-screen), Scene Auto (which uses Scene recognition to switch between six presets or Auto), the movie mode and two user settings.
Scene recognition is new to the P90 and allows the camera to evaluate the subject before it and automatically switch between Portrait, Landscape, Night Portrait, Night Landscape, Closeup and Backlight. Following previous tests with cameras sporting scene recognition we pointed the P90 at distant mountains before turning it to face people them finally to a variety of close subjects.
The camera successfully recognised the mountains and people, switching into landscape and then portrait modes, but became confused with close subjects even when it clearly was focusing at distances of just a few inches. It mistook a black PC keyboard for a night landscape and a rival camera for a backlit portrait. As such it wasn't as seamless an experience as found on Panasonic's FZ28 or Canon's very latest models (sadly not including the SX10 IS).
Face detection worked well on the P90 though and was complemented by smile and blink detection options in the self-timer. If you set the former, the P90 waits for the subject to smile following a short countdown. Unlike Sony's smile detection which by default insists on huge toothy grins, we found the P90 was quite sensitive with modest smiles triggering the shutter. The P90 will continue to take photos when it spots a smile for up to nine shots, although you can cancel the process by pressing the shutter release. The Blink Proof option again waits for the subject to smile following a short countdown, but once detected it'll take two photos in quick succession and reject any with blinking eyes.
Both the smile and blink self-timer options worked well in practice, although during normal shooting, we found the P90 often warned of blinking eyes on portraits when they were in fact wide open; luckily it won't delete them in this instance unless you tell it to.
Like the company's DSLRs, the COOLPIX P90 offers Active D-Lighting capabilities to automatically adjust the contrast of images to avoid lost detail in dark highlights or bright highlights. The P90 offers High, Normal, Low or the default Off options. In practice it can be quite effective, especially with strongly backlit subjects, but any boost of shadow areas is done at the cost of increased noise levels – and remember these are already worse than a DSLR.
The COOLPIX P90 has a movie mode that's selected from the mode dial and started by pressing the shutter release button. The maximum resolution of 640×480 pixels is available at 30 or 15fps, and there's the option of a lower 320×240 pixel mode at 15fps only, although in the choice of normal colour, sepia or black and white.
All movies are stored with mono sound in an AVI wrapper and you're looking at about 1MB per second using the best quality 640×480 / 30fps mode. The maximum recording time is 25 minutes. Vibration Reduction becomes electronic-only in the movie mode and once you start filming you sadly can't adjust the optical zoom; only a 2x digital zoom is available.
In use, the best quality video mode is fairly average: it's not bad, but certainly nothing to write home about. The video modes on rivals like Panasonic's FZ28 and Canon SX10 IS though look better and both can operate their optical zooms while filming.
In addition the FZ28 boasts a 720p HD mode, while the Canon offers clear stereo sound. You can see an example of the P90's best quality video mode to the left, which includes a demonstration of the digital zoom towards the end; registered members of Vimeo can download the original file here.
One bonus offered by the P90 though is a time-lapse movie mode option which records up to 1800 frames at intervals between 30 seconds and 60 minutes; these are then assembled into a 640×480 movie at 30fps, so if you record the full 1800 frames, the movie will last 60 seconds. It's nice to still find a time-lapse video option when companies like Canon removed the capability on its latest models. Audio recording is also possible on the P90 with files lasting up to two hours, memory permitting.
The P90 offers a variety of drive modes. The basic Continuous mode shoots up to 25 full resolution frames, albeit at a slow 1.4fps. Luckily like many digital cameras these days, there are high-speed options which can shoot much faster, albeit at a reduced resolution and high sensitivity – see below.
The P90 additionally features the Best Shot Selector feature (BSS) of earlier models which can take up to ten images while the shutter release is held, and the sharpest is kept (by comparing JPEG file size). A Multi-shot option shoots 16 images at around 7.5fps and arranges them as thumbnails in a 4×4 arrangement on a single image. An Interval Shooting option lets you shoot between 30 and 600 images at periods of 30 seconds to ten minutes apart.
The P90's Continuous H mode, selected from the Sports Continuous mode on the dial, can record up to 45 frames at a resolution of 3 Megapixels and at a speed of around 11fps. We managed 45 frames in five seconds in practice, corresponding to a speed of 9fps. If you're willing to drop to a 2 Megapixel 16:9 mode, the speed can increase to up to 15fps. We managed 45 frames in 3.5 seconds, corresponding to a speed of 13fps. Both speeds measured may be a little slower than quoted, but are still more than fast enough to capture fast action sequences. One additional caveat beyond the reduced resolution is the relatively high operating sensitivity of 640-6400 ISO, but again this is par for the course on rival models.
| | |
| --- | --- |
| | |
| | |
| | |
At the heart of the COOLPIX P90 is a 12.1 Megapixel CCD sensor measuring 1/ 2.33in; that's two more Megapixels than its predecessor in the same surface area. The P90 shares the same sensor specification as the Olympus SP-590UZ, and both boast higher resolutions than their rivals. Canon's SX10 IS and Panasonic's FZ28 both use 10 Megapixel / 1/ 2.3in CCD sensors, while Sony's HX1 has a 9.1 Megapixel CMOS sensor measuring 1/ 2.4in (although its 'lower' resolution is compensated by far superior continuous shooting).
The P90's sensor delivers images with a maximum resolution of 4000×3000 pixels, which can be printed up to 13.3x10in at 300dpi. Seven lower resolutions and cropped 16:9, 3:2 and 1:1 modes are available, and images can be recorded with either Fine, Normal or Basic JPEG compression. Unsurprisingly, there's no RAW mode – you'll need the Panasonic Lumix FZ28 or Canon PowerShot SX1 IS for that.
Set to 12M mode, these three compression settings deliver files that typically measure 5.8, 2.9 or 1.4MB respectively. The P90 includes around 47MB of internal memory, although you'll obviously want to equip it with an SD memory card sooner rather than later.
The sensitivity ranges from 64 to 1600 ISO at the full 12 Megapixel resolution, with 3200 and 6400 ISO options at a greatly reduced resolution of 3 Megapixels. To see how the quality of the COOLPIX P90 measures-up in practice, take a look at our real-life resolution and high ISO noise results pages, browse the sample images gallery, or skip to the chase and head straight for our verdict.