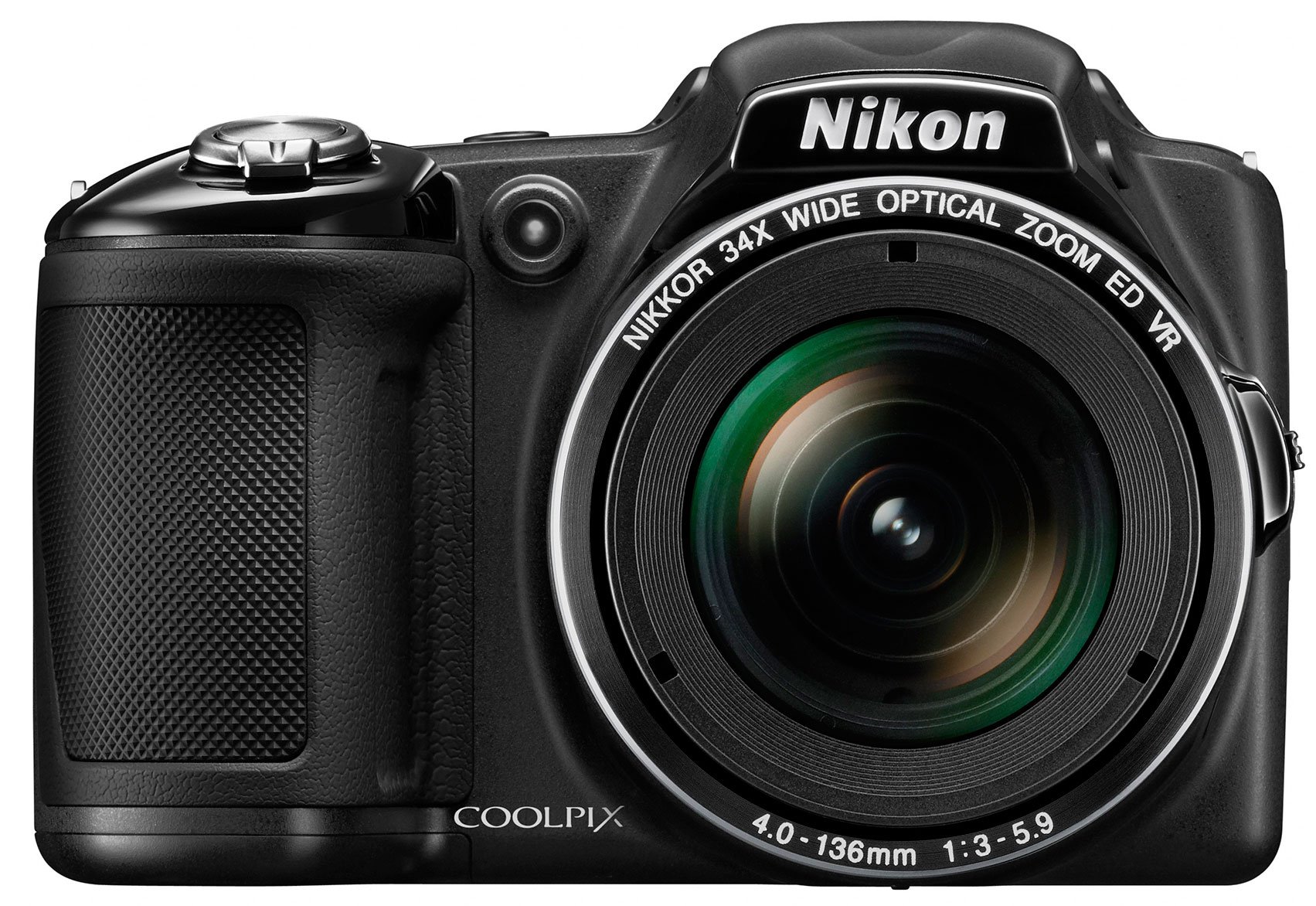 Nikon COOLPIX L830 review
Intro
The Nikon COOLPIX L830 is a budget bridge super-zoom. Its DSLR-styled body is light and compact – a step down in scale from the mid and higher end P-range super-zooms. Launched in January 2014, it supersedes the L820 extending the 30x optical zoom range of the earlier model to 34x but retaining the 16 Megapixel CMOS sensor.
For the time being at least, the older L820 remains in the COOLPIX line-up. Like its predecessor, the COOLPIX L830 has a 3 inch 921k dot LCD screen but it's now articulated and can be flipped up or down. Nikon has stuck with AA batteries for the COOLPIX L830, a option which you won't find on too many other super-zooms, but which offers convenience of a sort. As before, shooting modes are limited to Auto and scene modes with no manual control of any kind, the L830 is one of the least complicated super-zooms around. There's a best quality 1080p30/25 movie mode and a raft of other movie modes including plenty of slow motion options and the L830 is now equipped with Nikon's Hybrid VR stabilisation.
Low price, ease of use and relative compactness are features that have made the COOLPIX L830 one of the most popular super-zooms of this year, but it's not without its competitors, one of which is the newer 30x Canon PowerShot SX400 IS. I've tested the two of them and drawn more than a few comparisons, so if you're looking for the best value budget super-zoom money can buy, read on to discover which of these two models fits the bill.

Nikon COOLPIX L830 design and controls
From every angle the COOLPIX L830 looks almost identical to the earlier L820. It's only marginally bigger than the earlier model – in fact it's the exact same width and half a millimetre shorter, but the new flip out screen adds nearly 7mm on the depth giving it dimensions of 111 x 76 x 91.2mm. At 508g it's 30 grams heavier, forgivable in exchange for a longer zoom and fold-out LCD screen.
So it's compact, but the COOLPIX L830 isn't the smallest bridge super-zoom around. Measuring 104 x 69 x 80.1mm and weighing a mere 313g the PowerShot SX400 IS looks like its baby brother. Of course the SX400 IS has a slightly shorter 30x optical zoom and a fixed 3 inch screen, so that compactness comes with some compromises, but if you're looking for a really compact bridge super-zoom, the PowerShot SX400 IS wins that contest.
The COOLPIX L830 isn't just similar in appearance to the earlier L820, the control layout is identical. On the top panel there's one cosmetic difference, the on/off button has been moved to the right and the top section of the grip has been remoulded with a dip in the rear half, an improvement that's more than cosmetic – it makes it less likely you'll accidentally turn the camera off while it's in use.
Even the rear panel looks very similar, which is surprising given that it now houses an articulated screen. The new screen has the same 3 inch diagonal size and 921k dot resolution, but can now tilt vertically. The wide hinge joins the bottom of the camera body to the top of the screen, so it can be pulled away from the camera and folded up by 90 degrees or down by 85 degrees – more or less up or down.
This is a big plus for a any camera, particularly one without a viewfinder. It allows you to view the screen comfortably even when shooting at low or high angles and gives you more chance of keeping the sun off. It makes big difference to the handling of the COOLPIX L830 and of course is one of the big advantages it has over the PowerShot SX400 IS which has a screen that's not only fixed in place, but which also has a much lower resolution 230k dot LCD panel.
To the right of the screen the COOLPIX L830's controls are laid out exactly as before. A four-way pad which Nikon calls a 'Multi selector', is flanked by a shooting mode selector button, playback, menu and delete buttons. Above the thumb pad there's a dedicated movie record button and to the left of that an LED to indicate flash charging.
Unlike the PowerShot SX400 IS, which has slightly recessed buttons, those on the COOLPIX L830 protrude from the backplate and there's a small risk of accidentally pressing the delete button (which works even in shooting mode, though thankfully requires confirmation) or activating macro mode. To be fair, this happened less often than with the L820, possibly because of the raised flip-out screen, but I still don't see the point in a delete button that functions when in shooting mode.
The combined battery and card compartment is accessed via a large hinged door that covers the entire right side of the camera below the hand grip. As before, the COOLPIX L820 takes four AA batteries, a set of Alkaline batteries is included in the box and they'll provide enough power for 390 shots, a significant increase on the 320 shots you get from the L820. But replace them with NiMH batteries and that figure goes up to 680 shots and with more expensive Lithium AA batteries the COOLPIX L820 manages a truly impressive 1180 shots.
Aside from the weight, the drawback with AAs is that there's additional cost – not to mention weight – involved. If you don't already have a set of 4 batteries and a charger you'll need to buy them. But as well as the long battery life, AA's have the advantage that they're easy to replace and spares are relatively cheap compared to a proprietary Li-Ion battery.
The COOLPIX L830's built-in pop-up flash is activated by pressing a button on the left of the body just below the flash housing. It has four modes, Auto, Auto with red-eye reduction, Fill flash and slow sync. The flash has a quoted range of nine metres at the wide angle setting. My guess is that figure is derived at the maximum 3200 ISO sensitivity setting. That equates to just under 6.5m at 1600 ISO which compares with a quoted figure of 5m (also most likely at 1600 ISO) for the PowerShot SX400 IS.
The COOLPIX L830 has a USB / A/V out port and mini HDMI and a DC-in power socket. The latter can be used with the optional EH-67 AC mains adapter. There's a USB cable in the box, but you no longer get an A/V cable for connecting to a standard definition TV.
Nikon COOLPIX L830 lens and stabilisation
The COOLPIX L830 has a 34x stabilised optical zoom with an equivalent range of 22.5 to 765mm. There are plenty of super-zooms that'll go longer than that, provided you have the cash to spend, but not many that go wider. When comparing long zooms it's easy to become obsessed with the telephoto reach, but a super-wide angle view can be just as, if not more useful.
| | | |
| --- | --- | --- |
| Nikon COOLPIX L830 wide | | Nikon COOLPIX L830 tele |
| | | |
| 4-136mm at 4mm (22.5mm equiv) | | 4-136mm at 136mm (765mm equiv) |
At the other end of the scale a 765mm gets you pretty close in to fairly distant action and, providing your subject is reasonably large, people or vehicles, say, rather than birds, you can expect to get great shots. The other thing to be aware of with a massive zoom lens is that it can be quite difficult to hold steady at the maximum telephoto, but 765mm is quite manageable and the built-in stabilization makes framing subjects that much easier.
The maximum aperture of f3 is the same at the wide angle setting as the earlier L820 and closes to f5.9 (it was f5.8 on the L820 so barely any difference) when fully zoomed in. That's pretty average though a little brighter at the wide angle end than the PowerShot SX400 IS with a 30x 24mm -720mm f3.4-5.8 zoom. So not much to choose between the two in terms of brightness, but the COOLPIX L830 goes both a little wider and a little closer than the SX400 IS.
The COOLPIX L830 has optical image stabilisation which Nikon calls Vibration Reduction or VR. This moves the lens elements to compensate for camera movement and reduce the chances of blurred photos due to camera shake at slow shutter speeds. Vibration reduction is activated from the Setup menu and in addition to the On and Off positions there's a third option called Hybrid. This combines the optical stabilisation with in-camera post processing to digitally remove any blurring that remains. The digital correction is applied only under certain conditions, including when the shutter speed is slower than 1/30 at the wide angle setting or 1/250 at the telephoto focal length and when the sensitivity is 200 ISO or lower.
In addition to Vibration Reduction, Motion detection automatically raises the ISO sensitivity to enable selection of a faster shutter speed when either subject movement is detected or there's a risk of camera shake. It's quite a useful feature for beginners, who might be unaware of the consequences of shooting at slow shutter speeds, but it can be turned off and manual selection of the ISO sensitivity also disables it.
To test the COOLPIX L830's stabilisation I set it to Auto exposure mode, zoomed the lens to its maximum telephoto setting and took a series of shots in deteriorating light at progressively slower shutter speeds, first with Vibration reduction set to off and then with it on. As you can see from the crops below, the COOLPIX L830 can produce blur-free shots down to 1/25th at the maximum zoom range, nearly five stops slower than the photographer's 'one over the focal length' dictum suggests is safe. That's pretty impressive by any standards.
Nikon COOLPIX L830 Vibration Reduction

100% crop, 4-136mm at 136mm, 125 ISO, 1/25th VR off.

100% crop, 4-136mm at 136mm, 125 ISO, 1/25th VR on.
Nikon COOLPIX L830 shooting modes
The COOLPIX L830 is essentially a point-and-shoot compact with an old school Auto mode that meters the scene using the default matrix metering which is centre weighted at wide angle focal lengths and spot when zoomed in beyond 2x. The COOLPIX L830 does have a more sophisticated Easy Auto mode that uses scene detection to get better results. Depending on what it thinks it sees in front of the lens, Easy Auto selects one of seven scene modes – Portrait, Landscape, Night portrait, Night landscape, Close up, Backlighting or a catch-all Other scenes mode for when it's not sure. Generally it works pretty well and leaves you with little to do other than frame up your shot and press the button, the sensitivity is set automatically and the AF uses face detect or defaults to 9-area AF if there are no people in your shot. You can set a self-timer and use exposure compensation, but other than for changing the image size the menu and other functions are disabled.
Switch to plain old Auto mode and although you lose the benefit of scene detection you can set the sensitivity manually, and access other settings from the Shooting menu including White balance, Continuous shooting, Colour options and AF area mode.
The COOLPIX L830 has a selection of 18 scene modes, at least seven of which you could probably rely on Easy auto to set for you, but there are some which are worth manually selecting. Fireworks show for example allows a 4s exposure and sets the focus to infinity. Beyond that, there are scene modes that take a quick sequence of shots and stack them for improved tonal reproduction or reduced noise. Backlighting produces an HDR composite from a short burst of shots and saves it along with an non HDR version. And Night landscape produces a low noise composite from a burst of frames in hand-held mode or with tripod mode selected takes a single long-exposure shot.
One final scene mode worthy of a mention is Easy Panorama. Introduced on the COOLPIX L830, Easy panorama replaces the old Panorama Assist mode that provided guides for shooting overlapping images for stitching with the supplied software. You no longer need the software as the new Easy panorama mode does all the work for you, producing in-camera panoramas in the now ubiquitous fashion pioneered by Sony and copied by everyone else, except Canon. The PowerShot SX400 IS, or any other Canon compact for that matter lacks a panorama mode of any kind.
1/250, f3.2, 125 ISO, 4-136mm at 5.1mm (28mm equivalent)

Click image to access original at Flickr
There are two settings for shooting 180 and 360 views. Both work along the same lines as Sweep Panorama on Sony compacts and its numerous clones – you press the shutter once and pan the camera as smoothly a you can. You can pan with the camera in portrait or landscape orientation – the L830 works out which, you don't need to tell it beforehand. More often than not that's all you need to do; the camera stops shooting when you complete the sweep and stitches the images into a single 180 or 360 view. Portrait mode produces the largest images which are 4800 x 1536 pixels for 180 panoramas and the 360 ones measure 9600 x 1536.
The COOLPIX L830 also includes a selection of special effects filters which has been expanded to a total of 11 with the addition of Pop, Super vivid, Cross process and two toy camera effects to the original soft focus, Nostalgic Sepia, High-contrast monochrome, High key, Low key and Selective colour. But other than selecting the colour from an on-screen palette for the Selective colour effect and choosing one of four cross process colours, none of them is customizable. All can be used for movies but note there's no Miniature effect like on the SX400 IS. Above you can see Selective colour, Super vivid, Cross process, Toy camera effect 1, Toy camera effect 2 and High-contrast monochrome.
Nikon COOLPIX L830 movie modes
For a budget model the COOLPIX L830 offers a comprehensive array of movie modes including a best quality 1080p25 HD mode available in two compression/quality settings. The frame rates are dependent on the TV output setting in the Setup menu, select PAL and you get 25 or 50fps modes, NTSC gives you 30 or 60fps. From here in I'll detail the PAL modes, just be aware that for each of them there's an NTSC alternative.
Next on the movie mode menu is 1080i50, followed by 720p25, there's also a 720p25 mode available in the edit-friendly iFrame format. That's it for the 'standard' modes, there are also no fewer than four High Speed movie modes; HS 240 records at QVGA resolution and plays back at 1/8 speed, HS 480 doubles the resolution to VGA and plays back at 1/4 speed. There are two HD High speed modes, HS720 which plays back at half speed (see the example below) and HS 1080 which plays back at 2x. All of these HS modes have limited recording times – 10 seconds for HS 240, 15 seconds for HS 480 and one minute for the HD modes. For standard speed movies the maximum recording time for a single movie clip is 35 minutes, even if there's sufficient space on the card for more, and Nikon recommends using a speed class 6 or faster card for Full HD recording.
Like the PowerShot SX400 IS, the COOLPIX L820 has a dedicated movie record button and is similarly limited in terms of exposure control for movies, in other words, there isn't any, other than exposure compensation. You can use the zoom while recording, but you have to be careful because the digital zoom can't be disabled. The two-segment zoom scale that's visible for stills rather unhelpfully disappears when you press the movie record button, but it does at least stop at the end of the optical range. To activate the digital zoom you have to release the zoom rocker at the end of the optical range and push again to go into the digital zoom.
Nikon COOLPIX L830 sample video 1: outdoors, sunny, handheld pan
Except for the final slow motion example all these clips were recorded in the COOLPIX L830's 1080p25 mode with the focus set to the continuous AF-F mode. Here the COOLPIX L830 handles the exposure well transitioning smoothly from the shade at the beginning of the pan to the sunlit river. The zoom is a little buzzy, and the full-time AF wanders a little, but the stabilization does a great job.
Nikon COOLPIX L830 sample video 2: outdoors, sunny, tripod pan
For this tripod mounted panning shot I turned the stabilisation off. There's that buzzing on the zoom again and an odd, slight wavy effect at the full telephoto focal length. The AF wanders a little during the zoom but quickly corrects. The wind noise is noticeable, but there's an electronic wind noise reduction filter available.
Nikon COOLPIX L830 sample video 3: indoors, low-light, handheld pan
This hand-held interior pan looks a little noisy and is also a little overexposed so the colour looks a bit washed out. The full-time AF does a good job in tricky conditions though.
Nikon COOLPIX L830 sample video 4: indoors, low-light, Continuous AF
To test the Fuul-time AF on the COOLPIX L830 , I zoomed it in a little and panned from the coffee cup on the table up to the bar and back again a couple of times. Nothing to complain about here, the COOLPIX L830 maanges to track back and forth smoothly and consistently, great job.
Nikon COOLPIX L830 sample video 4: half-speed slow motion
Finally here's an example of the COOLPIX L830's HS 720/2x mode which shoots 720p HD video at 50fps for playback at 25fps at half the real-time speed. If you want to slow the action down more there are 4x and 8x options that play back at a quarter and eighth speeds but at reduced 640×480 and 320×240 reolutions.
Nikon COOLPIX L830 handling
The COOLPIX L830 isn't a quick starter, taking around three seconds to ready itself after you press the on/off button. The zoom lens takes about the same time to travel the distance of its optical range, which is fast enough, but also offers a good degree of nudge control to help you accurately frame your subject.
The thing I like least about it is that there's no way to disable the digital zoom, so, for photos, once you reach the end of the optical range, after a short pause, the L830 continuous to digitally zoom with all the negative consequences for image quality that entails. You do at least get a notch on the zoom scale to warn you where you are, but you need to develop a knack to stop at just the right time, and I really don't see why you should have to. On a more positive note, the L830 offers two ways to zoom the lens – either using the zoom collar on the shutter release or a rocker switch on the left side of the lens barrel.
The articulated screen makes a huge difference to the L830's handling, making it much easier to see what your doing when shooting from high or low viewpoints. I also like the information overlay design which in default auto mode displays shooting info and battery life momentarily, then gets rid of it to provide an uncluttered view. A half-press on the shutter release is all you need to bring it back again. The menu provides options for framing and 16:9 movie grids.
One thing that still irritates is the lens cap, which attaches to the outer section of the lens so that when you turn the camera on it stops the lens extending and displays an error message on the screen. You then need to turn the camera off and on again, after first having removed the lens cap of course.
The COOLPIX L830's menu system could be more easily navigable. In the absence of a quick menu you have to access the shooting menu to change things like continuous shooting, sensitivity and AF area mode. Having said that, the shooting menu is a single-page affair, so you don't have to go on a scroll-hunt and it's a more forgivable shortcoming on a point-and-shoot compact than on a more sophisticated model with manual exposure control and more features.
The COOLPIX L830 has two full resolution modes at 6.7fps and 2.1fps. The faster of the two shoots a 5-frame burst, focus and exposure are fixed on the first frame for all continuous shooitng modes. There are two faster settings that shoot 1280×960 images at 60fps and 640×480 at 120fps. The COOLPIX L830 also includes the Best Shot Selector mode which shoots a quick 10-frame burst and saves the sharpest to the card, discarding the others. Finally, Multi-shot 16 shoots 16 images and combines them in a 4×4 grid.
To test the continuous shooting on the COOLPIX L830 I fitted it with a freshly formatted 8GB Sandisk Extreme UHS-1 card rated at 45Mb/s. I selected the best quality Large Fine JPEG setting and set the drive mode to the fastest full resolution 6.7fps Continuous H mode. The COOLPIX L830 fired a burst of five shots at exactly 6.7fps. Though it's a short burst that captures under a second of action, the COOLPIX L830 does at least provide a wealth of faster lower ressolution options for capturing longer sequences. All of which means you have a better chance of capturing action sequences than you do with the Canon PowerShot SX400 IS with its 0.8fps mode that barely qualifies for the description 'continuous'.
The COOLPIX L830 has a 16 Megapixel CMOS sensor which produces images with a maximum size of 4608×3456 pixels and saves them as JPEGs at a one of two compression settings. Typically, Large Fine JPEGs files are 5-7MB in size. The sensitivity range is 125 to 3200 ISO and the shutter speed range is, as before, 1/1500 to 1s and 4s in the Fireworks scene mode.
To see how the quality of the COOLPIX L830 measures-up in practice, take a look at my Nikon L830 quality and Nikon L830 noise results pages, browse my Nikon L830 sample images, or skip to the chase and head straight for my verdict.