Verdict
The Nikon AW1 is the World's first compact system camera designed for underwater use. It's waterproof to a depth of 15 metres, will survive a drop from 2 metres and is freezeproof to -10C.
As the only waterproof compact system camera on the market, the Nikon AW1 occupies an interesting niche that no other waterproof camera really competes with. Waterproof fixed-lens compacts are cheaper, but lack the AW1's big sensor quality and interchangeable lenses. You could of course pop a DSLR or other mirrorless camera into an optional housing to enjoy big-sensor photos underwater, but while you'd be able to dive deeper with the combination, the housings are typically large, heavy and expensive. So the AW1 gives you the quality and flexibility, but in a package that's smaller, lighter and cheaper than a system camera in a housing. You can of course also use the Nikon AW1 on dry land where you can fit it with any of the 1 system range of lenses, (having first fitted the suplied O-ring protector).
So what's not to like in a camera that clearly benefits from Nikon's best of both world's design? Well, while the AW1 is a dream to handle in the water, with clearly spaced controls and the innovative and practical Action button, there's an issue with a waterproof interchangeable lens camera that simply doesn't arise with a fixed lens compact. Namely, the integrity of the lens seal. This failed on my first review model and while water didn't enter the camera body, the lens was damaged and had to be replaced. Nikon recommends replacing the O-Ring on the camera annually, a job you can do yourself, but the kit lens also has a built-in O-ring that that needs replacing annually by a Nikon authorised service representative and for which you'll be charged.
Having spent a good deal of time both in and out of the water with the AW1, I'd unhesitatingly recommend it for rugged outdoor use and for water-based activities. It's ideally suited to everything from beach holidays to action sports, for those whose demands in terms of quality and handling just aren't met by a compact – and as a sealed and shockproof camera you can of course also confidently hand it to the kids, or indeed anyone, and not worry if it gets dropped, splashed or dunked.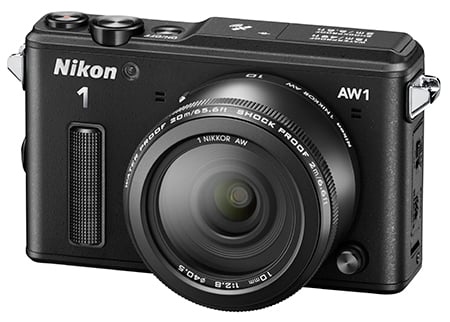 The AW1 has a higher price than a fixed lens waterproof compact, but is more versatile, handles better and ultimately produces superior quality photos, so if you're serious about in and under-water photography it makes sense. But before wrapping-up, there are other solutions to underwater photography than simply buying a waterproof camera. Once again you could take a normal camera, whether a fixed-lens compact or a larger system camera, and fit it inside a dedicated waterproof housing.
For example for roughly the same money as the AW1 kit you could alternatively buy something like a Canon PowerShot S120 with its WP-DC51 underwater housing. This combination gives you a compact camera that's much smaller than the AW1 for dry-land use, but pop it in the housing and you'll be able to take it much deeper underwater. The sensor may not be as big as the AW1, and you don't get the interchangeable lenses either, but the sensor is still bigger than most underwater cameras and like the AW1 it offers RAW too. The housing may end up being larger than the AW1, but again it works deeper underwater, and when you're on dry land you can of course remove it and end up with a more portable camera. It's certainly worth thinking about.
At the other end of the spectrum is a system camera, mirrorless or DSLR, with a potentially bigger sensor still and again, fit it into a dedicated underwater housing. Like other dedicated housings, it'll allow the camera to go much deeper than the AW1, and the bigger sensor should deliver better quality. The drawbacks are primarily cost and size. While a budget DSLR / mirrorless kit costs around the same, or even a little less than the AW1 kit, the waterproof housing on its own will cost you more. It will also be bigger and heavier. On the upside, if you already own a system camera there's only the cost of the housing to consider. And with the right housing you'll have a wider choice of lenses, at least for the time being. While a lot depends on you, what kit you already own and the kind and frequency of underwater shooting you plan to undertake, on balance the AW1 presents a very compelling alternative to a system camera and housing, particularly if you're starting from scratch. But if you already have a camera you like, be it a system camera or a fixed lens model, then it's certainly worth looking into housings, or even just renting one for occassional underwater shoots. Now before my final verdict, here's how the AW1 compares to the two fixed lens underwater compacts I tested it against.
Compared to Olympus TOUGH TG-2
The Olympus TOUGH TG-2 is a waterproof compact that, like the Nikon AW1 can be used both in and out of the water. It's waterporof to a depth of 15 metres (compared with 10m for the AW1) shockproof to 2.1m and freezeproof to -10C. The main differrences are the smaller 1/2.3in sensor and the fixed zoom lens which has an equivalent focal length of 25-100mm.
The TOUGH TG-2's smaller sensor means its picture quality isn't as good as the Nikon AW1's and its low light performance – an important feature in a camera designed for use underwater – isn't up to the standard set by the AW1's bigger sensor. The AW1 also offers RAW files in addition to JPEG, giving you more flexibility to tweak or pull the best quality out of your images. Its 25-100mm equivalent zoom outreaches the 30-74mm equivalent range of the kit zoom on the AW1 but the latter's kit lens can of course be replaced. Currently the only other waterproof option for the AW1 is the 10mm (27mm equivalent) f2.8, but other waterproof lenses will surely follow and in the meantime you have the choice of any lens in the 1 system to use on dry land.
Both models have 3 inch screens but the 910k dot LCD panel on the AW1 provides a marginally larger and more detailed view than the 610k dot OLED screen on the TOUGH TG-2. Both are equipped with GPS, but the Olymus TOUGH TG-2's highly detailed display with location data and 3D map is more impressive.
The AW1 offers the full PASM range of shooting modes, and although the TOUGH TG-2 offers Aperture priority mode, with only three available apertures – controlled by an ND filter rather than a physical diaphragm – it's no match for the real thing on the AW1. Beyond that both models provide fully auto modes, a wide range of scene modes including underwater options and panorama shooting as well as a range of filter effects. For continuous shooting the Nikon 1 AW1 outperforms the TOUGH TG-2 by a wide margin with 15fps compared with 5fps without on the TOUGH TG-2. Additionally the AW1 offers motion snapshot and best moment capture features which make more creative use of its continuous shooting features.
The Nikon AW1 offers 1080i60 HD video recording with auto exposure as well as the ability to change exposure settings manually before and during recording. The TOUGH TG-2's top video mode is 1080p30, but it's restricted to automatic exposure only. Both models offer a range of slow motion shooting options and here the AW1 also wins out with a 640×240 resolution 400fps mode that slows down the action to around 1/13th speed compared with a more conventionally proportioned 640×480 240fps quarter-speed mode on the TOUGH TG-2.
Finally, there's handling and cost to consider. The TOUGH TG-2 is an advanced compact and one of its big selling points is its small size and weight. If you're travelling, climbing, boating, snowboarding, surfing or diving, this is likely to be an important consideration. I found I could easily slip the TOUGH TG-2 inside my wetsuit – an imposibility with the Nikon AW1. And under half the price of the AW1 kit, the TOUGH TG-2 is a much more economical way to enter the world of underwater photography, it doesn't require annual mantenance and should the worst happen and water somehow find its way in, or it get claimed by the ocean, or dropped down a mountain, it's less costly to replace.
See my Olympus TOUGH TG-2 review for more details.
Compared to Panasonic Lumix FT5 / TS5