Nikon Z 85mm f1.8 S review
Verdict
Judged on its own merits, Nikon's first 85mm prime lens for their full-frame mirrorless Z cameras performs very well with regard to contrast, resolution, Bokeh, focus reliability, color aberrations, and coma. It produces sharp and contrasty images that are an excellent fit for the 45MP Z7 sensor. Plus it is hardened well against the elements and its focus ring can be assigned different tasks like exposure compensation or aperture setting.
So, what's not to like? Optically the extreme corners are a bit soft at infinity and stay so unless you stop down by a fair amount. Its magnification in close-up situations of 1:7.2 is not as good as from Nikon's other Z lenses so far, I wish it could be a bit shorter, plus the lens pouch is flimsy, which are all minor issues. But as most modern F-mount lenses work well on a Z body via the FTZ adapter Nikon's new lens is not without alternatives. Let's have a closer look at how the new Z Nikkor compares to some of them.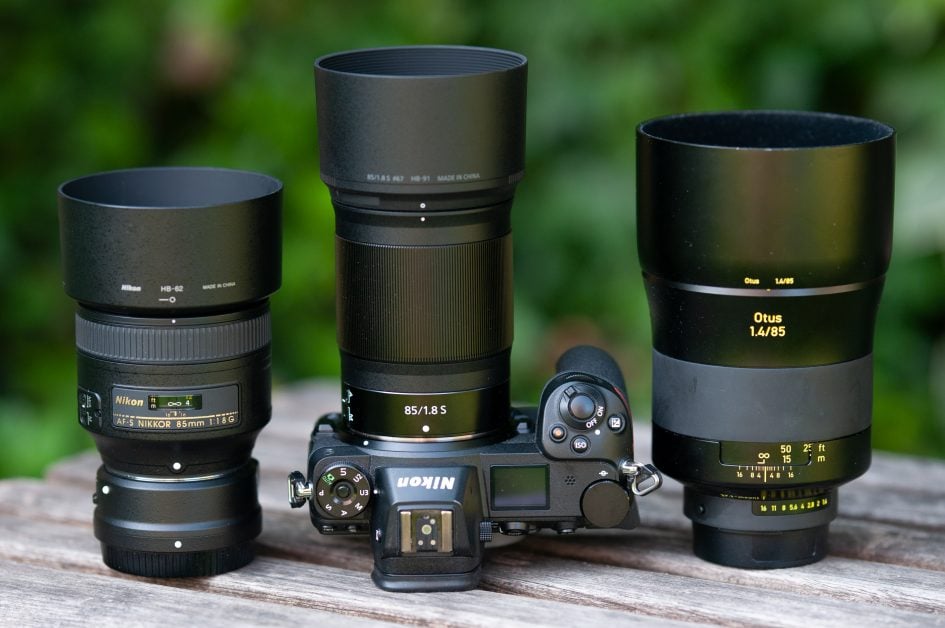 Compared to Nikon 85mm f1.8G
The Nikon AF-S 85mm f1.8G from 2012 is a good lens which surprises in this comparison with very sharp FX-corners at infinity – better than from Nikon's new Z Nikkor. But other than that the older lens trails the new design a bit regarding sharpness in the APS-C image circle, overall contrast, resistance against flare and glare, loCA, and Bokeh. It only costs half of the new Z Nikkor and seems smaller when viewed stand-alone. But mount it on the FTZ-adapter and it is not smaller anymore. If you already have this lens in your collection, you can continue using it via adapter with good results. But I would not recommend buying it for your brand-new Nikon Z body.
For more details see my Nikon 85mm f1.8G review from 2012.
Compared to Nikon 85mm f1.4G
The Nikon AF-S 85mm f1.4G from 2010 shows its age in this comparison: It trails every other lens in this comparison in almost every aspect – except for price which is still hovering around the 1500 EUR mark. Again: If you already have this lens in your collection, you can continue using it via adapter on a Nikon Z camera body. But it was simply not designed for today's 45MP cameras like a Z7 (or D850).
For more details see my Nikon 85mm f1.4G review from 2013.
Compared to Sigma 85mm f1.4 Art
The Sigma Art AF 85mm f1.4 DG HSM offers the best performing FF/FX-corners and the softest Bokeh of any 85mm lens I know. But it is a huge and heavy beast of a lens, similar to the Zeiss Otus: Including lens hood and FTZ adapter it is 207mm long compared to the 149mm of the Z Nikkor and it's 800g (!) heavier – which might in part be explained by the very good build quality and the f1.4 focal ratio of course. The performance in the APS-C/DX image-circle is a bit softer than from the new Z Nikkor and it's resilience against contra light is not as good. But if you don't mind the size and weight you get a 2/3 larger focal ratio and the best Bokeh in the 85mm class. An interesting alternative.
For more details see my  Sigma 85mm f1.4 Art review from 2017 where it earned a Highly Recommended.
Compared to Zeiss Otus 85mm f1.4
Five years ago Zeiss produced a large aperture prime that still is at the top of its game even with the latest 45MP full frame bodies: Sharpness, contrast, resistance against contra light, coma, loCA, purple fringing, Bokeh are all on a very good to exceptional level even at f1.4. This is a lens that you can use wide open with little to no compromise in optical performance and in that it is a unique short telephoto lens. It produces clearer shots than with any other 85mm lens I've seen. Plus there is its exceptional build: This lens exudes quality in every aspect of its physical presence that even a Sigma Art lens cannot reach. So optical plus mechanical quality make for a very compelling package. But it is manual focus only, its price is eye-watering, and it is much wider and heavier than the Z Nikkor – but for that it offers 2/3 of a stop more light gathering power. But all-in-all I'd say the new Z Nikkor is a better match for Nikon's new mirrorless bodies.
See my detailed Zeiss 85mm f1.4 Otus review from 2014.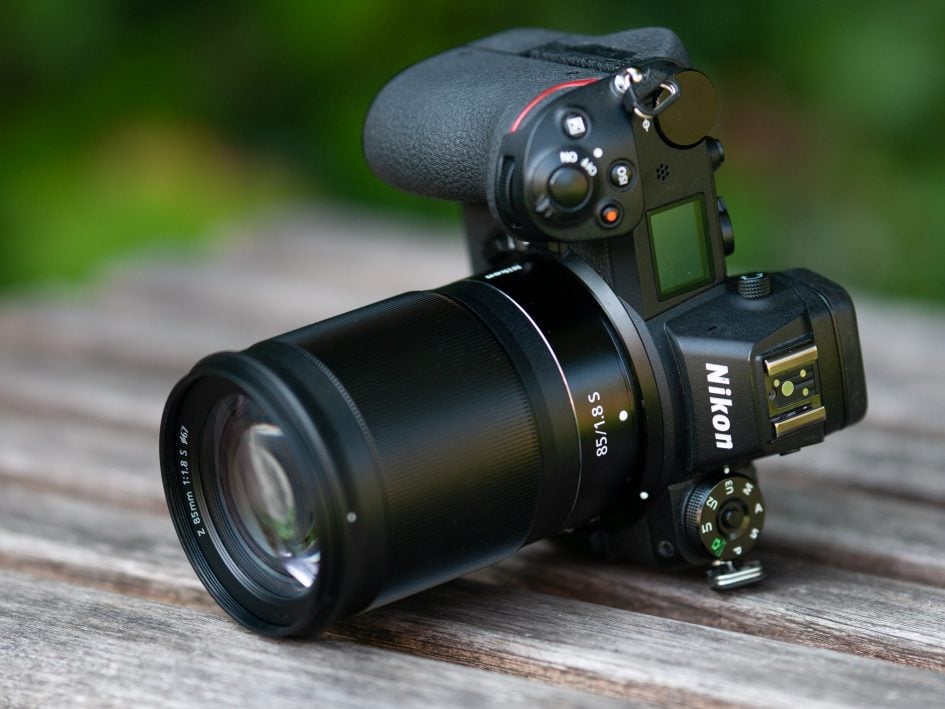 Nikon Z 85mm f1.8 S final verdict
Nikon's new Z 85mm f1.8 S is a very good performer in almost every aspect except for the far FX-corners at infinity. Especially impressive is its lack of color aberrations and purple fringing which leads to clean images devoid of colorful artifacts. It may be a bit long (especially with the lens hood attached) but is pretty light and hardened well against the elements plus offers the nifty multi-function focus ring which can be assigned different tasks. Rounding up the package is the reasonably fast and reliable auto-focus plus a nice soft Bokeh. And the 3 stop image stabilization that the Z camera body supplies is a real boon for hand-held shooting. This overall performance justifies the price and deserves a Highly Recommended!
Good points:
Very good resolution and contrast.
Very little longitudinal CA and purple fringing.
Good resistance against flare, glare, and ghosting.
Good Bokeh.
Minimal distortions (through lens profile).
Extensive weather sealing against moist and dust.
Fast and reliable AF operation.
Image stabilization of 3 stops (on a Z7 body).
Multi-function ring assignable to manual focus, aperture or exposure compensation.
Bad points:
FX-corner a bit soft at infinity
Relatively long lens.
Flimsy lens pouch.
Check prices on the Nikon Z 85mm f1.8 S at B&H, Adorama or WEX. Alternatively get yourself a copy of my In Camera book or treat me to a coffee! Thanks!