Nikon Z 800mm f6.3 VR S review
Verdict
The Nikon Z 800mm f6.3 VR S is a long telephoto prime lens which is relatively compact and comes at an unrivalled low weight of only 2.4kg – half that of its F-mount sibling, the AF-S 800mm f5.6E FL ED VR. In my tests it turned out to be a very good performer: resolution across the full frame is very good even wide open from infinity down to minimum object distance with colour aberrations, coma, and field curvature practically non-existent. And its optical image stabilization working together with the IBIS of any full-frame Z camera body proved to be very effective giving the lens a 5 stop boost in handhold-ability. It is also equipped with all the bells and whistles you'd expect from a professional Z-Nikkor – apart from the OLED display. It also has the same Memory Set button, integrated filter slot, and very nice lens case which Nikon equipped the Z 400mm f2.8 TC VR S with.
There are a few small annoyances though: Focus breathing is on the very visible side which might annoy videographers. The minimum focusing distance of 5m only yields a meagre maximum magnification of 1:5.8 and can be a real nuisance when that small bird is finally coming closer to your shooting position. Plus focus accuracy and repeatability was a bit lower than I'm used to see. Regarding features: I'd love Nikon to make their tripod foots Arca Swiss compatible – or at least add the groove to their foot.
And one final word of warning. Shooting at 800mm or even 1120mm focal length is very unforgiving: Every tiny mis-focus, residual shake from less than optimal tripod-handling or wind, and thermal turbulences of the air show up mercilessly in the images. So if you don't have your shooting techniques down pat to exacting levels don't be surprised when you net less keepers than you are used to.
Let's put this into perspective and have a closer look at how the Nikon Z 800mm f6.3 VR S compares to Nikon's Z 400mm f2.8 TC VR S and AF-S 400mm f2.8E FL ED VR.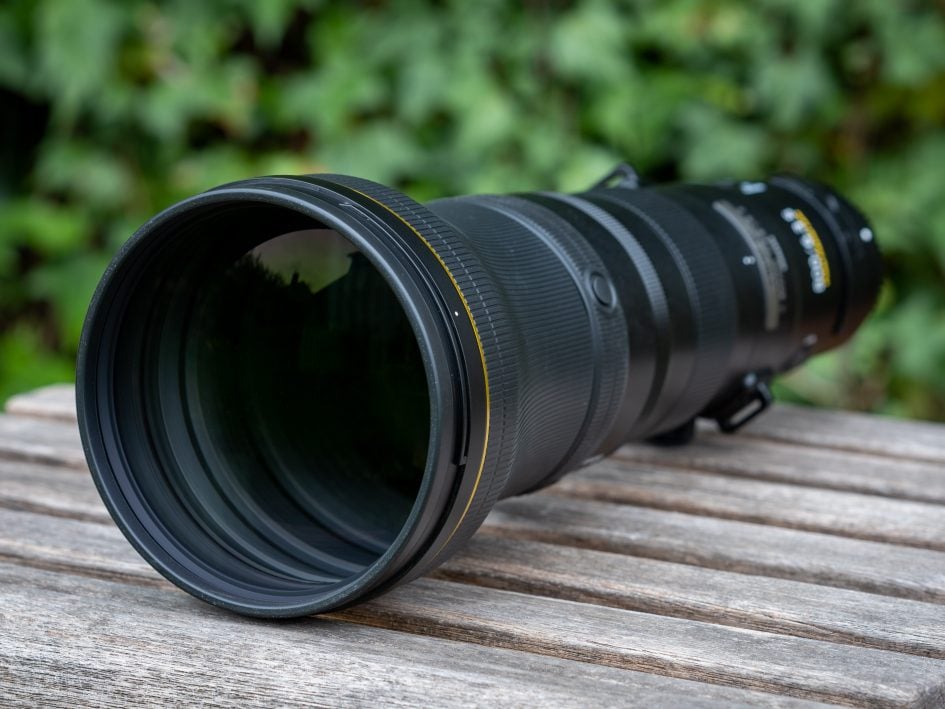 Compared to Nikon Z 400mm f2.8 TC VR S
Nikon's Z 400mm f2.8 TC VR S was introduced just a few months ago and it proved to be an excellent lens with one extremely compelling feature over rival systems: It has a built-in 1.4x teleconverter which changes it into a 560mm f4.0 lens at the flick of a switch. Adding the Nikon Z TC-1.4x or TC-2.0x lets the lens reach 784mm (with internal TC switched on) or 800mm focal length at a focal ratio of f5.6 and my tests showed that image quality with the 2x teleconverter is still very good in the DX image-circle. Plus the lens offers a 50% better maximum magnification of 1:3.9 at 2.4m versus the 1:5.8 of the Z 800/6.3 with a MOD of 5m. But there's a price to pay – literally and in weight: The Z400/2.8 is over 7k EUR/USD/GBP more expensive and 0.8kg heavier (including TC-2.0x). When choosing between both lenses it ultimately comes down to flexibility (favoring the Z 400/2.8) versus price and weight for reaching 800mm focal length (which favors the Z 800/6.3).
For more details see my Nikon Z 400mm f2.8 TC VR S review where the lens came Highly Recommend.

Compared to Nikon AF-S 800mm f5.6E FL ED VR
In 2013 Nikon introduced their best 800mm f5.6 lens so far. I didn't have a chance to test the lens so I'm only inferring from reports/reviews I read and Nikon's MTF-charts: That lens set new benchmarks then for optical performance and it should still be top notch, perhaps even be a tiny bit better than the new Z 800/6.3. So if you already own the AF-S 800mm f5.6E FL ED VR you should be able to use it via FTZ adapter on a mirrorless Nikon Z body with excellent results. And as was reported elsewhere with focus speeds (on a Z9) to match the speed on an F-mount body. But the Z 800mm f6.3 VR S is 2.3kg lighter than the combination of F-Nikkor and FTZ adapter. Add to that the 5 stops of image stabilization and you could confidently handhold the lens and shoot it at unrivalled shutter speeds. And at a price which is about 10k EUR/USD/GBP lower its hard not to see the advantages of the Z 800mm f6.3 VR S over its F-mount sibling – even if it is 1/3 of a stop slower.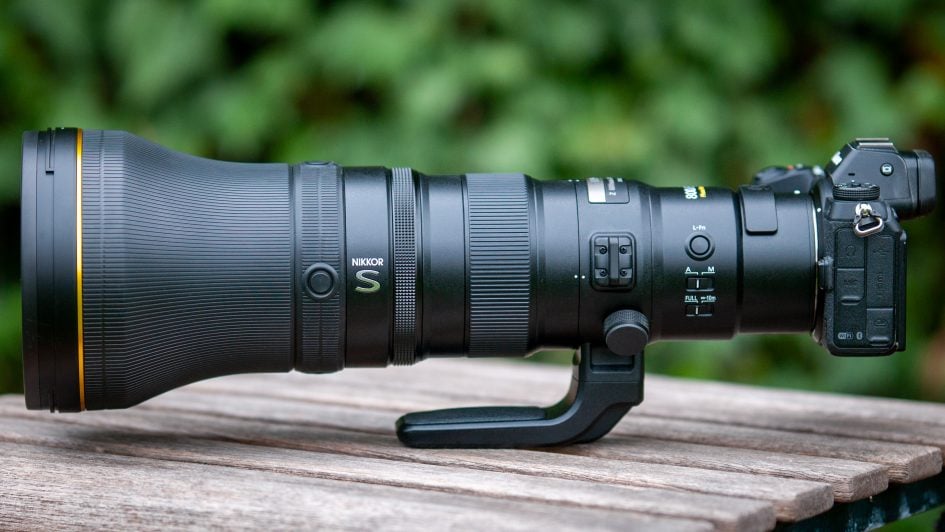 Nikon Z 800mm f6.3 VR S final verdict
Nikon's Z 800mm f6.3 VR S is a very good super-telephoto which is smaller and much lighter and more affordable than rival lenses for sports and wild-life photography. The lens produces very sharp images with virtually no field-curvature or colour aberrations and can confidently be used wide open. Combined with Nikon's Z TC-1.4x teleconverter it still delivers sharp images but some acuity is lost. Its Bokeh is very nice and the optical image stabilization of 5 stops proves really helpful with the challenges of hand-holding an 800mm lens. This is also helped by being only half the weight of its predecessor, the AF-S 800mm f5.6E FL ED VR. All this makes the Z 800mm f6.3 VR S a unique lens which rightfully earns a Highly Recommended.
Good points:
Amazingly short and light for an 800mm f6.3 lens.
Very good resolution and contrast across the full frame.
Good image quality with Z TC-1.4x.
Very effective optical image stabilization.
Very good close-up performance.
Practically no longitudinal colour aberrations or purple fringing.
Only little vignetting and no distortions – through lens-profile.
Very little field-curvature.
Very nice Bokeh.
Weather sealing, multi function ring, function buttons, focus limiter.
Nice lens pouch.
Bad points:
Minimum object distance of 5m.
Relatively strong focus breathing.
Tripod foot is not Arca Swiss compatible.
Check prices on the Nikon Z 800mm f6.3 S at B&H, Adorama, WEX UK or Calumet.de. Alternatively get yourself a copy of my In Camera book, an official Cameralabs T-shirt or mug, or treat me to a coffee! Thanks!