Nikon Z 70-200mm f2.8 VR S review
Verdict
The Nikon Z 70-200mm f2.8 VR S is a well designed telephoto zoom complementing Nikon's Z 24-70mm f2.8 S and Z 14-24mm f2.8 S to form the trinity of professional zoom lenses with constant f2.8 aperture for Nikon's Z system. The new lens offers a much faster focal ratio than the Z 24-200mm f4-6.3 VR super-zoom and is aimed at professional photographers – with a price to match. As such it is the heir to Nikon's professional AF-S 70-200mm f2.8E VR (which can also be used on a Z body via the FTZ adapter).
It performed very well in all of my tests regarding contrast, resolution, focus speed and reliability, colour aberrations, and coma, producing very good image quality on a demanding 45MP Z7 body. And its optical image stabilization working together with the IBIS of any full-frame Z camera body proved to be very effective giving the lens a much needed boost in handhold-ability under low light conditions. It is also equipped with a useful OLED display, a dedicated focus ring (in addition to the multi-function ring), and customizable function buttons. Plus the lens is weather-sealed including a fluorine coating against moisture and dust on the front element and comes with a lockable lens hood.
What's not to like? Well, first and foremost I had to source three copies of the lens before I finally tested one that performed as expected. This is now the second case I saw strong sample variations with a Z lens manufactured in Thailand (the other being the Z 14-30mm f4.0 S). The other thing is that one might be disappointed the new lens is not smaller and lighter than its F-mount predecessor – the new Canon RF 70-200mm f2.8 L setting the expectations here. And the price is on the high side but comparable to the professional telephoto zooms from Sony or Canon.
Let's have a closer look at how the new Z-Nikkor zoom lens compares to its F-mount sibling.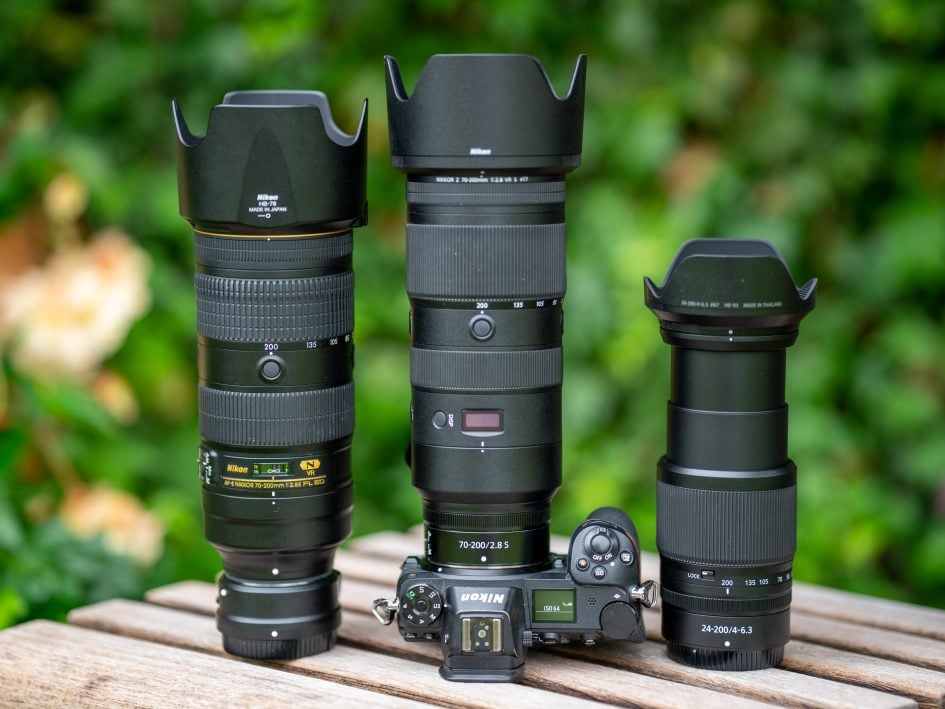 Compared to Nikon AF-S 70-200mm f2.8E VR
My resume from the Nikon AF-S 70-200mm f2.8E VR review from December 2016: "This is simply the best 70-200/2.8 zoom you can buy for your Nikon camera. It combines the best image quality in its class with very good image stabilization, an acceptable size and weight, and a professional build." And this verdict was confirmed when I re-shot most of the test-photos in 2018 on a 45MP D850.
When you compare the F-Nikkor with Nikon's new Z 70-200mm f2.8 VR S you have to look very close to see differences in optical performance: The Z-Nikkor produces the slightly sharper FX-corners at shorter focal lengths (but lags a bit behind the F-Nikkor on other occasion), it has the better close-up performance, and behaves better in contra-light situations. It shows no focus-shift or focus-breathing and is a bit faster to focus (on a Z-body) than the F-Nikkor. It also has less coma and loCA. But as I said, these differences are small. The biggest difference in performance in my opinion is the more effective image stabilization of the Z-Nikkor giving you 1-2 stops more hand-holding power. All-in-all I can still highly recommend the Nikon AF-S 70-200mm f2.8E VR, it is an excellent lens. And when you use it via FTZ-adapter on a full-frame Z camera body you even gain the benefit of roll-compensation from the IBIS. And focus shift is eliminated as the camera focuses with the aperture closed (up to f5.6). Be aware though that focus-speed of the F-Nikkor on a current Z body is clearly slower than on a DSLR.
For more details see my Nikon 70-200mm f2.8E VR review.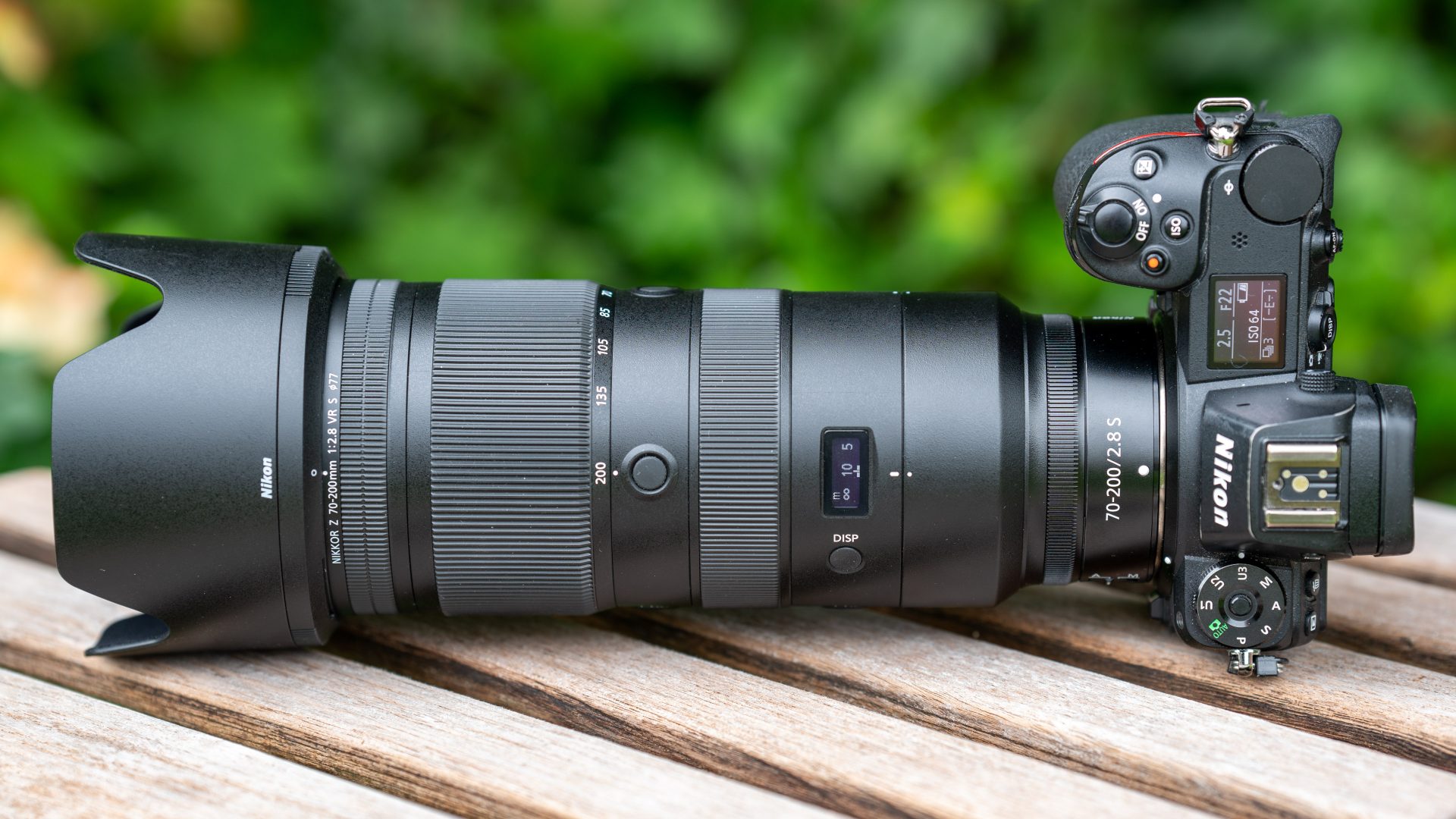 Nikon Z 70-200mm f2.8 VR S final verdict
The Nikon Z 70-200mm f2.8 VR S may not be much better than its F-mount predecessor, the Nikon AF-S 70-200mm f2.8E VR. But that is good news: the F-Nikkor was simply the best 70-200mm f2.8 zoom lens for Nikon cameras and still is an excellent lens. Nikon's newest telephoto Z-Nikkor zoom improves slightly on some aspects of the F-Nikkor like FX-corner performance, loCA, focus-shift, focus-breathing, close-up performance. And – more substantially – on image stabilization. It may not be smaller and lighter than the old lens and its Bokeh may be a bit more nervous in some situations. But still: if you want the best 70-200mm zoom for your Nikon Z camera body, get the new Z 70-200mm f2.8 VR S: it comes Highly Recommended – if you can get a good copy!
Good points:
Excellent resolution and contrast.
Very effective image stabilization.
Almost no longitudinal colour aberrations or coma.
Good resistance against flare, glare, and ghosting.
Very usable close-up performance at a good working distance.
Low vignetting and minimal distortions (through lens profile).
Constant f2.8 focal ratio.
Extensive weather sealing plus fluorine coating against moist and dust.
Fast and reliable AF operation.
OLED display and customizable function button.
Multi-function ring for aperture or exposure compensation plus dedicated focus-ring.
Can be used with the new Z teleconverters.
Bad points:
Sample variations can prevent the lens from showing its full potential.
High price.
Laughable lens pouch.
Check prices on the Nikon Z 70-200mm f2.8 VR S at B&H, Adorama, or Wex. Alternatively get yourself a copy of my In Camera book or treat me to a coffee! Thanks!