Nikon Z 70-200mm f2.8 VR S review – preview
The Nikon Z 70-200mm f2.8 VR S is a professional telephoto zoom designed for Nikon's full-frame Z-series mirrorless cameras. Announced in January 2020, it's already the ninth Z-mount lens but only the second native zoom with a fast f2.8 focal ratio and complements Nikon's Z 24-70mm f2.8 S standard zoom. And it is the first Z-Nikkor to have optical image stabilization.
Physically, the Z 70-200mm f2.8 VR S is very similar to its F-mount predecessor, the AF-S 70-200mm f2.8E FL ED VR, in size and weight and both lenses do not extend while zooming. The new Z-Nikkor also has additional function buttons which can be assigned AE/AF-lock or AF-on. And it inherits the detachable tripod foot of the F-Nikkor – although it is not yet clear whether third-party replacements for the foot of the F-Nikkor will still work with the Z-Nikkor. But other features put the new Z 70-200mm f2.8 VR S ahead of its F-mount sibling: It has a customizable function ring which can be assigned to operate the aperture or the ISO or exposure compensation and it features the nifty OLED display which Nikon introduced with its Z 24-70mm f2.8 S lens. It can indicate focal length, aperture, or focusing distance and depth-of-field.
The Nikon Z 70-200mm f2.8 VR S is listed at 2800 EUR (incl. 19% VAT) / 2600 USD / 2400 GBP and should become available in February. Ahead of my full review I've compared the new lens and its predecessor based on the information so far available from Nikon. PS – if you're interested in the other Z lenses in Nikon's line-up check out our in-depth reviews: Nikon Z 14-30mm f4.0 S review / Nikon Z 24mm f1.8 S review / Nikon Z 24-70mm f2.8 S review / Nikon Z 24-70mm f4 S review / Nikon Z 35mm f1.8 S review / Nikon Z 50mm f1.8 S review / Nikon Z 58mm f0.95 Noct review / Nikon Z 85mm f1.8 S review.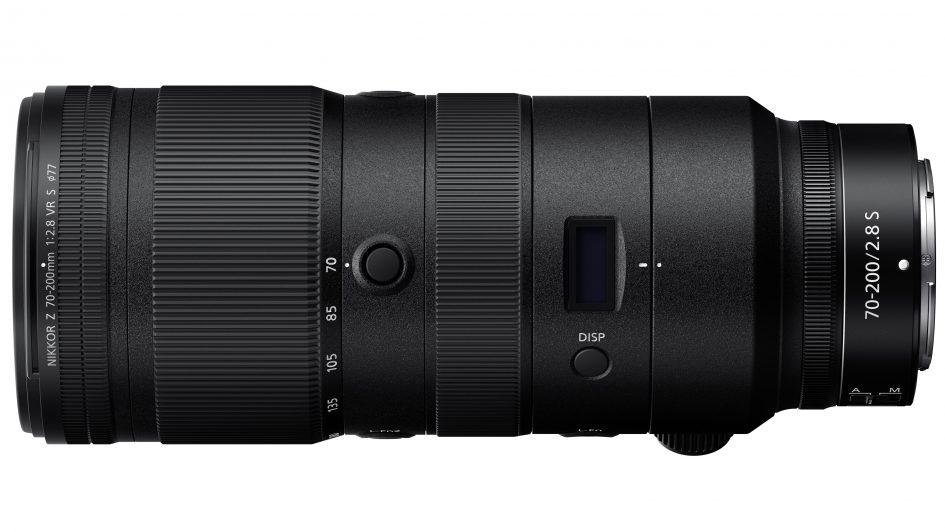 Facts from the catalog
Let's compare the Nikon Z 70-200mm f2.8 VR S to the Nikon 70-200mm f2.8E VR ("F-Nikkor" for short). As usual I've rated the features with a [+] (or [++]), when it's better than average or even state of the art, a [0] if it's standard or just average, and [-] if there's a disadvantage. For comparison I use the .
Size (diameter x length): At 89 x 220mm (3.5 x 8.7in.) plus an estimated 60mm for the lens hood the new Z-Nikkor is slightly longer than the F-Nikkor at 89 x 203mm (3.5 x 8.0in) + 62mm lens hood. But for an apples-to-apples comparison one has to add another 30.5mm for the FTZ adapter when using the F-Nikkor on a Nikon Z body. Zooming does not change the length of both lenses. [0]
Weight: 1360g (48 oz.) plus 80g tripod foot plus an estimated 60g for the lens hood . The F-Nikkor is 1357g (47.9oz.) + 72g tripod foot + 63g lens hood. Plus another 133g for the FTZ adapter to use it on a Nikon Z body. So both lenses practically weigh the same if you don't count the FTZ adapter in. [0]
The reason for size and weight of both lenses being so similar becomes clearer when looking at the optical construction. The heavy glas elements of the front-end look very similar in both constructions: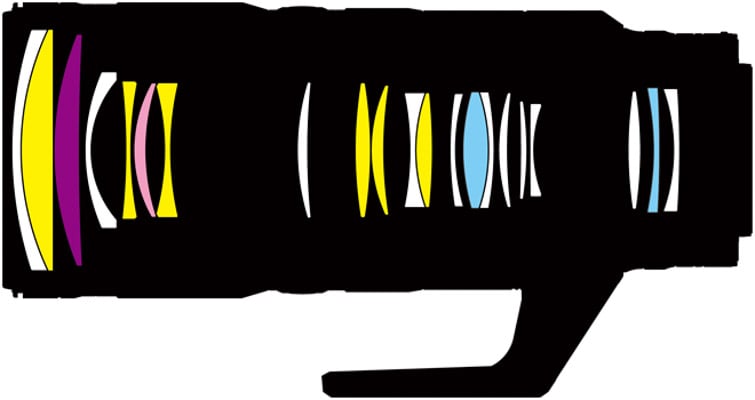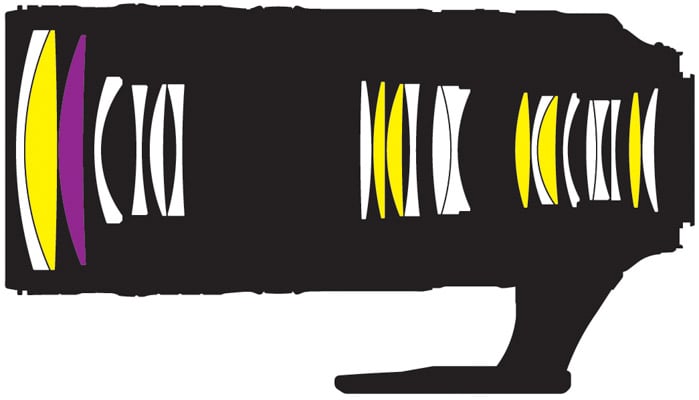 Optics: The Nikon Z 70-200mm f2.8 VR S is a pretty complex design with 21 elements in 18 groups including 10 special dispersion elements and 2 aspherical elements. This is similar to the F-Nikkor (22 elements in 18 groups) but with a higher number of special elements. 36 glass/air surfaces create a lot of opportunities where reflections can cause problems. To counter this both lenses employ Nikon's Nano-coating to reduce flare, glare and ghosting. But only the Z 70-200mm f2.8 VR S profits from the new "ARNEO" anti-reflective coating. Both lenses have fluorine-coating on the front element to repel water, dust, and dirt and make cleaning easier. [+]
Changes in the optical construction have lifted resolution and contrast of the new zoom lens compared to the F-Nikkor – which was the best 70-200mm f2.8 zoom lens you could buy for your Nikon camera so far. Especially the corners have been given a boost. How clearly this shows in real life shooting will be interesting to see once I have a chance to test both lenses side by side.

Above: Nikon Z 70-200mm f2.8 VR S

Above: Nikon 70-200mm f2.8E VR
Closest focus distance is 0.5m (1.6ft.) at 70mm focal length and 1m (3.3ft.) at 200mm focal length with a magnification of 1:5 which is quite good. This results in a working distance of around 0.76m at 200mm focal length when the lens hood is removed. The F-Nikkor achieves a little greater magnification of 1:4.1 at 1m object distance in manual focus. The marketing material also claims that the Z-Nikkor is parfocal and has virtually no focus breathing: So it should keep focus when the focal length is changed and it should not change the magnification of an object when focus is pulled  [+]
Filter-thread: 77mm just like the F-Nikkor. [+]
Image stabilization: The lens offers optical stabilization which is a first for any Z-mount lens. The full-format Nikon Z bodies provide built-in sensor-shift stabilization – plus an optional electronic stabilization option in video mode. But for the larger magnifications of a telephoto zoom this does not seem to be enough. The body-based stabilization on Nikon's full-frame Z cameras works in conjunction with the optical stabilization of the lens to achieve a claimed 5.5 stops of stabilization over 5 axes. The F-Nikkor has optical image stabilization built in (pitch and yaw) which can be used together with the body-based image stabilization of a Nikon Z body. But in this case the body provides only roll correction, not the full 5 axis. [+]
Auto focus: Yes with built-in AF drive. Manual-focus override is by simply turning the dedicated focus ring at the middle of the lens. If the Z 24-70mm f2.8 S is an indication the ring cannot be re-assigned another function nor can it be switched off. The focus ring probably has a variable gearing (like all AF Z-Nikkors so far) which allows for very precise manual focus when turned slowly but cannot be switched to linear gearing. Which makes smooth focus pulling for videographers almost impossible. Focus on the F-Nikkor works differently as it has a direct linear mechanical coupling between the focus ring and the focus action. [+]
Display: The Nikon Z 70-200mm f2.8 VR S is the second Z-Nikkor to feature an OLED display indicating focal length, aperture or focusing distance (in m or ft.) and depth-of-field. The display is hard to read under sunny conditions in its default setting but it can be made as bright as the top display on the Z7. You can switch through the different display types using the DISP-button. See the images below which are from the Nikon Z 24-70mm f2.8 S sporting the same panel. The F-Nikkor only offers the usual distance markings that normally come with lenses designed for DSLRs. [+]

Additional functions: There are 4 function buttons directly behind the zoom ring one of them designated L-Fn2 plus an additional L-Fn button behind the focus ring on the lens which can be assigned different functions like AE/AF lock. The F-Nikkor has the same 4 buttons behind the zoom ring which can be assigned AF-lock or AF-on. Both lenses also sport a focus-limiter which can prevent the lens to search focus closer than 5m (16ft.) [+]
Lens profile: The new Z-Nikkor comes with a lens profile which can be controlled from the camera. Vignette control offers the usual options of High, Normal, Low and Off. Diffraction compensation and Auto distortion control can be activated or deactivated. If the past is any indicator Adobe's RAW converter ignores these settings and treats them as if they are set to Normal/On while Nikon's Capture NX-D allows to change the settings when developing RAWs. The F-Nikkor does not come with a lens profile but Lightroom and Photoshop provide one with vignette and distortion control. [+]
Covers full frame/FX or smaller. Same with the F-Nikkor. [+]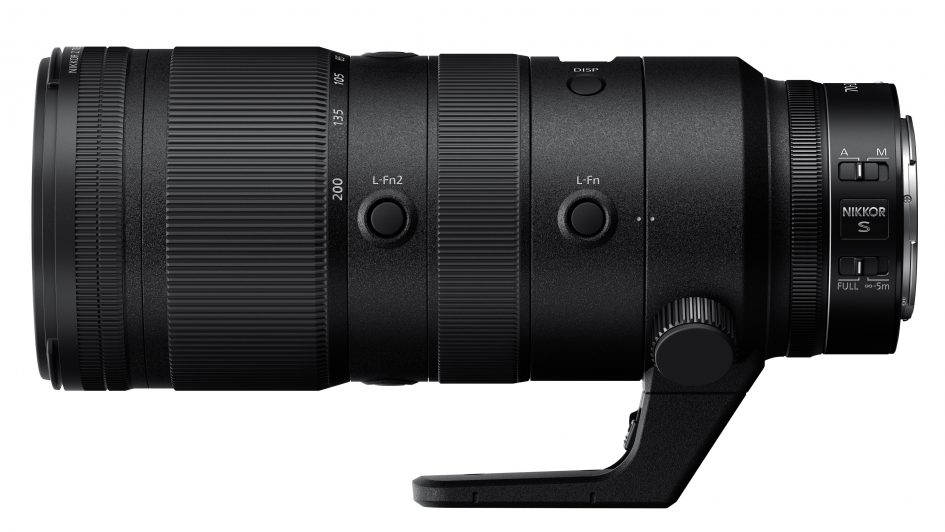 Price: 2800 EUR (incl. 19% VAT) / 2600 USD / 2400 GBP. The F-Nikkor currently goes for 1900 EUR / 2800 USD. I'd consider the price of the new lens relatively fair for a professional 70-200mm f2.8 zoom from a camera manufacturer. [0]
The lens comes with a pouch that's just as flimsy as the pouch of the other Z lenses and has no strings to pull it close. So if you put the lens in your bag it might easily slip out of its pouch and bang around unprotected. This is simply unacceptable for a lens costing north of 2000 EUR/USD. The lens hood is included and probably locks in place to avoid accidentally falling off plus it is reversible for transport. Plus it is coated like black velvet on the inside to reduce reflexes. The F-Nikkor has a much nicer padded lens case and its lens hood also has a lock. [0]
Aperture ring: the multi-function control ring at the back of the Z-Nikkor can be assigned to operate the aperture (this is the default), exposure compensation, or ISO sensitivity – or simply switched off. The F-Nikkor has no aperture ring. [+]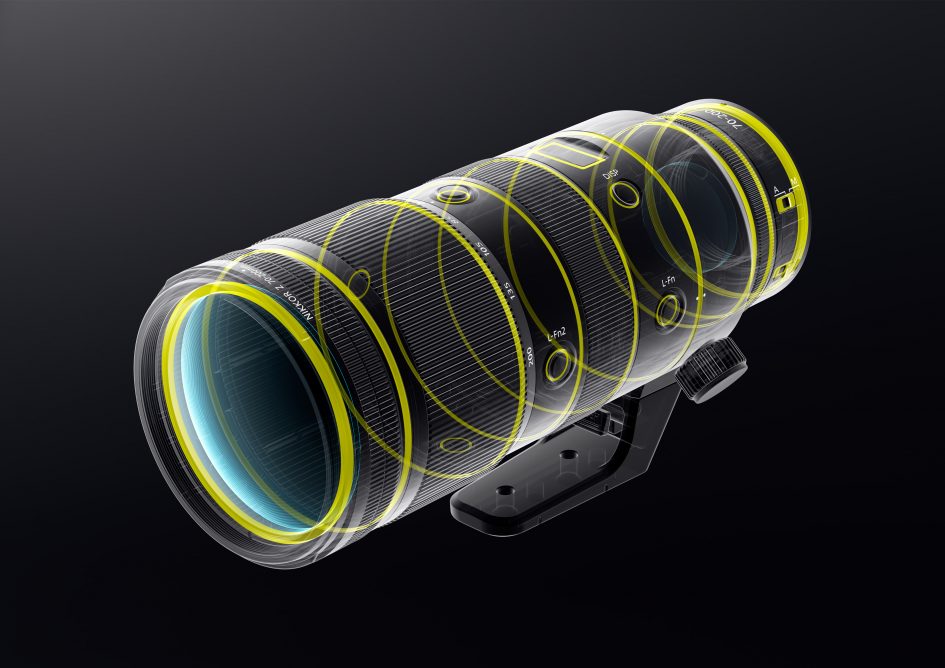 Sealing: yes, a rubber grommet at the lens-mount plus further special weather-sealing throughout the construction, just like the F-Nikkor. [+]
The score in the "features-department" is 0[-]/4[0]/11[+] which makes the new Nikon Z 70-200mm f2.8 VR S look like a well rounded design. The biggest disappointment with this lens perhaps might be that it's not smaller and lighter than its predecessor, the AF-S 70-200mm f2.8E VR. But if one thing was to be expected it was the diminishing benefit of the shorter flange distance of Nikon's new Z-mount for longer lenses. Others may point to Canon's RF 70-200mm f2.8 L IS USM which is an extending design weighing only 1.1kg and being 146mm short at 70mm focal length. But that would have meant a complete optical redesign. Nikon seems to have taken their very successful design of the F-Nikkor and optimized it further – which may not be a bad decision.
From what I can see so far the new lens should be a worthy successor to Nikon's best 70-200mm f2.8 F-mount lens so far and if the MTF-charts are any indication it should even outperform its very good predecessor. If they managed to do that – kudos to Nikon!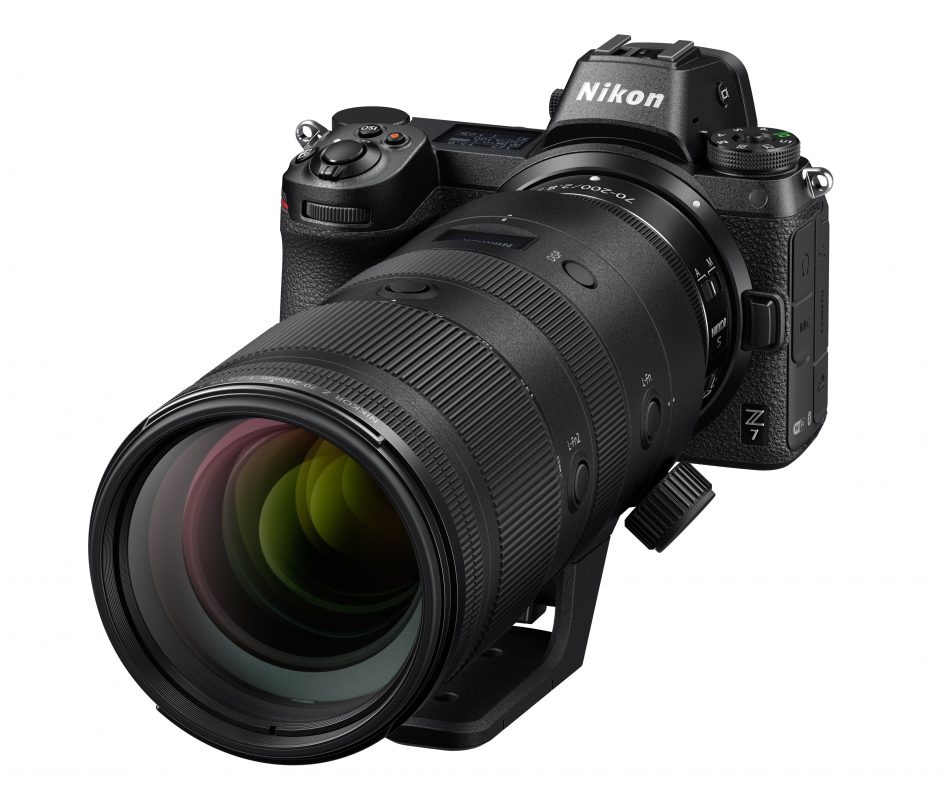 Keep your eyes peeled for my first tests of the optical qualities of Nikon's Z 70-200mm f2.8 VR S once I can get my hands on a copy.

And if you're interested in the performance of the F-mount AF-S Nikkor 70-200mm f2.8E VR check out my in-depth Nikon 70-200mm f2.8E VR review.

Check prices on the Nikon Z 70-200mm f2.8 VR S at B&H, Adorama, or Wex. Alternatively get yourself a copy of my In Camera book or treat me to a coffee! Thanks!