Nikon Z 58mm f0.95 Noct review
Verdict
The Nikon Z 58mm f0.95 S Noct represents the pinnacle of optics for the mirrorless Z system: It boasts a unique f0.95 focal ratio and enjoys all the latest technology and the best glass Nikon has available. As such it is without direct competition. Judged on its own merits, Nikon's "highest-grade, symbolic lens among the NIKKOR Z S-Line models" performs very well to excellent with regard to contrast, resolution, color aberrations, and coma. Nikon corrected the lens very well for close-up shooting down to 1:4.9 magnification too which in combination with the f0.95 aperture alone makes images possible that no other lens can deliver. And the Z-Noct produces a very desirable Bokeh with soft transitions and a creamy rendering of background and foreground. Plus it is hardened well against the elements including a fluorine coating to combat dust and moisture at the front element.
The down-sides of this lens? It's very large, uber-heavy, super expensive, and manual focus only. The last point may be an absolute no-go for many photographic assignments but I found it easier to focus manually than I had feared: The lens is so sharp even at f0.95 that it's easy to detect when it is in focus – and the tools of a modern mirrorless camera including focus-peaking and magnified live-view (with image stabilization) really make focusing that much easier. I also found that size and weight is not the biggest problem while shooting as the combination of lens and camera can be held quite comfortable. You simply need to be extra careful when mounting or dismounting the lens.
But as the competition already has one 50mm f0.95 lens with Z-mount on the market and most modern F-mount lenses work well on a Z body via the FTZ adapter, Nikon's Z-Noct is not without alternatives. Let's have a closer look at how the Z Noct Nikkor compares to some alternatives.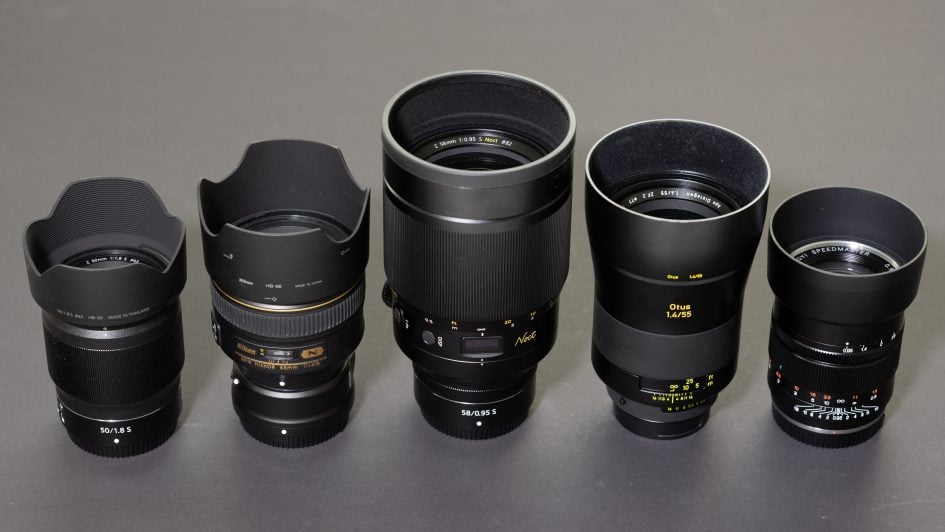 Compared to Mitakon Speedmaster 50mm f0.95 III
Ahead of my full review I can already say that the Mitakon is quite a likable lens. It is much smaller and lighter than the Z-Noct and much cheaper too at around 1000 EUR / 800 USD. But it shows: spherical aberrations, coma, haloing, a less-than-optimal Bokeh and an almost 1/2 of a stop lower light transmission are the price for not paying the price (of the Z-Noct, that is). The various optical aberrations make it also harder to focus optimally at f0.95 than with the Z-Noct. But still: if you like the "look" of the Mitakon Speedmaster you can have a lot of fun with it.
Compared to Nikon 58mm f1.4G
The Nikon AF-S 58mm f1.4G from 2013 is a good lens but it "only" got a Recommended in my review: It is less sharp towards the corners, has lower contrast, less resistance against flare and glare plus stronger loCA and coma. And although it has an f1.4 focal ratio, its Bokeh is not the most pleasing. If you already have this lens in your collection, you can continue using it via FTZ adapter but I would not recommend buying it for your brand-new Nikon Z body.
For more details see my Nikon 58mm f1.4G review.
Compared to Nikon Z 50mm f1.8 S
The Nikon Z 50mm f1.8S is a very good standard prime lens for owners of Z-series mirrorless bodies: its optical performance is right up there with the much heavier and more expensive Zeiss 55mm f1.4 Otus including longitudinal color aberrations – which is no small feat. The size and weight of the Z Nikkor makes it a good match for the compact Z-series bodies it's designed for although it is not the smallest lens. The Z Nikkor also focuses fast and reliably and is sealed thoroughly. And finally the lens produces quite pleasing Bokeh that's not far behind the rendering of very good f1.4 lenses and to me, actually surpasses Nikon's own 50mm f1.4G. This overall performance deserves a Highly Recommended! And with a cash-back action from Nikon the lens sells as low as 350 EUR which makes it almost a no-brainer to get. But then, it is almost two stops slower than the Z-Noct and can not compete with the Bokeh of the larger lens.
For more details see my Nikon Z 50mm f1.8 S review.
Compared to Zeiss Otus 55mm f1.4
And I thought the Zeiss Otus 55mm f1.4 would be the largest, heaviest and most expensive standard prime lens I'll ever test. Well, compared to Nikon's Z-Noct, the Otus is only half the weight, less than half the price and its size is also better suited for hand-holding: The diameter of its focus ring is only 83mm, whereas on the Z-Noct it's 102mm. And even 6 years after its introduction the Zeiss Otus is still an excellent performer even wide open at f1.4. This all comes in a package that exudes quality in every aspect of its physical presence: No other lens I've tested so far comes close. Compared to the silky smooth action of its focus ring the Z-Noct seems coarse. Optically the Otus has much less focus breathing and a slightly better FX-corner in direct comparison to Nikon's Z 58mm f0.95 S Noct plus similarly low coma and loCA. But sharpness and contrast in the more important DX image circle and other aspects like Bokeh or resistance against contra light cannot match the new Z Nikkor. Still, with the Otus being much lighter and less costly than the Z-Noct it is an excellent alternative for those demanding very high performance but don't need a larger aperture than f1.4. Who knew the Otus could be recommended as a more affordable and lighter alternative? Be aware though that the Otus can never match the Bokeh of the Z-Noct.
For more details see my Zeiss Otus 55mm f1.4 review.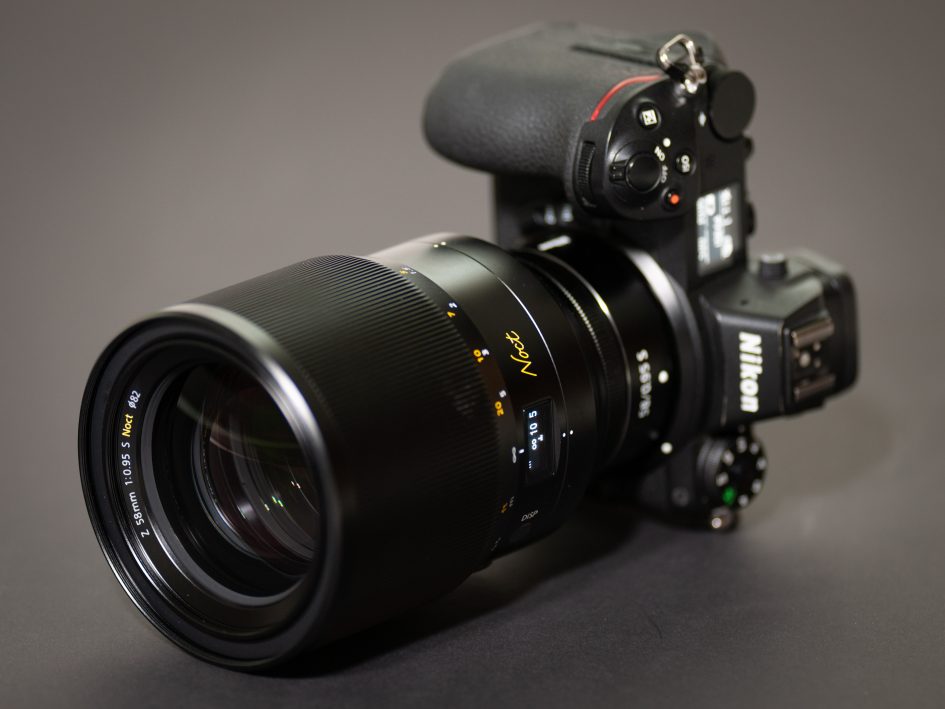 Nikon Z 58mm f0.95 S Noct final verdict
The Nikon Z 58mm f0.95 S Noct is an extraordinary lens: It combines an extra large f0.95 focal ratio with excellent optical performance, even surpassing the Zeiss Otus and the best Bokeh I've seen so far in a prime lens up to 85mm focal length. You might not need the f0.95 aperture but when you use this lens you can produce images that are hard to duplicate with any other model. For these special occasions the Nikon Z 58mm f0.95 S Noct is a unique lens with the best available performance. As such it clearly deserves a Highly Recommended although it's extremely heavy and expensive, and manual focus only.
Good points:
Very good resolution and contrast.
Very little longitudinal CA and coma.
Good resistance against flare and glare.
Very good Bokeh.
Very good performance for close-ups.
Minimal distortions (through lens profile).
Extensive weather sealing plus fluorine coating against moist and dust.
Multi-function ring assignable to aperture or exposure compensation.
Integrated tripod collar, OLED display, function button.
Bad points:
Manual focus only.
Large and extremely heavy lens.
Extremely expensive.
Very visible focus breathing.
Check prices on the Nikon Z 58mm f0.95 Noct at B&H, Adorama, or Wex. Alternatively get yourself a copy of my In Camera book or treat me to a coffee! Thanks!