Verdict
The Nikon Z 40mm f2.0 is an affordable short normal prime lens for Z-mount mirrorless cameras. Its field of view is a bit wider than a standard "normal" lens on a full-frame (FX) body which is sometimes preferable for street photography. On a DX camera like the Z fc or Z50 it produces a slightly tighter than normal view – although it does not quite supply the reach of a portrait lens with an equivalent focal length of 85mm. The Z 40mm f2.0 comes right on the heels of the Z 28mm f2.8 (SE) and shares it's small size, low weight and low price. Both lenses also share a plastic lens mount and come without pouch or lens hood.
How does the Z 40mm f2.0 perform? Optically it is not bad wide open and improves to good/very good in the DX image-circle when stopped down to f2.8 or f4.0. It shows little focus breathing which is a boon for videographers and has a very fast autofocus. On the minus side is strong coma and vignetting in the FX-corners although on a DX sensor these problems are negligible. The lens also shows strong focus shift when stopped down so you should always re-focus after changing the aperture. Bokeh is quite nice due to the bright focal ratio of f2.0. Let's put this into perspective and have a closer look at how the Nikon Z 40mm f2.0 compares to Nikon's 35mm and 50mm f1.8 prime lenses for their Z system.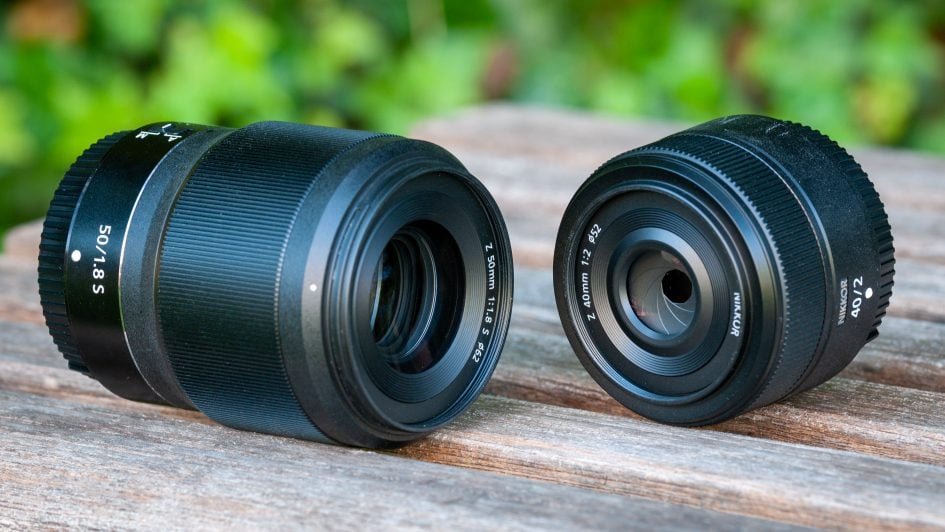 Compared to Nikon Z 50mm f1.8 S and Z 35mm f1.8 S
The major difference between the new Z 40mm f2.0 and Nikon's S-line Z 35mm f1.8 S and Z 50mm f1.8 S is size, weight and price: It's quite astonishing how much Nikon could shrink the new lens in either category, given that the Z 40mm f2.0 only loses 1/3 of a stop in light gathering power – which is something you would hardly notice. Both S-Line Nikkors are at least twice as long, 2 times heavier, and 2-3 times as expensive.
But to reduce size, weight and costs Nikon also used a pretty simple optical formula, replaced the metal lens-mount of the S-line lenses with a plastic one without weather sealing, and also dropped the AF/MF switch, lens pouch, and lens hood. The simpler optical formula makes the Z 40mm f2.0 lag its S-line siblings in almost any aspect of optical performance. In comparison the Z 40mm f2.0 is less sharp near and far, has higher color aberrations, worse coma, and very strong focus shift. Only its Bokeh is a bit smoother than from the Z 35mm f1.8 S but still less creamy than from the Z 50mm f1.8 S. All-in-all the S-line Nikkors let me confidently shoot wide open at f1.8 while I'd prefer to stop the Z 40mm f2.0 down to f2.8 or even f4.0 in many situations to get the image quality I want.
For more details see my Nikon Z 50mm f1.8 S review where the lens earned a Highly Recommended or my Nikon Z 35mm f1.8 S review which earned a Recommended.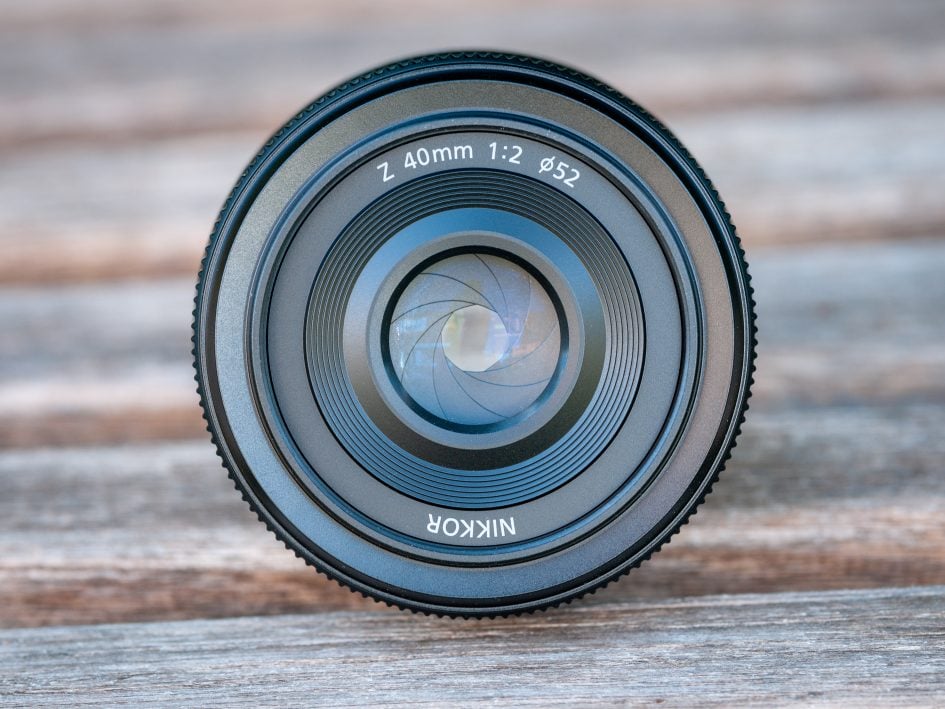 Nikon Z 40mm f2.0 final verdict
Nikon continues its foray into small, light and affordable prime lenses for their Z-series mirrorless cameras of DX or FX format launching the Z 40mm f2.0 right after their Z 28mm f2.8 (SE). The new lens sits between the existing Z 50mm f1.8 S and Z 35mm f1.8 S but is much smaller, lighter and cheaper than both alternatives. Its optical performance is not on the same level as from the S-line Nikkors but the new lens is still a solid performer and offers a better light gathering power and smoother Bokeh than the Z 28mm f2.8. Stop it down a bit to get very satisfying results. This makes the Nikon Z 40mm f2.0 an interesting proposition on Nikon's lens road-map and earns it a clear recommendation.
Good points:
The smallest, lightest and cheapest full-frame standard lens with autofocus for Z-mount.
Good to very good resolution at normal object distances.

Weather sealing (except for lens mount), multi-function ring.
Bad points:
Strong coma and vignetting outside the DX image-circle.
Strong focus shift.
Some longitudinal colour aberrations and field-curvature.

Plastic lens mount.
Check prices on the Nikon Z 40mm f2 at B&H, Adorama, WEX UK or Calumet.de. Alternatively get yourself a copy of my In Camera book or treat me to a coffee! Thanks!