Nikon Z 35mm f1.8S review
Verdict
The Nikon Z 35mm f1.8S is the first available prime lens specifically designed for Nikon's full-frame mirrorless Z bodies. As such it is without direct competition. But as most modern F-mount lenses work well on a Z body via the FTZ adapter Nikon's new lens is not without alternatives. Judged on its own merits Nikon's first Z prime performed very well with regard to contrast (even under adverse contra-light), resolution, close-up performance, focus reliability, and coma. It produces sharp and contrasty images that do the 46MP sensor of the Z7 proud. It takes small 62mm filters plus it is hardened well against the elements including a fluorine coating against moist and dust at the front element.
What's not to like? First the lens shows visible longitudinal colour aberrations (loCA) up to f2.8 which lead to magenta halos at high-contrast edges in the foreground and green halos in the background. LoCA is also probably the reason why the lens needs a little bit of AF fine-tuning to focus optimally. Secondly, Bokeh can be pretty nervous and distracting in the background. Two other things are more nitpicking than serious deficiencies: The lens control ring on my copy has a bit of play which does not feel like the tightest of tolerances. And the flimsy lens pouch is a real joke considering that "the title of the S-Line is reserved only for NIKKOR Z lenses that have cleared newly established standards of design principles and quality control that are even stricter than Nikon's conventional standards" – as Nikon's marketing blurb goes. You would have expected a lens pouch that fits their claim. So don't throw away your old Nikon lens pouches: they are much better than the new ones.
Let's have a closer look at how the new lens compares to some alternatives.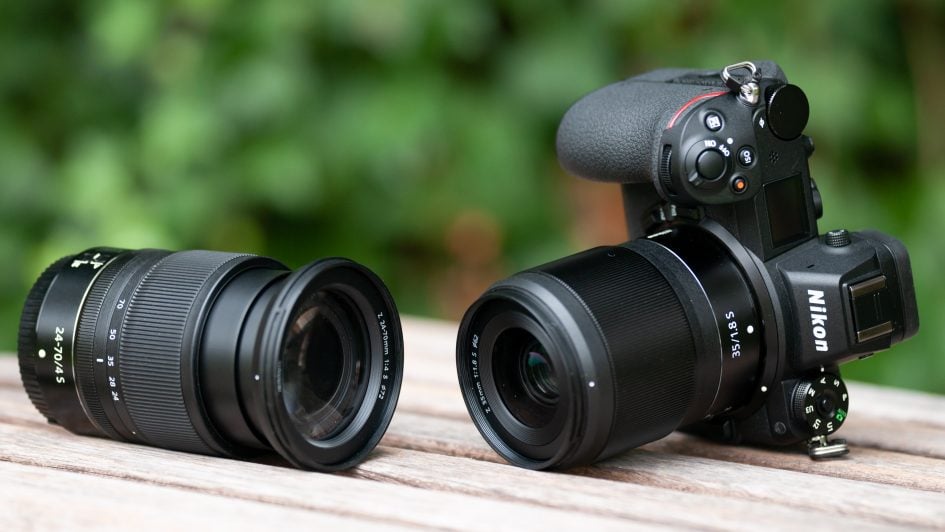 Compared to Nikon 35mm f1.8G
The Nikon AF-S 35mm f1.8G ED is a good lens but shows its age compared against Nikon's new Z Nikkor: It is less sharp towards the corners, has less contrast, less resistance against flare and glare, stronger loCA, and a less convincing close-up performance. It costs less than the Z Nikkor and seems smaller when viewed stand-alone. But mount it on the FTZ-adapter and it is longer than the new Z Nikkor. I wouldn't recommend getting it for your brand-new Nikon Z7.
For more details see my Nikon 35mm f1.8G review.
Compared to Tamron 35mm f1.8 VC
The Tamron SP AF 35mm 1.8 Di VC USD has to be rated similarly to the Nikon AF-S 35mm f1.8G ED. And although it has built-in optical image stabilization which is good for about 2 stops that doesn't count much on a Nikon Z body which probably has the better sensor-based image stabilization of its own – which works for all adapted lenses. If you already have the Tamron in your collection, you can continue using it via adapter on the new Nikon Z7 with good results. But I would not recommend buying it for the Z7.
For more details see my Tamron 35mm f1.8 VC review.
Compared to Zeiss 28mm f1.4 Otus
My resume from the Zeiss 28mm f1.4 Otus: "Optical performance plus build quality: The Zeiss 28mm f1.4 Otus delivers sharpness, contrast, resistance against contra light, coma, loCA, purple fringing, Bokeh on a very high to exceptional level even at f1.4 and puts this in a package that exudes quality in every aspect of its physical presence." So it comes as quite a surprise that with regard to resolution the new Z Nikkor can surpass the Zeiss Otus a bit. But other factors like loCA and Bokeh also play a role in judging the overall performance of a lens so the Zeiss Otus optically still stays my reference lens for mild wide angle prime lenses. But it has deficiencies too: It is very large and heavy, has an exorbitant price, and can only be focused manually. But manual focusing on a Z7 is so much easier than on a D850 that this has become much less of an issue. Plus the Zeiss profits (also) from the built-in image stabilization like all adapted lenses. But putting it via adapter on a Z7 body simply shows that the Zeiss Otus is not made to be a good match for Nikon's new mirrorless bodies.
For more details see my Zeiss 28mm f1.4 Otus review.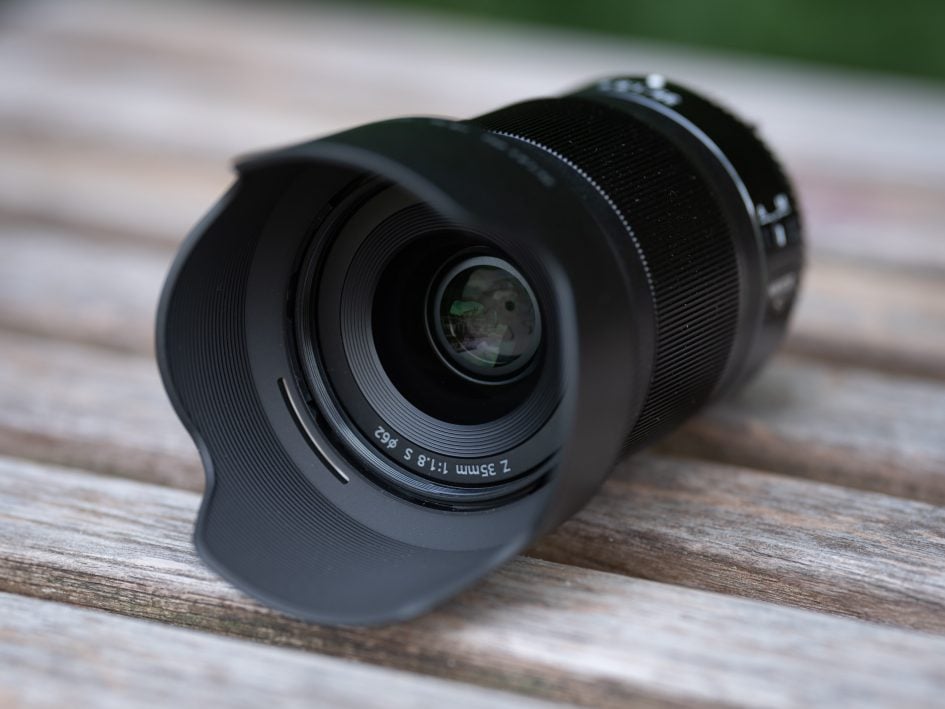 Nikon Z 35mm f1.8S final verdict
The Nikon Z 35mm f1.8S is a good mild wide angle prime for owners of Z-series mirrorless bodies: Resolution and contrast is as good as or even better than from the Zeiss 28mm f1.4 Otus – which is no small feat. It also delivers very good close-up performance and retains its high contrast exceptionally well even in contra-light situations. Plus its size and weight makes it a good match for the compact Z-series bodies it's designed for. The new Z Nikkor also focuses fast and reliably and is sealed as thoroughly as the Z 24-70mm f4S. But its relatively strong loCA show up clearly in high contrast situations when the lens is used wide open, and the Bokeh in the farther background can be quite distracting which is a pity for an f1.8 prime lens. These drawbacks of the Z 35mm f1.8S prevent the lens from getting the top rating but it certainly deserves a Recommended!
Good points:
Small and light.
Very good resolution and contrast.
Very good resistance against flare, glare, and ghosting.
Great close-up performance
Minimal distortions (through lens profile).
Extensive weather sealing plus fluorine coating against moist and dust.
Fast and reliable AF operation.
Image stabilization of 3-4 stops (on a Z7 body).
Multi-function ring assignable to manual focus, aperture or exposure compensation.
Bad points:
Relatively strong longitudinal colour aberrations.
Nervous Bokeh.
Flimsy lens pouch.
Check prices on the Nikon Z 35mm f1.8S at Amazon, B&H, Adorama, or Wex. Alternatively get yourself a copy of my In Camera book or treat me to a coffee! Thanks!