Verdict
The Nikon Z 28mm f2.8 is a compact mild wide lens for Z-mount mirrorless cameras, available in two versions: the retro-styled SE version I reviewed here and the upcoming standard version that's optically identical, but styled like previous Z lenses. The SE version matches the vintage style of the Nikon Z fc camera and is available with it in a bundle. At the time I wrote this review, the bundle was the only way you could buy the SE version in Europe, although I expect it will be available separately in the future as it already is in the US. Alternatively the standard style will be available separately in the future as it's already on the roadmap of upcoming lenses. It will be optically identical, so my results here apply to both versions. As an aside, don't let the bundle with the Z fc confuse you into thinking the Z 28mm f2.8 is only designed for bodies with smaller APSC / DX sensors. This lens is designed to work on both cropped (DX) and full-frame (FX) bodies.
The most prominent features of the Z 28mm f2.8 are it's small size, low weight and low price. Its optical performance is not bad although it clearly benefits from stopping down to f4.0. It shows only little colour aberrations or focus breathing and has a very fast autofocus ready for quickly changing scenes. On the minus side is strong coma and vignetting in the FX-corners although on a DX sensor these problems are negligible. And its Bokeh is meagre due to the slow focal ratio of f2.8 but still manages a smooth transition towards the background.
Let's put this into perspective and have a closer look at how the Nikon Z 28mm f2.8 compares to Nikon's 24mm and 35mm prime lenses for their Z system.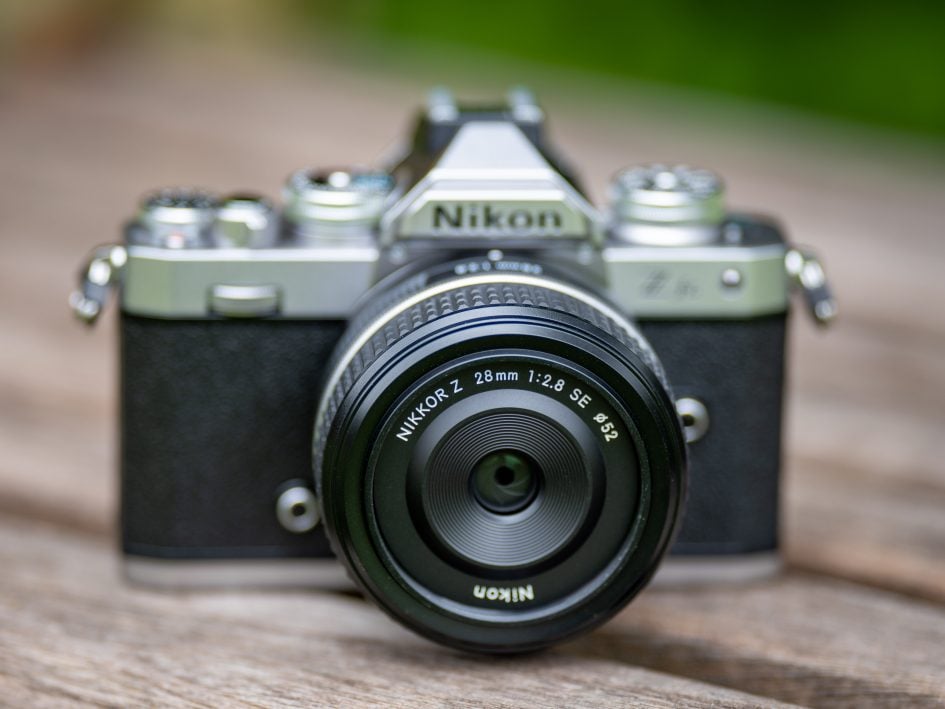 Compared to Nikon Z 24mm f1.8 S and Z 35mm f1.8 S
The major difference between the new Z 28mm f2.8 and Nikon's S-line wide-angle lenses is a 1.3 stop brighter focal ratio of the Z 24mm f1.8 S and Z 35mm f1.8 S. This lets you shoot the S-line lenses at shorter shutter-speeds or lower ISO and allows for a stronger Bokeh – albeit not necessarily a smoother one: the Z 35mm f1.8 S can look very nervous and show distracting double contours in the background.
But hand-in-hand with the brighter focal ratio and more complex optical design of the S-Line Nikkors go the other differences which set them apart from the Z 28mm f2.8: They are at least twice as long, 2-3 times heavier, and around three times as expensive. With that comes better optical performance both at infinity and for close-up shots which let's me confidently shoot the S-line Nikkors wide open at f1.8 while I'd prefer to stop the Z 28mm f2.8 down to f4.0 to get improved contrast and acuity.
Regarding focal lengths the differences between the three lenses are not so decisive: 28mm is 17% longer than 24mm and the 35mm lens is 25% longer again than the 28mm. But if you have been thinking whether to get a 24mm or a 35mm wide-angle lens the difference of 46% in reach between both is quite substantial: If you crop a shot from the 24mm lens to match the angle of view of the 35mm lens you'd be loosing more than 50% of the pixels. So at 28mm focal length the Nikon Z 28mm f2.8 SE sits pretty much in the middle and could certainly be a compelling alternative if you want just one wide-angle prime lens.
For more details see my Nikon Z 24mm f1.8 S review where the lens earned a Highly Recommended or my Nikon Z 35mm f1.8 S review which earned a Recommended.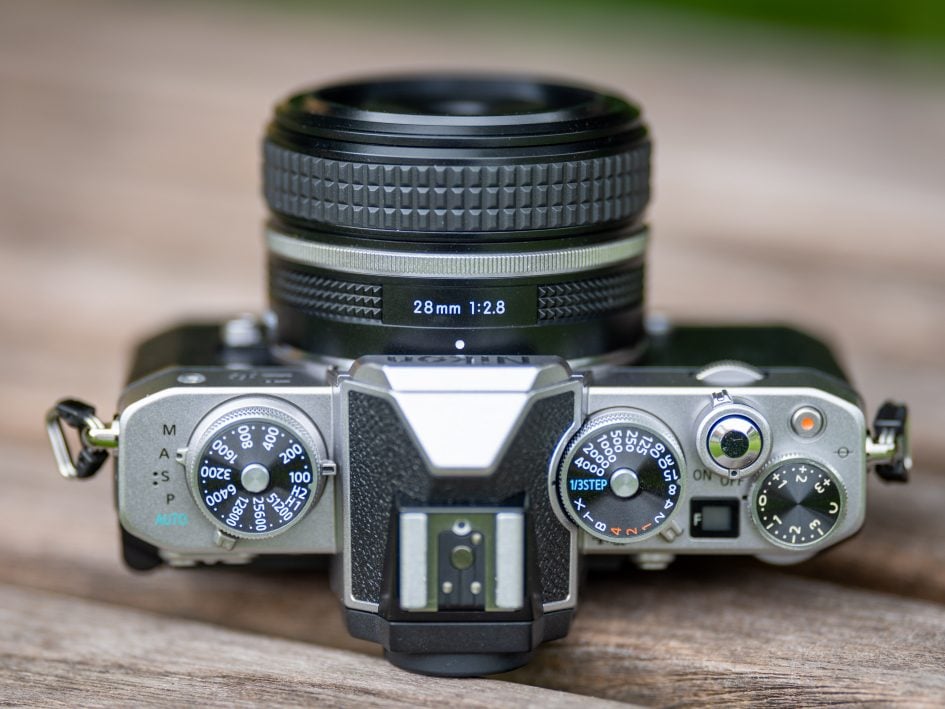 Nikon Z 28mm f2.8 final verdict
Nikon cleverly put its Z 28mm f2.8 right between the existing Z 24mm f1.8 S and Z 35mm f1.8 S and made it much smaller, lighter and cheaper than both alternatives. Its slow focal ratio of f2.8 might be a bit of a let-down but was certainly decisive in reducing size, weight and price. And although sharpness and contrast is not on the same level as with the S-line Nikkors the lens is still a solid performer. Stop it down to f4.0 to get very satisfying results. This gives the new lens a unique position on Nikon's lens road-map and earns the Nikon Z 28mm f2.8 a clear recommendation. Plus if you like the vintage styling of the Z fc body, the SE version of the lens makes a perfect match.
Good points:
The smallest, lightest and cheapest full-frame wide-angle lens with autofocus for Z-mount.
Good resolution across the full frame at normal object distances.
Only little longitudinal colour aberrations.
Weather sealing (except for lens mount), multi-function ring.
Bad points:
Strong coma and vignetting outside the DX image-circle.
Focus shift, field-curvature.
Needs stopping down to f4.0 for better contrast and resolution.
Short working distance for close-up shots.
Meagre Bokeh.
Plastic lens mount.
Check prices on the Nikon Z 28mm f2.8 at B&H, Adorama, WEX UK or Calumet.de. Alternatively get yourself a copy of my In Camera book or treat me to a coffee! Thanks!