Intro
The Nikon Z 28mm f2.8 is a mild wide-angle prime lens for Nikon's Z-series mirrorless cameras of DX or FX format. On a full format body the lens covers an angle-of-view of 75 degrees, while on a cropped body like the Z fc or Z50 the lens is equivalent to a so-called "normal" lens with 42mm focal length. In Nikon's lens line-up for their Z cameras the Z 28mm f2.8 is slotted between their Z 24mm f1.8 S and Z 35mm f1.8 S. The new lens is the most compact and lightest lens in Nikon's Z-mount line-up covering full-frame sensors so far – but still not exactly a "pancake" lens. There are two versions: The Z 28mm f2.8 SE being a special edition which is sold in a bundle with the Nikon Z fc camera and is styled like the old Nikon Ai lenses to match the retro design of the Nikon Z fc. The "normal" version of the lens is designed like all Z-Nikkors so far without the silver ring in the middle but sports the same optics. For this review I tested the SE version as the normal version is not yet available.
The Z 28mm f2.8 SE was announced in June 2021 and is currently sold for 260 EUR / 280 USD / 260 GBP. It is made in Thailand.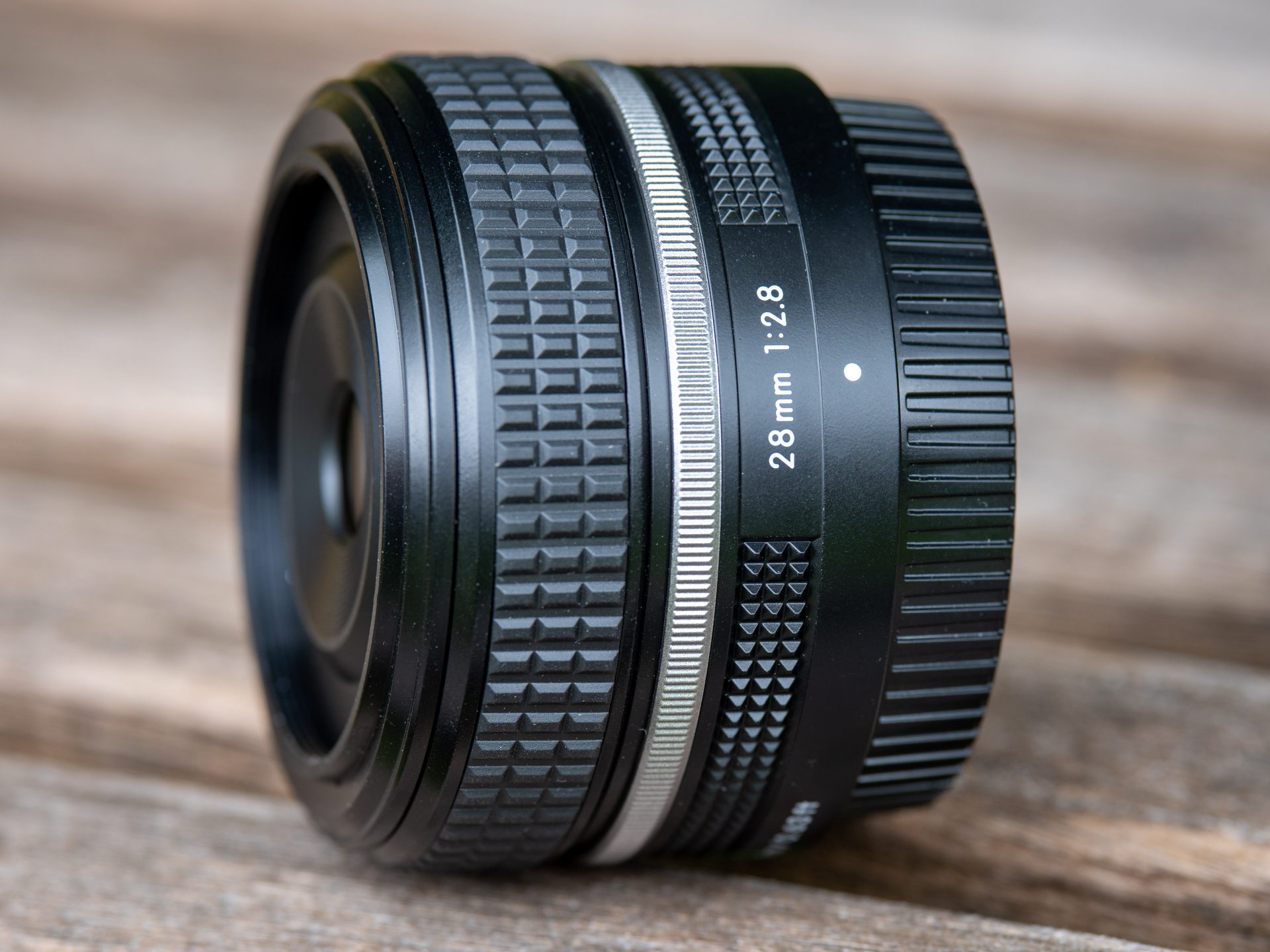 Facts and features
Let's compare the Nikon Z 28mm f2.8 to the Nikon Z 24mm f1.8 S and Nikon Z 35mm f1.8 S. As usual I've rated the features with a [+] (or [++]), when it's better than average or even state of the art, a [0] if it's standard or just average, and [-] if there's a disadvantage.
Size (diameter x length): 71 x 44mm (2.8 x 1.7in.) with no lens hood to attach. The Z 24mm f1.8 S is 78 x 97mm + 34 mm lens hood, the Z 35mm f1.8 S is 73 x 86mm + 48mm lens hood. So the new 28mm Z-Nikkor is indeed the most compact wide-angle full-frame lens with autofocus to use on a Nikon Z camera to date. [++]
Weight: 157g (5.5 oz.). The Z 24mm f1.8 S is much heavier at 447g + 23g lens hood, the Z 35mm f1.8 S is 364g + 30g lens hood. This makes the Z 28mm f2.8 also the lightest lens in this comparison by far certainly helped by its 1.3 stops slower focal ratio of f2.8 and the use of a plastic lens mount. [++]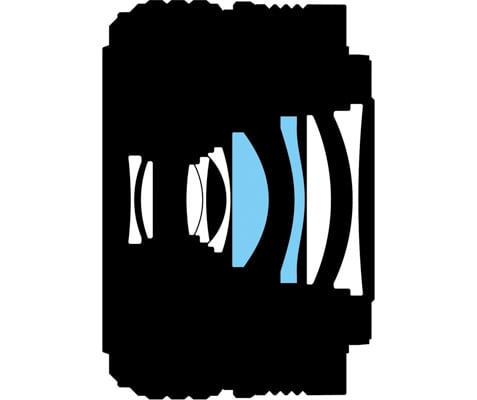 Optics: 9 elements in 8 groups including two aspherical element. The Z 24mm f1.8 S has 12 elements in 10 groups with one special dispersion and four aspherical elements, the Z 35mm f1.8 S has 11 elements in 9 groups with two special dispersion and three aspherical elements. Both S lenses have Nikon's Nano-Coating to reduce flare, glare and ghosting. [+]
Minimum object distance / maximum magnification: At 0.18m (0.6ft.) distance the Z 28mm f2.8 achieves a maximum magnification of 1:4.7 – which is not much and results in a working distance of 0.12m. But the other two Z-Nikkors are not better at 1:5.7 and 1:4.8 for the Z 24mm f1.8 S and Z 35mm f1.8 S respectively. The Z 28mm f2.8 achieves a magnification of 1:10 at a distance of 0.33m (1.1ft.). [+]
Image stabilization: None of the three lenses in this comparison offers optical stabilization. But Nikon's full-format Z bodies provide built-in sensor-shift stabilization over 5 axis for any Z-Nikkor – plus an optional electronic stabilization in video mode. Just be aware that neither Nikon's Z fc nor Z 50 cameras have image stabilization. [0]
Filter-thread: 52mm. The Z 24mm f1.8 S needs 72mm filters, the Z 35mm f1.8 S 62mm filters. [+]
Autofocus: All three lenses in this comparison offer autofocus. Manual-focus override is by simply turning the focus ring – if you didn't assign another operation to the multi-function ring of the Z-Nikkors. The focus ring has the usual variable gearing to assist in precise manual focusing but cannot be switched to linear response for smooth focus pulling in videos. [+]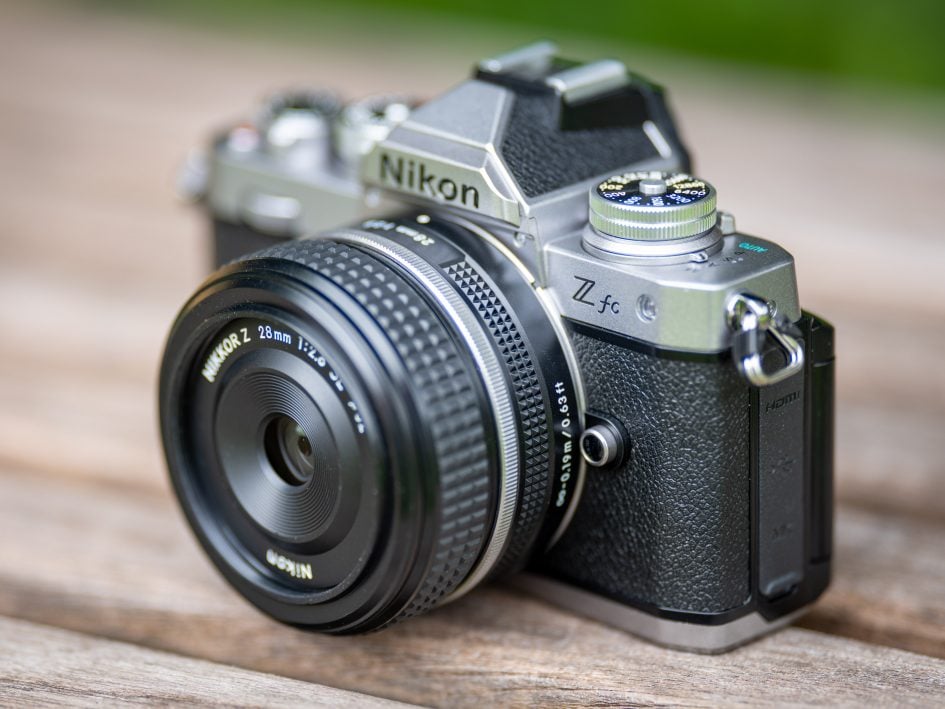 Aperture: The multi-function control ring of the Z-Nikkors can be assigned to operate the aperture, exposure compensation, ISO (not on the Z fc), or focus (which is the default setting). It automatically falls back to its customary focus control when the camera is switched to manual focus. Although the lens control ring has not the same benefit as having a focus ring plus a dedicated aperture ring on the lens it gives you more flexibility to control one of the more important shooting parameters directly from a nice ring on the lens. [+]
Lens profile: All Z-Nikkors come with a lens profile which can be controlled from the camera. Vignette control offers the usual options of High, Normal, Low and Off. Diffraction compensation can be activated or deactivated but Auto distortion control for the Z 28mm f2.8 is always On (both on a Z fc or Z7 camera). [+]
All three lenses in this comparison cover full frame/FX or smaller sensors. [+]
Price: The additional cost for the Z 28mm f2.8 SE sold in a bundle together with the Z fc camera is 260 EUR (incl. 19% VAT) / 240 USD / 230 GBP. In the US the lens is also sold separatly for 297 USD. The Z 24mm f1.8 S is 950 EUR / 1000 USD / 850 GBP, the Z 35mm f1.8 S costs 780 EUR / 850 USD / 800 GBP. [+]
The lens comes without pouch or lens hood. The Z 24mm f1.8 S and Z 35mm f1.8 S both come with a soft pouch and reversible lens hood. [-]
Sealing: Yes, the focus ring and the front is sealed against the elements but there is no rubber grommet at the lens-mount. [0]
With a score of 1[-]/2[0]/12[+] the Nikon Z 28mm f2.8 is by far the smallest, lightest, and cheapest way to put a mild wide-angle full-frame autofocus prime lens on your Nikon Z camera without using a mount adapter. To achieve this Nikon left out the lens hood and pouch and made the compromise of a slow f2.8 focal ratio and a cheap plastic lens mount without weather sealing – although the rest of the lens is sealed.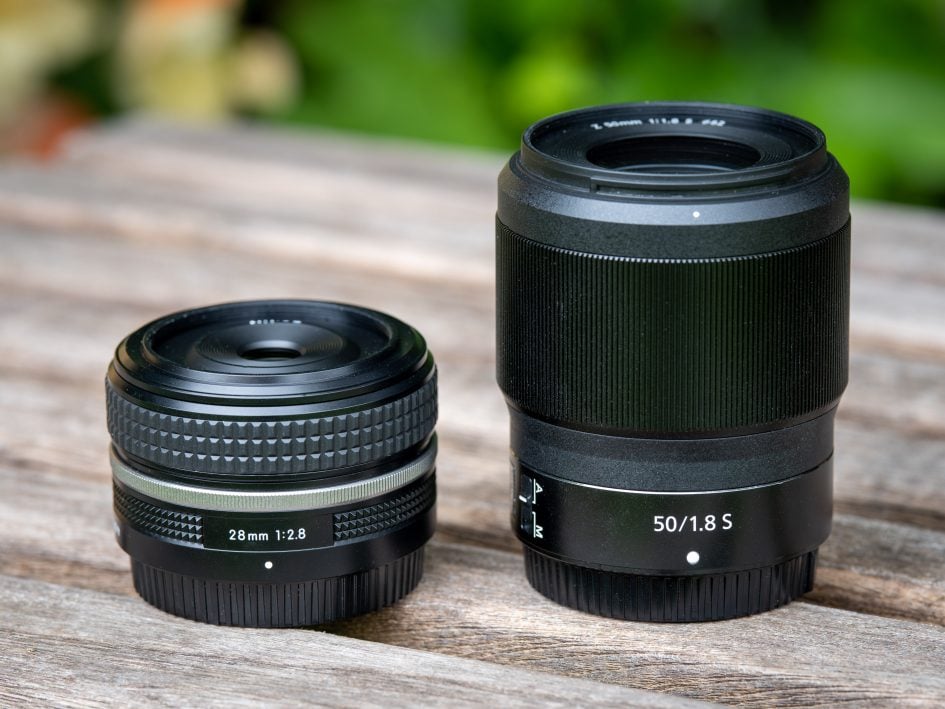 Alternatives
If you're looking for wide-angle lenses with autofocus and Z mount there are few other alternatives in addition to the above mentioned Nikon Z 24mm f1.8 S and Z 35mm f1.8 S:
Viltrox has announced the AF 24mm f1.8 Z. Its size is 70 x 87mm at a weight of 370g. Closest focus distance is 0.3m with a maximum magnification of 1:10. The lens comes with a pouch and reversible lens hood. With its shorter 24mm focal length it has 14% less reach and covers a 9 degrees wider angle-of-view than the Nikon Z 28mm f2.8. The Viltrox offers a 1.3 stops brighter focal ratio and has a "USB upgrade port" on the lens mount to update the firmware. The latter is a reminder that Nikon has patents on the camera/lens interface which might make it hard for Viltrox to work around for optimal autofocus performance. The lens is priced at 459 EUR / 429 USD / 397 GBP.
But you can of course use a plethora of F-mount lenses via Nikon's FTZ mount adapter – adding another 31mm in length and 133g in weight.

Focus
Focus accuracy and repeatability is critical to consistently produce sharp shots. Repeatability (the accuracy of focus on the same subject after repeated focus-acquisition) of the Nikon Z 28mm f2.8 is good (measured 97% in Reikan FoCal) with no outliers over a series of 40 shots. There is almost no focus variation whether the lens focuses from a closer distance or from infinity but I had some cases where the lens refused to focus properly on a slightly misfocused target. The lens focuses in around 0.3 sec on a Nikon Z7 from infinity to 0.18m (1:10 magnification), which is very fast.

The focus ring is 11mm wide on the SE version of the lens. Its rubber surface is structured like on the older F-mount lenses and can easily be operated with one finger. AF-operation of the lens in photo-mode can be heard as a low buzz from the outside and if you record video with the built-in microphone there is some faint noise.

As you pull focus, you'll notice some focus breathing: the image became 2% less magnified when I adjusted focus from infinity to 0.18m. This is hardly visible and should not be distracting when shooting videos.

Next check out my quality results!

Check prices on the Nikon Z 28mm f2.8 at B&H, Adorama, WEX UK or Calumet.de. Alternatively get yourself a copy of my In Camera book or treat me to a coffee! Thanks!