Nikon Z 28-75mm f2.8 review
Intro
The announcement of Nikon's Z 28-75mm f2.8 came as quite a surprise: it was neither on Nikon's lens roadmap nor were there any rumors about it until a few days before it became official. In addition, Nikon already has two standard 24-70mm zooms for its mirrorless lineup: The Z 24-70mm f4 S and the Z 24-70mm f2.8 S. But Nikon managed to squeeze another interesting option between both existing lenses: The Z 28-75mm f2.8 offers a one stop brighter constant focal ratio than the 24-70mm f4 S but does away with the top-of-the-line features of the professional grade Z 24-70mm f2.8 S. The new lens has no dedicated focus ring, no programmable function button, no OLED display, and no ARNEO coating. And – perhaps most crucially – it starts at only 28mm, which means you lose 9 degrees in angle of view over the lenses starting at 24mm. It's also not an "S"-lens signalling that its optical performance is probably not quite up there with Nikon's "S"-lenses. But sacrificing these features makes it possible to position the new lens at half the price of the Z 24-70mm f2.8 S and quite astonishingly shave off an incredible 30% or 241g of weight of its professional sibling. Which makes the Nikon Z 28-75mm f2.8 the lightest standard zoom lens with constant f2.8 aperture for mirrorless cameras, except for the Tamron 28-75mm f.8 Di III G2 which recently hit the streets – but is only available (so far) for Sony E-mount. Speaking of the Tamron, the Nikon 28-75 also bears more than a passing resemblance to the original G1I version of that lens, so let's investigate further in my full review!
The Nikon Z 28-75mm f2.8 is made in China and costs 990 EUR / 1197 USD / 949 GBP.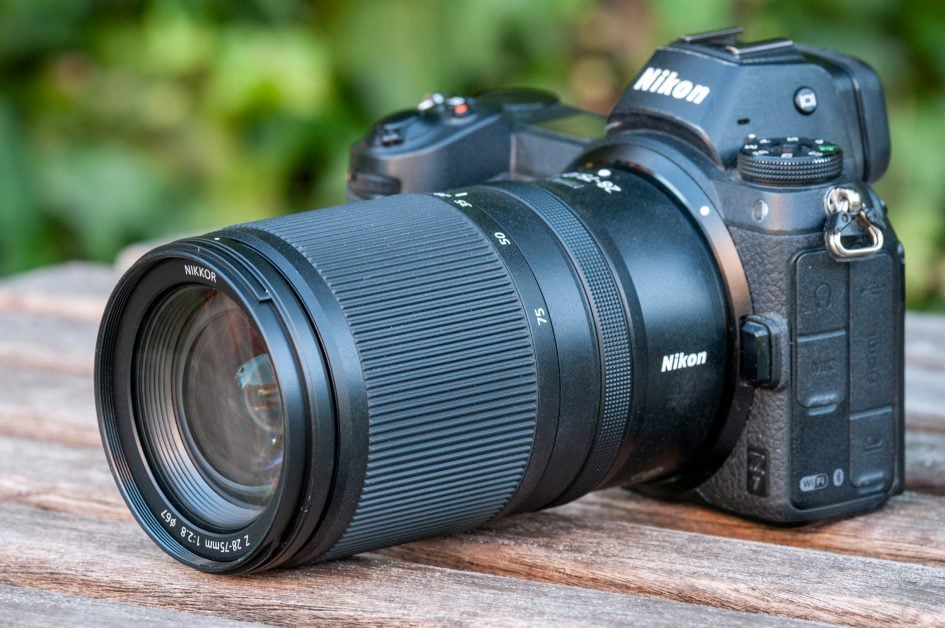 Facts and features
Let's compare the Nikon Z 28-75mm f2.8 ("Z 28-75" for short) to the Nikon Z 24-70mm f4 S and Nikon Z 24-70mm f2.8 S. I also put in the Tamron 28-75mm f2.8 Di III (1st generation, "Tamron G1" for short) which is only available for Sony E-mount but that lens looks very similar in construction and MTF performance to the new Nikon. As usual I've rated the features with a [+] (or [++]), when it's better than average or even state of the art, a [0] if it's standard or just average, and [-] if there's a disadvantage.
Size (diameter x length): 75 x 121mm (3.0 x 4.7in.) plus 37mm for the lens hood (97mm diameter) plus 25mm when zoomed in to 75mm focal length. Nikon implemented a single barrel design just like on the Z 24-70mm f2.8 S. The Z 24-70mm f4 S is 78 x 88mm (in its collapsed state) + 41mm lens hood + 50mm extension when zoom-in. The Z 24-70mm f2.8 S is 89 x 126mm + 41mm lens hood + 30mm when zoomed in, the Tamron G1 is 73 x 118 + 27mm lens hood + 25mm when zoomed in. When comparing the Tamron G1 with the Z 28-75 keep in mind that the flange distance for Z-mount is 2mm shorter than for E-mount. [0]
Weight: At 565g (1.25 lb.) plus 25g for the plastic lens hood the new lens is astonishingly light for a constant f2.8 zoom. The Z 24-70mm f4 S is 497g + 28g lens hood, the Z 24-70mm f2.8 S is 806g + 43g lens hood. The Tamron G1 is 540g + 25g lens hood. [+]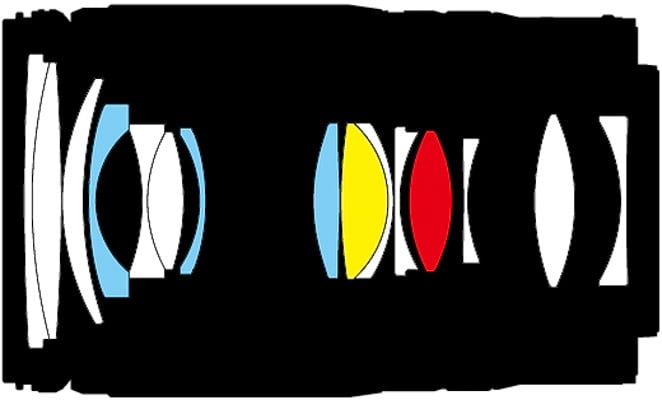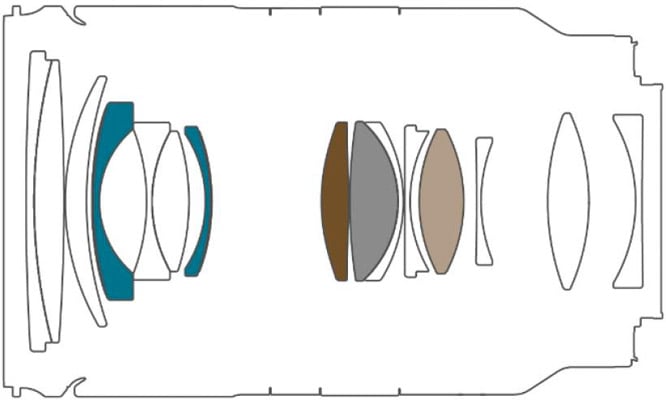 Optics: with 15 elements in 12 groups including 2 special dispersion and 3 aspherical elements the construction looks identical to the Tamron G1. The three Nikon lenses in this comparison have fluorine-coating on the front element to repel water, dust, and dirt and make cleaning easier. The Z 24-70mm f4 S has 14 elements in 11 groups, the Z 24-70mm f2.8 S has 17 elements in 15 groups including three aspherical elements and profits from Nikon's "ARNEO" anti-reflective coating. [+]
Closest focus distance of the Z 28-75 is 0.19m (0.6ft.) with a working distance of only 5cm (2.1in.) at 28mm focal length, 0.37m (1.2ft.) at 75mm focal length with a working distance of 20cm. Maximum magnification is 1:2.9 at 28mm focal length and 1:3.4 at 75mm focal length which is quite good and a tad more than from the Tamron G1. The Z 24-70mm f4 S goes to 1:3.1, the Z 24-70mm f2.8 S achieves 1:4.2, both at 70mm focal length. [+]
Image stabilization: No. All lenses in this comparison rely solely on the body-based stabilization on Nikon's full-frame Z cameras. [0]
Filter-thread: The Z 28-75 uses 67mm filters, the Z 24-70mm f4 S uses 72mm filters, the Z 24-70mm f2.8 S needs 82mm filters [+]
Autofocus: Yes with built-in AF drive. Manual-focus override is by simply turning the multi function ring – if you have focus assigned to it. The ring has a variable gearing (like Nikon's other AF Z-Nikkors) which allows for very precise manual focus when turned slowly but cannot be switched to linear gearing. Which makes smooth focus pulling for videographers almost impossible. On Nikon Z cameras introduced October 2020 or later you can reverse focus direction. [+]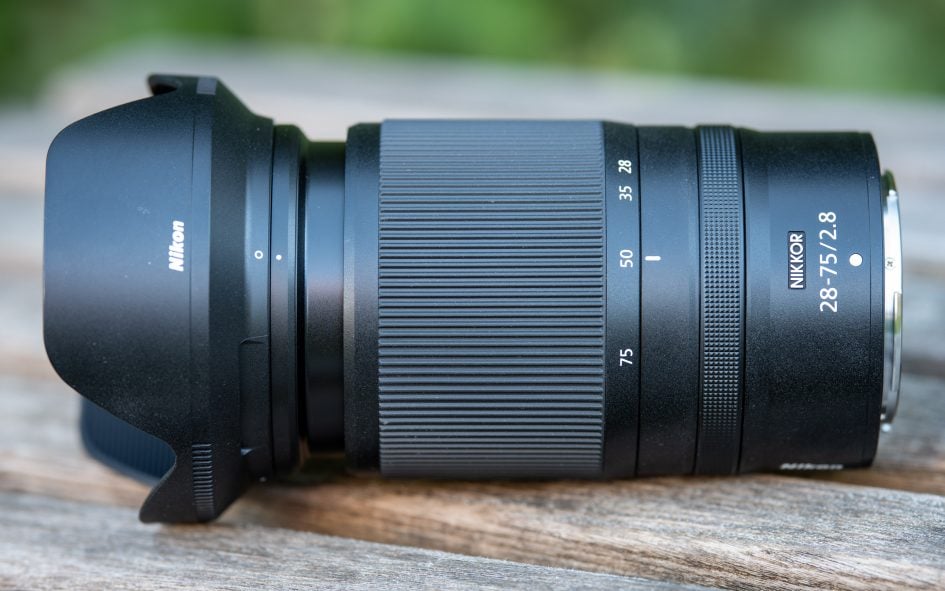 Aperture ring and other control elements: the multi-function control ring of the Z 28-75 and Z 24-70mm f4 S can be assigned to operate the aperture (which is the default), exposure compensation, ISO sensitivity, or focus – or simply switched off. As these two lenses lack a dedicated focus ring the multi-function ring automatically falls back to its customary focus control when the camera is switched to manual focus. The Z 28-75 lacks an AF/MF switch witch both the 24-70mm zoom lenses have. The Z 24-70mm f2.8 S also sports an OLED display indicating focal length, aperture or focusing distance (in m or ft.) and depth-of-field plus an extra function button which can be assigned different functions e.g. AE/AF-lock. The Tamron G1 simply has a dedicated focus ring and no other control elements. [+]
Lens profile: All three Z-Nikkors come with a lens profile for vignette control, diffraction compensation, and auto distortion control. The latter can be deactivated – except on the Z 24-70mm f4 S. [+]
All lenses in this comparison cover full frame/FX or smaller sensors. [+]
Price: 990 EUR (incl. 19% VAT) / 1197 USD / 949 GBP. The Z 24-70mm f4 S is currently at around 650 EUR / 1000 USD / 800 GBP, the Nikon Z 24-70mm f2.8 S costs 2000 EUR / 2000 USD / 2000 GBP. This makes the Z 28-75 looks like a bargain if you want/need a standard zoom lens with a constant bright f2.8 focal ratio. So relative to the other two Z Nikkors the new lens seems attractively priced. The Tamron 28-75mm f2.8 Di III (1st generation) is still available in some shops at street prices of around 670 EUR / 630 GBP while Tamron's new and improved 28-75mm f2.8 Di III G2 costs 949 EUR / 899 USD / 849 GBP – but both Tamron lenses are only available for Sony E-mount. [+]
All three Z-Nikkors come with the usual flimsy pouch with no strings to pull it close. The lens hood is included and is reversible for transport. The lens hood of the Z 24-70mm f2.8 S has a lock to prevent it from accidentally falling off. [0]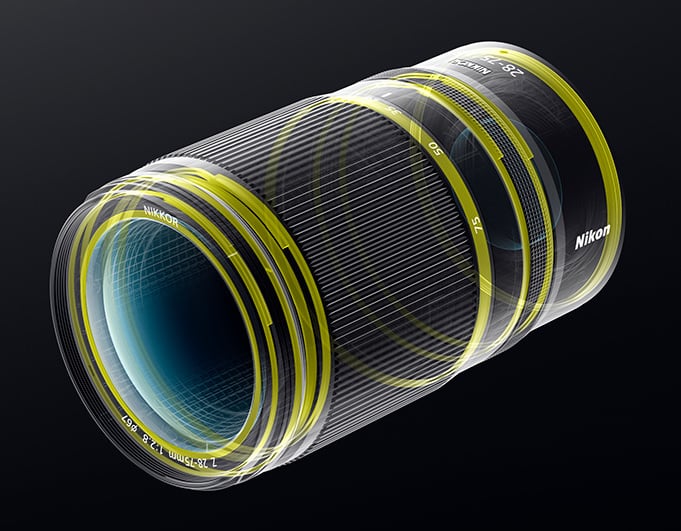 Sealing: All three Z-Nikkors have a rubber grommet at the lens-mount plus further special weather-sealing throughout the construction. The Tamron G1 has only a seal at the lens mount. [+]
At a score of 0[-]/3[0]/10[+] the Nikon Z 28-75mm f2.8 offers a good feature set including full weather sealing, fluorine-coating, multi function ring, and most crucially a low weight and very reasonable price. The only really critical point may be that the zoom starts at 28mm which gives a 9 degrees narrower angle of view than lenses starting at 24mm. But all-in-all I think Nikon has put a very interesting proposition in the market.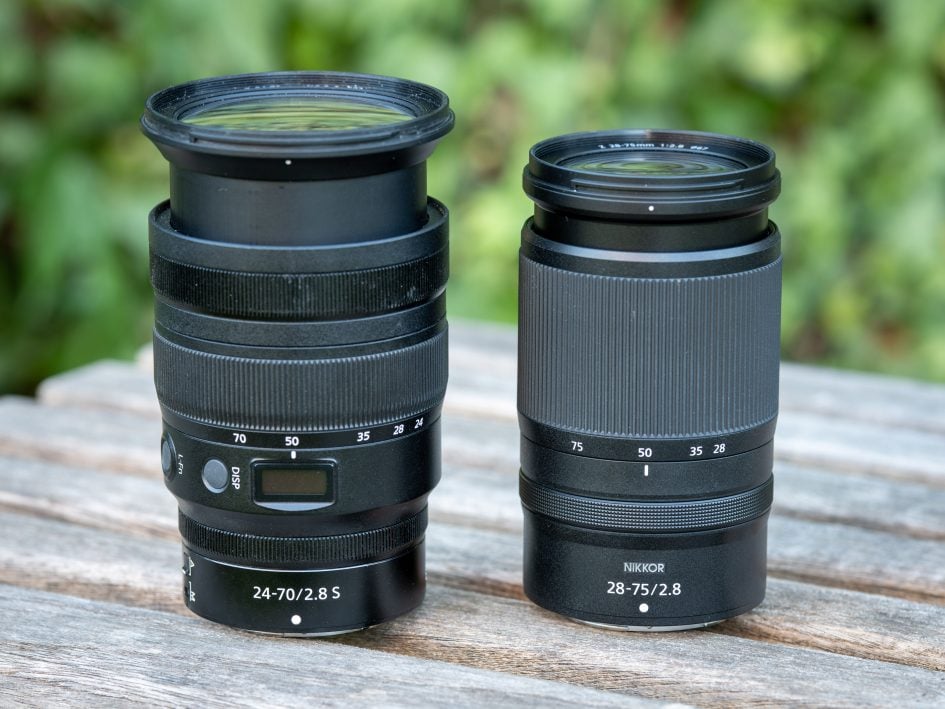 Coverage
With its 2.7x zoom-range the Z 28-75 starts at the short end with an angle of view of 75 degrees, compared to the 84 degrees of zooms starting at 24mm. The difference doesn't look like much but I wouldn't underestimate it: Not always can you step back enough to get the 9 degrees wider view of 24mm focal length. At the long end the Z 28-75mm offers 7% more reach/magnification than 70mm focal length which is only a minor benefit: If the image at 70mm is sharp enough, cropping a 45MP shot at 70mm to match the angle-of-view of 75mm still nets you around 39MP.
Here is the angle of view that the Z 28-75mm zoom lens covers compared to the coverage of a 24-70mm zoom both shot from the same spot. The difference at the wide end is clearly visible:



Focus and zoom
Focus accuracy and repeatability is critical to consistently produce sharp shots. Repeatability (the accuracy of focus on the same subject after repeated focus-acquisition) of the Nikon Z 28-75mm f2.8 is very good (measured 99.3% in Reikan FoCal) with no outliers over a series of 40 shots on the well lit and contrasty focus test target. And there is almost no focus variation whether the lens focuses from a closer distance or from infinity. At 70mm focal length the lens focuses in around 0.5 sec from infinity to 0.85m (1:10 magnification).
The zoom ring has a pretty short throw of about 60 degrees. It has a 46mm wide rubber surface with a good grip and turns with quite some resistance. It can hardly be operated with one finger but the lens still shows a bit of zoom creep. The lens control ring is 8mm wide and is located closer to the camera. It has a knurled metal surface, moves smoothly albeit a bit stiffer than on earlier Z-Nikkors. But it still can easily be operated even with your pinky.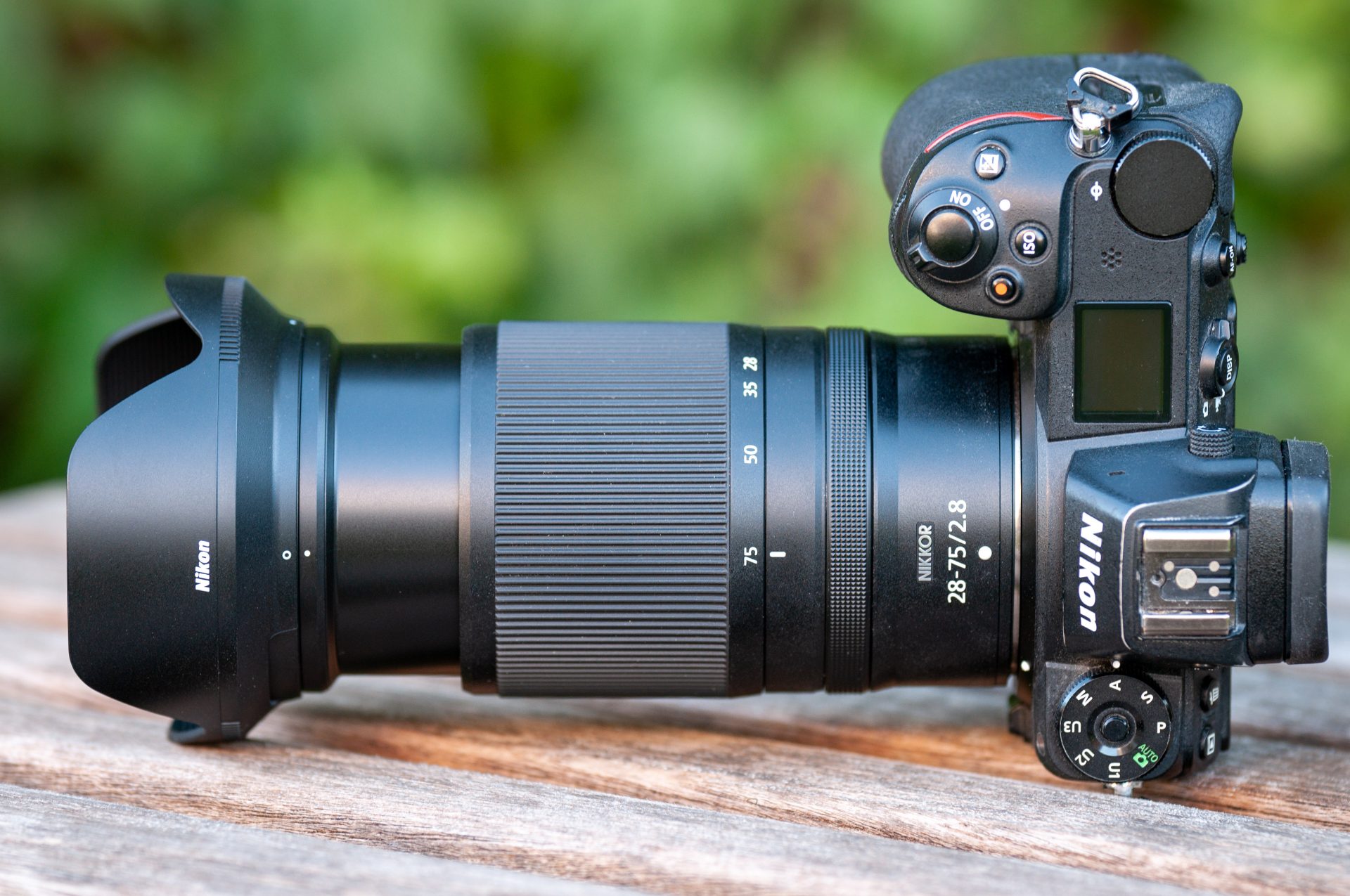 AF-operation of the Nikon Z 28-75 is very quiet if you record video with the built-in microphone. In photo mode you can hear a very faint noise from the outside.

As you pull focus, you'll notice very little focus breathing: When I adjusted the focus from infinity to 0.85m at 75mm focal length, I measured a 3% increase in magnification. This is hardly noticeable. Same at 28mm focal length.

I also tested whether Nikon's zoom lens allows you to change the focal length without altering its focus. This characteristic is called parfocal. I focused the lens at 75mm and then slowly zoomed back checking focus on the way. The Nikon Z 28-75mm f2.8 did not keep its focus perfectly. It's not a huge deviation but enough to be seen even at only 50% magnification or a 4k image/video recording.

Next check out my quality results!

Check prices on the Nikon Z 28-75mm f2.8 at B&H, Adorama, WEX UK or Calumet.de. Alternatively get yourself a copy of my In Camera book or treat me to a coffee! Thanks!