Nikon Z 24-70mm f4S review - Verdict
Verdict
The Nikon Z 24-70mm f4S is the first zoom designed specifically for Nikon's full-frame mirrorless Z bodies and represents a much lighter, more compact and affordable option to Nikon's professional 24-70mm f2.8E VR (which can be used too on a Z body via the FTZ adapter). It performed very well in all of my tests regarding contrast (even under adverse contra-light), resolution, focus speed and reliability, image stabilization, colour aberrations, and coma, producing images on a Z7 that can easily hold up to ones taken with the D850 + 24-70mm f2.8E VR combo. It takes filters with a standard 72mm thread plus it is hardened well against the elements including a fluorine coating against moist and dust at the front element.
What's not to like? Well, I personally would have preferred to have a zoom with a single barrel construction – but that's just the engineer in me speaking. As long as the double barrel construction is weather-tight and does not begin to wobble after years of (ab)use everything is OK. The only real flaw I can find with this lens is its relatively modest f4.0 focal ratio.
Let's have a closer look at how the new lens compares to its larger F-mount sibling.
Compared to Nikon 24-70mm f2.8E VR
My resume from the Nikon 24-70mm f2.8E VR review: "Having the most effective image stabilization and the best image quality across the FX-sensor in its class earns this lens a Highly Recommended. Be aware though that this performance comes at a price: literally and in an increase in size and weight. Good points: Good to very good quality across the full-frame area; weather sealing; quiet and fast AF operation; very good image stabilization. Bad points: Stronger vignetting and distortions than predecessor; large and heavy; very high price."
Compared to the new Z 24-70mm f4S Nikon's professional workhorse is still very big, 100% heavier, and two to three times as expensive (depending on availability of the Z-lens in a kit). The optical quality is on a par regarding contrast (unless in contra-light) and resolution. But the new Z-lens having less loCA, less flare and glare, a superior close-up performance and (together with the Z-body) a one stop better stabilization. So the only real benefit of the 24-70mm f2.8E VR is its one stop larger focal ratio.
For more details see my Nikon 24-70mm f2.8E VR review.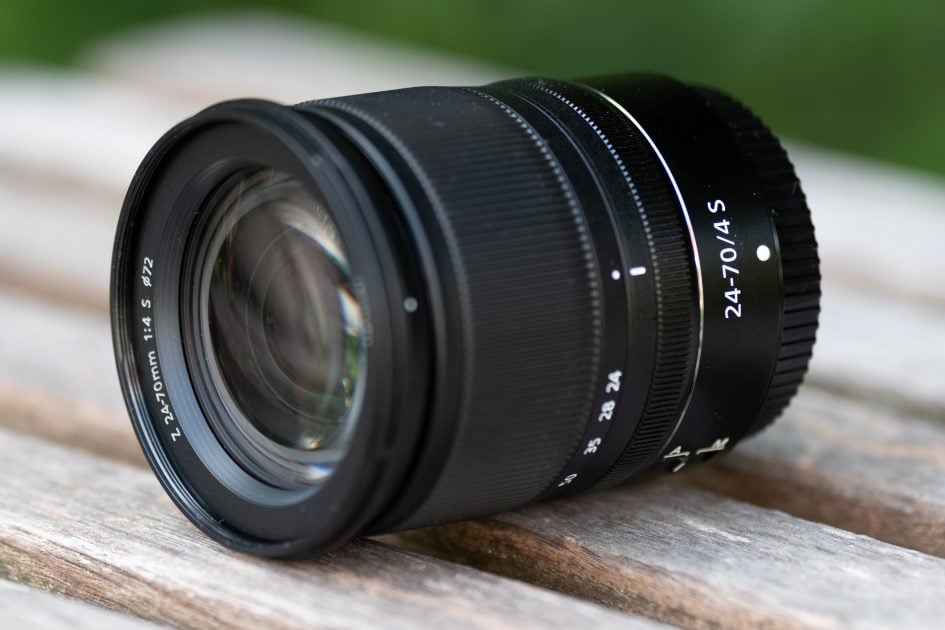 Nikon Z 24-70mm f4S final verdict
The Nikon Z 24-70mm f4S is a no-brainer for owners of Z-series mirrorless bodies: optically it is as good as the renowned 24-70mm f2.8E VR with a one stop advantage in image stabilization and almost no loCA. It also delivers very usable close-up performance and retains its high contrast even in contra-light situations. Plus by being roughly half the size and weight it's much more portable and a perfect match for the compact Z-series bodies it's designed for. The new Z Nikkor also focuses as fast and reliably and is sealed as thoroughly as the 24-70mm f2.8E VR. The only drawback of the Z 24-70mm f4S is its relatively ordinary f4.0 focal ratio, but that's easily compensated for by the relatively low price – and did I mention the small size and weight?. So if you're getting a new Z body, be sure to bag yourself this excellent zoom in a kit bundle: Highly Recommended!
Good points:
Small and light.
Very good resolution and contrast.
Very little longitudinal colour aberrations.
Very good resistance against flare, glare, and ghosting.
Very usable  close-up performance
Low vignetting and minimal distortions (through lens profile).
Low price especially when bought in a kit.
Extensive weather sealing plus fluorine coating against moist and dust.
Very fast and reliable AF operation.
Image stabilization of 4-5 stops (on a Z7 body).
Multi-function ring assignable to manual focus, aperture or exposure compensation.
Bad points:

Check prices on the Nikon Z 24-70mm f4S at Amazon, B&H, Adorama, or Wex. Alternatively get yourself a copy of my In Camera book or treat me to a coffee! Thanks!