Nikon Z 24-200mm f4-6.3 VR review - Verdict
Verdict
The Z 24-200mm f4.0-6.3 VR is a small and light all-in-one zoom designed for Nikon's mirrorless cameras. It covers full-frame sensors but can equally be used on a cropped sensor Z camera body like the Z50 where its optical stabilization is indispensable as the Z50 does not offer sensor-based stabilization. On a cropped sensor camera the angle of view is equivalent to a 36-300mm zoom lens. The Z 24-200mm f4.0-6.3 VR has a 8.3x zoom range and decent close-up capabilities. Its optical performance is good to very good across the zoom range – within the DX image-circle. The image stabilization is very effective at the long end giving an almost 5 stops effect, meaning you can shoot as low as 1/6 of a second at 200mm focal length and still get two very sharp images out of three shots. And the lens is pretty resilient in contra-light situations with its ARNEO coating suppressing flare, glare and ghosting quite effectively at the short end – where the risk of having a strong light source in the frame is highest.
What's not to like? First and foremost it's the lowly focal ratio which is only f6.3 from 80mm focal length onward. This not only limits background isolation and Bokeh but also means that you need higher ISO values if you want to stop moving subjects with short shutter speeds. And the lens is not the sharpest outside the DX image-circle.
Let's have a closer look at how the new Nikon super-zoom compares to the Nikon Z 24-70mm f4.0 s and also an interesting alternative from Tamron – assuming that one day Tamron will have a version with Z-mount (and RF-mount) too.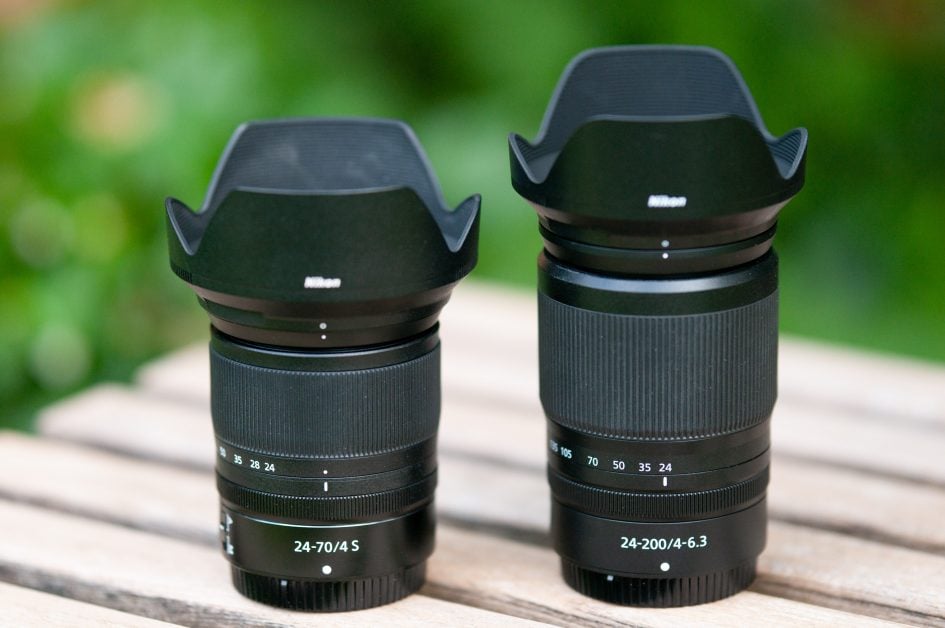 Above: Nikon Z 24-70mm f4.0 S (left), Nikon Z 24-200mm f4.0-6.3 VR (right)

Compared to Nikon Z 24-70mm f4.0 S
When Nikon released their new Z-series cameras the Z 24-70mm f4.0 S lens was often offered at a bargain price of 600 EUR / 750 USD when bought in a kit together with the new body. This together with its convincing performance made it almost a no-brainer to buy the lens. At today's prices of 850 EUR / 1000 USD Nikon's first standard zoom lens for their new system looks a bit less attractive. But nonetheless: The Z 24-70mm f4.0 S is still a very good lens. Compared to the new super-zoom it has the benefit of a constant f4.0 focal ratio giving it a one stop advantage from 48mm onward and it is a little lighter and smaller in its collapsed state. And its lack of optical stabilization is not critical: at 70mm focal length both the Z 24-70mm f4.0 S and the Z 24-200mm f4.0-6.3 performed comparably.
So in the end it boils down to the question whether you value a constant f4.0 aperture higher than a 8.3x zoom-range reaching 200m focal length at the long end. I personally would go for the larger zoom-range of Nikon's new super-zoom as this makes it a much more versatile lens for travelling or everyday use.
For more details see my Nikon Z 24-70mm f4.0 S review.

Compared to Tamron 28-200mm f2.8-5.6 Di III
Let me be crystal clear: The Tamron 28-200mm was not available in Z-mount at the time of writing, nor has Tamron even announced the upcoming availability of this specific lens for Z-mount. But Tamron is on record saying that they are working on lenses for Z- and RF-mount. And certainly their new lenses designed for mirrorless cameras which are currently only available for Sony E-mount are prime candidates to get other mounts too. With this disclaimer out of the way let's turn to comparing Tamron's new super-zoom to the equally new Nikon.
Regarding size, weight and price both lenses are very close. Looking at the features the Nikon has the benefit of going down to 24mm at the wide end and offering optical image stabilization. But the Tamron has the benefit of a brighter focal ratio which gives it a one stop better light gathering power over the Nikon up to 115mm focal length. The Nikon compensates that a bit by a superior image stabilization which is indeed good for 5 stops at the long end being 2 stops more effective than the stabilization that the Tamron receives from the Sony camera body alone. But that might be of no relevance when shooting fast moving subjects.
Optically the Tamron is very close to the Nikon in the APS-C image-circle and mostly visibly sharper in the extreme corners of a full-frame sensor. Kudos to that! So with the Nikon you get superior image stabilization plus a wide end starting at 24mm while the Tamron offers greater light gathering power plus sharper FF-corners. Depending on your priorities the Nikon or the Tamron may be the tool of choice for you.
For more details see my Tamron 28-200mm f2.8-5.6 Di III review.

Nikon Z 24-200mm f4.0-6.3 VR final verdict
In my opinion the Nikon Z 24-200mm f4.0-6.3 VR is a clever alternative to the Nikon Z 24-70mm f4.0 S. It may lack about one stop light gathering power once you zoom beyond 50mm focal length but the versatility of the lens reaching beyond 70mm up to 200mm is not to be underestimated. And it is almost as small and light as the Nikon Z 24-70mm f4.0 S, shows very decent performance over its zoom range, has usable close-up capabilities, and offers a very effective image stabilization at the long end. This makes the Z 24-200mm f4.0-6.3 VR look like a prime candidate for those who want to travel light and not change lenses in the middle of things. It may not be the sharpest lens in the extreme corners but other than that Nikon has designed a compelling super-zoom which clearly earns a recommendation!
Good points:
Small and light.
Good resolution within the DX image-circle over the complete zoom-range.
Very effective images stabilization at the long end.
Decent close-up performance at 200mm focal length with a very usable working distance.
Very good resistance against flare, glare, and ghosting at the short end.
Almost no longitudinal colour aberrations.
Low vignetting and minimal distortions (through lens profile).
Extensive weather sealing plus fluorine coating against moist and dust.
Bad points:
Not the sharpest outside the DX image-circle.
Lowly f4.0-f6.3 focal ratio.
Check prices on the Nikon Z 24-200mm at B&H, Adorama or WEX! Alternatively get yourself a copy of my In Camera book or treat me to a coffee! Thanks!