Nikon Z 24-120mm f4 S review
Verdict
Nikon now has a slew of zoom lenses corrected for full-frame Z-mount cameras covering the standard 24-70mm range or more: Besides the Z 24-70mm f2.8 S and f4 S plus Z 28-75mm f2.8, there's the Z 24-200mm f4-6.3 VR, and now the Nikon Z 24-120mm f4 S. As the successor to Nikon's AF-S 24-120mm f4G VR the new Z-Nikkor offers the same useful 5x zoom range covering wide-angle to moderate telephoto reach and has a well balanced feature set including full weather sealing, fluorine-coating, ARNEO plus Nano anti-reflex coating, separate focus ring plus multi function ring and lens function button. Optically the zoom lens performs very well up to 50mm focal length – even delivering quite good resolution in the FX-corner and showing practically no field curvature. Colour aberrations and flare/glare are well controlled as is vignetting and distortions (through lens profile). Autofocus is fast and reliable and there's very little focus breathing. Plus the lens shows a relatively nice Bokeh at the long end although it cannot overcome its limiting f4.0 focal ratio.
What's not to like? It's a pity that the very good performance up to 50mm focal length does not continue to the long end. Mind you, the lens is still sharp beyond 50mm in the center but the DX- and FX-corner acquire a softness which is not there between 24mm and 50mm. I have a similar regret with regard to the close-up capabilities: yes, maximum magnification of 1:2.4 is very nice and image quality is usable but even stopping down to f16 or correcting for field-curvature I couldn't get really sharp shots at these magnifications. The Z 24-70mm f4 S can do this much better. And finally the lens is not parfocal so the focus shifts when you zoom. That makes it mandatory to re-focus after changing the focal length – or use continuous AF. You may also complain about the missing optical image stabilization but in my tests the camera based VR extends the ability to use the lens hand-held by about 4 stops. Unfortunately this does not help owners of a Nikon Z fc or Z 50 camera which lack body based sensor image stabilization.
Let's put this into perspective and have a closer look at how the Z 24-120mm f4 S compares to Nikon's AF-S 24-120mm f4G VR, Z 24-70mm f4 S, and Z 24-200mm f4-6.3 VR.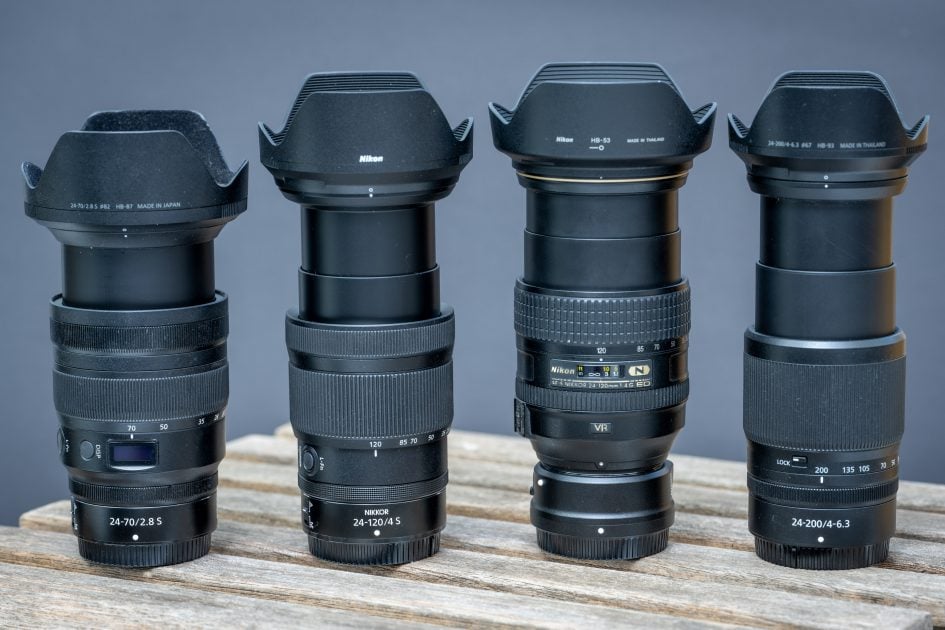 Compared to Nikon AF-S 24-120mm f4G VR
The Nikon 24-120/4.0G VR shows it's age in this comparison: It simply cannot hold up to Nikon's new design. Even its current (lower) street price would not make me recommend using the F-Nikkor on a 45MP full-frame sensor. It is less sharp throughout the zoom range than the Z 24-120mm f4 S, is more prone to flare and glare, has higher colour aberrations, a slower focus, stronger focus breathing, and a less thorough weather-sealing. Even its optical image stabilization is not a real benefit – unless you use the lens on a Z fc or Z 50: The vibration reduction built into Nikon's Z full-frame cameras is good for 4 stops. So the Z 24-120mm f4 S is clearly the better choice.

Compared to Nikon Z 24-70mm f4 S
The Nikon Z 24-70mm f4S was the smallest and cheapest kit-zoom when Nikon launched its Z-series mirrorless bodies. And it is still an attractive offer: optically it is not far behind the Z 24-120 at shorter focal lengths and keeps up quite nicely at 50mm and 70mm. It also delivers very usable close-up performance and retains its high contrast even in contra-light situations. Plus it's smaller and lighter than the Z 24-120 and its focus is comparably fast and reliable and it is sealed as thoroughly. The only real drawback of the Z 24-70mm f4S is its reach: It goes only up to 70mm which is 42% less than the Z 24-120. This is not easily compensated for by cropping. But then the Z 24-70mm f4 S can be had for almost half the price of the Z 24-120 – at least in Europe. So the question is: How do you want to cover the focal lengths beyond 70mm? If you prefer a convenient one-lens solution the Z 24-120 might be the perfect tool – or you take a look at the Z 24-200 (see below). But if you already have or plan to get another lens to cover focal lengths beyond 70mm the Nikon Z 24-70mm f4 S can cover the standard 24-70mm zoom range at a relatively low price – and did I mention the small size and weight?
For more details see my Nikon Z 24-70mm f4 S review where it came Highly Recommended.

Compared to Nikon Z 24-200mm f4-6.3 VR
The Nikon Z 24-200mm f4-6.3 VR is a great all-in-one zoom. It may lack about one stop light gathering power once you zoom beyond 50mm focal length but the versatility of the lens reaching up to 200mm is not to be underestimated. And it is smaller, lighter, and cheaper than the Nikon Z 24-120mm f4 S, shows very decent performance over its zoom range (although not as sharp as the Z 24-120 at the short end), has usable close-up capabilities, and offers a very effective optical image stabilization which provides around 4.5 stops of vibration reduction even at 200mm focal length. This makes the Z 24-200mm f4.0-6.3 VR a prime alternative for those who want to travel light and not change lenses in the middle of things.
For more details see my Nikon Z 24-200mm f4-6.3 VR review where it earned a recommendation.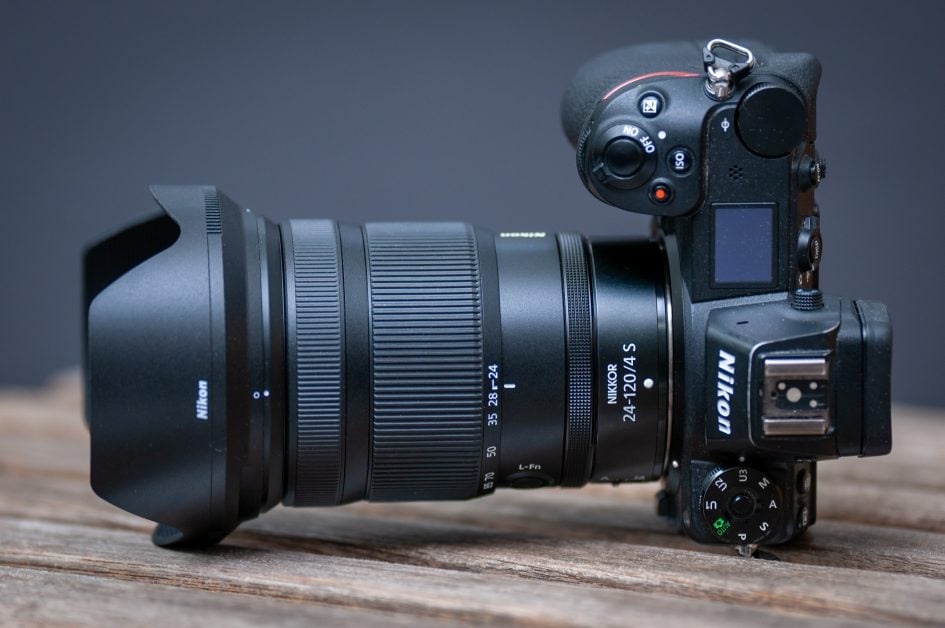 Nikon Z 24-120mm f4 S final verdict
Nikon's Z 24-120mm f4 S is a worthy and well featured successor to the venerable AF-S 24-120mm f4G VR which the new lens surpasses in every aspect. It produces very sharp images with almost no field-curvature or colour aberrations and can confidently be used wide open and in challenging contra-light situations. Its Bokeh is relatively nice for a focal ratio of f4.0 and the vibration reduction of the camera provides a respectable 4 stops of stabilization. So the Z 24-120mm f4 S is the perfect choice for those wanting more reach than the standard 24-70mm lens and value a constant f4.0 focal ratio. Highly Recommended.
Good points:
Very good resolution and contrast up to 50mm focal length.
Almost no longitudinal colour aberrations or purple fringing.
Only little vignetting and no distortions – through lens-profile.
Fast and reliable AF operation and low focus breathing.
Very little field-curvature up to 50mm focal length.
Relatively nice Bokeh.
Image stabilization in camera good for 4 stops.
Weather sealing, focus + multi function ring, function button.
Bad points:
Not parfocal.
No image stabilization on Z fc or Z 50 cameras.
Check prices on the Nikon Z 24-120mm f4 S at B&H, Adorama, WEX UK or Calumet.de. Alternatively get yourself a copy of my In Camera book or treat me to a coffee! Thanks!