Nikon Z 20mm f1.8 S review
Verdict
The Nikon Z 20mm f1.8 S is the first 20mm prime lens specifically designed for Nikon's full-frame mirrorless Z bodies. As such it is without direct competition although it is not the widest prime lens with Z mount if you're willing to forego autofocus. And as most modern F-mount lenses work well on a Z body via the FTZ adapter Nikon's new lens is not without alternatives. Judged on its own merits Nikon's Z 20mm f1.8 S looks like a very solid performer. It produces very contrasty images across the full-frame sensor (even against adverse contra-light) with very little coma and very good close-up capabilities – if you can live with the meagre working distance. Its focus reliability is very good and it is hardened well against the elements including a fluorine coating against moist and dust at the front element.
What's not to like? Well, personally I find the size of the lens a bit of a nuisance together with the overly large lens control ring which makes holding the lens without inadvertently touching (and turning) the control ring harder than I would have liked. The lens also has visible longitudinal colour aberrations (loCA) which not only show up in my standardized test-shot but also in real life shooting situations more prominently than from the Nikon Z 24mm f1.8 S. And sharpness outside the DX image-circle is good at closer distances but not much better than the F Nikkor at infinity. And you might already know my lament about the inadequate lens pouch for all of Nikon's Z-mount lenses so far.
Let's have a closer look at how the new lens compares to some alternatives.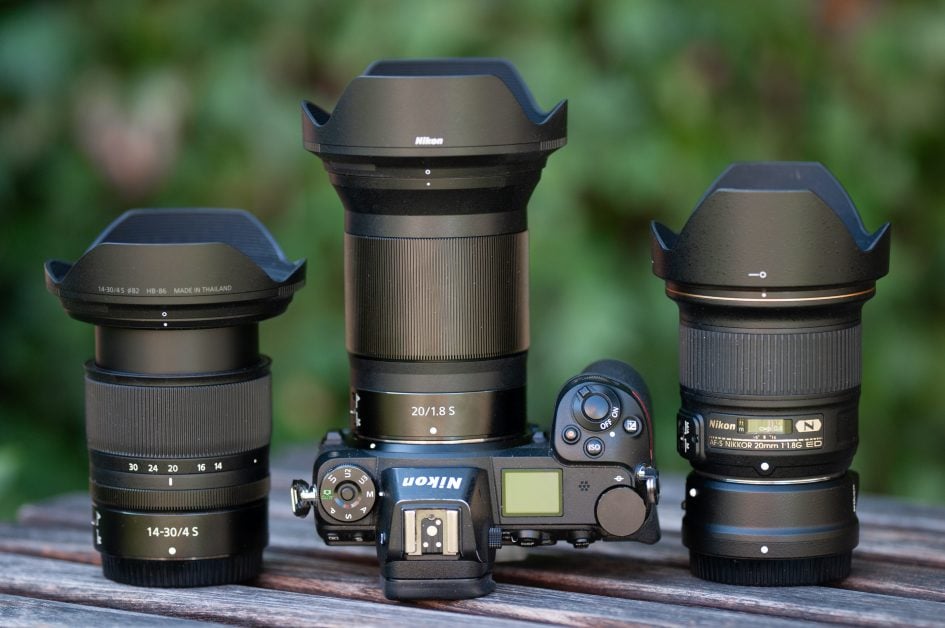 Compared to Nikon 20mm f1.8G
The Nikon AF-S 20mm f1.8G ED came Recommended in my review from 2014. It still is a good lens but falls behind Nikon's new Z Nikkor especially regarding sharpness in the DX image-circle. It has lower contrast, less resistance against flare and glare, stronger coma, and a more nervous Bokeh. It costs less than the Z Nikkor and seems smaller when viewed stand-alone. But mount it on the FTZ-adapter and it's almost the same size as the new Z Nikkor. If you already have the 20mm f1.8G in your collection, you can continue using it via adapter with good results. But I wouldn't recommend buying it for your Nikon Z camera.
For more details see my Nikon 20mm f1.8G review.

Compared to Sigma 20mm f1.4 Art
The Sigma 20mm f1.4 Art is a typical DSLR design from 2015. This makes it a massive lens weighing twice the Nikon Z 20mm f1.8 S which can only partly be explained by its larger focal ratio of f1.4. The Sigma lens has some unique properties: it is compatible with their USB dock for fine-tuning or firmware updates, and if you change bodies, you can pay to have the mount swapped for your new system. Regardless of the body though, you'll have to make do without a standard filter-thread plus there's no weather sealing at the lens-mount which seems a bit out of place for a lens targeted at professionals. In my test the Sigma earned a Highly Recommended rating but time has not been kind to the lens: modern optical designs from today – like the new Z-Nikkor – moved the bar even further. So in my opinion the new Z Nikkor is clearly the better choice for your Nikon Z camera.
For more details see my Sigma 20mm f1.4 Art review.

Compared to Nikon Z 14-30mm f4.0 S
The Nikon Z 14-30mm f4.0 S is a compact ultra-wide angle zoom designed for Nikon's full-frame Z-series mirrorless cameras. It employs a retracting mechanism to reduce its size when not in use. Both focus breathing and focus shift when zooming are minimized and the lens has a sufficiently flat front element to accommodate standard 82mm filters. In my test the lens earned a Recommended and it is my go-to lens when I'm shooting ultra-wide. The question is: If you need to cover ultra-wide angles do you prefer flexibility in focal length or 2.3 EV more light gathering power? With regard to resolving power the zoom lens lens is pretty close to the 20mm prime. So I'd consider it a draw: The zoom is by far the more versatile lens and produces very good results, but when you know that 20mm is the right focal length for the occasion, the Nikon Z 20mm f1.8 S is the better choice.
For more details see my Nikon Z 14-30mm f4.0 S review.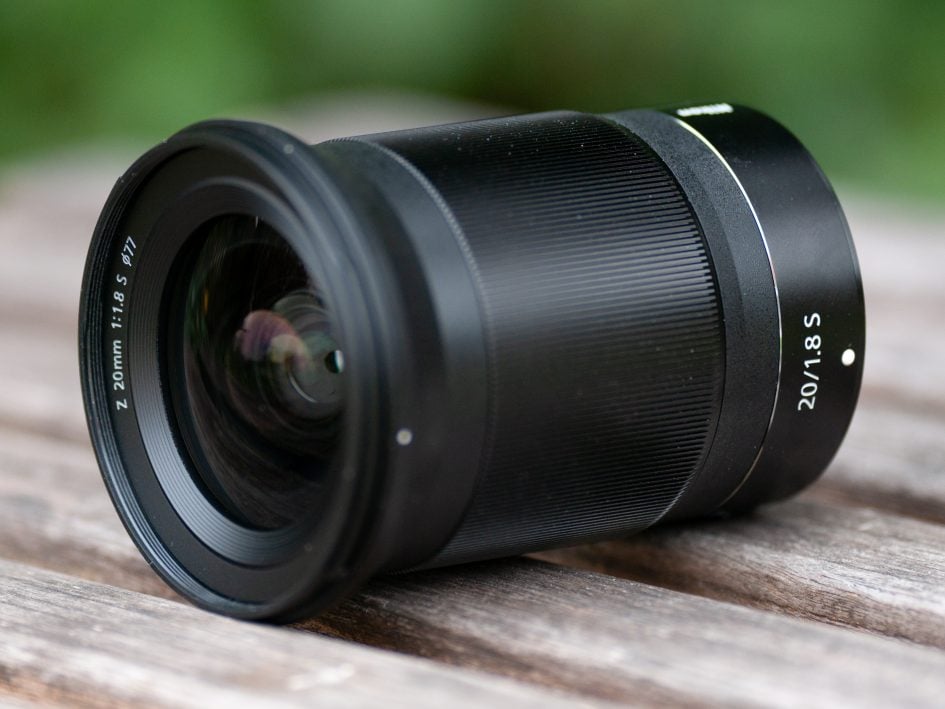 Nikon Z 20mm f1.8 S final verdict
The Nikon Z 20mm f1.8 S is a unique proposition for owners of Nikon's full-frame mirrorless cameras: It is the widest large aperture lens with autofocus designed specifically for the short flange distance of the Nikon Z system. All alternatives are older DSLR designs which can be used via FTZ adapter but do not produce the same image quality. It may be the largest f1.8 Z Nikkor so far but its size and weight are still acceptable, its performance inside the APS-C image-circle is very good even at very short shooting distances and it focuses very fast and reliably. The lens renders very contrasty images and lets you shoot confidently under adverse contra-light situations which is a boon especially with the very wide angle of view. But it's a bit soft in the FX corners especially at longer distances like landscape shots and longitudinal CAs occasionally rear their ugly head. Sony's FE 20mm f1.8 GM is proof that a modern lens design can be smaller and produce better corner sharpness and less loCA. This makes the Z Nikkor miss out on our top award but the Nikon Z 20mm f1.8 S still deservedly earns a recommendation.
Good points:
Very high resolution in the DX image-circle.
Very high contrast and resistance against flare, glare, and ghosting.
Minimal distortions (through lens profile).
Relatively nice Bokeh for a 20mm f1.8 lens.
Extensive weather sealing plus fluorine coating against moist and dust.
Very fast and reliable AF operation.
Multi-function ring assignable to manual focus, aperture or exposure compensation.
Bad points:
Longitudinal colour aberrations and magenta haloing.
FX-corner could be sharper.
Relatively large lens.
Flimsy lens pouch.
Check prices on the Nikon Z 20mm f1.8 S at B&H, Adorama or WEX. Alternatively get yourself a copy of my In Camera book or treat me to a coffee! Thanks!