Nikon Z 14-30mm f4 S review - Verdict
Verdict
The Nikon Z 14-30mm f4.0 S is a compact ultra-wide angle zoom designed for Nikon's full-frame Z-series mirrorless cameras. Like the standard f4.0 Z zoom, the Z 14-30mm f4.0 S employs a retracting mechanism to reduce its size when not in use and also features weather-sealing. There's a customizable control ring, the focusing is very quick and quiet, while both focus breathing and focus shift when zooming are minimized. Nikon also claims it's the first ultra-wide zoom for full-frame bodies with a sufficiently flat front element to accommodate 82mm filters – eliminating the usual need to large and expensive filter systems whether you're shooting long exposures or attempting motion-friendly shutter speeds for video. Its optical performance is very good (with a few exceptions) and its resistance against flare and glare let's you shoot with confidence even in strong contra-light situations.
What's not to like? Well, the price is on the high side but fair for an ultra-wide zoom lens. The thing that bothers me most is the sample variations I experienced with two copies of the lens and a drop in acuity at the DX-corner at 24mm and 30mm which was not to be expected from the MTF-charts. That together with more misses from the autofocus than I'm use to see did erode my trust in this lens a bit. Oh, and the basic lens pouch is a disappointment (again).
Let's have a closer look at how the new lens compares to the Tamron 15-30mm f2.8 VC.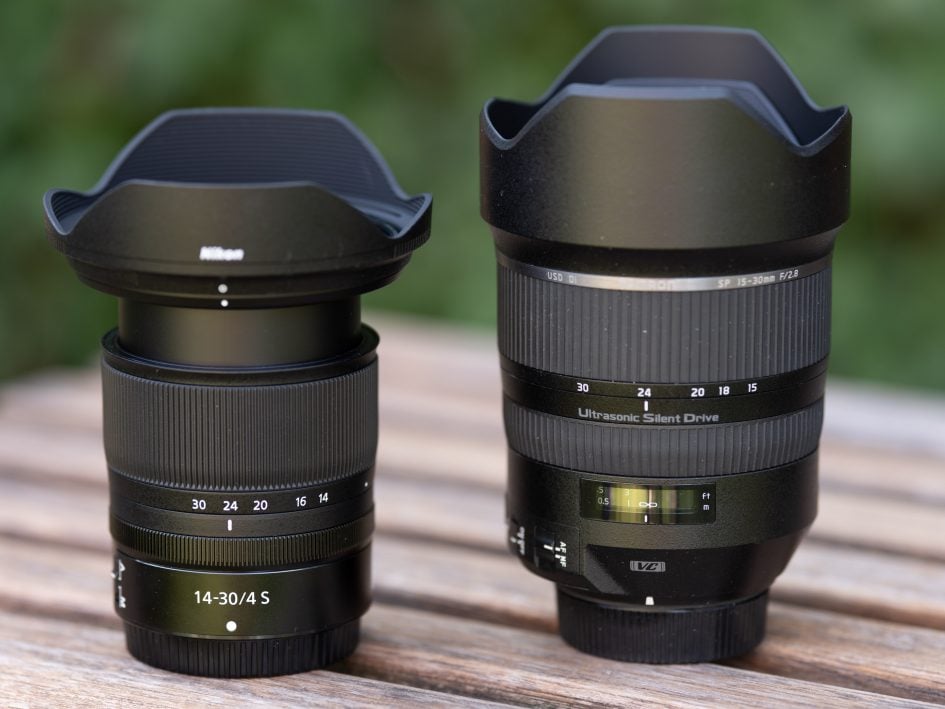 Compared to Tamron 15-30mm f2.8 VC
The Tamron SP 15-30mm f2.8 Di VC USD is my reference ultra-wide angle zoom lens and can be used via Nikon's FTZ adapter on a Z body without fault. When it came out in 2015 it surpassed the venerable Nikon 14-24mm f2.8G ED in optical performance (not to mention size and weight). It came Highly Recommended in my review offering very good optical performance and image stabilization that yielded around 3 stops of hand-holding power. The Tamron is still hard to beat when it comes to sharpness across a full-frame sensor right into the FX-corner. Optically Nikon's new Z 14-30mm f4.0 S sometimes surpasses the Tamron but sometimes trails behind. What the Z-Nikkor lacks is the f2.8 focal ratio but for that it is 600g lighter (not counting the FTZ adapter) and much smaller than the Tamron and it goes down to 14mm focal length which yields a visibly wider field of view than Tamron's 15mm. It also allows 82mm filters at its front-end whereas the Tamron needs a non-standard mounting system and probably a new set of filters. The missing optical image stabilization of the Z-Nikkor is compensated for by the sensor-based stabilization of Nikon's Z bodies. Still: If you need the f2.8 focal ratio for more light gathering power and better isolation and are willing to carry the bulk and weight that comes with it it's hard to beat the Tamron 15-30mm f2.8 VC.
For more details see my Tamron SP 15-30mm f2.8 VC review.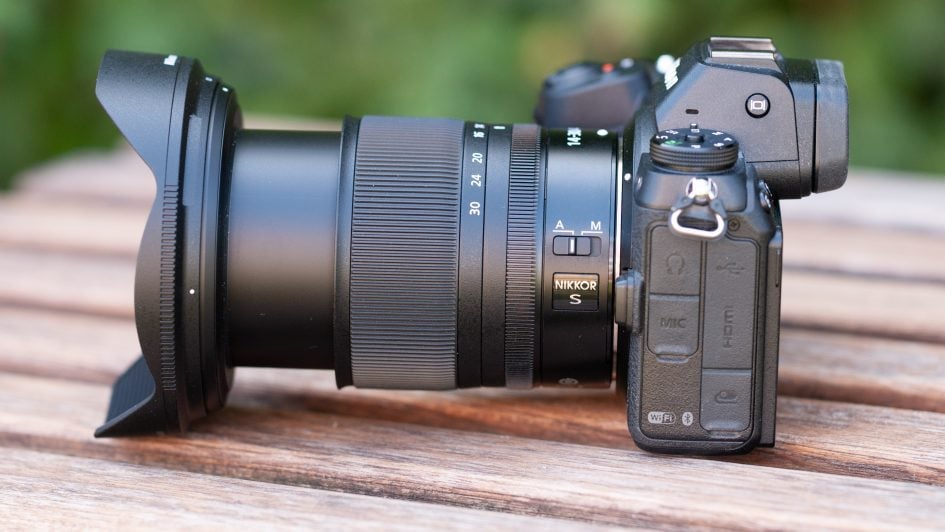 Nikon Z 14-30mm f4.0 S final verdict
The Nikon Z 14-30mm f4.0 S is a nice addition to Nikon's Z line-up so far. It delivers ultra-wide angle views and still reaches up to 30mm focal length which makes it a very versatile zoom lens. Plus it comes in a small and light package and is able to take 82mm filters which is a unique feature. Its resolving power is close to my reference lens in this class, the Tamron 15-30mm f2.8 VC, and it retains very high contrast even in contra-light situations. But there are some weaknesses too: The FX-corner at the short end is a bit soft and the DX-corner at the long end suffers from reduced acuity at high contrast edges. The latter may be a problem with the two copies of the lens I tested both of which showed varying degrees of decentering. Until Nikon gets a grip on these sample variations the observed weaknesses prevent the lens from getting the top rating. But the Z 14-30mm f4.0 S certainly deserves a Recommended!
Good points:
Small and light.
Good to very good resolution.
Takes 82mm filters.
No longitudinal color aberrations.
Very good resistance against flare, glare, and ghosting.
Low vignetting and minimal distortions (through lens profile).
Extensive weather sealing plus fluorine coating against moist and dust.
Very fast AF operation.
Very little focus breathing and focus shift while zooming.
Multi-function ring assignable to manual focus, aperture or exposure compensation.
Bad points:
'Only' f4.0 focal ratio and limited Bokeh.
FX-corner at 14mm a bit soft.
Both of my copies showed varying degrees of decentering.
On both of my copies: DX-corner at 24mm and 30mm less sharp than MTF chart suggests
On my 2nd copy: More focus misses than I had with other Z lenses.
Flimsy lens pouch.
Check prices on the Nikon Z 14-30mm f4 S at B&H, Adorama, or Wex. Alternatively get yourself a copy of my In Camera book or treat me to a coffee! Thanks!