Nikon Z 14-30mm f4 S review
Intro
The Nikon Z 14-30mm f4 S is an ultra-wide angle zoom designed for Nikon's full-frame Z-series mirrorless cameras. Previewed in the original roadmap but officially announced in January 2019, it becomes the fourth Z-mount lens, following the Z 24-70mm f4 S, Z 35mm f1.8 S and Z 50mm f1.8 S, and crucially bringing much wider coverage to the system with a native lens.
Like the Z 24-70mm f4 S, the Z 14-30mm f4 S employs a retracting mechanism to reduce its size when not in use, but features extensive weather-sealing against the elements. The lens itself is very compact for a full-frame ultra-wide, measuring 89mm in diameter, 85mm in length when retracted, and weighing just 479g. There's a customizable control ring, and Nikon claims focus breathing and focus shift when zooming are minimized – good news for video shooters if confirmed. Nikon also claims it's the first ultra-wide zoom for full-frame bodies with a sufficiently flat front element to accommodate 82mm filters – eliminating the usual need to large and expensive filter systems whether you're shooting long exposures or attempting motion-friendly shutter speeds for video.
The Nikon Z 14-30mm f4 S is a very welcome addition to the Z system, greatly expanding the coverage with native lenses. To find out whether the new Nikon Z 14-30mm f4.0 S rightfully carries the "S" moniker I tested it on the 46MP Z7 body against Tamron's 15-30mm f2.8 VC which is my current reference ultra-wide angle zoom lens shot on the 46MP D850. So if you like to know how Nikon's brand new ultra-wide angle zoom performs, you've come to the right place! Note: My first copy of the lens was pretty decentered and produced sub-par results around the lower left DX-corner, so I sourced a second copy for additional testing, the results for which you can find in my updated quality page. PS – if you're interested in the other Z lenses in Nikon's line-up check out our in-depth reviews: Nikon Z 24-70mm f2.8 S review / Nikon Z 24-70mm f4 S review / Nikon Z 35mm f1.8 S review / Nikon Z 50mm f1.8 S review / Nikon Z 85mm f1.8 S review..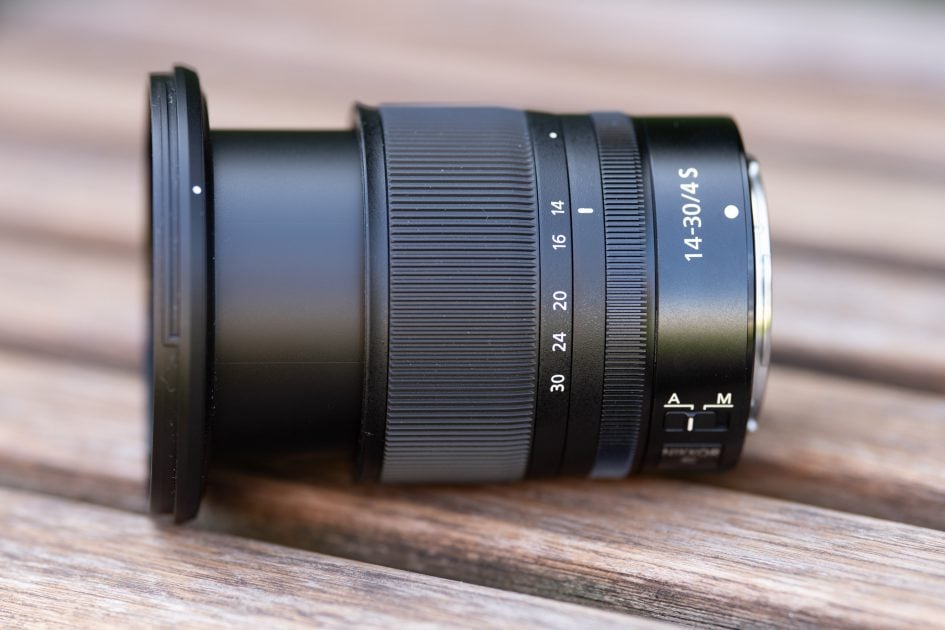 Facts from the catalog
As usual I'll have a look at the technical data of the new Nikon Z 14-30mm f4.0 S first. I've rated the features with a [+] (or [++]), when it's better than average or even state of the art, a [0] if it's standard or just average, and [-] if there's a disadvantage. For comparison I use the Nikon Z 24-70mm f4.0 S and the Tamron 15-30mm f2.8 VC ("Tamron" for short).
Size (diameter x length): 89 x 85mm (3.5 x 3.3in.) plus 25mm for the lens hood which is 105mm in diameter. The short length of 85mm is reached only in its collapsed state which shaves 29mm off the maximum operating length of 114mm at 14mm focal length. This brings the lens up to a maximum total length of 139mm (5.5in.) with lens hood attached. The Z 24-70mm f4.0 S is 78 x 88mm  in its collapsed state. Zooming out to 70mm and adding the lens hood makes a total length of 179mm (7.0in.). The Tamron is huge at 98 x 143 mm (3.9 x 5.6in.) independent of focal length. For an apples-to-apples comparison add another 30.5mm for the FTZ adapter when using the Tamron on a Nikon Z body.[+]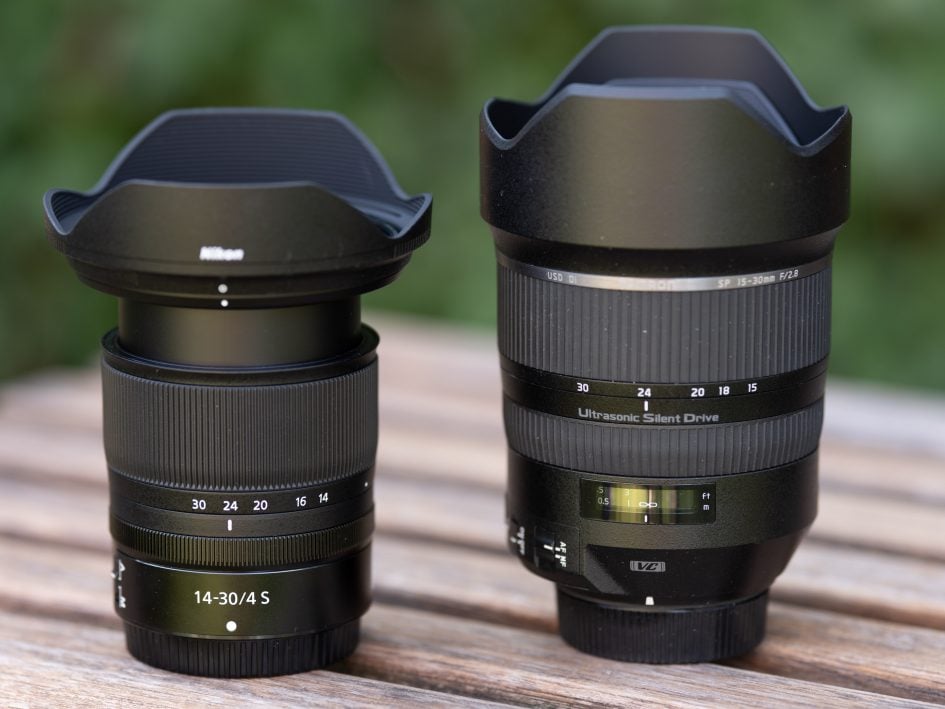 Weight: 479g (16.9 oz.) plus 18g for the lens hood. This is as light as the Z 24-70mm f4.0 S at 497g (plus 28g for the lens hood). The Tamron is a whopping 1100 g (39 oz.) plus another 133g for the FTZ adapter to use it on a Nikon Z body. [+]
Optics: The lens has 14 elements (including 4 special dispersion elements and 4 aspherical element) in 12 groups. The Z 24-70mm f4.0 S has 14 elements in 11 groups vs. 18/13 for the Tamron. Both Z Nikkors use Nikon's Nano-coating to reduce flare, glare and ghosting plus fluorine coating on the front and back to repel water, dust, and dirt and should make for easier cleaning. [+]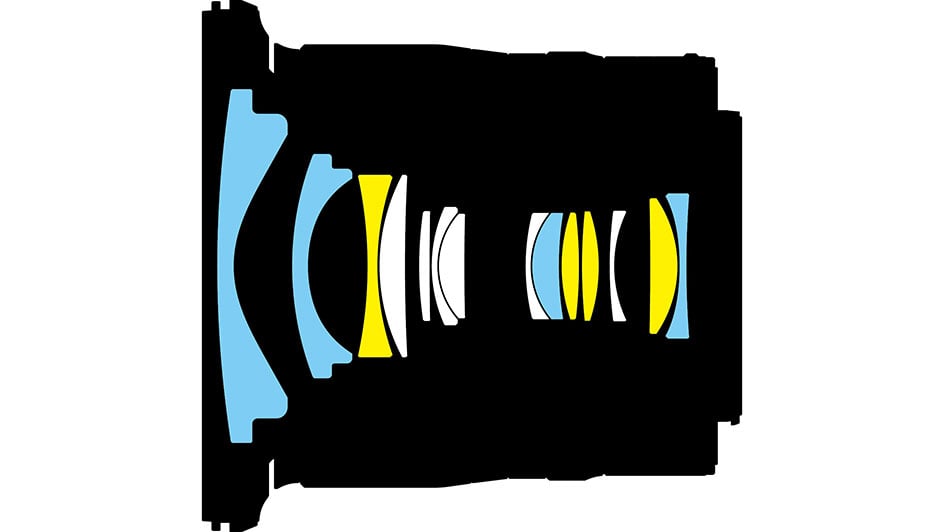 Closest focus distance is 0.25m (10in.) with a magnification of 1:5.1. The Z 24-70mm f4.0 S goes down to 0.30m (12in.) achieving a better magnification of 1:3.1 at 70mm focal length. The Tamron achieves a magnification of 1:5 at 0.28m. [0]
Filter-thread: 82mm. This is the widest full-frame lens that can use standard filters. The Z 24-70mm f4.0 S uses cheaper 72mm filters, while the Tamron has no filter-thread but needs some non-standard mounting system and a probably a new set of filters. [+]
Image stabilization: The lens offers no optical stabilization just like all Nikon Z lenses so far. But the Nikon Z bodies provide built-in sensor-shift stabilization over 5 axis – plus an optional electronic stabilization option in video mode. The Tamron has optical image stabilization built in (pitch and yaw) which can be used together with the body-based image stabilization of a Nikon Z body. But in this case the body provides only roll correction, not the full 5 axis. [0]
Auto focus: Yes with built-in AF drive just like the Z 24-70mm f4.0 S. Manual-focus override is by simply turning the focus ring – if you didn't assign another operation to this multi-function ring. The focus ring has a variable gearing that allows for very precise manual focus when turned slowly. Unfortunately this feature cannot be switched to linear gearing which makes smooth focus pulling for videographers almost impossible. Focus on the Tamron works differently as it has a direct linear mechanical coupling between the focus ring and the focus action. It also offers the distance markings that normally come with lenses designed for DSLRs and the focus ring does only that: focusing. [+]
Lens profile: The lens comes with a lens profile which can be partially controlled from the camera. Vignette control offers the usual options of High, Normal, Low and Off. Diffraction compensation can be activated or deactivated while Auto distortion control cannot be deactivated. While Adobe's RAW converter ignores these settings and treats them as if they are set to Normal/On Nikon's Capture NX-D allows to change the settings when developing RAWs – except for Auto distortion control. It's the same with the Z 24-70mm f4.0 S. The Tamron does not come with a lens profile but Lightroom and Photoshop provide one with vignette and distortion control. [+]
Covers full frame/FX or smaller. Same with the alternatives. [+]
Price: 1450 EUR (incl. 19% VAT) / 1300 USD. The Tamron goes for 1250 EUR / 1300 USD. [0]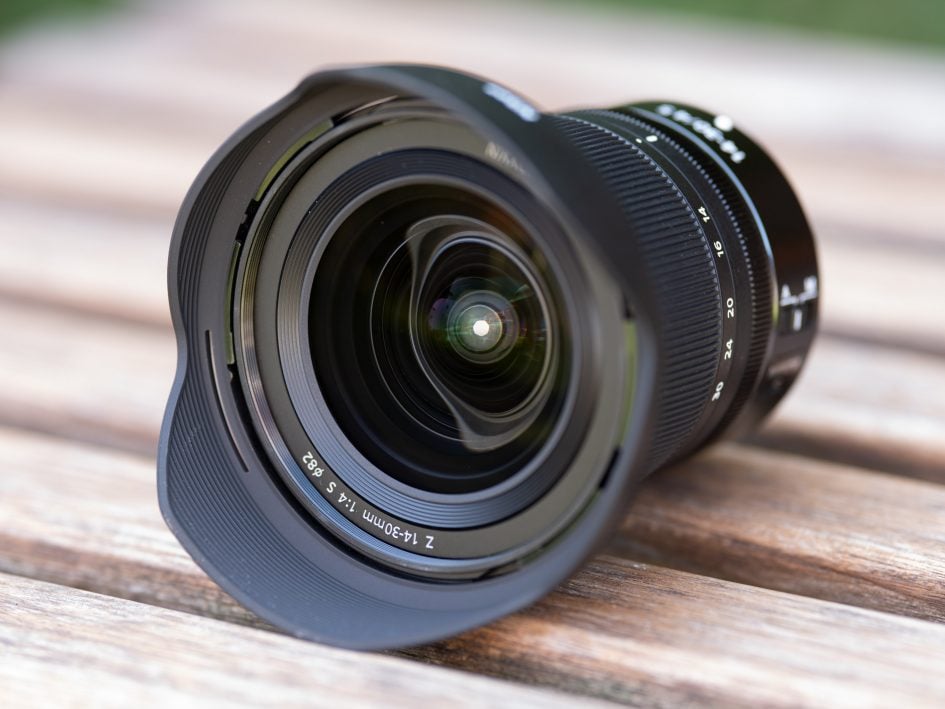 The lens comes with a flimsy pouch like all Nikon Z lenses so far and the lens hood is included, reversible for transport. Btw.: The lens hood of the Z 24-70mm f2.8 S also fits on the 14-30mm. So be careful which lens hood you grab from your camera bag! The Tamron offers no pouch at all. [0]
Aperture ring: the multi-function control ring of an S-lens can be assigned to operate the aperture, exposure compensation or focus. It automatically falls back to its customary focus control when the lens is switched to manual focus. Although the lens control ring has not the same benefit as having a focus ring plus a dedicated aperture ring on the lens it gives you more flexibility to control one of the more important shooting parameters directly from a nice ring on the lens. The aperture is actuated electromagnetically – unlike the Tamron – which makes it the equivalent of an E-type Nikon lens and puts away with the mechanical coupling that Nikon uses on all older lenses. The Tamron has no aperture control ring. [+]
Sealing: yes, a rubber grommet at the lens-mount plus further special weather-sealing throughout the construction, just like the 24-70/4.0 S. The Tamron has a rubber grommet at the lens-mount. [+]
The score in the "features-department" is 0[-]/4[0]/9[+]. So the lens has a pretty good feature set – if you accept its focal ratio of f4.0. But that certainly is the enabler to make the lens much smaller and lighter than the alternatives plus makes it the only ultra-wide full-frame zoom starting at 14mm which can use standard filters. It also offers the nifty feature of the multi-purpose control ring and is sealed against the weather like Nikon's lenses for professional use.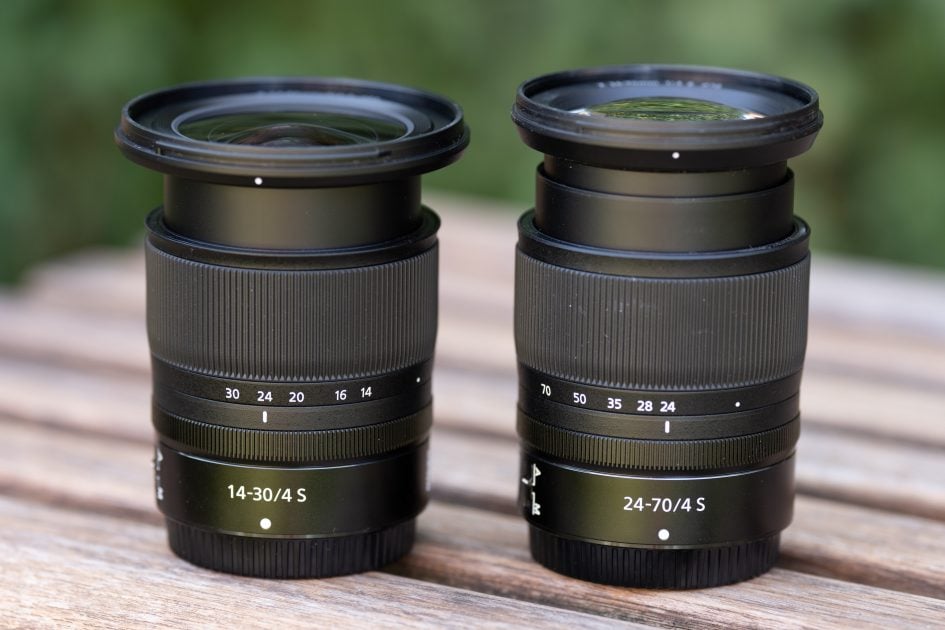 Alternatives
No other manufacturer offers an ultra-wide angle zoom (or fixed focal) lens for Nikon mirrorless Z bodies yet. So currently all alternatives need to be mounted via Nikon's FTZ adapter, adding 30.5mm in length and 133g in weight:
Here is the angle of view that the new Nikon Z 14-30mm f4.0 S covers with its 2.1x zoom:

In comparison the Tamron 15-30mm f2.8 VC crops visibly tighter at the wide end with 15mm focal length (and lens profile applied). And it does not quite reach the magnification of the new Z-Nikkor at 30mm – albeit by a small margin:

Focus and zoom
Focus accuracy and repeatability is critical to consistently produce sharp shots. Repeatability (the accuracy of focus on the same subject after repeated focus-acquisition) of this lens at 30mm focal length is very good (measured 98.5% in Reikan FoCal) with no outliers over a series of 40 shots. In practical shooting under bright daylight conditions though there were a number of shots that were not focused correctly – something I had not encountered before with a Z Nikkor. The lab test revealed no focus variation whether the lens came from a closer distance or from infinity and I didn't detect any hunting. At 30mm focal length the lens focuses extremely fast in around 0.2 sec from infinity to 0.26m (1:10 magnification). The Tamron is no slouch either taking 0.3 sec on a D850.
The zoom ring turns through 55 degrees the way Nikon users are used to and has a 29mm wide rubber surface with a good grip. On my second copy of the lens the zoom turns smoothly enough to be operated with one finger but still shows no zoom creep. The lens control ring is like with all Nikon Z zoom lenses so far: 8mm wide, located 20mm in front of the flange, and moves super smooth. So the new ultra-wide angle zoom operates just like the Z 24-70mm f4.0 S including the need to extend the lens from its retracted state before shooting. You will feel immediately at home with the only difference being that the 24-70mm is a double barrel design while the new 14-30mm only needs a single barrel for zoom extension.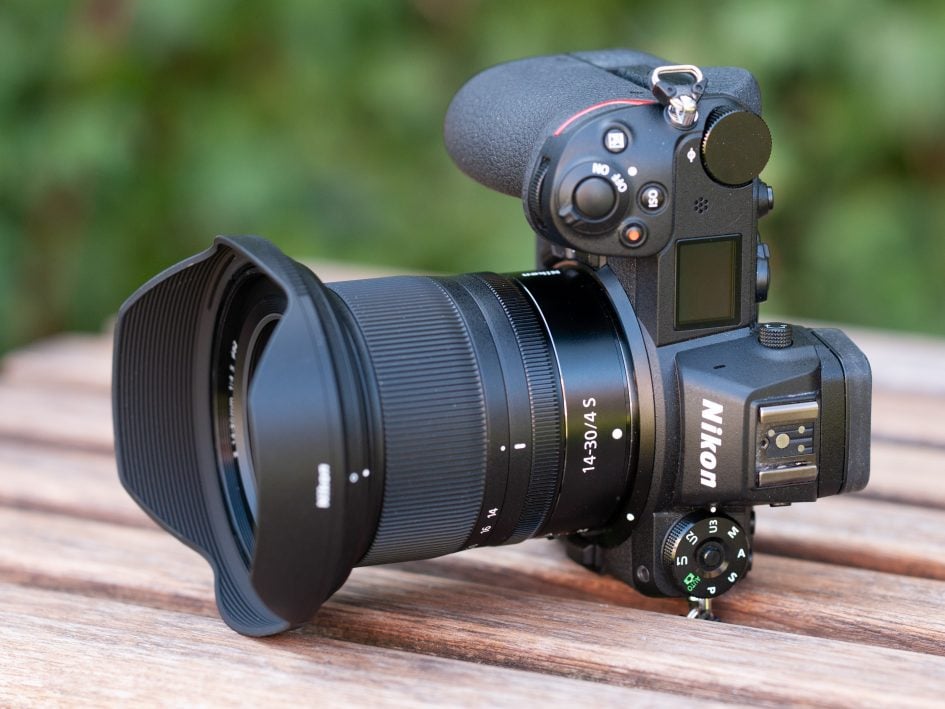 AF-operation of the new lens and image stabilization of the Z7 is inaudible from the outside. If you record video with the built-in microphone the AF-drive produces only a very slight noise like the Z 24-70mm f4.0 S. Plus you can control the aperture smoothly and without noise from the control ring on the lens.  With the Tamron 15-30mm f2.8 VC the recorded noise is much louder.
As you pull focus, you'll notice some focus breathing: the image becomes a little more magnified at closer focusing distances. When I adjusted focus from infinity to 0.26m on the new Z-Nikkor at 30mm focal length, I measured a 1% increase in magnification. The same test at 14mm focal length produced a 0.3% decrease. This is even less than from the Z 24-70mm f4.0 S and should satisfy videographers. The Tamron shows a 2% decrease in magnification at 30mm focal length and 3% at 15mm focal length, also a very respectable result.
I also tested whether Nikon's newest zoom lens allows you to change the focal length without altering its focus. This characteristic is called parfocal. I manually focused the lens at 30mm and then slowly zoomed back checking focus on the way. The Z 14-30mm f4.0 S did keep its focus, but not quite perfect: the lens became gradually less sharp and then suddenly snapped back into perfect focus. See the following 100% crop shot at a focal length of 28mm after focusing at 30mm (left) compared to a shot which was perfectly focused at 28mm (right):

Obviously this zoom lens is not optically designed to be parfocal but Nikon implemented a control curve to compensate for the effects of zooming on focus. The implementation of this perfectly valid idea might be good enough for videographers filming at lower resolutions. But for shooting high resolution photos the old rule still applies: When you change focal length (even a tiny bit), re-focus! Btw.: The Z 24-70mm f4.0 S and Z 24-70mm f2.8 S work the same way.

Next check out my quality results!

Check prices on the Nikon Z 14-30mm f4 S at B&H, Adorama, or Wex. Alternatively get yourself a copy of my In Camera book or treat me to a coffee! Thanks!