Nikon Z 14-24mm f2.8 S review
Verdict
The Nikon Z 14-24mm f2.8 S is a well-designed ultra-wide-angle zoom lens complementing Nikon's Z 24-70mm f2.8 S and Z 70-200mm f2.8 VR S to form the trinity of professional zoom lenses with constant f2.8 aperture for Nikon's Z system. The new lens offers a one stop faster focal ratio than the Z 14-30mm f4.0 S and is aimed at professional photographers – with a price to match. As such it is the heir to Nikon's professional AF-S 14-24mm f2.8G (which can also be used on a Z body via the FTZ adapter).
It performed very well in all of my tests regarding contrast, resolution, focus speed and reliability, colour aberrations, and coma, producing very good image quality on a demanding 45MP Z7 body. It is also equipped with a useful OLED display, a dedicated focus ring (in addition to the multi-function ring), and customizable function buttons. Plus the lens is weather-sealed including a fluorine coating against moisture and dust on the front element and comes with a lockable lens hood. And autofocus is extremely fast and reliable.
What's not to like? Well, one might be disappointed the new lens does not go wider than its F-mount predecessor. Sony sets the expectation here with its 12-24mm f2.8 GM zoom. But that would have probably conflicted with Nikon's design goal for the lens to accommodate standard filters – although I would hardly call 112mm filters "standard". The only other fault I can find is a bit of harshness to the Bokeh – and that the price is on the high side. But it's still comparable to the professional zoom from Canon and even cheaper than the Sony.
Let's have a closer look at how the new Z-Nikkor zoom lens compares to its F-mount sibling.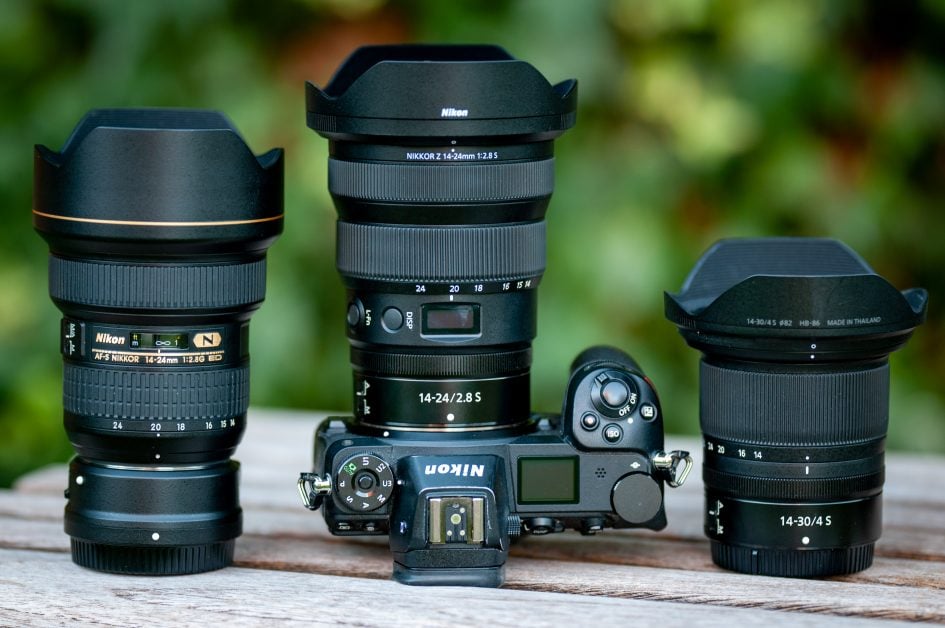 Compared to Nikon AF-S 14-24mm f2.8G
When I re-tested the Nikon AF-S 14-24mm f2.8G in 2013 – six years after its introduction – on a 36MP D800 it became clear why the lens became an "instant classic" when it came on the market. Here's what I concluded back then: "If you want or need an ultra-wide-angle zoom for your FX-body that delivers the highest performance with a professional build and a constant f2.8 aperture there's only one choice: The Nikon AF-S 14-24mm f2.8G! Good points: Good to excellent quality across the FX image-circle; weather sealing; quiet and fast AF operation; sturdy build quality."
Comparing the old F-Nikkor with Nikon's new Z 14-24mm f2.8 S shows that optical design has advanced even further in the last 7 years: The Z-Nikkor is better in almost every aspect than the F-Nikkor: higher resolution across the sensor at all focal lengths, much higher contrast in contra-light situations with less flare and glare, faster focusing, parfocal zoom, 500g less weight, the ability to use standard or gel filters, and a clever multi-function ring plus display. The only advantage of the AF-S 14-24mm f2.8G is a softer Bokeh around the transition zone behind the plane of sharpest focus where the new Z-Nikkor can show some harsh double contours. And the price which has now dropped to almost half of what the new lens costs.
If you already have the AF-S 14-24mm f2.8G in your collection, you can continue using it via FTZ adapter with very good results. But the Z 14-24mm f2.8 S is a better match for your Nikon Z camera.
For more details see my Nikon 14-24mm f2.8G review.

Compared to Nikon Z 14-30mm f4.0 S
The Nikon Z 14-30mm f4.0 S put up a good fight when compared to the Z 14-24mm f2.8 S: In some instances it is even sharper than the new professional lens. The Z 14-30mm f4.0 S may lack the brighter f2.8 focal ratio but it goes up to 30mm focal length giving it 25% more reach over the new Z-Nikkor. It also accommodates 82mm filters – which are much cheaper than 112mm filters and you don't need to juggle with two different lens hoods or gel filters. It's also much shorter in its collapsed state and a bit lighter too. Add to that a price that is only half of the new lens and you can see why the Z 14-30mm f4.0 S is still a highly recommended alternative for those seeking ultrawide coverage on their Z camera body.
For more details see my Nikon Z 14-30mm f4 S review.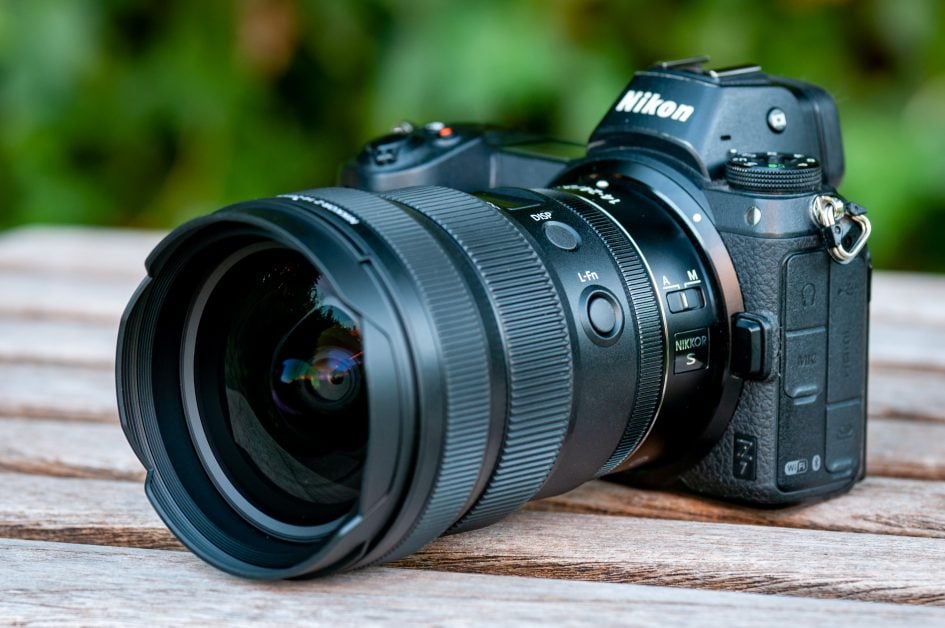 Nikon Z 14-24mm f2.8 S final verdict
The Nikon Z 14-24mm f2.8 S clearly is the rightful successor to the legendary Nikon AF-S 14-24mm f2.8G as it is optically better in every aspect than the F-Nikkor except for Bokeh. And with 450g less weight to carry around and a set of nifty features Nikon has managed to create another worthy member for their trinity of professional f2.8 zoom lenses: Highly Recommended!
Good points:
Very good resolution and contrast in the DX image-circle.
Almost no longitudinal colour aberrations or coma.
Excellent resistance against flare, glare, and ghosting.
Low vignetting and minimal distortions (through lens profile).
Constant f2.8 focal ratio.
Extensive weather sealing plus fluorine coating against moist and dust.
Extremely fast and reliable AF operation.
Very little focus breathing.
Zooming does not change focus.
OLED display and customizable function button.
Multi-function ring for aperture or exposure compensation plus dedicated focus-ring.
Can use gel filters.
Bad points:
Bokeh could be softer.
Needs large 112mm filters.
High price.
Flimsy lens pouch.
Check prices on the Nikon Z 14-24mm f2.8 S at B&H, Adorama or WEX! Alternatively get yourself a copy of my In Camera book or treat me to a coffee! Thanks!