Nikon Z 100-400mm f4.5-5.6 review
Verdict
The Nikon Z 100-400mm f4.5-5.6 VR S is a long telephoto zoom lens which finally allows full-frame Nikon Z cameras to reach beyond 200mm without relying on older F-mount lenses. Using Nikon's Z teleconverters you can even extend the reach of the lens to 560mm or 800mm. In my tests it turned out to be an excellent all-round performer: contrast and resolution across the full zoom range and the full frame, focus speed and reliability are all on a very high level with colour aberrations, coma, field curvature, and focus-breathing absent or at least very well controlled. And its optical image stabilization working together with the IBIS of any full-frame Z camera body proved to be very effective giving the lens a 5 stop boost in handhold-ability – which is a boon when shooting focal lengths beyond 200mm. It is also equipped with a useful OLED display, a dedicated focus ring (in addition to the multi-function ring), and customizable function buttons. Plus the lens is weather-sealed including a fluorine coating against moisture and dust on the front element and comes with a lockable lens hood. A bonus is the ability to reach 1:2.5 magnification with a very useful working distance – albeit this is better be used with the lens stopped down to f8.0 or further. And the very stable detachable tripod foot which is identical to the foot of the Z 70-200mm f2.8 VR S and compatible to third party solutions.
What's not to like – apart from the flimsy lens pouch? Well, optically I have only three small issues: Dampening of flare and glare could be better plus the lens is not perfectly parfocal and shows a bit of focus shift when stopping down. So it's always better to re-focus after changing focal length or aperture. Regarding features: I'd love Nikon to make their tripod foots Arca Swiss compatible. And finally there's the price: Especially in Europe the recommended retail price of 3000 EUR (including VAT) seems a bit on the high side with street prices of the (older) Sony FE, Canon EF, and Nikon F-mount versions being between 2000 and 2300 EUR.
Let's put this into perspective and have a closer look at how the Nikon Z 100-400mm f4.5-5.6 VR S compares to its F-mount predecessor, the Nikon AF-S 80-400mm f4.5-5.6G ED VR, and the alternative of using the Nikon Z 70-200mm f2.8 VR S with Nikon Z TC-2.0x which makes it a 140-400mm f5.6 zoom lens.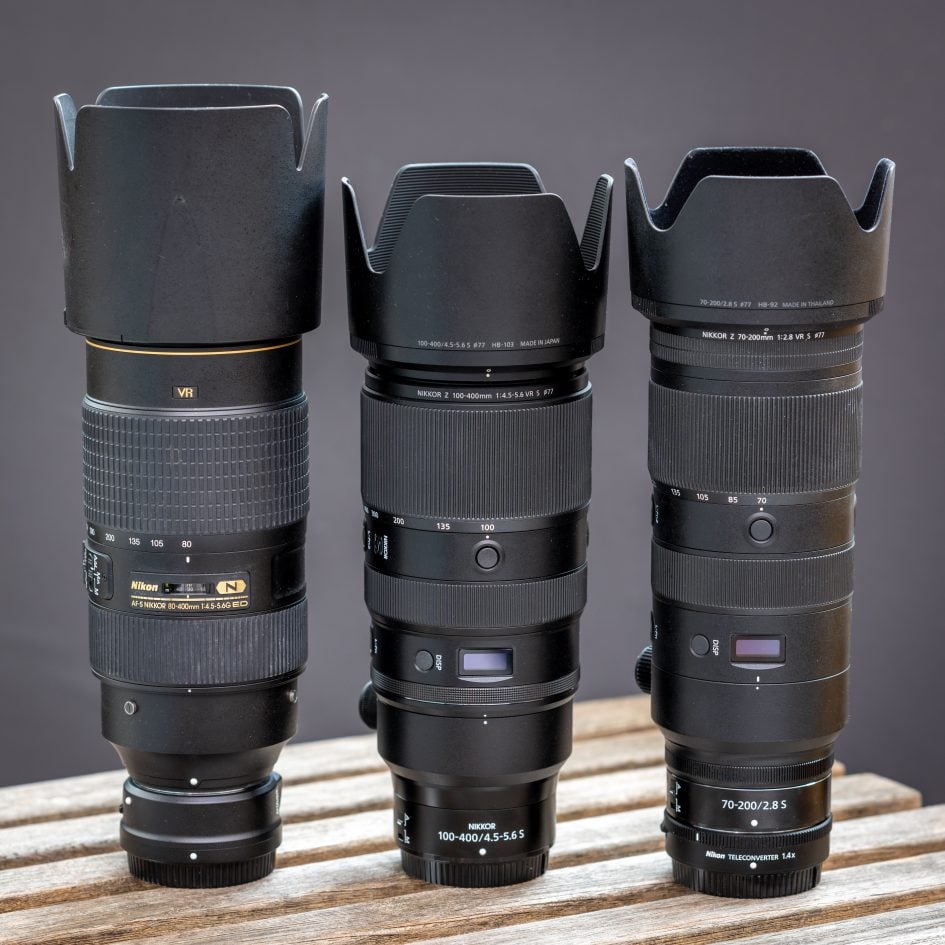 Compared to Nikon AF-S 80-400mm f4.5-5.6G ED VR
In 2013 the AF-S Nikkor set a new benchmark for long telephoto zoom lenses. Its good points then were "excellent image quality across a 36Mp full-frame sensor even wide open; excellent image stabilization; weather sealing; quiet, fast, and precise AF operation; maximum magnification of 1:5.1; relatively light weight". As bad points I only listed the flimsy tripod collar and the high price. Comparing its optical performance with Nikon's latest Z 100-400mm zoom lens shows why the F-Nikkor rightly had earned high praise. Sure, the Z 100-400mm f4.5-5.6 VR S is better optically especially outside the center and at long distances but the differences are not huge. And then there is the issue of the missing 20mm at the short end: Pairing the Z 100-400 with a 24-70mm lens leaves a gap of 30mm while the gap is only 10mm between a 24-70mm and the F-Nikkor. So if you already own the AF-S 80-400mm f4.5-5.6G ED VR you can continue to use it via FTZ adapter on a mirrorless Nikon Z body with good results. But if you don't already own the legacy lens I'd rather recommend getting the new Z-Nikkor: It is optically superior, has much better image stabilization, a better tripod foot, plus all the bells and whistles of Nikon's professional Z lenses. And it is 300g lighter than the combination of F-Nikkor and FTZ adapter.
For more details see my Nikon AF-S 80-400mm f4.5-5.6G ED VR review where it earned a Highly Recommended in 2014.

Compared to Nikon Z 70-200mm f2.8 VR S plus teleconverter
The Nikon Z 70-200mm f2.8 VR S is an excellent lens and it works like a charm with Nikon's Z teleconverters: They magnify the image by 1.4x or 2.0x in exchange for a 1 or 2 stop slower focal ratio and translate all EXIF data plus retain every function of the mounted lens. If you already own the Z 70-200mm f2.8 VR S Nikon's teleconverters are much cheaper, smaller, and lighter than getting the Z 100-400mm f4.5-5.6 VR S plus they give the Z 70-200 a boost in close-up capabilities up to 1:2.4. Optically the results from using the Z TC-1.4x are very good but it only gives you a 98-280mm f4.0 lens. The TC-2.0x results in a 140-400mm f5.6 lens but is taxing the optical abilities of the Z 70-200mm f2.8 VR S: as you can see from the comparisons that combination does not deliver the same sharpness as the Z 100-400. And it starts only at 140mm – a serious disadvantage if you have no time to swap out the teleconverter. So if you already own the Nikon Z 70-200mm f2.8 VR S getting one or both teleconverters gives you added flexibility – and very satisfying optical results with the TC-1.4x. But if you want to reach 400mm focal length the Z 100-400mm f4.5-5.6 VR S simply gives you the better optical quality and the more flexible 4x zoom range – in a package that is 270g lighter than the combination of Z 70-200 and TC-2.0x.
For more details see my Nikon Z 70-200mm f2.8 VR S review where the lens came Highly Recommended and my Nikon Z TC-1.4x TC-2.0x teleconverter review.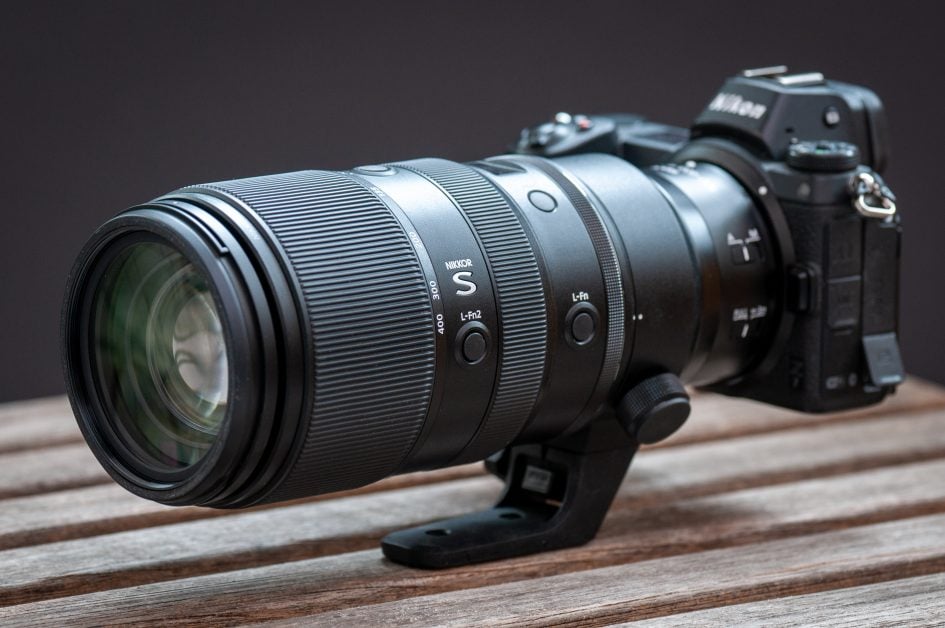 Nikon Z 100-400mm f4.5-5.6 VR S final verdict
Nikon's Z 100-400mm f4.5-5.6 VR S is a worthy successor to the venerable AF-S 80-400mm f4.5-5.6G ED VR which the new lens surpasses in almost every aspect. It produces very sharp images with almost no field-curvature or colour aberrations and can confidently be used wide open and with a 1.4x teleconverter. Its Bokeh is quite nice and the optical image stabilization of over 5 stops should prove helpful with the challenges of hand-holding a 400mm lens. It may lack the ability of its predecessor to zoom back to 80mm but all-in-all the Z 100-400mm f4.5-5.6 VR S certainly earns a Highly Recommended.
Good points:
Very good resolution and contrast at all focal lengths across the full frame.
Very effective optical image stabilization.
Very usable close-up performance at a good working distance from f8.0 onwards.
Almost no longitudinal colour aberrations or purple fringing.
Only little vignetting and no distortions – through lens-profile.
Very little field-curvature.
Fast and reliable AF operation and extremely low focus breathing.
Nice (although not great) Bokeh.
Weather sealing, multi function ring, OLED display, function buttons, focus limiter.
Bad points:
Not perfectly parfocal.
A bit of focus shift.
Dampening of flare and glare could be better.
Tripod foot is not Arca Swiss compatible.
Wide end starts at 100mm focal length, not 80mm.
High price.
Flimsy lens pouch.
Check prices on the Nikon Z 100-400mm f4.5-5.6 at B&H, Adorama, WEX UK or Calumet.de. Alternatively get yourself a copy of my In Camera book or treat me to a coffee! Thanks!