Nikon Z 100-400mm f4.5-5.6 preview
The Nikon Z 100-400mm f4.5-5.6 VR S is a long telephoto lens with a 4x zoom range. It is the first lens for Nikon's Z-mount mirrorless cameras reaching beyond 200mm focal length and only the second lens which can use Nikon's Z 1.4x and 2.0x teleconverters. It is corrected for full-frame cameras but can also be used on a cropped body like the Z fc or Z50 where it covers a field of view equivalent to 150-600m focal length. The new lens offers optical image stabilization, autofocus, focus limiter, removable tripod foot, additional function buttons, plus an OLED display to indicate aperture, focal length, or focusing distance and depth-of-field. It is the successor to Nikon's AF-S 80-400mm f4.5-5.6G ED VR which was introduced in 2013 and still can be used via FTZ adapter on Nikon's Z cameras.
The Nikon Z 100-400mm f4.5-5.6 VR S costs 2999 EUR / 2700 USD / 2699 GBP and should become available in December.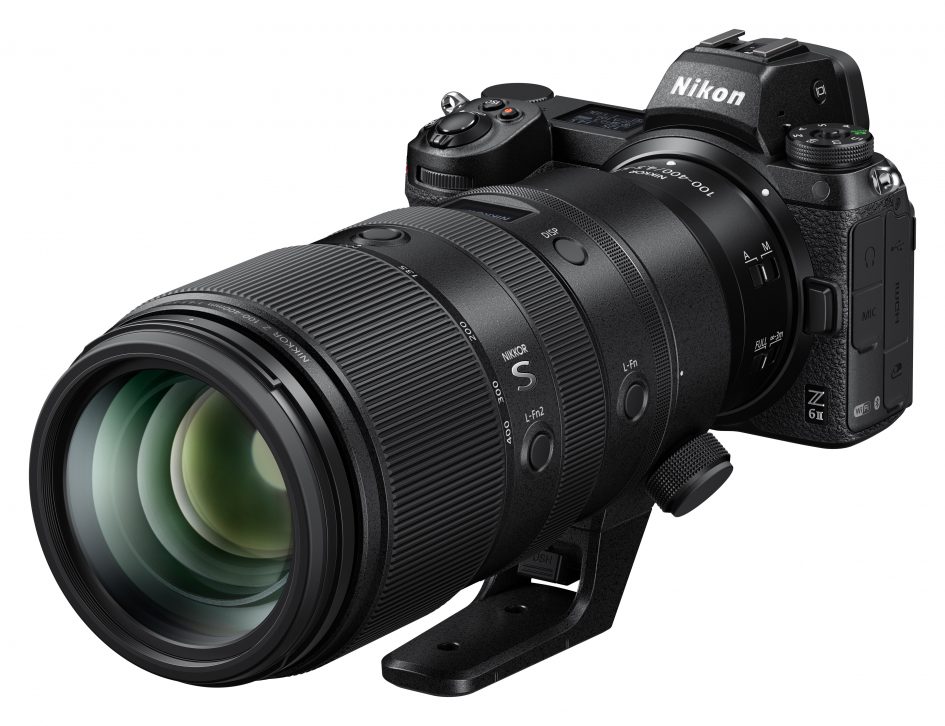 Facts and features
Let's compare the Nikon Z 100-400mm f4.5-5.6 VR S ("Z 100-400" for short) to the Nikon AF-S VR 80-400mm f4.5-5.6G ED VR ("F-Nikkor") and the Nikon Z 70-200mm f2.8 VR S ("Z 70-200"). The latter can be used with Nikon's 1.4x and 2x Z teleconverters to become a 98-280mm f4.0 or 140-400mm f5.6 zoom lens. As usual I've rated the features with a [+] (or [++]), when it's better than average or even state of the art, a [0] if it's standard or just average, and [-] if there's a disadvantage.
Size (diameter x length): 98 x 222mm (3.9 x 8.7in.). Add an estimated 60mm for the lens hood and 50mm when zoomed in to 400mm focal length. The F-Nikkor is 96 x 203 mm + 88mm lens hood + 57mm when zoom-in. Add 30mm for the FTZ adapter to use it on a Nikon Z camera and you end up with a total maximum length of 378mm. The Z 70-200 is 89 x 220mm + 56mm lens hood and does not extend when zoomed in. Add 19mm resp. 33mm for the TC-1.4x or TC-2.0x. [0]
Weight: 1355g (2.99 lb.). Add an estimated 70g for the plastic lens hood and 80g for the tripod foot. The F-Nikkor is 1470 g + 95g lens hood + 92g for the tripod ring. Add another 133g for the FTZ adapter to use it on a Nikon Z camera. The Z 70-200 is 1359g + 63g lens hood + 82g tripod foot. Add 220g for the TC-1.4x, 265g for the TC-2.0x. [0]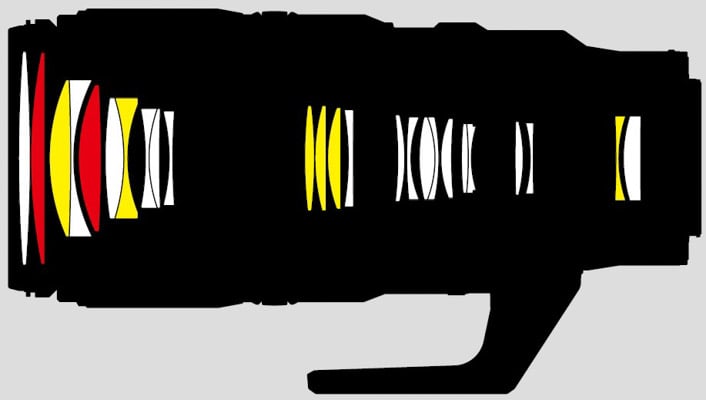 Optics: 25 elements in 20 groups including 8 special dispersion elements but no aspherical element. The lens has "ARNEO" anti-reflective coating in addition to Nikon's Nano-coating to reduce flare, glare and ghosting plus fluorine-coating on the front element to repel water, dust, and dirt and make cleaning easier. The F-Nikkor has 20 elements in 12 groups with no aspherical elements. The Z 70-200 has 21 elements in 18 groups including two aspherical elements and the TC-1.4x adds 6 elements, the TC-2.0x 8. [+]
Closest focus distance is 0.75m (2.5ft.) with a working distance of 0.51m (1.7ft.) at 100mm focal length. At 400mm focal length minimum focus distance is 0.98 (3.2ft.) which results in a working distance of 0.69m (2.3ft.) and a maximum magnification of 1:2.6 which is very good. Using teleconverters increases maximum magnification to 1:1.9 with the TC-1.4x or 1:1.3 with the TC-2.0x without changing the working distance. The other lenses in this comparison also achieve their maximum magnification at their longest focal length: This is 1:4.1 at 1.3m working distance for the F-Nikkor. The Z 70-200 achieves 1:4.6 at 0.72m working distance. Use it with a teleconverter and maximum magnification increases to 1:3.3 or 1:2.3. [+]
Image stabilization: All three Nikkors offer optical stabilization (VR) which works in conjunction with the body-based stabilization on Nikon's full-frame Z cameras to achieve a claimed 5.5 stops of stabilization over 5 axes for the Z 100-400 and Z 70-200. For the F-Nikkor the Z bodies only add roll correction to pitch and yaw correction from the lens's VR. [+]
Filter-thread: All three lenses in this comparison use 77mm filters. [+]
Autofocus: Yes with built-in AF drive. Manual-focus override is by simply turning the dedicated focus ring at the middle of the lens. The focus ring cannot be re-assigned another function nor can it be switched off. The focus ring probably has a variable gearing (like all AF Z-Nikkors so far) which allows for very precise manual focus when turned slowly but cannot be switched to linear gearing. Which makes smooth focus pulling for videographers almost impossible. On Nikon Z cameras introduced October 2020 or later you can reverse focus direction. Focus on the F-Nikkor works differently as it has a direct linear mechanical coupling between the focus ring and the focus action. [+]
Display: The Nikon Z 100-400mm f4.5-5.6 VR S features the same OLED display as the Z 70-200 indicating focal length, aperture, or focusing distance (in m or ft.) and depth-of-field. This display is hard to read under sunny conditions in its default setting but it can be made as bright as the top display on the Z7. You can switch through the different display types using the DISP-button. The F-Nikkor has no such display but sports the usual distance and dof indicators on the focus ring. [+]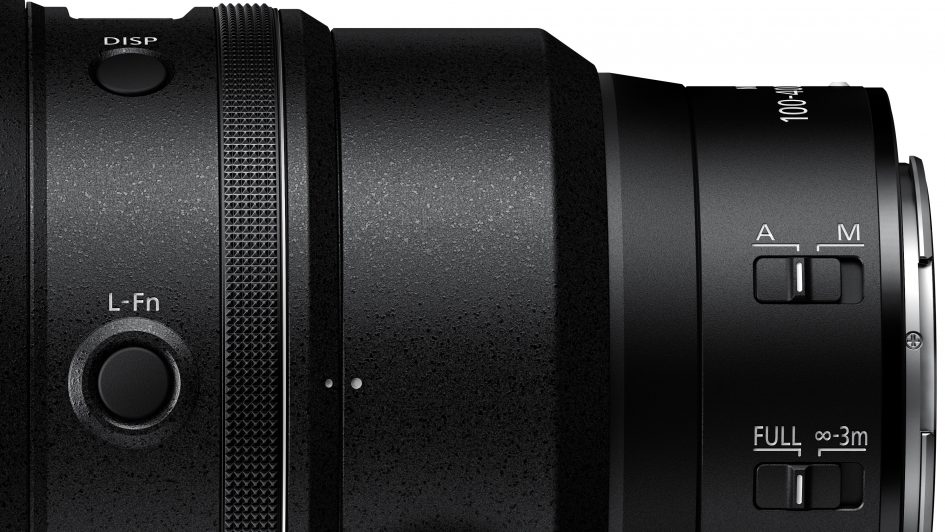 Additional functions: There are 4 function buttons directly behind the zoom ring one of them designated L-Fn2 plus an additional L-Fn button behind the focus ring on the lens which can be assigned different functions like AE/AF lock. That is the same as with the Z 70-200. The F-Nikkor has no such function buttons. All three lenses also sport a focus-limiter which in case of the Z 100-400 prevents the lens to search focus closer than 3m (10ft.). Interestingly the Z 100-400 does not sport a zoom lock and the marketing material claims the lens does not show zoom creep. [+]
Aperture: The lens has a slim multi-function control ring just in front of the tripod collar in addition to the dedicated focus ring. The control ring can be assigned to operate the aperture (which is the default), exposure compensation, or ISO sensitivity – or simply switched off. Position and texture of the ring has changed over previous models: It moved quite a bit forward from the narrow throat of the lens mount to the wider part of the barrel which makes it easier to reach when you hold the lens. The F-Nikkor has no dedicated aperture ring. [+]
Lens profile: The Z-Nikkor comes with a lens profile which can be controlled from the camera. Vignette control offers the usual options of High, Normal, Low and Off. Diffraction compensation and Auto distortion control can be activated or deactivated. The F-Nikkor has a lens profile in Adobe's RAW converter. [+]
All three lenses cover full frame/FX or smaller sensors. [+]
Price: 2999 EUR (incl. 19% VAT) / 2700 USD / 2699 GBP. The Nikon AF-S 80-400mm f4.5-5.6G ED VR is 2030 EUR / 2300 USD / 2000 GBP, the Nikon Z 70-200mm f2.8 VR S costs 2330 EUR / 2600 USD / 2300 GBP. The price in EUR seems too high – especially compared to the price in USD. [0]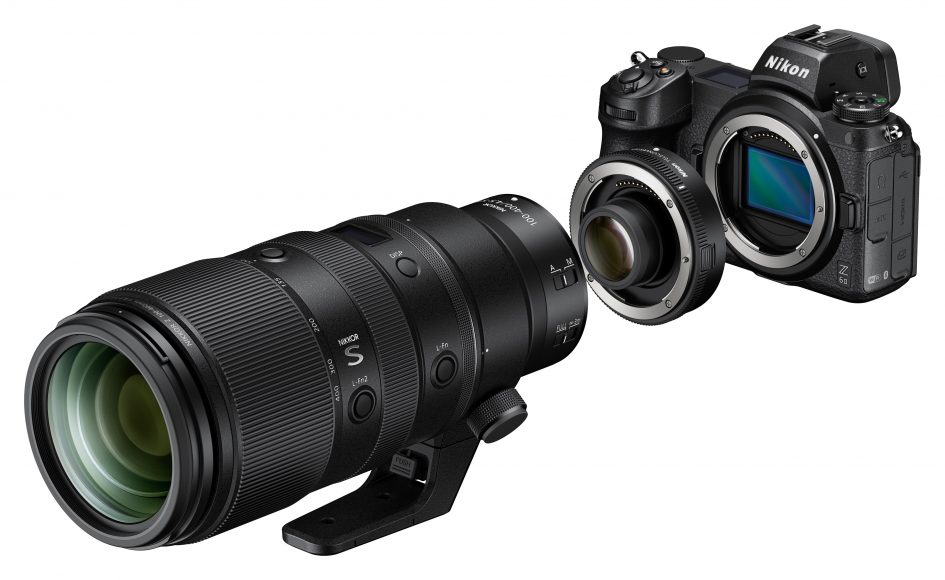 Use with teleconverters: Yes. Nikon offers two teleconverters for Z-mount: The TC-1.4x for 549 EUR (incl. 19% VAT) / 547 USD / 549 GBP and TC-2.0x for 660 EUR / 597 USD / 580 GBP. They can be used with the Z 100-400mm f4.5-5.6 VR S and Z 70-200mm f2.8 VR S – but no other Z-Nikkor so far. And you cannot use the Z teleconverters with the FTZ adapter. [+]
Both Z-Nikkors come with the usual flimsy pouch with no strings to pull it close. The lens hood is included and locks in place to avoid accidentally falling off plus it is reversible for transport. But while the lens hood of the Z 70-200 is coated like black velvet on the inside to reduce reflexes, the lens hood for the Z 100-400 has a stepped design. All three lenses have a detachable tripod foot – although the third-party replacements for the foot of the F-Nikkor will not work with the Z-Nikkors. But the good news is that you can swap the (replacement) foots between the Z 70-200 and Z 100-400. The F-Nikkor comes with a soft pouch and reversible lens hood. [0]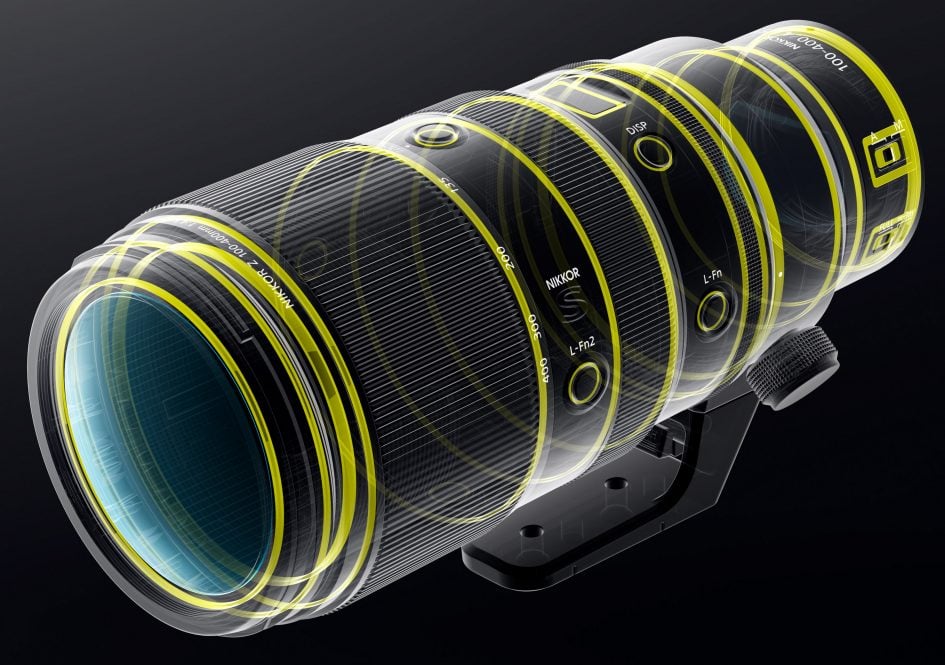 Sealing: yes. All three lenses have a rubber grommet at the lens-mount plus further special weather-sealing throughout the construction including towards the lens cap. [+]
At a score of 0[-]/4[0]/12[+] the Nikon Z 100-400mm f4.5-5.6 VR S offers a lot of useful features including optical image stabilization, full weather sealing and fluorine-coating, ARNEO plus Nano anti-reflex coating, the nifty OLED display and the multi function ring. Plus it works with teleconverters making the combo reach to 800mm focal length – albeit at a measly f11 focal ratio. Compared to the Nikon AF-S VR 80-400mm f4.5-5.6G ED VR the new lens is pretty much the same size but over 100g lighter – or around 250g lighter if you count the FTZ adapter in should you use the F-Nikkor on a Z body. This does not seem much but it certainly makes it easier to carry all day.

Sharpness and contrast
Let's have a look at the theoretical performance of the Nikon Z 100-400mm f4.5-5.6 VR S, Nikon AF-S 80-400mm f4.5-5.6G ED VR and Nikon Z 70-200mm f2.8 VR S:



These MTF charts show the computed lens-performance of lenses wide open at infinity without influence of diffraction at 10 line-pairs/mm (red) and 30 lp/mm (blue/green). Higher values are better (more contrast) and the closer the dotted and solid lines are together the less contrast dependents on the orientation of the test-pattern (less astigmatism). The x-axis displays the distance from the optical axis (=center of the sensor) in mm.
From the charts the new Z 100-400mm f4.5-5.6 VR S should be clearly sharper than its predecessor. The Nikon Z 70-200mm f2.8 VR S looks even better (without teleconverters) although it is shown here at f2.8 – a disadvantage of 1.3-2 stops.
This all looks quite promising and I'm looking forward to thoroughly test this lens.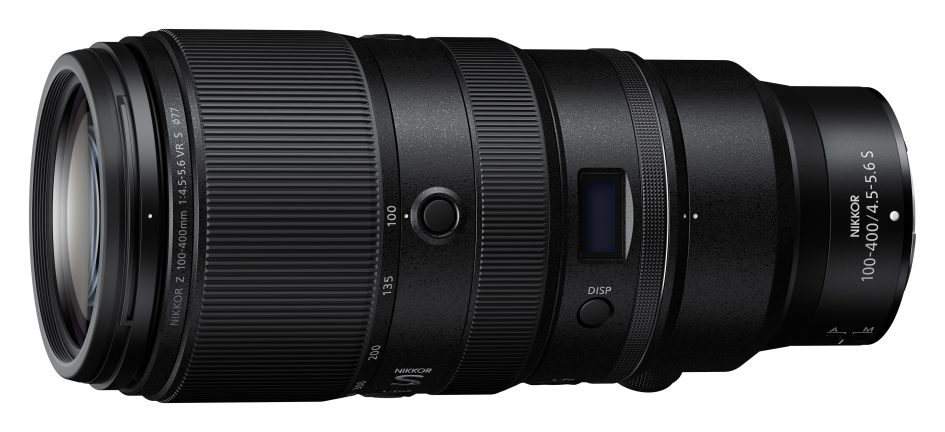 Check prices on the Nikon Z 100-400mm f4.5-5.6 at B&H, Adorama, WEX UK or Calumet.de. Alternatively get yourself a copy of my In Camera book or treat me to a coffee! Thanks!