Verdict
The AF-S Nikkor 24mm f1.4G ED is the widest lens in Nikon's lineup of professional f1.4 primes. It is also its most expensive. For that price you get a lens that delivers good to very good sharpness, moderate distortions, and a good Bokeh – at least for a 24mm lens.
For an optical design that dates from 2010 the lens still plays in the top league but it also has some caveats: The lens has some heavy coma that makes the FX-corners fuzzy at f1.4 and f2.0, and the AF is not the fastest plus the focus-ring has some slack. It also produces some very noticeable longitudinal CAs which add green outlines to background subjects and magenta ones in the foreground. Then there is flare and ghosting that does not seem to be as well controlled as one might wish.
Let's compare the new lens to the competition to put this all in perspective.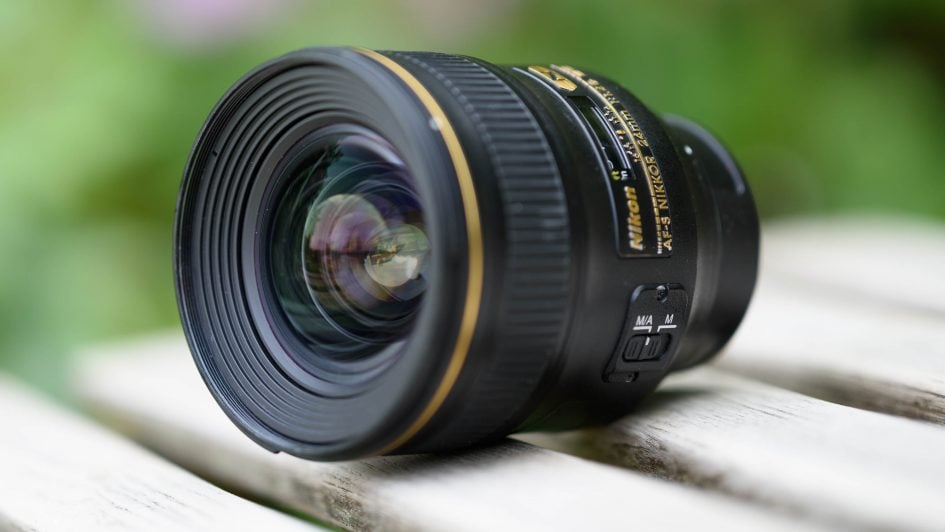 Compared to Sigma 24mm f1.4 "Art"
The Sigma 24/1.4 Art is another winner in Sigma's line-up of wide-angle "Art" lenses. It has low distortions, normal vignetting, little longitudinal CAs, plus fast and reliable AF (after some tuning with the USB-dock). And the build-quality and the new design supports Sigma's claim to have developed and manufactured a lens to professional standards. This lens surpasses the optical performance of the venerable Nikon AF-S 24mm f1.4G in almost every aspect except for a pronounced dip in DX corner performance at close distances. And there's no weather sealing at the lens-mount which seems a bit out of place for a lens targeted at professionals. But other than that the Sigma 24mm f1.4 DG HSM Art plays on a very high level – and it does deliver this impressive performance at a price that is much lower than the 24mm f1.4 model from Nikon (or Canon). This earned the new Sigma lens our Highly Recommended rating (see my Sigma 24/1.4 Art review).
Compared to Samyang 24mm f1.4 ED AS UMC
The Samyang 24/1.4 ED is the cheapest alternative to get a 24/1.4 full-frame lens. But don't forget that you give up the support of auto-focus for the discount. Is that really worth it? Optically the Samyang is quite good: It has the least coma of all three lenses and produces quite a soft Bokeh, albeit with some artefacts which some may find undesirable or at least unusual. At close range its resolution can keep up with the other lenses but at infinity it is less sharp than the Sigma or the Nikon. It also shows the strongest distortions of the trio. In my Samyang 24/1.4 review the lens shows its merit but I'd recommend the Sigma over the Samyang as an alternative to the Nikon.
Compared to Nikon AF-S 24mm f1.8G ED
The Nikon 24/1.8G is perhaps another alternative. It costs only little more than the Sigma, has weather sealing, is smaller and lighter, and performs on a similar level. It earned a Recommended in my Nikon 24/1.8G review. Optically the Nikon 24/1.8G has a similar dip in performance at the borders of the DX image-circle wide open as the Sigma at close distances. Unfortunately this Nikon also shows this weakness at long-distance shots where the Sigma produces better results. And it has a two thirds smaller aperture than the Sigma which also results in a slightly weaker Bokeh. All-in-all this would lead me (again) to recommend the Sigma over the Nikon 24/1.8.
Nikon AF-S 24mm f1.4G final verdict
The Nikon AF-S 24/1.4G ED is a worthy member of Nikon's professional line of f1.4 primes. Wide-open it exhibits a soft degradation of sharpness towards the corners of a full-frame sensor without the pronounced dip at the DX-corners that some more modern designs display. And it needs only little stopping down to produce very good results across a 36MP sensor. But since 2015 there's tough competition from the Sigma 24/1.4 Art that delivers less coma, less loCA, less distortions, and sharper image center at a price 1000 EUR lower. And with a build that looks (at least from the outside) tougher than Nikon's – except for the missing weather sealing. But the Nikon delivers an impressive performance nonetheless and probably has an advantage regarding serviceability over the long run which could be a decisive factor for professionals. This, along with the uniform performance earns the "old" Nikon lens a Highly Recommended rating, although if you don't need weather-sealing, the Sigma 24mm f1.4 ART delivers excellent results and represents great value.
Below I have listed the good and bad points of the Nikon 24mm f/1.4G for you.
Good points:
Very good performance across high-resolution full-frame sensor even wide open.
Good build quality.
Flare/glare resistance.
Relatively low longitudinal CA and coma.
Quiet and fast AF operation.
Bad points:
AF occasionally missed its target on D810 test body.
No standard filter-thread.
No weather sealing.