Nikon 200-500mm f5.6E VR review - Verdict
Verdict
The Nikon AF-S 200-500/5.6E VR is a worthy addition to Nikon's line-up of super-telephoto zooms. Optically it outperforms Nikon's AF-S 80-400/4.5-5.6G VRii and the competing 150-600mm zooms from Sigma and Tamron at every focal length although the differences may not be too great in some cases.
With a price that puts it comfortably below the AF-S 80-400mm and is comparable to the Sigma 150-600mm "Sports" the AF-S 200-500mm is positioned quite well. Combined with effective image stabilization, fast and reliable AF, and a maximum magnification of 1:4, it is an attractive offer for people looking for a zoom-lens to go beyond 300mm focal length.
What are the downsides? There are mainly two: The Nikon AF-S 200-500mm is a pretty heavy lens so carrying it around all day is not easy. And it is only a 2.5x zoom, lacking the 600mm reach on the long end and going down to only 200mm on the short end. Here's how it compares to rival super-tele zooms.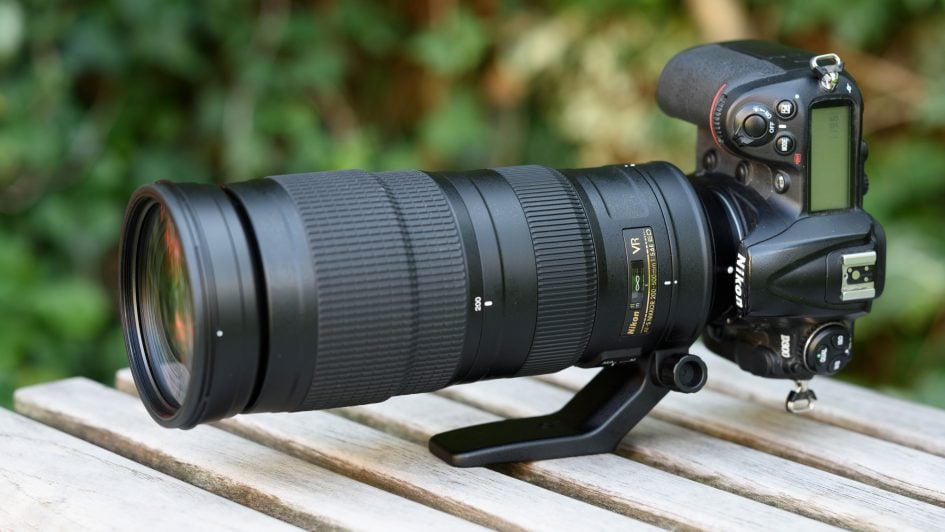 Compared to Nikon AF-S 80-400mm f/4.5-5.6G ED VRii
The new lens surpasses the image quality of the 80-400mm at every focal length and gives you an additional 100mm on the long end. It also has the benefit of being comfortable cheaper. But the Nikon 200-500/5.6 is much heavier and larger than the 80-400mm and also needs 95mm filters. But its largest minus point may be the missing zoom range from 80-200mm: You need to take another lens (for example a 70-200mm) with you or run the risk of cropping to much into a scene that is closer or larger than you anticipated.
See my Nikon AF-S 80-400mm II review for more details.
Compared to Sigma 150-600mm f/5.0-6.3 DG OS HSM "Sports"
The Sigma "Sports" is an even larger and heavier lens than the Nikon. But that comes with a very solid build with lots of metal parts. Add the metal lens-hood that weighs almost 300g alone and the Nikon suddenly seems "light-weight". Price-wise both lenses are on a par. The performance of the Sigma "Sports" is good and in some cases comes close to the performance of the Nikon. The Sigma offers a 4x zoom-range starting 25% wider and reaching 20% longer than the Nikon which might be the deciding factor for you. The Nikon has the benefit of a constant f5.6 aperture and can use a 1.4x teleconverter and still manage to auto-focus on many modern Nikon bodies. But other than that I wouldn't give the Sigma much grief over its f5.0-6.3 aperture. The Sigma is also compatible with Sigma's USB dock for fine-tuning or firmware updates, and if you change bodies, you can pay to have the mount swapped for your new system. So the Sigma "Sports" has a lot going for it. Personally I'd still prefer the Nikon over the Sigma "Sports" because I love its image quality and am simply put off by the sheer weight of the Sigma.
See my Sigma 150-600mm Sport review for more details.
Compared to Sigma 150-600mm f/5.0-6.3 DG OS HSM "Contemporary"
Much of what was said in the comparison with the Sigma "Sport" holds true for the Sigma "C" too. But there are two major differences: The Sigma "C" is much lighter and also cheaper than its bigger brother. Compared to the Nikon you can save almost 600 EUR and 400g. The image quality of the Sigma "C" is also quite good but you can see clear differences compared to the Nikon. But if you need the larger zoom range and prefer it lighter and cheaper, the Sigma "C" is certainly an option to consider.
Compared to Tamron SP 150-600mm f/5.0-6.3 Di VC USD (A011)
As the Sigma "C" and the Tamron A011 are almost twins both lenses compare similarly to the Nikon. The Tamron increases the advantage regarding price by another 100 EUR and thus is the cheapest way to get a 150-600mm zoom. And "cheap" does not mean that its image quality is compromised. It even surpasses the performance of the Sigma "C" in some instances.
Compared to Tamron SP 150-600mm f/5.0-6.3 Di VC USD G2
I couldn't include the new 2nd generation Tamron SP 150-600mm f/5.0-6.3 Di VC USD G2 (A022) in this review. But you can find a full set of comparisons and details in my Tamron 150-600mm G2 review where it earned a Recommended.
Nikon AF-S 200-500mm f/5.6E ED VR final verdict
The best image quality in its class combined with a reasonable price, a good image stabilization, and an acceptable size and weight earns Nikon's new 2.5x super-telephoto a Highly Recommended rating.
PS – don't forget you can support my work next time you order anything at Amazon, B&H or Adorama by first clicking through to them using the links above and in the sidebar. It works for anything you order at any time – thanks for your support!
Summary
Good points:
Very good quality over 36Mp full-frame, even wide open.
Good image stabilization.
Constant f/5.6 focal ratio.
Works well with 1.4x teleconverter.
Weather sealing.
Quiet, fast, and precise AF operation.
Maximum magnification of 1:4.0 in MF.
Bad points:
Not the cheapest super-telephoto zoom.
Not the lightest lens in its class.
Only 2.5x zoom range.