Verdict
The Nikon 105mm f1.4E ED is a unique lens. It is the only current f1.4 105mm lens for full-frame bodies and it delivers beautiful-looking images with very attractive Bokeh and very good contrast and sharpness across the full-frame sensor, even with the aperture opened to f1.4. This performance coupled with the build-quality of a professional Nikon lens and a reliable AF makes for a compelling package although I miss image stabilization. Indeed I was very impressed to see this lens reach and even surpass its peers in my tests.
But the price-tag of 2200 USD / 2400EUR means that any negative aspects of this lens come under very close scrutiny. Let me go through them step-by-step.
Longitudinal CA: This lens is clearly better than the DC Nikkor but it's not quite up there with the Zeiss Otus and the Samyang. But out in the field and away from test-charts the characteristic magenta/green signature of loCAs does not turn up as often as I had feared although I was shooting almost exclusively at f1.4 for this review. You need some specular highlights to really provoke it. So I'd say: The Nikon is good. But I still wonder how Samyang managed to make their 135/2.0 practically loCA-free.
Size and weight: And I thought that Zeiss produced the biggest and heaviest f1.4 primes. Well: The 85/1.4 Otus is still heavier than the new Nikkor, but size-wise both lenses are almost a match. With the Nikon even sporting the slightly wider focus ring and wider lens hood at the front. Mount it on a D810 and you'll be lugging 2kg around.
No image stabilization: Image stabilization of mid-length telephoto lenses is gaining in importance. With 36MP full-frame sensors as well as 24MP APS-C/DX sensors it is increasingly hard to achieve really sharp shots devoid of (micro-)blur. The old 1/focal-length rule for shutter-speeds that are on the safe side no longer applies for the pixel-densities of modern sensors: today we're more talking about using 1/200 sec on an unstabilized lens of 105mm focal length. But Tamron has proven that you can build large aperture primes with image stabilization and not compromise image quality for it. Would be nice to see others follow suit.
Let's see how the new lens compares to some alternatives.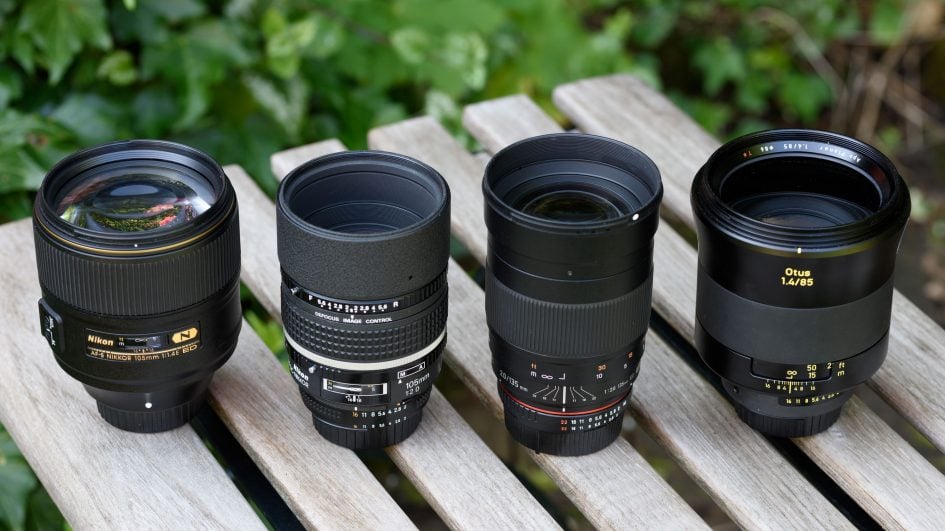 Compared to Nikon AF DC 105mm f2.0D
The optical design of the ageing Nikon 105/2.0D DC is quite unique: It lets you control the distribution of blur in front and behind the plane of sharpest focus. If you need this effect in your photography, then this Nikkor is the lens for you. Be aware though that the 23 year old design produces the heaviest color aberrations of the tested bunch (see my Nikon 105mm f2.0D DC sample images). The lens is solidly built with lots of metal and it feels like it can take a beating. And at 1100 EUR it costs only half of the Nikon 105/1.4E. Personally I'd shy away from a lens that produces very visible color artifacts at f2.0 and f2.8 from loCA and spherical aberrations. If you don't need the Defocus-image Control feature I'd rather recommend getting the new Nikon instead which produces clearer images and adds another stop of light-gathering capabilities.
Compared to Samyang 135mm f2.0 ED UMC
At 135mm focal length the Samyang has a 30% higher magnification at any given distance and a shallower angle of view than the new Nikon (60% compared to a 85mm lens). To compensate for that you need to get 30% farther away from your subject if you want to frame it in a comparable way. That may not be possible e. g. in the confined spaces of a studio but if you can it further flattens the perspective which makes portraits even more natural looking. Samyang did an astounding feat when they designed their version of a 135/2.0 lens: It is at least as sharp as the Nikon, has less longitudinal CAs plus it produces a similarly good Bokeh in the background. And at only 500 EUR it is so much cheaper, you'll ask yourself how Samyang managed to squeeze this image quality out of the lens. Well: It is manual focus only and the plasticky feeling of the lens is a real let-down. So if you don't want to fiddle with manual focus, need a robust long-lived lens that can take a beating, or when 135mm is too long or the f2.0 focal ratio is too little for your photographic purpose the new Nikon would be the better choice. But other than that the Samyang again proved its worth against strongest competition. For more details see my Samyang 135mm f2.0 ED UMC review.
Compared to Zeiss Otus 85mm f1.4
At 85mm focal length you need to get 20% closer to your subject with the Otus to get a framing comparable to the new Nikon. And the Otus too is manual focus only! But Zeiss managed to produce a reference 85/1.4 lens. It is a worthy member of what has already become a legendary line-up. It delivers sharp and clear images with superb quality across the sensor, even with the aperture opened to f1.4. This performance coupled with the tank-like build-quality and new design support Zeiss' claim to have developed and manufactured the best short telephoto lens for DSLRs. Indeed it was impressive to see this lens easily surpass the performance of Nikon's pro-grade 85/1.4G. But with an eye-watering price-tag of 4500 USD / 4000 EUR and no auto-focus on the Otus the new Nikon 105/1.4E decidedly looks like the better choice. And the 20% longer reach of the 105/1.4E is a nice bonus in my opinion topping the background isolation and Bokeh of the Otus. For further information about the Otus have a look at my Zeiss 85/1.4 Otus review.
Compared to Nikon AF-S 85 f1.4G ED
The AF-S 85/1.4G (see my Nikon 85mm f/1.4G review) with a street price of around 1500 EUR is the shorter cousin to the new Nikon. It is a good lens but does not fully reach the sharpness, clarity and resolution of the new 105/1.4E. The Nikon 85/1.4G has more coma and produces stronger colour aberrations than the new Nikon. It also trails behind the 105/1.4E with regard to Bokeh: It's more prone to CA and less creamy in the background. But the 85/1.4 has the benefit of being much lighter at 595g, smaller (87x84mm), and cheaper than the new lens so it's easier on your neck and wallet and looks less conspicuous. But if you value image quality and can cope with the 20% longer focal length I'd recommend the new 105/1.4E over the 85/1.4G.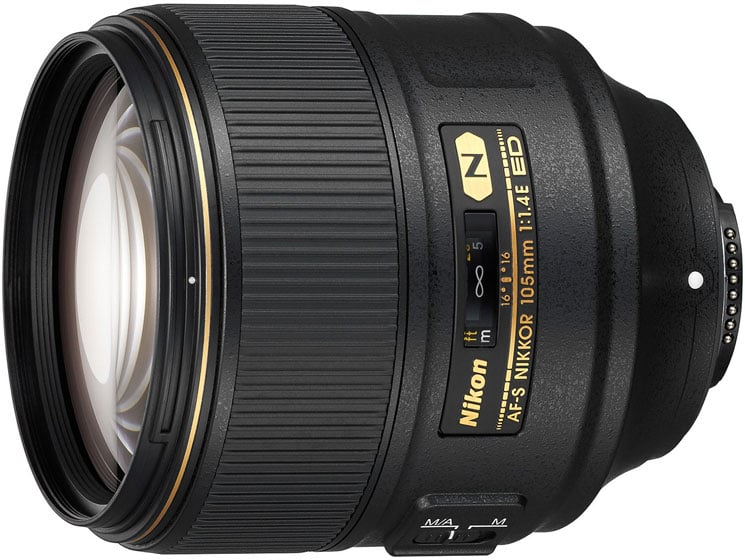 Nikon 105mm f1.4E final verdict
I think Nikon has taken on-board the feedback it received on its 58/1.4 lens: not only did they produce an f1.4 lens at a unique focal length of 105mm which has a 20% better reach over a 85mm lens and gets you better background isolation but they also endowed it with very good image quality to boot: Easy to focus, sharp across the full-frame sensor, and with only little CA. You can easily use this lens wide open and get sharp and contrasty shots right into the corners of a high resolution full-frame sensor. As such its optical performance is almost up there with the Zeiss Otus and it delivers a better Bokeh. It is a bit on the fat and costly side but all-in-all the Nikon 105mm f1.4E earns a Highly Recommended.
PS – don't forget you can support my work next time you order anything at Amazon, B&H or Adorama by first clicking through to them using the links above and in the sidebar. It works for anything you order at any time – thanks for your support!
Below I have listed the good and bad points of the Nikon 105mm f/1.4E ED for you. An extensive set of my shots with this lens in full resolution can be found here.
Summary
Good points:
Unique combination of f1.4 focal ratio and 105mm length.
Very good sharpness and contrast across full-frame sensor even wide open.
Only little longitudinal CA.
Bad points:
High price.
Pretty large and heavy.
No image stabilization.
Read on, there's much more to this review: use the tabs to visit the other pages which include more in depth information, full quality test results, and sample images!