In depth
The Nikon D7200 is the company's latest upper mid-range DSLR aimed at enthusiast photographers. Announced in March 2015, two years after the D7100, it slots between the D5500 and D610 in the range, making it the highest-end model with a cropped DX-format sensor.
Externally the D7200 is essentially identical to the D7100 before it. So you get a weather-sealed, magnesium alloy body with an optical viewfinder boasting 100% coverage, 3.2in / 1229k dot screen, 6fps burst shooting (boostable to 7fps in 1.3x crop mode), twin SD slots and a wealth of ports including mic input, headphone output and mini HDMI with a clean signal for external monitors and recorders. Inside the resolution remains 24 Megapixels using a sensor again without a low pass filter, but drilling-down into the specs suggests Nikon has switched sensors from the one in the D7100 to the one in the D5x00 line.
In terms of what's new, there's three main upgrades. First, the AF system inherits the Multi-CAM 3500 II AF module of the D750 (or at least the DX version), allowing it to focus in dimmer light conditions down to -3EV; as before there's 51 points, 15 of which are cross type, and when shooting in the 1.3x crop mode, they cover most of the frame. The second upgrade concerns the enlarged buffer that can now shoot up to 100 JPEGs or 18 RAW files (in 14 bit). The third big upgrade is having built-in Wifi with NFC, allowing you to wirelessly transfer images to your smartphone or support basic remote control. Other enhancements include the faster EXPEED 4 processor, 9-frame AEB, a 50p / 60p video option (albeit only in the 1.3x crop mode), timelapse shooting with exposure smoothing, slightly extended battery life, and a flat picture control profile.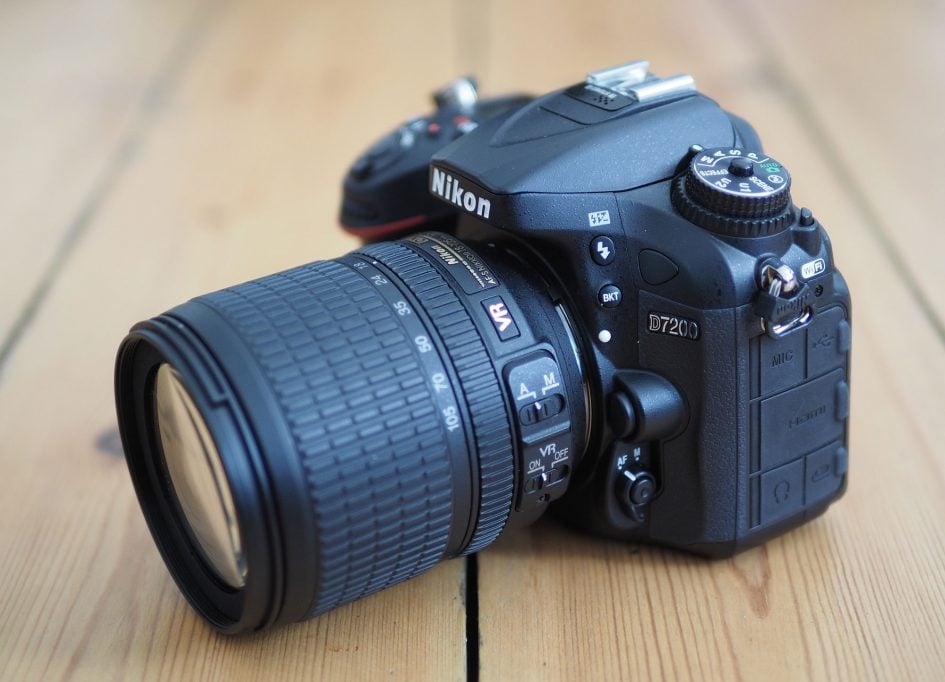 Check out my Nikon D7200 sample images, or see how it compares to the Canon EOS 80D in my Nikon D7200 quality and noise results or skip to my verdict so far.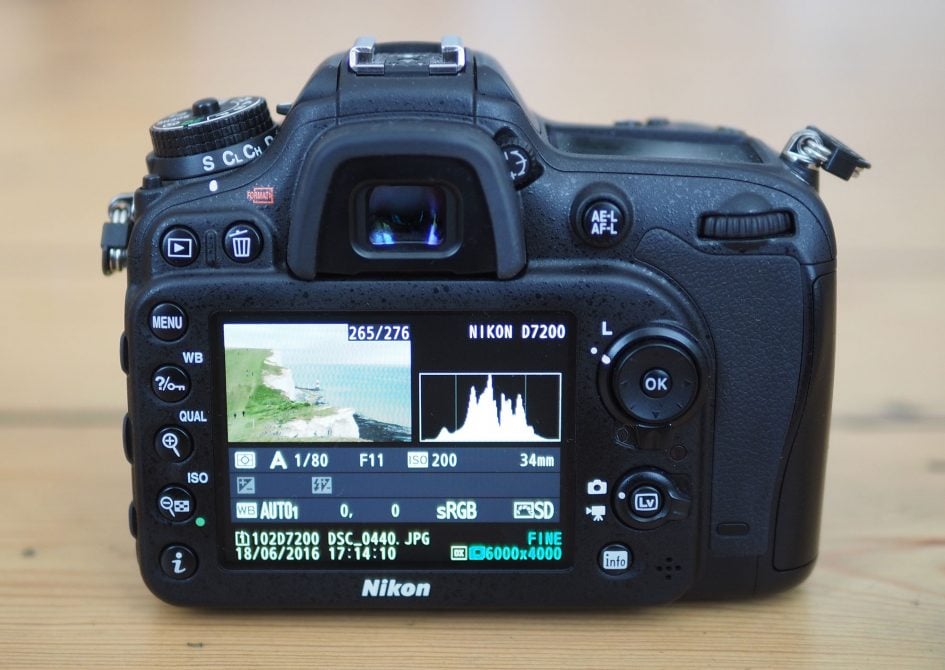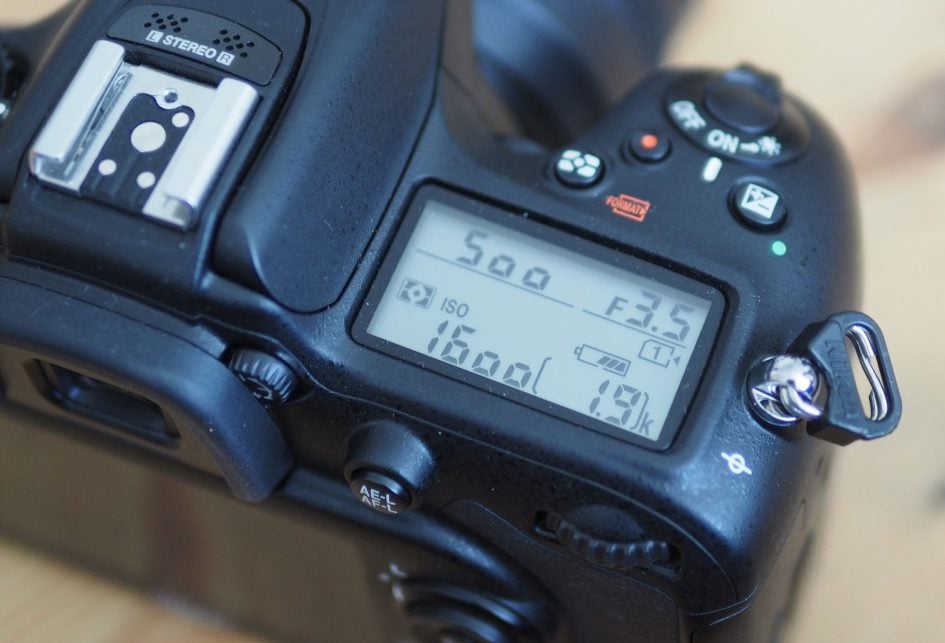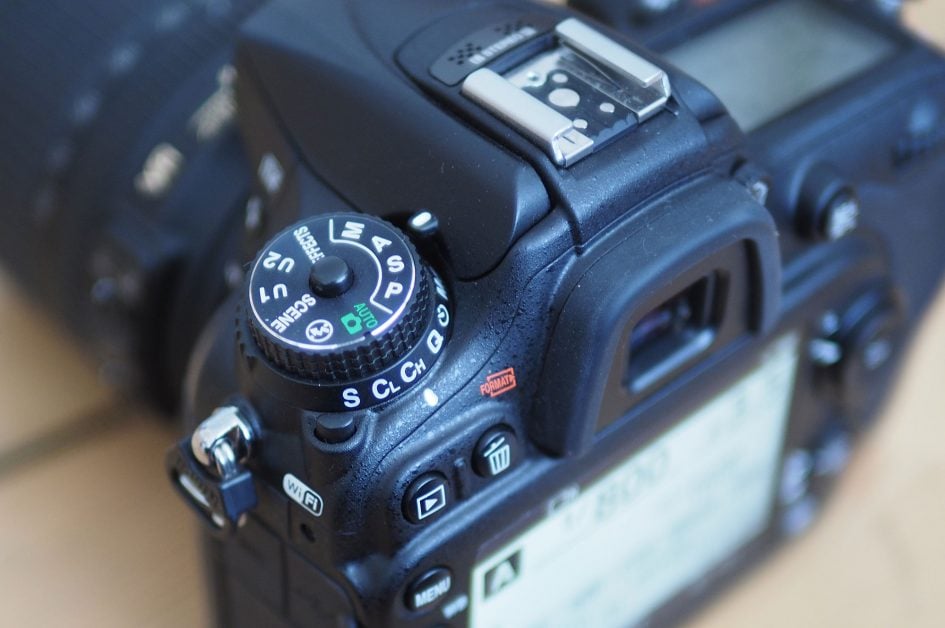 Now it's time to discuss continuous shooting speed. Nikon's D7200 – and the D7100 before it – shoot at a top speed of 6fps, boostable to 7fps if you choose the 1.3x cropped mode. The EOS 80D is quoted as shooting at 7fps for up to 110 JPEGs or 25 RAW images (with a UHS-I card). This is the same speed as the 70D before it, but its predecessor quoted a smaller buffer of 65 JPEGs or 16 RAW files, possibly due to slower memory cards.
To put them to the test I fitted both the EOS 80D and D7200 with the same UHS card, set their shutter speed to 1/500, sensitivity to 400 ISO, then timed a series of bursts. With the EOS 80D set to Large Fine JPEG, I managed to shoot 114 frames in 16.19 seconds before the speed became slightly erratic, albeit continuing. During this initial burst, the rate worked out at almost exactly 7fps.
Switching to RAW (14-bit), the EOS 80D captured 25 frames in 3.46 seconds for a rate of 7.2fps. Meanwhile in Live View continuous mode, I shot 90 JPEGs in 13.33 seconds for a rate of 6.8fps.
Turning to the Nikon D7200, I fired-off 37 Large Fine JPEGs in 5.82 seconds for a rate of 6.4fps. Switching to 14-bit RAW with lossless compression allowed me to capture 13 frames in 2.35 seconds for a rate of 5.5fps. And in Live View, the D7200 managed 50 JPEGs in 12.88 seconds for a rate of 3.9fps.
Just glancing at these figures proves the EOS 80D can out-perform the D7200, but there are a couple of things to note. First, when set to its best quality mode, the D7200's JPEGs are roughly twice the size as those form the 80D – 15MB versus 7MB in my test – so its buffer understandably fills-up faster. If you were to reduce the quality of the D7200 JPEGs, perhaps by using stronger compression, so they roughly matched the 80D file size, then you'd be able to shoot for longer bursts. It's also worth noting how slowing the shooting speed – as happens in Live View – allows the D7200 to tackle its images in real-time and keep shooting for much longer.
The bottom line is regardless of image quality, the 80D is shooting a little faster than the D7200, but if you fancy something noticeably quicker, consider the Canon EOS 7D Mark II which only costs a little more at the time of writing and boasts 10fps. Or Sony's Alpha A6300 mirrorless which can shoot at 11fps with some viewfinder lag, or at 8fps with real-time updates through the viewfinder.
Check out my Nikon D7200 sample images, or see how it compares to the Canon EOS 80D in my Nikon D7200 quality and Nikon D7200 noise results or skip to my verdict so far.