Verdict
The Nikon D3400 is an update to Nikon's entry-level DSLR, replacing the two year old D3300. The headline new feature is SnapBridge – Nikon's low-power Bluetooth connection that allows continuous image transfer to your smartphone in the background while you shoot. Battery life has been boosted to an impressive 1200 shots on a full charge and the kit lens has also been updated with quicker and quieter continuous AF for movies and Live view shooting.
We've gotten used to longer DSLR upgrade cycles that offer less than was once the case, but I wonder whether the D3400 offers enough that's new to make it attractive to those looking to take their first steps into 'serious' photography.
At first glance, there's not a huge amount that's new here over the D3300 and indeed a couple of features actually missing: the 3.5mm microphone input and ultrasonic anti-dust filter, no longer present on the D3400. While it's always sad to see features removed, I think the improved movie AF from the new lens, the longer battery life and in particular the addition of SnapBridge are much more important for most owners. While it's still early days for SnapBridge and the implementation a little rough around the edges, there's no denying it provides a much simpler and more straightforward way of sharing photos than most Wi-fi implementations. When set to automatically transfer resized 2 Megapixel images, your photos 'magically' appear on your phone moments after taking them without intervention; you literally pull your phone out of your pocket and the photo you just took with the D3400 is waiting for you, ready for sharing. Similarly you can have SnapBridge automatically tag them with the GPS location from your phone, again without having to do a thing.
I think that SnapBridge will ensure that the D3400 continues to be a popular choice for improving photographers who want a camera that's more capable than a point-and-shoot compact or a phone, but don't want to sacrifice the ease of sharing that those devices provide.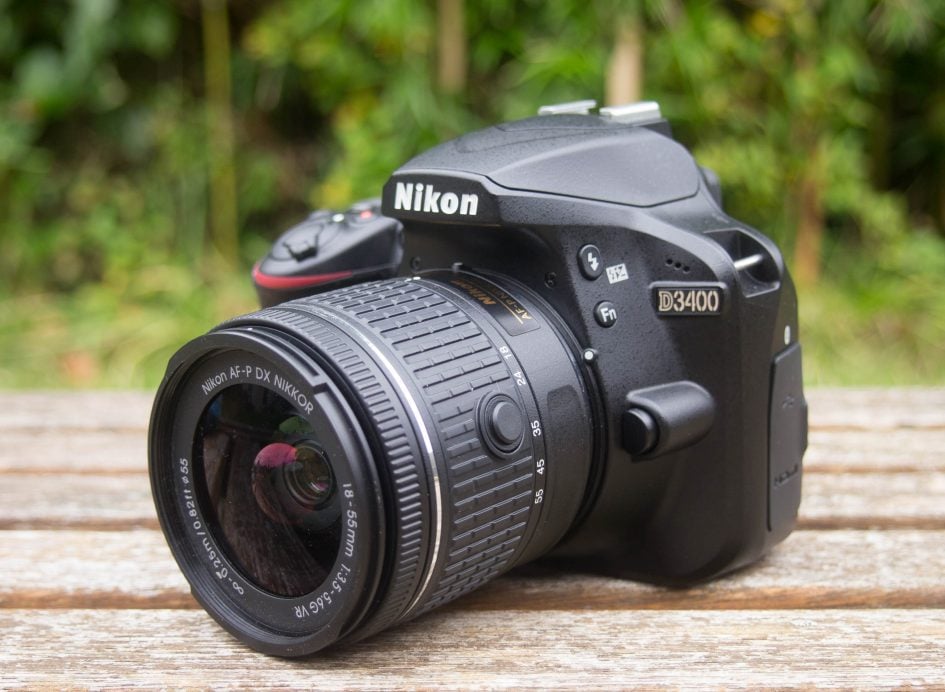 That said, the Nikon D3400 is up against some tough competition. First there's its closest competitor in the DSLR market, the Canon EOS 1300D / Rebel T6. One of the biggest differences between the two models is the sensor, with the D3400 sporting a 24 Megapixel sensor with no optical low pass filter (OLPF) providing a slight increase in image sharpness. If an optical viewfinder is what draws you to a DSLR rather than a mirrorless model then the D3400's slightly larger viewfinder image will also appeal. The 1300D / T6's 920k dot screen matches the Nikon D3400's in terms of resolution.
The D3400 has a wider range of movie modes with 1080p60 at the top compared with 1080p30 on the T6 / 1300D. Both models have built-in mono mics but, now that it's been dropped on the D3400, neither has an input for an external stereo microphone. The T6 / 1300D provides fully manual PASM exposure modes for movie shooting whereas the D3400 only offers control over the shutter speed and ISO sensitivity. However, the 1300D / T6 lacks continuous AF for movie shooting, something the D3400 now manages quite well thanks to improvements in the AF performace of its kit lens.
The D3400 offers superior continuous shooting at 5fps compared with 3fps on the T6 / 1300D. It has a separate compartment for the SD card, and can take 1200 shots on a full charge, more than double the 500 quoted for the T6 / 1300D.
The 1300D / T6 has built in Wi-fi, which gave it a big advantage over Nikon's earlier entry-level DSLR, the D3300 which required you to buy and plug in an external Wi-fi adapter if you wanted to connect to your smartphone. But with SnapBridge, the D3400 provides an easier and in some ways more useful way to connect with a smartphone than the 1300D / T6's Wifi, allowing automatic image transfer to your phone in the background while you shoot. However, Snapbridge won't let you shoot remotely with the D3400 over a Bluetooth connection, that's something the 1300D / T6 actually manages pretty well. Next to the sensor, the two different approaches to connectivity are what sets these two models apart. Well that and price with age being in the Canon's favour and discounts seeing it sold at a lower price – indeed the 1300D / T6 is now one of the most affordable current interchangeable lens cameras with a viewfinder – see my Canon EOS 1300D / T6 review for details.
Of course it's not just other DSLRs that the D3400 is up against and arguably the biggest competition comes from similarly priced mirrorless models. Broadly speaking, opting for mirrorless means sacrificing an optical viewfinder for a more compact and lightwight body and lenses. The Sony A5100 lacks a viewfinder of any description, so you need to be comfortable composing using just the screen, but the screen is at least touch-sensitive and can flip vertically up for shooting at low angles or even forwards to face the subject for selfies or filming pieces to camera.
Its 24 Megapixel APSC sensor is the same physical size as the D3400's and while the 16-50mm kit zoom isn't as sharp in the corners as the Nikon kit lens when zoomed wide, it does enjoy slightly broader coverage. The A5100 also offers faster continuous shooting with very respectable continuous autofocus, inherited from the A6000, and the autofocus also works a treat during movies, refocusing better than any other camera mentioned here. The A5100 has one of the best Wi-fi implementations around plus the option to extend it's features via downloadable apps, but it can't do the D3400's trick of automatically transferring a copy of everything you shoot to your smartphone without intervention.
On the downside, battery life on mirrorless cameras tends to be poor compared with DSLRs and the A5100 is no exception; at best you'll get around 400 shots from the A5100 compared with 1200 from the D3400 – that's like having two extra batteries built in, but you can at least recharge the A5100's battery in-camera over USB. See my Sony A5100 review for more details.
If you must have a viewfinder, but it doesn't have to be optical, consider the Panasonic Lumix G7. Its 2360k dot OLED EVF is more than a match for the D3400's optical viewfinder. Its 16 Megapixel Micro Four Thirds sensor is physically smaller than the D3400's with a lower pixel count, but image quality and noise performance is a lot closer than you'd think for most situations.
In addition to the electronic viewfinder, the G7 has a fully articulated touch-screen, fast AF, 6fps continuous shooting with AF and is packed with other features. Its 4k video not only offers better quality than the 1080p movies offered by the D3400, but provides innovative 4k photo (effictively 30fps continuous shooting) and Post focus modes. Like the Sony A5100, it too has excellent Wi-fi features including remote shooting. See my Panasonic Lumix G7 review for more details.
Ultimately I feel mirrorless cameras offer more features – not to mention greater portability – at this end of the market, but there's no denying the D3400 offers one of the least expensive routes to a body with an APSC sensor, optical viewfinder and interchangeable lenses. As such it'll continue to attract beginners and students, while the addition of SnapBridge means you'll be sharing images quicker and more easily than most rival cameras. Recommended, but compare features and prices carefully with the competition.

Check prices on the Nikon D3400 at Amazon, B&H, Adorama, or Wex. Alternatively get yourself a copy of my In Camera book or treat me to a coffee! Thanks!