Nikon Coolpix W300 review
Verdict
The Nikon COOLPIX W300 is a waterproof rugged compact, so let's start with its rugged credentials. It's the most waterproof compact currently on the market, with a depth rating of 30 meters – that's twice as deep as the Olympus TOUGH TG-5 and 10 metres deeper then the Fujifilm FinePix XP120. If you want to go deeper you'll need to think about paying extra for a waterproof housing. Nearly all rugged comnpacts, the W300 included, are freezeproof to -10C and the W300 can be dropped from 2.4 metres, which is about as shockproof as you can get.
But it's not all about diving to the depths of the ocean, or even the local lido. Many people simply want a camera they can take into the shallows or onto the beach without worrying about a few splashes or sand geting into it. Aside from its deep water credentials, the COOLPIX W300 is a very capable all-round compact. It has a 5x zoom with a great wide-angle and a bright f2.8 maximum aperture. Only the Olympus TOUGH TG-5 has a brighter f2 lens.
The W300 also has a good range of shooting modes and more autofocus modes than is typical on waterproof compacts. Its continuous shooting performance is good, providing you're prepared to compromise on image size – at full resolution it can only shoot a sub one-second burst. It has plenty of video options now including a best quality 4K 25/30p UHD mode, slow motion at a reduced resolution and the Short movie show feature that compiles short clips into a longer movie. Like most of the competition it's equipped with WiFi, but it also has the convenience of always-on background image transfer via Bluetooth – something no other rugged compact currently offers.
There's still room for improvement though. The W300's physical control layout and design can be difficult to work with, and Nikon's attempt to overcome that by tapping or shaking the camera is simply impractical. That's not an issue with the Olympus TOUGH TG-5 because of its mode and control dials and even the budget COOLPIX W100, with its big buttons and super-simple menu structure doesn't have this issue. Read on to find out how the COOLPIX W300 compares with the competition in other key respects.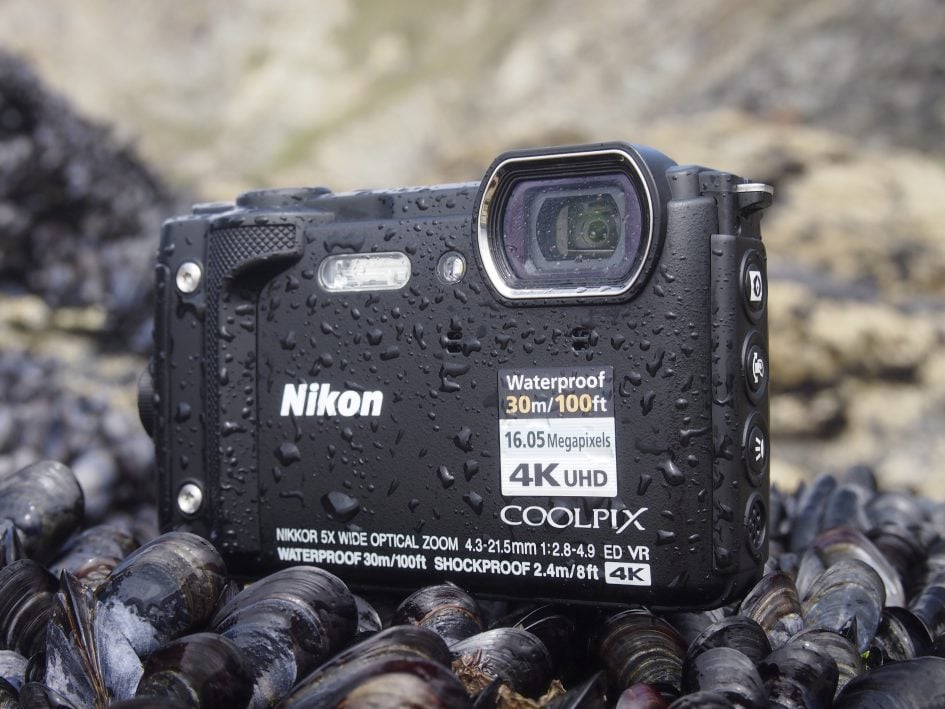 The COOLPIX W300's lens is one of its best assets. With a 5x range equivalent to 24 to 120mm it provides good coverage from the wide-angle to medium telephoto giving you the best chance of getting great pics in and out of the water. The Fujifilm Finepix XP120 (28-140mm) can zoom a little further, but has poor wide-angle coverage. The TOUGH TG-5's 4x zoom (25-100) can't match its range and neither can the budget 3x (30-90mm) COOLPIX W100. The COOLPIX W300's f2.8-4.9 lens is also nice and bright, Only the TOUGH TG-5's f2-4.9 lens is brighter and then only at the wide angle end of the zoom.
The COOLPIX W300's screen has 921k dots and is 4:3 proportioned – so it's detailed and still images fill it. It's fairly bright and about the only improvement you could make would be to put a hinge on it so you could flip it out. If you want that you'll need to look at the TOUGH TG-870. In every other respect it's slightly better than the lower resolution screens on the TOUGH TG-5 (3:2 proportioned and 460k dots), Fujifilm FinePix XP120 (also 920k and 4:3, but not as bright) and the COOLPIX W100 (230k dots).
As I've already mentioned, the COOLPIX W300's continuous shooting is respectable in terms of frame rates with a 7.5fps full resolution speed, the problem is it's limited to 5 frames and if you want longer bursts you'll have to drop to much lower resolution. If continuous shooting is important to you, if you plan on shooting water sports for instance, it won't cut it. The rugged model to beat for continuous shooting performance is now the Olympus TOUGH TG-5. It can shoot continuously at 20fps and has the Pro Capture feature which delivers 10fps sequential shooting with a rolling buffer of up to 5 frames which begins when you half-press the shutter.
With the introduction of 4K UHD video the COOLPIX W300 becomes one of the best quality rugged movie cameras on the market, but it's not the only one; the Olympus TOUGH TG-5 also offers offers a 4K UHD mode plus it offers a choice of three compression rates, the highest of which is better quality – 100Mb/s compared with 62Mb/s on the COOLPIX W300. The TOUGH TG-5 also has a better range of slowmo modes. But if you're not too bothered about 4K and slowmos, the COOLPIX W100's single 1080/30p mode may be all you need.
The COOLPIX W300's wifi features compare well with the competition, though its remote shooting is basic compared with Olympus TOUGH models. The key ingredient here is the Bluetooth connection and the way Nikon has put it to use providing a feature that one else offers. The ability to transfer images to your phone in the background, in other words without even thinking about it, is a game changer and a massive advantage the Nikon has over competitors, for now at least.
If you're struggling to come to a decision on which rugged compact is the right one for you, re-read my verdict and decide which of the features I've mentioned are the ones that matter most to you. It may be that a model as simple and basic as the COOLPIX W100 is a better fit for the kind of pictures you want to take. On the other hand, the more sophisticated Olympus TOUGH TG-5 with more advanced shooting modes and an array of physical controls plus a temperature sensor may be what you're looking for.
The Nikon COOLPIX W300's strength is that it's a good all-round performer with a great balance of features. It's got an excellent 5x zoom, a great quality 16 Megapixel sensor, GPS, barometer and electronic compass, plus 4K UHD video and Wifi plus Bluetooth for background image transfer to your phone. The TOUGH TG-5 is roughly the same price or a little more, for which you get a brighter, but shorter zoom, more controls, better continuous shooting, and more advanced shooting modes. See my Olympus TOUGH TG-5 review for more details. If the 4K video and SnapBridge aren't doing it for you, think about the still available COOLPIX AW130 which you can pick up for a fraction of the cost. See my Nikon COOLPIX AW130 review for details. In conclusion I can recommend the Nikon COOLPIX W300 as a great all-rounder that can also film 4k, trickle images to your phone over Bluetooth, and dive deeper than rivals.
PS – There's much more to this review: use the tabs to visit the other pages which include full quality results, sample images, and my complete in depth review.

Check prices on the Nikon Coolpix W300 at Amazon, B&H, Adorama, or Wex. Alternatively get yourself a copy of my In Camera book or treat me to a coffee! Thanks!