Nikon Coolpix W300 review
In depth
The Nikon COOLPIX W300 is a rugged waterproof compact with a 5x optical zoom and a 16 Megapixel sensor. Launched in May 2017, the W300 is an update to 2015's COOLPIX AW130; like the earlier model, it's waterproof to a depth of 30 metres, freezeproof to -10C, and dustproof. It's able to withstand a drop from 2.4 metres, making it slightly more rugged than its predecessor which you could drop from a height of 2 metres without damaging it.
As well as retaining the older model's 24-120mm equivalent f2.8-4.9 lens and the 16 Megapixel back illuminated CMOS sensor, the COOLPIX W300 also includes built-in GPS, a barometer which provides altitude and depth data and and electronic compass. As you'd expect, it also retains the earlier model's built-in WiFi, but the NFC chip is dropped and replaced with Bluetooth paired with Nikon's SnapBridge technology for background transfer of images to your phone as you shoot. That, and the upgrading of video to support 4K movies are the headline updates.
In my review I've tested the COOLPIX W300 alongside Nikon's COOLPIX W100, a simpler, less expensive waterproof compact introduced in late 2016. The COOLPIX W100 is waterproof to a depth of 10m, and is also freezeproof (-10C), shockproof (1.8m) and dustproof. Like the COOLPIX W300 it has WiFi and Bluetooth, but that's where the similarities end. The W100 has a small, even by compact standards, 1/3.1 inch 13 Megapixel sensor and a 3x optical zoom. It's a very basic point-and shoot, with auto exposure, a very simple menu system and a few scene modes.
I've also drawn comparisons in my review with The Olympus TOUGH TG-5 and the Fujifilm FinePix XP120, so whether you're looking for a simple and inexpensive waterproof point-and-shoot or something more rugged and advanced to take on your adventures, you'll discover the best waterproof rugged compact for you in my review.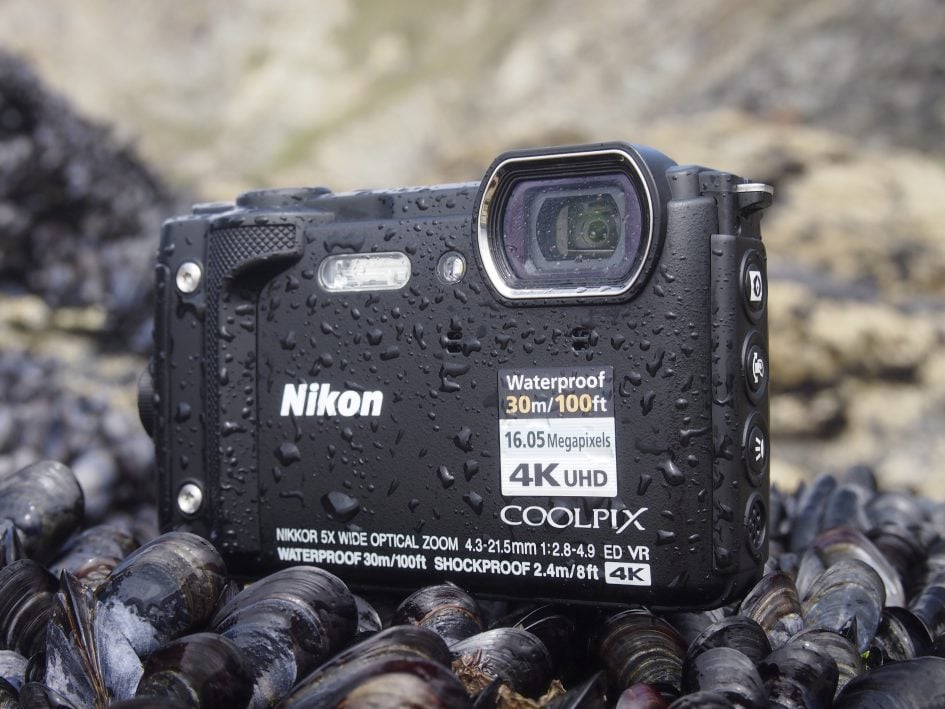 Nikon COOLPIX W300 Design and controls
The COOLPIX W300's design isn't a radical departure frim the earlier AW130. Like most waterproof compacts, the enclosed lens is situated at the top left corner of the body. The grip is now a little more substantial and extends all the way from top to bottom on the right side of the front panel with a curved section at the top.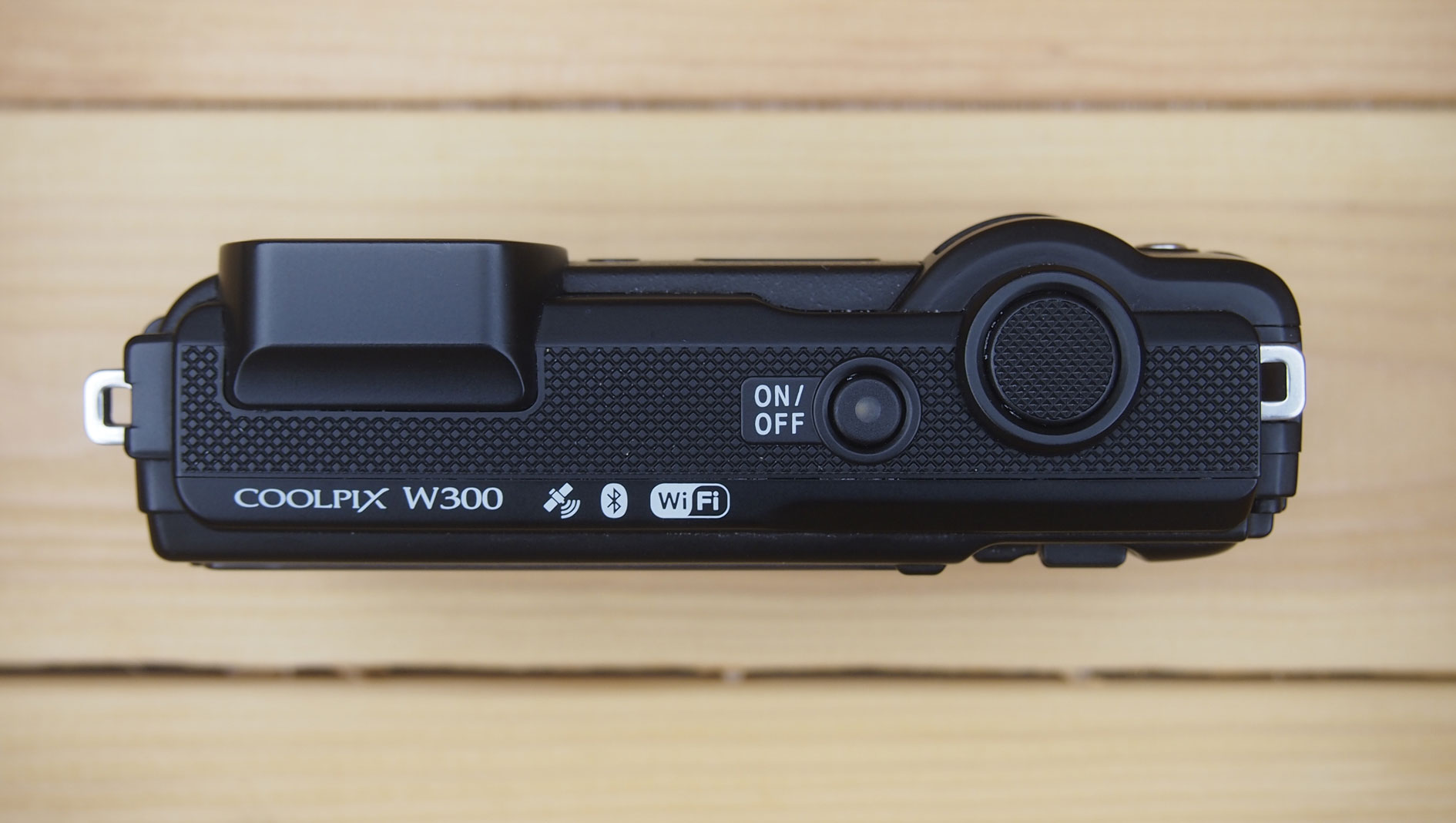 The top panel is uncluttered, with just the large shutter release button and smaller on/off button. The zoom control on the W300 is on the rear panel, just above the thumb rest and is thumb-operated. You have to take care that you don't inadvertently push up and zoom the lens accidentally.
To the right of the thumb rest you'll find – without even having to look for it – the movie record button and lower down on the right side of the rear panel the four-way controller, or multi-selector, as Nikon likes to call it, surrounded by four buttons for shooting mode selection, playback, manu and delete.
To the left of the control panel is the W300's fixed 3 inch 921k dot LCD screen. The screen is bright and contrasty and has a wide angle of view both horizontally and vertically. Like all screens it's difficult to see in bright sunlight and if you're taking pictures just below the water you'll also experience difficulty seeing anything due to reflections.
In those respects it's much the same as screens on other models like the Olympus TOUGH TG-5, Fujifilm XP120 and Nikon's own COOLPIX W100. Like the FinePix XP120, The COOLPIX W300's screen is 4:3 proportioned, so still images fill it, whereas on the TG-5's 3:2 screen there are black bars down the sides. The TG-5's screen is a better compromise for 16:9 movies though – as with the COOLPIX W300, you still get black bars top and bottom, but they're not as big. The TG-5's screen is also lower resolution at 460k dots, compared with 920k dots on the COOLPIX W300 and FinePix XP120, but in practice the slightly less detailed image doesn't make a great deal of difference. The 4:3 230k dot screen on the COOLPIX W100 is the least detailed of all, and the difference is visible, but not enough to put you off the COOLPIX W100.
On the right side of the COOLPIX W300's body there's a full length door with a lock wheel mechanism similar to that on the FinePix XP120. To open it you must press the button in the centre of the wheel before turning it. This precaution to prevent accidental opening while you're in the water works pretty well and all the waterproof models I've tested, with the exception of the COOLPIX W100, have something like it.
Inside is the battery and card compartment plus two ports – a mini HDMI for connecting to a TV or other display, and a standard USB port which can be used to charge the COOLPIX W300 or connect it to a computer to download your photos and movies. You can charge the battery in the camera by connecting the USB cable and mains charger provided, but you can also use any standard USB A to micro B cable and suitable power source. The COOLPIX W300 takes the same EN-EL12 battery as its predecessor and on a full charge has enough power for 280 shots – ten more than previously.
On the left side of the body at the bottom there's a small round speaker grill and above it three big buttons. Hold the bottom one down for a couple of seconds and it turns on the AF illuminator LED for use as a torch, which is handy. Above it is the Action Control button.
Action Control is a feature that allows you to control certain functions by shaking or tapping the camera. To activate it you press the Action Control button on left side of the camera body; five options are then listed on the screen and a further shake or tap scrolls through them. Finally you need to press the Action Control button a second time to select the highlighted option.
Action Control was introduced on the COOLPIX AW130 and when I first reviewed it I didn't have much that was good to say about it. Fundamentally, the idea of tapping or shaking a rugged compact to make menu selections is a good one and I think it's a shame Olympus have decided to drop it on the TOUGH models. The main issue with it on the COOLPIX W300 is that it still requires a good deal of button pressing to get things done.
Two of the options, Start movie recording and Quick playback already have dedicated buttons, so it makes no sense to press the Action control button, shake the camera, then press the Action control button a second time to start movie recording when you can just press the movie record button.
The top option on the Action Control menu is a mode selector, which would be really useful were it not for the fact that, as with the other options, you have to press the Action Control button a second time to access the shooting modes sub-menu, then a third time to confirm the mode once you've finished tapping/shaking to select it. It's actually easier to do it using the mode button and the four-way controller on the rear panel. Sure, that might not be the case with gloves on, as the Action Control button is slightly bigger and less fiddly, but Action Control is far from the easy gloves-on, or single-handed operation it ought to be.
Nikon COOLPIX W300 Lens and stabilisation
The COOLPIX W300 retains the 5x optical zoom of its predecessor with an equivalent range of 24-120mm and a maximum aperture of f2.8-4.9. It's a good balance in terms of zoom range and brightness; the Olympus TOUGH TG-5 doesn't have quite the reach of the W300 with a 4x 25-100mm, but it's a full stop brighter at the wide angle setting so better for low light shooting. The TOUGH TG870 also has a 5x zoom but with a super-wide 21mm wide angle extending to 105mm at the telephoto end. It's not quite as bright as the AW130's lens though with a maximum aperture of f3.5-5.7
The Fujifilm FinePix XP120 also has a 5x optical range that starts slightly narrower and extends a little further with an equivalent range of 28 – 140mm. That extra 40mm at the long end will get you a little closer, but a 28mm wide-angle does make it a little harder to get a good arms-length selfie. Finally, there's the COOLPIX W100 with its 3x zoom with an equivalent range of 30-90mm and f3.3-5.9 aperture.

As I said earlier, I think of all these models the COOLPIX W300 has hit the Goldilocks spot in terms of the zoom range and maximum aperture for the price. It's not as bright as the TOUGH TG-5, not as wide as the TOUGH TG-870, nor as long as the FinePix XP120, but it is wide enough for decent selfies, long enough to get you close to the action if you're already in the water and bright enough for all but the most demanding low light environments.
Like the TG-5 and TG-870, the COOLPIX W300 has a closest focus distance of 1cm at the wide angle setting so you can get really close in to small subjects for macro photography. You set macro mode by pressing the bottom point on the four-way controller in Auto shooting mode. It also works in the underwater, Pet portrait and Smart portrait scene modes.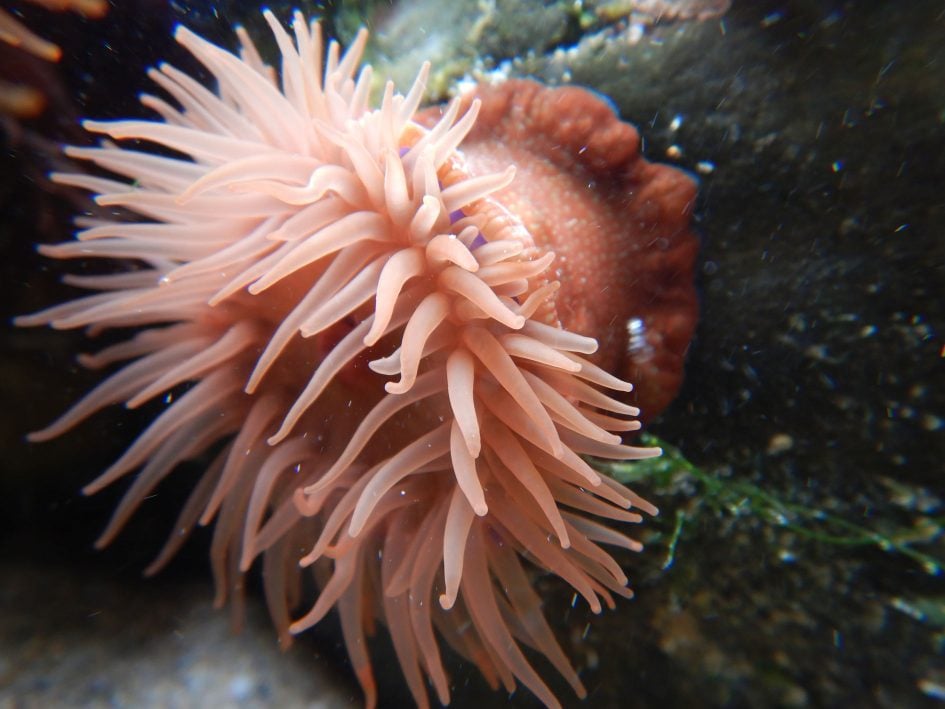 You can use the zoom in macro mode, but unlike the TOUGH models, the closest focus distance doesn't remain at 1cm when you zoom, so you have to move further away from your subject. So while you can't use the zoom to increase magnification, it's useful to avoid getting too close and casting a shadow. If you're a big macro fan, though, the Olympus TOUGH TG-5 with its ability to zoom and focus at 1cm, focus stacking mode for increased depth of field and optional macro lighting attachments is hard to beat.
The COOLPIX W300 has optical image stabilisation which Nikon calls Photo VR. Vibration reduction is set separately for stills and movie shooting (movie VR) with Photo VR activated from the Setup menu. In addition to the On and Off positions there's a third option called Hybrid. This combines the optical stabilisation with in-camera post processing to digitally remove any blurring that remains. The digital correction is applied only under certain conditions, including when the shutter speed is slower than 1/30 at the wide angle setting or 1/60 at the telephoto focal length and when the sensitivity is 200 ISO or lower.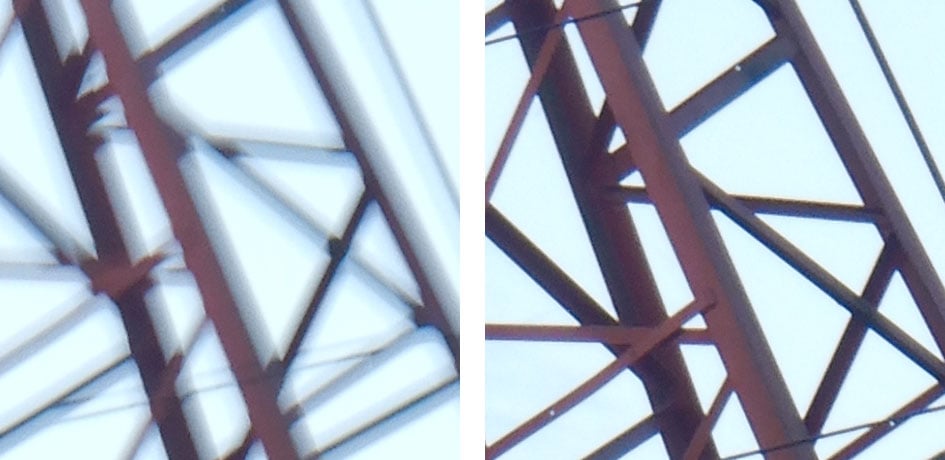 To test the COOLPIX W300's stabilisation I zoomed the lens to its maximum 120mm equivalent setting and took a series of shots at progressively slower shutter speeds, first with Photo VR turned off and then with it on. As you can see from the crops above, the COOLPIX W300 can produce blur-free shots down to 1/10 at the maximum zoom range which is nearly four stops slower than would be advisable without it.
Nikon COOLPIX W300 Movies
In a major upgrade to its video capabilities COOLPIX W300 now supports 4K UHD movies. There's also a new 1080/60/50p mode in addition to the 1080/30/25p, 720/30/25p and 480/30/25p modes of the earlier COOLPIX AW130. The 1080/50i interlaced mode has been dropped, but is unlikely to be missed.
The W300 also inherits the AW130's HS options for playback at speeds other than real time. HS 480/4x shoots 640×480 video at 4x normal speed (100 or 120fps depending on the frame rate selected) which plays back at quarter speed. HS 1080/0.5x records full HD video at half the normal frame rate for double-speed playback.
As before, you have the option of both PAL (25p and 50p) and NTSC (30p and 60p) frame rate options from the movie menu. The 4K mode is available at 25 and 30fps – depending on the Movie menu frame rate setting. Nikon doesn't publish the bit rate but, according the VideoSpec the average bit rate for the 4K 25p mode is around 63Mb/s.
Recording time is limited to 29 minutes or when the file size reaches 4GB. If you're recording in the 4K/25p mode that should happen at around 8 minutes. I tested it by shooting a fairly static scene, and with a fully charged battery and a 64GB card in 4K/25p mode the COOLPIX W300 stopped recording at 8 minutes and 38 seconds when the 4GB file limit was reached. Nikon Recommends using a UHS Speed Class 3 SD card for UHD recording and a Speed Class 6 card for all other modes.
The COOLPIX W300 also retains the Short Movie show mode introduced on its predecessor. This records a set number of 1080/25/30p clips a couple of seconds in length which are then assembled in-camera into a longer movie. You can choose between 15 2-second, three 10-second, or five 6-second clips which are then assembled into a 30-second movie. You can shoot 16:9 12 Megapixel Normal quality still photos when the mode dial is in the Short Movie Show mode position, or leave to shoot full resolution photos before returning to pick up where you left off. It's a neat feature though not quite as user-friendly as Canon's Hybrid movie mode which shoots a short clip every time you take a photo. That said, there's nothing similar on offer from The Olympus TOUGH models, the FinePix XP120, or surprisingly the COOLPIX W100.
The COOLPIX W300 provides two autofocus modes for movie shooting, Single AF (AF-S), which sets the focus at the beginning of your clip and Full time AF (AF-F) which continually adjusts it. AF-S is the default, but if you want to record anything that's moving, or if you're panning the camera from near to far subjects, you need to switch to Full-time AF. I found the COOLPIX W300's full-time AF mode to be very capable, as you can see from the clips below.
Nikon COOLPIX W300 Shooting experience
There are no fewer than five AF area modes on the COOLPIX W300, more than is usual for a camera in this class. Face priority works well when people are within a few metres of the camera in good light. If there are no faces in the frame it defaults to the nine-area AF system which it uses to focus on the subject closest to the camera. Alternatively you can manually select the focus area from one of 99 positions on an 11×9 grid in the cenral area of the frame, or set a central focus point.
The COOLPIX W300 also includes target finding AF which identifies people or objects in the frame and tracks them with green rectangles. If you're shooting people, face priority is probably a better choice of AF modes, but target finding does seem to have an uncanny knack for picking the main subject in a scene which for some situations is a real improvement on the nine-area AF mode. Except it doesn't work very well in the water. For that I found Centre AF or manual positioning of the AF area produced the best results.
Finally, there's a subject tracking mode which allows you to identify a subject with an AF point which then follows it around. This works well, provided your subject is well spearated from the background, you're not zoomed in a long way and the subject isn't moving quickly or erratically. Again, for surfing shots and other water-based activities I found tracking wasn't the best option.
The COOLPIX W300 has two full resolution continuous shooting modes at 7.5fps and 2.3fps, fractionally faster than the 7 and 2.2fps of the AW130. As before, the faster of the two shoots a 5-frame burst and focus and exposure are fixed on the first frame for all continuous shooting modes.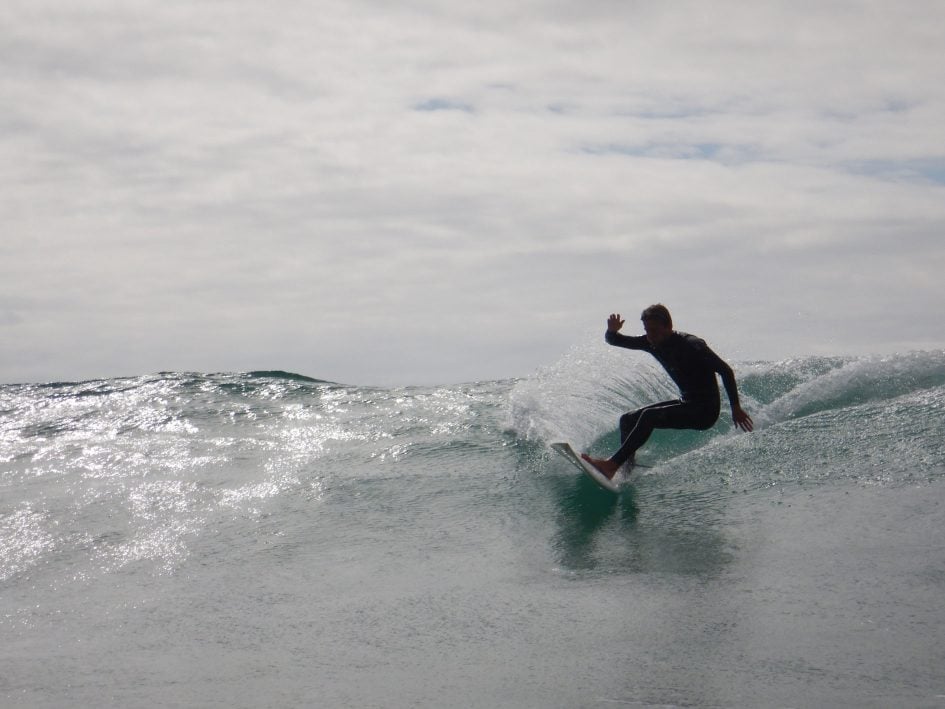 The problem with a 5-frame limit is that at 7.5fps you can capture less than one second of action, which means you have to get your timing just right and, even if you do, you might miss the best part of something if it takes longer than three quarters of a second. If you want longer bursts you'll need to compromise on image size. There are two faster settings that shoot 1280×960 images at 60fps and 640×480 at 120fps. There's also a clever Pre-shooting cache mode that starts recording when the shutter is half pressed; when you fully press the shutter the COOLPIX AW130 captures a burst of 25 1280×960 frames at 15fps including up to 5 cached frames from before the shutter was fully depressed. It's very like the Pro capture feature on the Olympus TOUGH TG-5 except Pro Capture is 10fps, full resolution and isn't limited to 25 frames.
If you're looking for fast continuous shooting on a rugged compact the Olympus TOUGH TG-5 is the one to go for. The fastest full resolution continuous shooting speed is 20fps with focus and exposure fixed from the first shot. As I've just mentioned, the TG-5 also inherits the Pro capture feature introduced on Olympus' flagship mirrorless model, the OMD EM1 Mark II. Pro Capture offers 10fps sequential shooting with a rolling buffer of up to 5 frames which begins when you half-press the shutter. As soon as you fully depress the shutter, the most recent 5 frames are committed to your card and the camera keeps shooting as long as you keep the button pressed.
The COOLPIX W300 also inherits the Time-lapse Movie mode introduced on the COOLPIX AW130. This shoots a sequence of images at pre-defined intervals and assembles them into a 1080 / 30p HD movie. There are five presets – Cityscape, Landscape, Sunset, Night sky and Star trails. Each shoots 300 images at intervals of 2, 5, 10, 30 and 30 seconds respectively which are then combined into a 10 second movie.
Nikon COOLPIX W300 GPS, Wifi and environmental sensors
The COOLPIX W300 has built-in GPS, a barometer, and electronic compass; between them they allow you to append data to your photos pinpointing the location, height above, or depth below sea level and the direction you were facing when you pressed the shutter. The one thing missing is temperature – something only the Olympus TOUGH TG-5 can currently provide.
There's also WiFi of course, but Nikon has dropped the NFC chip which provided the tap to connect feature with NFC equipped Android phones on the COOLPIX W130. Instead the COOLPIX W300 is equipped with Bluetooth which allows you to automatically transfer photos to you phone in the background while you shoot using Nikon's Snapbridge technology. There's no question that this is a very good trade-off.
Another COOLPIX AW130 feature that doesn't make it into the W300 is mapping. On the AW130 you can display the location of images on a map display, calculate distances between images or an image and your current location, and display points of interest.
While it's a bit of a shame Nikon has decided to drop the map features, it's simply following the trend that most manufacturers began a couple of years ago, I can't think of any current compacts, rugged or otherwise, that now offer mapping. Of course you can still display photos on a map using a third party application like Adobe Lightroom or Nikon's own ViewNX-i application.
I'll keep the comments on the GPS and sensor functions brief before moving on to talk about SnapBridge and WiFi in detail. Generally the GPS works pretty faultlessly, a small satellite symbol on the screen shows you the signal strength, but you still can't get a position readout, either for your current location or for images during playback, which is a shame. There's nothing like the info screen on the TOUGH TG-5 that shows your co-ordinates and a compass readout.
The COOLPIX W300 is the first Nikon waterproof compact to feature its new SnapBridge technology which works over Bluetooth and WiFi to provide wireless links between the camera and your smartphone. As with earlier WiFi-equipped models you can control the camera remotely and download photos to your phone, what's new is that you can transmit images to your phone in the background as you shoot using the low power Bluetooth connection.
Bluetooth allows the COOLPIX W300 to maintain a low-power wireless link with your smartphone at all times, allowing it to trickle photos from the camera to phone, all without intervention. There's also the option to embed GPS data from your phone to images as you take them, obviously this is largely redundant on the GPS-equipped W300, though I guess you could use it to extend the W300's battery life.
Bluetooth may be technically slower than Wifi, but copying images without intervention invariably gets the job done quicker as there's no need to pause and manually initiate the process. Of course if you prefer you can always transfer images manually, and the Wifi link also allows you to shoot remotely using your phone.
Setup is easy enough, First you install the app on your Android or Apple device, then start the pairing process with the camera. I tested SnapBridge on the W300 using my iPhone 6 and the process is simple, the app displays the camera name, which you tap to select, it then initiates pairing with displayed passcodes for you to confirm. Once confirmed, the phone and camera are connected by Bluetooth and you'll never need to do it again – unless of course you have more than one Snapbridge-enabled camera.
Having your shots immediately accessible on your phone makes sharing to social networks about as simple as if you'd taken the shots on your phone in the first place. The only drawback is you might not want everything you shoot on your phone, but a few minutes spent culling the unwanted images easily takes care of that – and you can choose to manually tag specific images for transfer if you don't want all of them queued.
Snapbridge gives you the option of automatically downsampling images to 2 Megapixel resolution before downloading them to your phone and this seems sensible unless you've got plenty of capacity to spare, in which case you can opt for full resolution images. If you turn off the W300 or quit the app before all images have downloaded to your phone, the connection is re-established and transfer continues the next time you launch the app and turn on the camera.
I tried using SnapBridge both ways – with the always on connection sending 2 Megapixel versions of everything I shot to my phone and manually transferring individually selected photos when I stopped for a break and got home. Personally I prefer the always-on method, it's far simpler as it just happens without you having to think about it.
Manual transfer using the Bluetooth connection means you only get the keepers on your phone, but it involves a bit more time and effort, not least because the slower Bluetooth connection means it can take a long time to display thumbnails of all the images on the camera's card on your phone screen, find and select the ones you want, then queue them for transfer. I'd go far as to say if you're not using SnapBridge's Bluetooth connection for automatic image transfer, you're probably better off using Wifi if you want to manually transfer selected images. In fact, when you attempt to transfer photos in this way the SnapBridge app helpfully suggests you switch to a Wifi connection for faster transfers.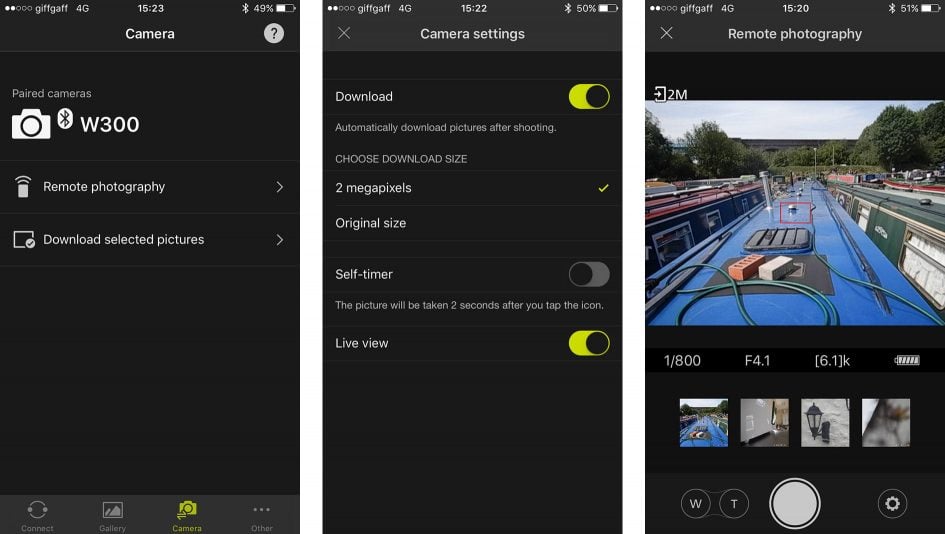 Remote shooting is basic, you can see camera's view on your phone screen, but you can't tap to focus. Even if the AF area mode is set to manual on the camera you're limited to the central AF area. Nikon has improved things a little and you can now tap anywhere on your phone screen to activate the AF – but it still uses the central area, not where you tap. You can zoom the lens using touch buttons on your phone display, though it's slow and a little clunky and you can activate a self-timer mode. It's about as primitive as it gets, but if you simply want to set the camera up for a family portrait, or shoot some garden wildlife from the comfort of your kitchen (providing it's in Wifi range) it'll do the job.
In addition to Auto mode the COOLPIX W300 has Scene Auto selector mode which uses scene detection to choose the most appropriate scene mode. The W300 is pretty good at recognising when it's night, when you're close to the subject and when the subject is backlit and when there are people in the shot. It can also tell when the camera is underwater, so it's a good option for when you're in the water, but not always under it.
Easy panorama mode has two resolution options: Normal captures 180 degree photos with a maximum size of 1536×4800 pixels, while Wide captures 360 degree shots at 1536×9600. There are 18 modes in all on the scene mode menu. In addition to Easy panorama, there are the usual ones you'll find on pretty much any compact – Portrait, Landscape, Sports, beach, Snow, Sunset and so on. There's also backlighting HDR mode which shoots several frames and creates a composite with a wider tonal range than could be captured in a single shot. And of course there's an underwater mode.
Next check out my quality and sample images pages or skip to my verdict, using the tabs above.

Check prices on the Nikon Coolpix W300 at Amazon, B&H, Adorama, or Wex. Alternatively get yourself a copy of my In Camera book or treat me to a coffee! Thanks!