Nikon COOLPIX W150 review - Verdict
Verdict
The Nikon COOLPIX W150 is budget waterproof compact that's designed to be fun and simple to use. It's aimed at vacationing families and anyone else who wants to shoot photos and videos in the water and in other camera-unfriendly environments without spending a fortune or needing to spend the entire flight-out reading the manual.
The W150 is an update to Nikon's 2016 W100. The new model features Underwater Face Framing Mode, which automatically shoots up to four photos when the camera detects a face. And that's pretty much it – in every other respect the W150 is identical to its predecessor, the W100, so it's worth keeping an eye on the old model for potential discounts – see my Nikon W100 review. As for the W150, it inherits the 30-90mm f3.3-5.9 zoom lens and the smaller than usual 1/3.1 inch CMOS sensor of the W100, and as before the controls are designed for simplicity, so there's only auto exposure mode and a raft of scene modes including of course underwater.
The COOLPIX W150 scores highly when it comes to sharing photos, with Wifi plus a Bluetooth connection that automatically transfers images to your phone as you shoot. It's easy to set up, and just works, so you can forget about it until you want to review your shots on your phone and share them. You can also use the Snapbridge app to shoot remotely and to add location data to your photos from your phone's GPS. Again, this is very simple to do, you just the check the box and it happens automatically.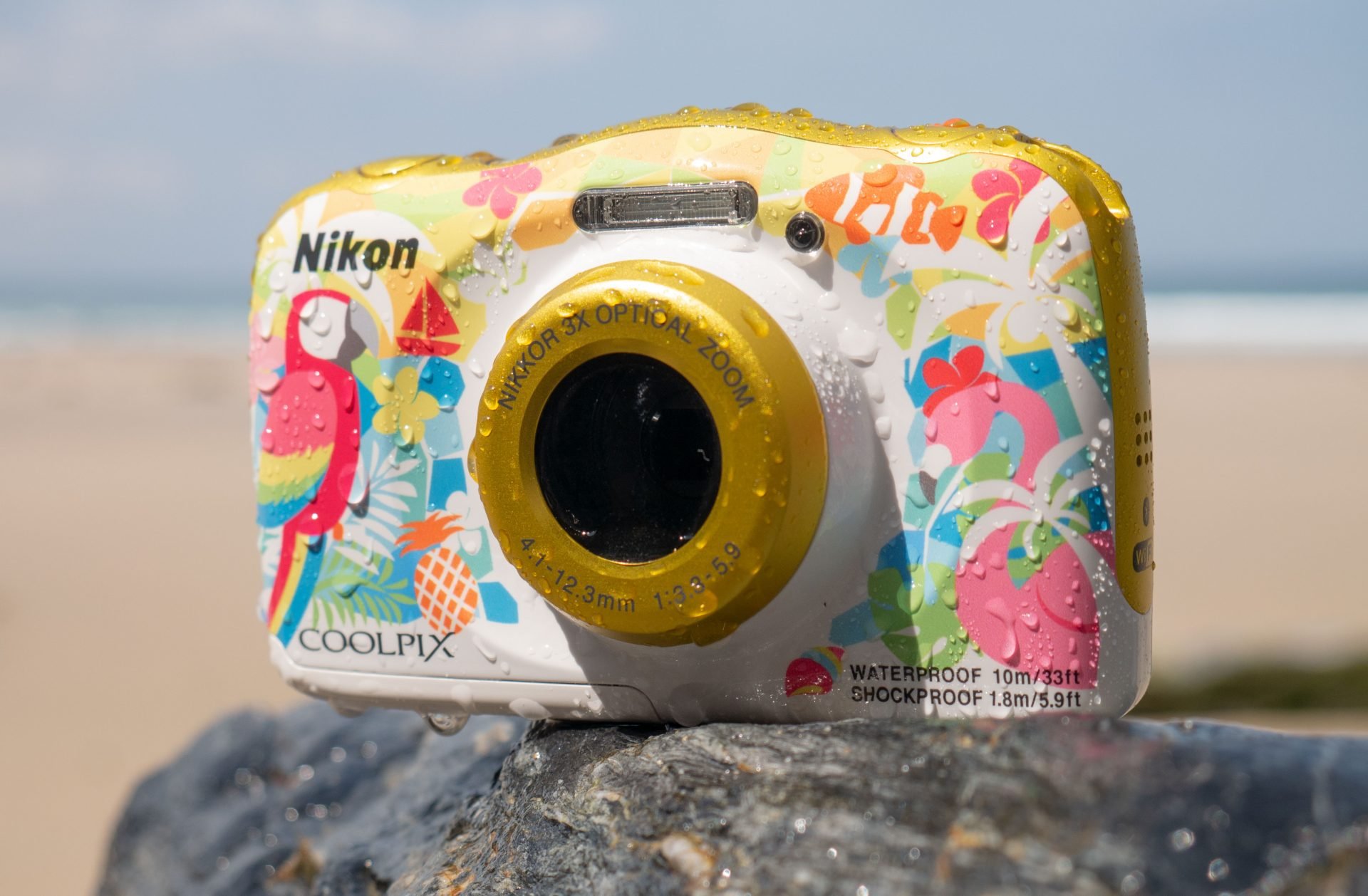 The lack of any kind of exposure control – you can't even set the ISO sensitivity manually, is not likely to be a problem for the W150's target market, the simplicity of fully auto operation is far more valuable. but there are some areas where the COOLPIX W150 falls short in a less forgivable fashion. Firstly there's the sensor which is smaller than the 1/2.3in sensors typically found in most compacts including the FinePix XP140 and the Olympus TOUGH TG-6. That means that the W150's snaps are quite noisy, even when you're shooting in good light at low auto ISO settings. Then there's the small, low resolution 2.7 inch screen; it would be nice if it was bigger and more detailed but, to be fair, though it's smaller than the 3 inch screens of the FinePix XP140 and TOUGH TG-6, it was brighter and easier to see outdoors than the XP140. And though it has 'digital vibration reduction' the COOLPIX W150 lacks optical image stabilisation – something both the FinePix XP140 and TOUGH TG-6 use to good effect to avoid camera shake and wobbly video.

The W150 has one 1080p video mode and the results I achieved with it weren't outstanding. But before you get carried away wishing for the 4K modes on offer from the FinePix XP140 and TOUGH TG-6, just a reminder that the XP140's new 4K mode only shoots at 15fps, which really rules it out for most things. I think Nikon missed a trick by not adding in a slow motion mode, which would have been perfect for a fun family compact like the W150. Another thing it could use is a better burst mode. An 11 frame burst at just under 5fps isn't at all bad, but it takes a long time to write those images to the card which means it's easy to miss out on great sequences while you're waiting for the camera to play catch up.

In terms of its specification and features the COOLPIX W150 is a modest little waterproof compact, but what it sets out to do it accomplishes with style and a lot of fun. If you're looking for a rugged waterproof compact that's so simple your kids can use it, robust-enough for you not to worry about it in their hands, inexpensive enough that it it doesn't matter (too much) if your kids manage to break it, but at the same time good enough for shooting and sharing holiday snaps, then it's hard to beat. It gets a Recommended, rather than a Highly Recommended because, frankly, it doesn't add a great deal to the older COOLPIX W100 which is still available, albeit not greatly discounted, so while it's always worth shopping around, don't expect massive savings. If, on the other hand, you can cope with a little more complexity and reckon you might enjoy a bit more control, then the Fujifilm FinePix XP140 is definitely worth considering.

Check prices on the Nikon COOLPIX W150 at Amazon, B&H, Adorama, or WEX. Alternatively get yourself a copy of my In Camera book or treat me to a coffee! Thanks!